Testimonials
Customer service is a top priority for me, as I want the whole experience to be enjoyable and as stress free as possible from start to finish. Scroll down to see what some of my satisfied clients have to say about working with me, and how I helped them transform their homes into spaces which they love to spend time in. Some of these homes have been featured on my portfolio page, click on 'see project' to see the before and after pictures, and to read the story of their transformations.
Louise has an amazing talent. We started with our guest room as this was the worst room in the house (now the best). Louise takes the time to understand what you want even if you are unsure of what you want yourself! The whole project went like a dream and we were so pleased that we asked Louise to look at our kitchen and snug area too, then throughout 2019 it will be the rest of the house. We love all the compliments our house now gets!
Jane, Llandaff
See project
Although from Wales, I live overseas and have recently bought a holiday house in my home town. I reached out to Louise as I knew I would need help designing and choosing furniture for the whole house as it was not possible for me to go to stores and see any of the products. Louise worked tirelessly with me over email and we agreed on the scheme and furniture for the entire house. I bought everything that Louise suggested, and now that I've seen the house, I couldn't be happier! I've had a fantastic experience with Louise and will be recommending her to family and friends.
Carys, Dubai
See project
We have thoroughly enjoyed the whole experience, particularly as it's been so much more helpful than we could have imagined. I think the main reason we enjoyed it was that you were so down to earth and made us feel totally comfortable even though we didn't have a fortune to spend. Not once did you put pressure on us, whilst drawing out exactly what we wanted. Thank you!
Ken and Esther, Vale of Glamorgan
Louise has completed a number of interior design projects for me, including the complete refurbishment of my living room, and choosing fabrics and finishes for two bedrooms and a bathroom. Each task was approached with incredible flair and imagination, demonstrating an intuitive understanding of my taste, whilst also gently encouraging me to extend my colour palette and innovate with colour and texture. The results speak for themselves, not only because of Louise's patient attention to detail and finish - her calm, friendly manner and willingness to listen to the client's needs are recommendation enough - but ultimately the best advertisement for Louise's skill and talent is the finished product, which is exemplary. I cannot recommend her work too highly.
Robert, Llanishen
See project
I really love my new bedroom and ensuite - it's so calm and relaxing, but I can spend too much time in it! A real haven. What shall we do next?
Fiona, Torfaen
See project
We engaged the services of Louise to advise on the design and furnishing of our lounge and dining room. We were extremely impressed with Louise's grasp of our needs and her ability to translate them into workable designs. Louise is extremely personable and professional in her approach; we felt well supported in our decision making, without ever feeling that there was any pressure to go in a particular direction if we were unhappy with the design. The results were excellent and we would recommend Louise without hesitation.
Geraint, Cowbridge
We really enjoyed the whole experience with you, and the transformation is fantastic! The colours in the kitchen are wonderful, and my daughter loved her room so much that the photographer took lots of photos at her wedding (which was held here).
Angela, Peterston-super-Ely
Having recently moved back to our own house after nearly three decades of expat living, we were in need of advice as to how we could tastefully make our Asian furniture and rugs work in our modern British house. Louise's friendly, sensitive, and clear vision were absolutely fabulous. In her visit, she was able to work out my taste and her suggestions of colours and fabrics pushed me very comfortably out of my comfort zone. Louise gave opinions and ideas but most importantly she listened to me and never attempted to inflict her personal preferences on us. She is totally approachable and has given very generously of her time, even after the completion of the project, always responding promptly and efficiently. I wholeheartedly recommend her.
Helen, Cowbridge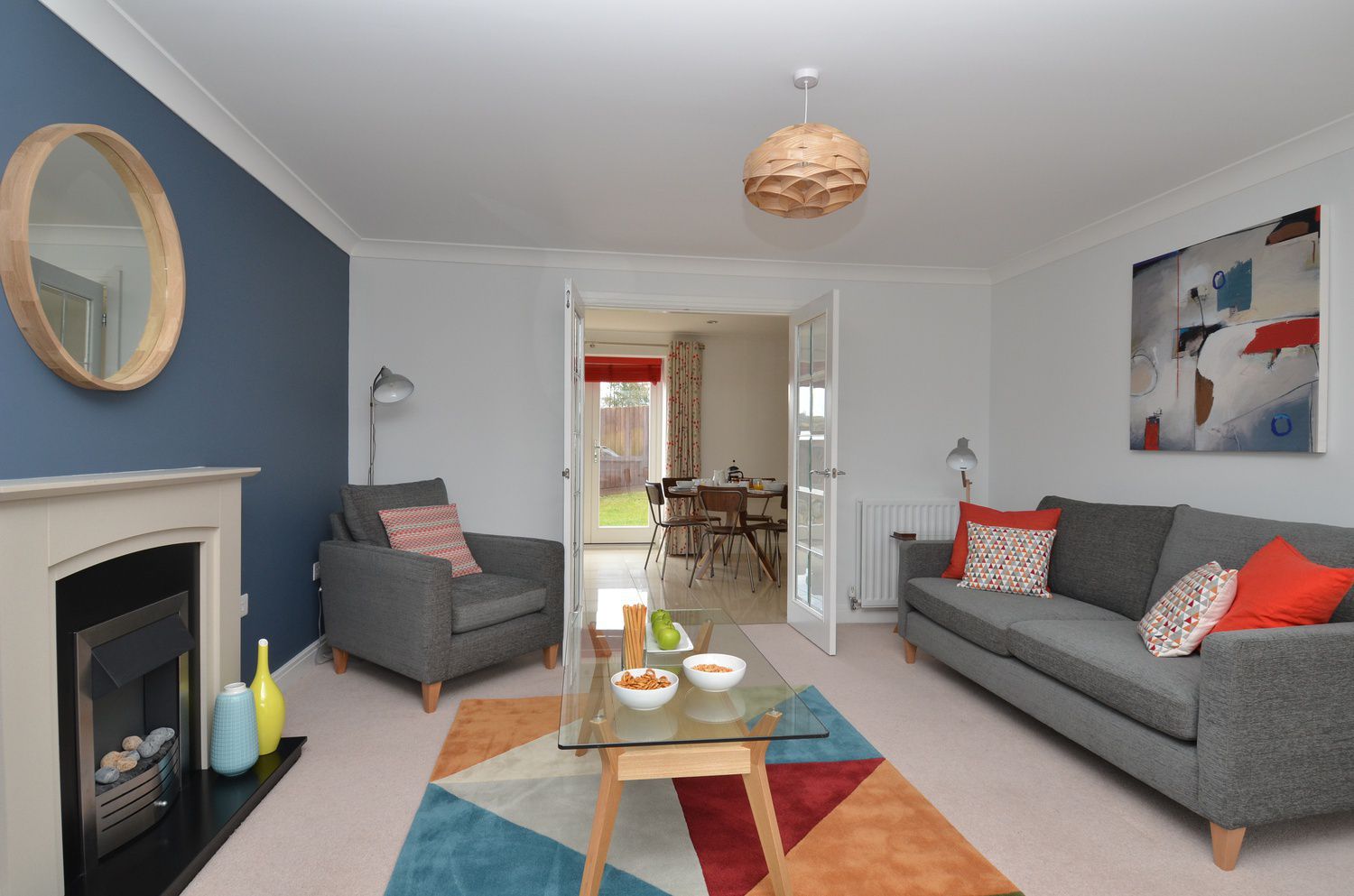 The service Louise offers is superb. She's very professional, knows her products and I couldn't have wished for a nicer person to help me!
Angela, Brecon
See project
Thanks for all your help over the last few weeks. We love the design that you've created and can't wait to buy everything and put it in place! Thanks again for all your help; it was great working with someone who really understood our vision.
Marc and Erika, London
I am pleased to tell you that the living room has now been decorated following your recommendations, and it complements the hall perfectly. I also find it breathtakingly beautiful and calming - all of which is thanks to you!
Jenny, Vale of Glamorgan
You have really captured the essence of what I wanted in the house - I am delighted with how well you have understood my thoughts and ideas!
Judy, Cowbridge
You are worth your weight in gold! It's so lovely to have someone who shares my vision and can see past a building site!
Julie, Cowbridge
The settees have arrived and are absolutely gorgeous!!! Only problem is, they are so comfy you don't get up for the rest of the evening! Thank you so much for your help, we love all the things you helped us choose.
Ruth, Dinas Powys
The room is finally finished! We are absolutely delighted with it and it has gained a thumbs up from all who have seen it. Thank you for all your ideas and for the support you gave us.
Penny, Cowbridge
Louise helped us with the interior design of our living room and bedroom. We live in the Cayman Islands so were trying to furnish these rooms through online shopping, which I was finding a near impossible task. We were extremely impressed by Louise's ability to translate our rough ideas in to gorgeous designs and pick out pieces that worked perfectly with our style and brought our ideas to life, not to mention her responsiveness and friendly attitude. Louise was a real pleasure to work with and we wouldn't hesitate to recommend her design services!
Anna, Cayman Islands