Why choose Louise Misell Interiors?
"Our interior spaces have a huge impact on the way we think and feel, and we believe that you deserve an environment which is functional, beautiful and more importantly, unique. Your home should inspire you, express your personality and help you make the most of the time you spend in it."
Firstly, we listen. Designing someone's home is a very personal thing to do, so we spend time getting to know you, and how you and your family like to live. We gather as much information as we can, to help you make the right choices for you.
We will stop you from making expensive mistakes, such as buying items which somehow just don't look quite as you imagined they would, or painting those walls for the fifth time.
We are organised and plan everything carefully so that you don't have to. Our attention to detail and experience of renovation means we can think on our feet, and solve those unforeseen issues as they come up.
If you involve us at the beginning of your project, we help with everything from planning where your plug sockets will go, to creating the right lighting scheme, to making sure your new sofa will fit through the door.
We guide you through the stress of a renovation. We'll tell you the order in which things need to be done, and will help you plan so that you have all the answers when the builders need all your decisions right now.
We provide a truly personal service, producing designs which are as unique as our clients. We give you honest, impartial advice, so you won't be pushed into making any decision you're not comfortable with. We offer great design, and fantastic customer service.
There are so many choices out there, and sites like Pinterest and Instagram can be overwhelming without someone to help you navigate them. We'll take your space from bland and boring into somewhere which feels welcoming, interesting and inspiring - a real home.
Louise is an SBID accredited interior designer, and the design studio has won multiple awards. We have Public Liability insurance up to the value of £1,000,000 and Professional Indemnity insurance up to the value of £100,000.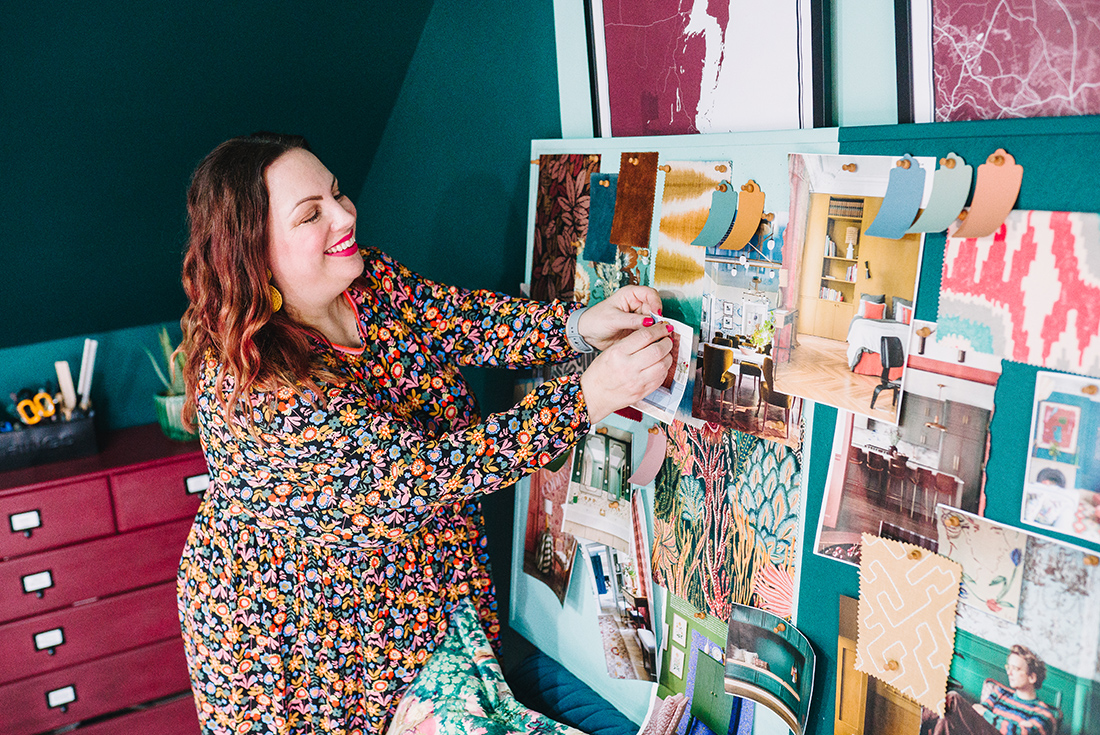 When I was little I spent most of my weekends rearranging my bedroom and dreaming up decorating ideas for it. As a teenager I even had a paint colour matched to a favourite purple earring!
I remember always being drawn to buildings, especially the sad looking, neglected ones, which I just wanted to save, and make beautiful again.
I taught myself to sew and fell in love with fabrics, colours and textures. My theatre, film and television degree brought me to Wales and I would spend hours making curtains, cushions and anything I could to add personality to the rental properties I lived in. I specialised in designing for the theatre and loved getting inside the minds of the characters I was designing for.
I still use these skills today, with a lot of my clients commenting on my ability to understand them and draw out what they want, then translate these ideas into beautiful designs which reflect their personality.
I was working in television when I decided to leave to raise my two children. By then we had bought our first property and I had so much fun designing and renovating our homes that I knew it was time to rethink my career. I retrained as an interior designer, and looking back it's what I was born to do, but I'm so glad that I spent time in the world of theatre and television learning how to apply my creative ideas in a practical way.
Becoming a Home Design Stylist for John Lewis gave me a fantastic opportunity to work with hundreds of clients and help them bring their ideas to life. I loved the challenge of producing schemes to suit all tastes and budgets, but learned to share my creative vision for each space.
It's so much fun combining each client's ideas with mine to create gorgeous interiors.
I loved working with my John Lewis clients but really wanted to be able to help them turn our ideas into reality. Lots of clients get stuck when it comes to the practicalities of making changes to their homes and need someone to guide them through the process. By taking the next step and setting up my interior design business, I could help my clients through the stresses of planning and organising a project, and oversee all of the details from build to styling.
I still love the thrill of starting a new project, and seeing the vast improvements that a well-designed space can make to a client's life. There's nothing that makes me happier than when a client tells me that what we've created feels like it's completely theirs.
We really needed help with the design of two connecting rooms and were both short on time and daunted by all the options out there. We felt that money spent on expert help would really be worth it, and were beyond delighted with the results. Louise made what could have been a long and difficult process quick, easy and enjoyable, and her help with the use of colour was spot on. Friends and family constantly tell us how gorgeous the rooms are, and we think they are absolutely stunning!
Claudio & Tina, London