How can I incorporate antiques into my home?
7 min read
Published 28 Apr 2022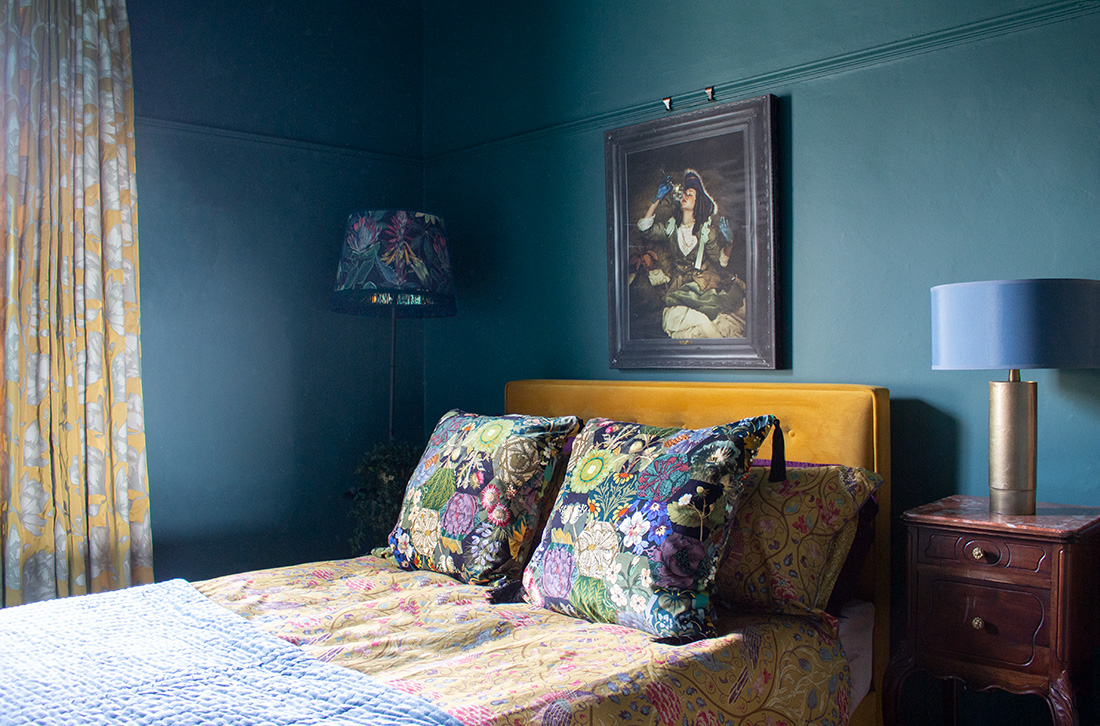 A photo of our Quirky Victorian House project, with an antique bedside table
This month, we have an exciting guest post from Nia Wyn Rossiter, founder, director and interiors expert at Penderyn Antiques, who has written a guide to choosing and using antiques in our homes. Over to Nia:
Thanks Louise for inviting us to contribute to your blog - it's a real privilege. We have put together a helpful guide to incorporating antiques into your projects, whilst also outlining the wonderful benefits of adding antiques to your home.
Before we get started, it's probably worth giving some thought to what makes something an antique. Generally, objects that are 100 years old or more are deemed antique. Something younger, around the 20+ years old mark, would be classed as vintage. This blending of old and new is a hugely popular trend, and one that we've taken so much delight in seeing grow.
Mid-century modern is a vintage-inspired antique style which has been popular for a considerable amount of time now. What's lovely about this is that these antiques, once not overly desirable, now have a far better chance of being integrated into the home. Thanks to the influence of Pinterest and Instagram, these pieces are now much sought after. The story and character of a previous generation can live on in a new person's home, and create a look so unique and not like anything anyone else would own.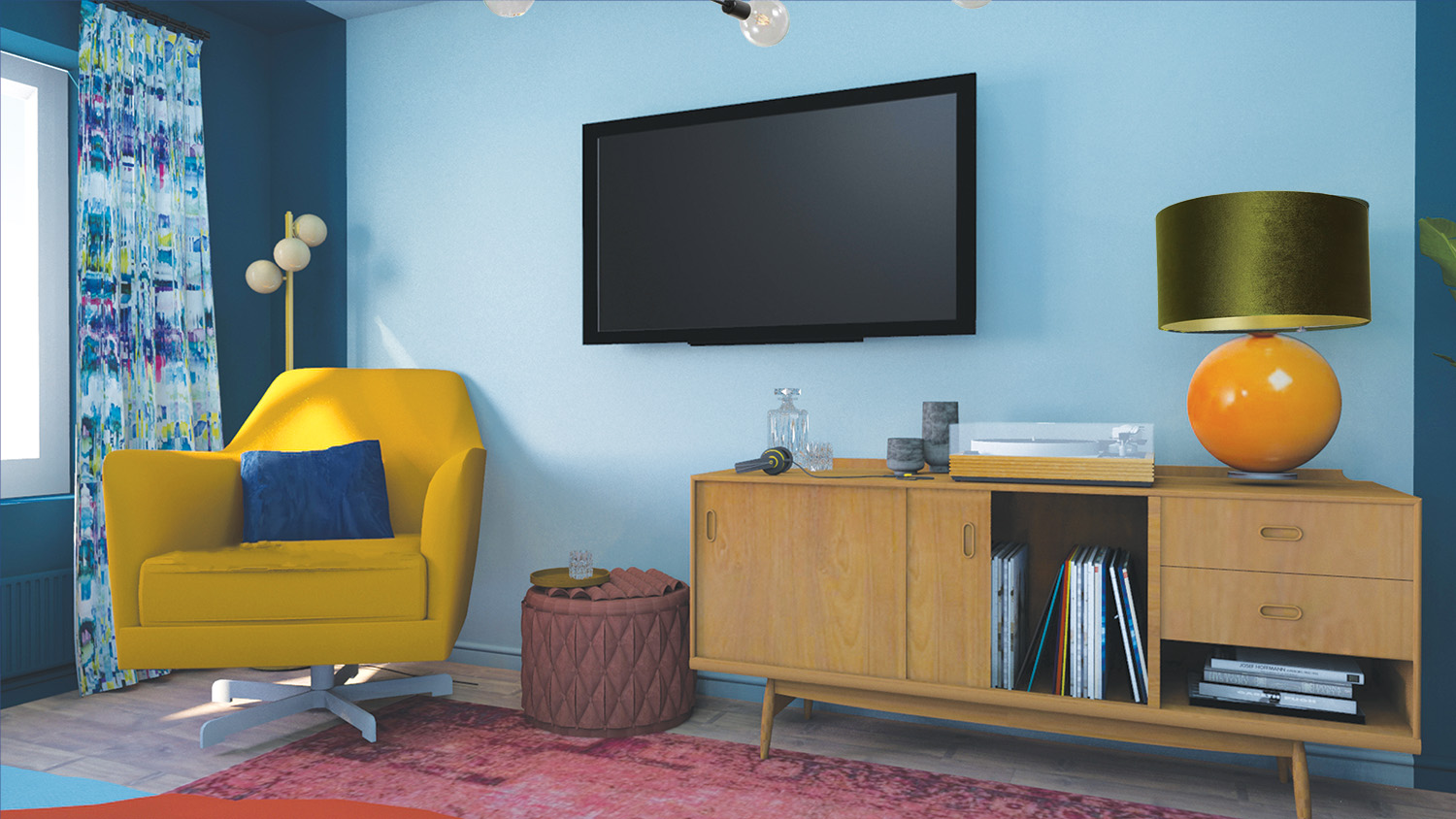 A recent Louise Misell Interiors design for a living room, using a Mid Century sideboard
Along with on trend looks, antiques also thankfully satisfy, by default, the hot topic of sustainability and an individual's understandable keenness to protect the environment at the same time as refreshing the interior of their home. As antique pieces have already been produced and are still in use, they have a much smaller carbon footprint than brand-new furniture. What's more (and this surprises a lot of people, we find) they also tend to be more affordable than a lot of new furniture. Of course, it depends on the piece, but in general, the costs compared to modern day newly manufactured furniture are less, especially when the quality is taken into account. These pieces have already survived over a hundred years, so you won't need to replace them any time soon.
Antique pieces offer relatively seamless versatility, and unlike a modern perfectly matched bedroom suite for example, the charm of antique styling comes from mixing not just old and new, but also mixing an array of antiques from different periods, styles and materials. An antique pine wardrobe works perfectly well with a Victorian bamboo bedside table, and if you add a rustic ash and elm chest or trunk into the mix as a bench with storage at the end of the bed, you have an interesting and completely unique space.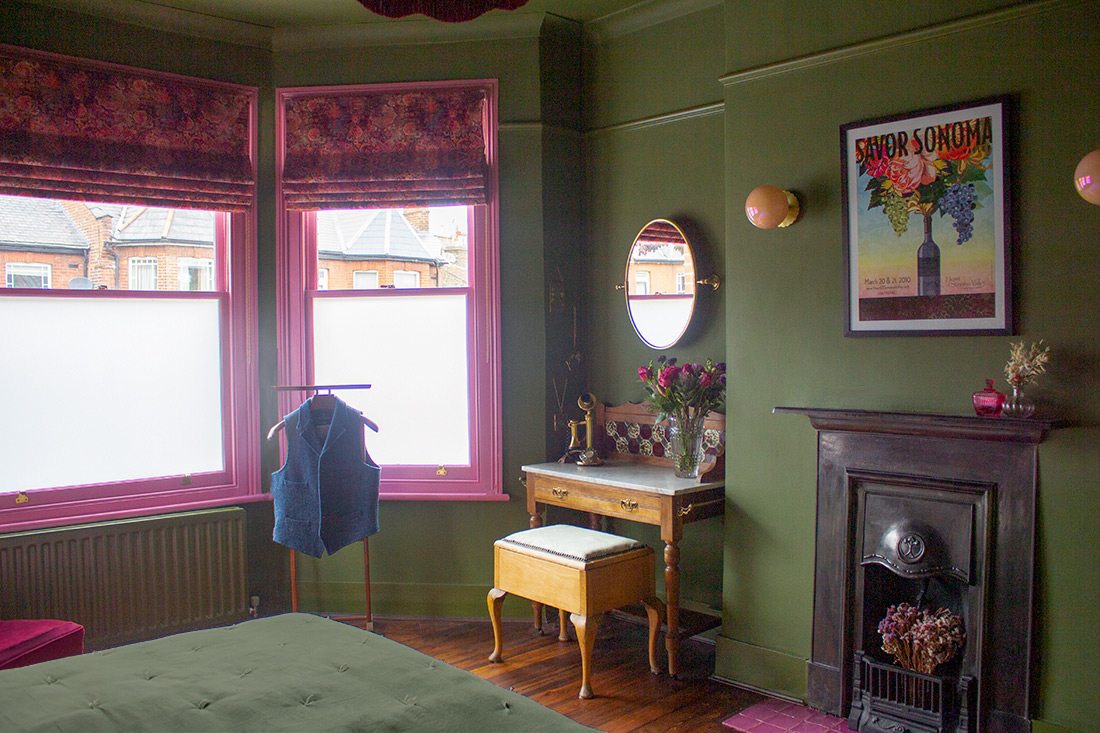 A photo of our Bancha Bedroom project, which reused an antique washstand as a dressing table
Such versatility extends to all rooms of the home, and another one of our favourite places to mix 'old and old' is the kitchen. Instead of a fitted kitchen, use a mix of antique housekeeper's cupboards, linen press cupboards, dressers, sideboards and pot cupboards to create an adaptive and practical space - which can change with you as your needs evolve.
In 2022, it's very much about mixing instead of matching. We often think (with great relief!) about the amount of perfectly imperfect antique chairs that have been rescued from a bonfire or the skip, thanks to the trend for mix and match kitchen and dining chairs, or 'harlequin sets' as they are known in our industry.
More recent global pressures and the supply chain 'hang over' since Covid-19 mean that lead times with antiques are often much quicker than with new furniture. The need to wait for furniture to be manufactured can often bring painful delays to a project that is dependent on a big piece completing a space, like seating or a table, for example. These delays can often be eliminated by using antiques.
More often these days, we find homeowners will long for something unique, something bespoke to them, and something that visitors to their homes won't have seen before. Every single piece of antique furniture exudes character and so many stories, and brings with it a guarantee that it is unique, handcrafted, and would have been a bespoke piece at the time it was made.
So how do you go about bringing antique pieces into the more modern home?
There are simple tricks and tips that can be followed to integrate antiques into your homes. Antique dining chairs with drop-in upholstered seats can easily be reupholstered in any colour or pattern to complement your interior colour scheme. Reupholstering chairs is a simple and cost-effective way to update them, and they can be mixed and matched to create a quirky look.
Adding a hanging rail or shelves to a simple food cupboard can quickly adapt the piece to become a wardrobe or linen cupboard, or vice versa.
Glazed display cabinets are also a versatile piece; there isn't a room in the home they can't be useful in - housing your shoes in a dressing room, storing towels and toiletries in the bathroom, as a cocktail cabinet in the living room (to show off your gin collection!), or in the kitchen for your cups, plates and bowls… the list goes on.
A staple piece for any home in our opinion is an old church pew - and our customers agree as this is one of most popular items here at Penderyn Antiques. Not only are church pews sturdy and functional, providing ample seating for any family gettogether, they are able to seamlessly integrate into many spaces in the home such as the hallway, kitchen or a living room bay window. Church pews are so beautifully steeped in history and often come with intriguing provenance. Most antique shops will be able to tell you the specific church a pew has come from, so don't forget to ask.
Antiques can absolutely be used as intended, however, thinking of creative uses adds a modern twist to a seemingly traditional piece. Taking a mirror top off a dressing table will revamp it and leave you with a beautiful antique chest of drawers, ready to be styled with some dried flowers in a vase to provide a pop of colour.
Antique bedside tables can be difficult or costly to source, so a solution we find works very well is to cut a pedestal dressing table in half, leaving you with two side cupboards perfect for bedside cabinets. No one would ever know and it looks great!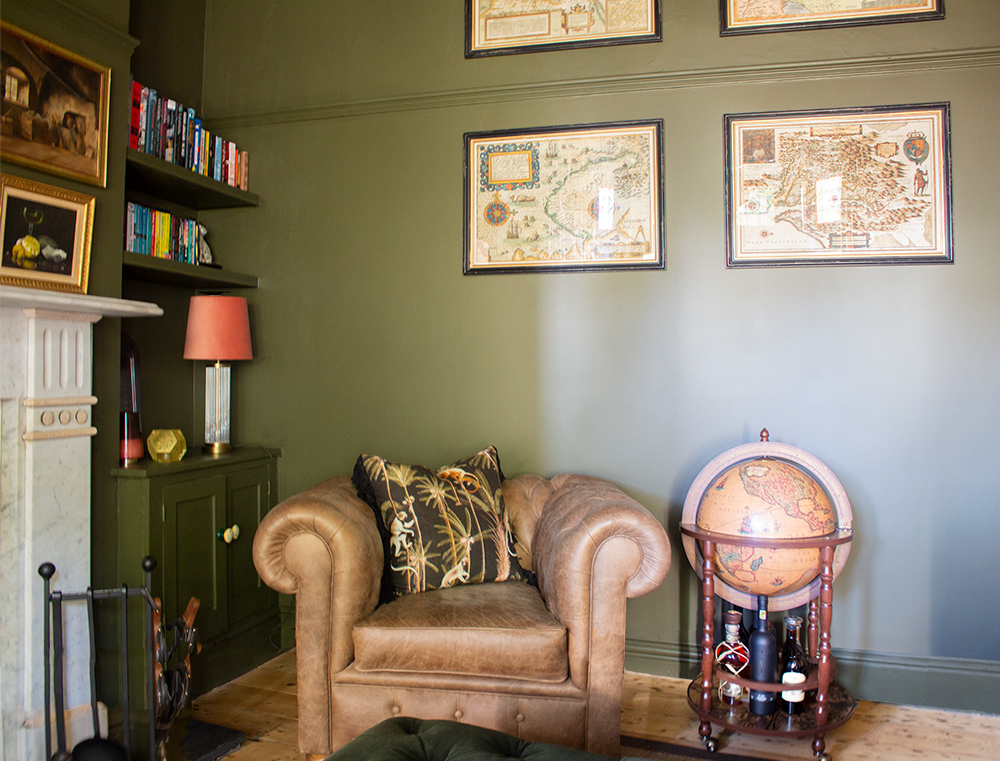 A photo of the living room from our Quirky Victorian House project, which has numerous antique paintings and the classic globe bar
We're big believers in simply treating antique furniture just like any other piece of furniture. It has a functional purpose, so don't be restrained by the standard thinking or typical location for a piece - why not put a chest of drawers in your hallway for those bits and bobs, or convert it into a sink unit in your bathroom? Don't be afraid to customise your antique piece, a simple handle change on a chest of drawers or cupboard can transform the look and feel of a piece - choose between brass handles, wooden knobs or even ceramic knobs to reflect your interior style. Removing the bottom drawer from a chest of drawers and inserting wicker baskets or rustic wood boxes can instantly transform the look of a piece too.
We get asked a lot about whether you should paint antique furniture. And, honestly, this is very much down to preference, but before you paint a piece I invite you to consider a few things…
Just because a piece is dark in colour does not mean that it will darken a room. Take 'brown furniture' for example - adding one piece of brown furniture to an airy sanctuary like a neutral or white interior creates a statement that does not detract from the bright environment, and adds a focal point.
If you want to paint an antique piece to add colour to a room, instead of painting the furniture piece, think about adding colour on the walls or in soft furnishings. That way, if you do change your colour scheme in the future, your wooden antique remains versatile for your space. Pine, ash and elm are all great woods to use for a neutral tone which works with a spectrum of designs.
Once you've chosen your antique piece, there are often understandable concerns about how to look after an antique, especially if it's in a busy family home. We always help our clients to consider which materials will wear best and survive the test of time (and knocks and bangs), especially if they are in a hallway, or a high footfall area for example. A dark mahogany piece won't be as forgiving as an antique pine one, which embraces stains and scrapes, and can look better for being weathered.
So that brings us to the end of our guide for integrating antiques into more modern interior schemes. We love hearing about projects in your homes and beyond and are always open to sharing further tips. You can find out more about us and how we can help with your antique needs at penderynantiques.co.uk. And remember, it's not just about the old and new in your schemes, old and old can present so many different options too.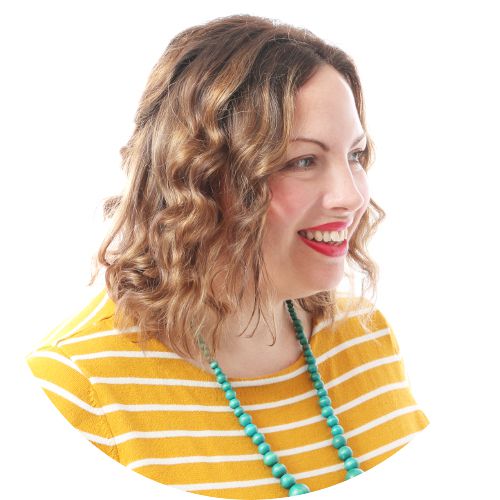 Welcome to the design blog, where you'll see posts about anything from the projects we are working on, to the latest fabric and wallpaper collections, and all things interiors related. We love colour, pattern, architecture and old buildings, and we love to share our finds with you.
Happy reading!