How much does it cost to redesign a living room?
7 min read
Published 28 Feb 2022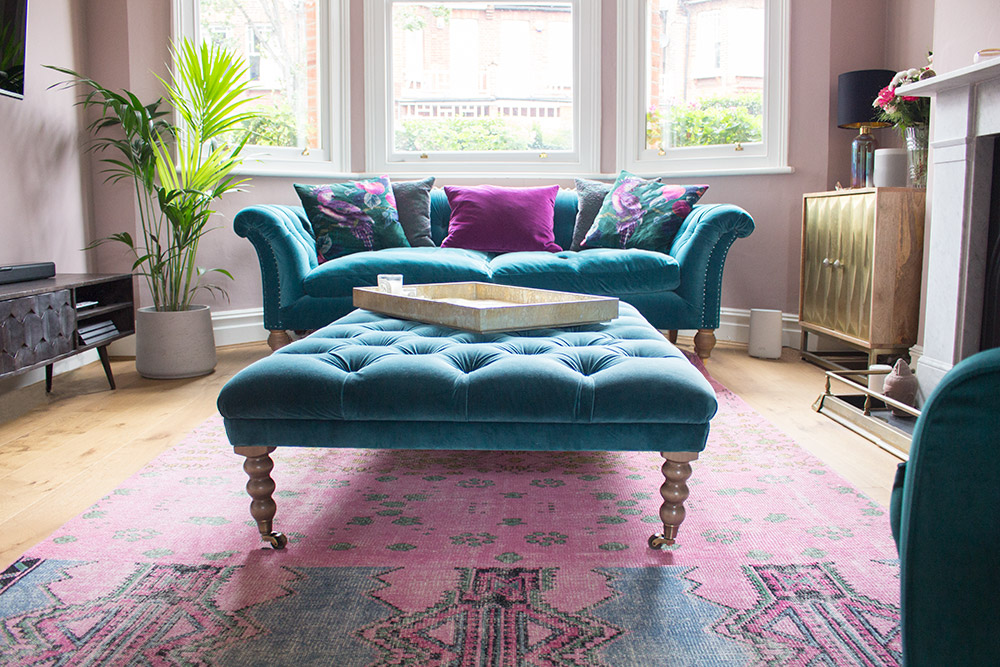 Recently, I have been rewatching some of the TV series 'The Great Interior Design Challenge' as I find it fascinating to see the amateur designers let their imaginations loose, and I love seeing the many varied schemes they come up with. It's also lovely to see the designers develop and hone their skills over the series, and become more confident. By the way, I spotted Jordan Cluroe in series one, who is now one half of the talented design duo 2LG Studio, and you can see that even at that early stage in his career he was innovative and boundary pushing.
I enjoy watching the show, but the main challenge for the designers seemed to be the very small £1000 budget they were given to furnish, decorate and renovate each room. With a lot of hard work, they all manage to pull it off, but most had to do some serious corner cutting along the way to make it work. One designer even painted the fabric on a worn armchair instead of replacing it, as the budget wouldn't stretch to buying new fabric. The designer's budgets also didn't include the labour of their teams of builders, carpenters and decorators, as the production company covered those, so the makeovers didn't really cost £1000. So, if this isn't a realistic budget for a design project, how much should you consider spending when tackling a room?
Looking at the TV show example, I really don't think that spending only £1000 is achievable unless all you're doing is refreshing the paintwork. If you'd like a more thorough renovation, and a real transformation, you'll need to do more than paint the walls, so let's have a look at some of the things to consider when budgeting for a living room.
Quality is king here. The designs the TV contestants produced were innovative and the clients were generally happy with their new rooms, but I'm pretty sure that some of the items didn't stand up to the test of time after the cameras had left. Some didn't even make it to the final reveal - there was one dramatic moment where some lighting being held up by sticky hooks fell down and smashed not long after it had been installed. Thankfully no one was hurt, but if the designers had been given more realistic budgets, the quality of the finishes and the items they bought for the rooms would have been much better and would have lasted longer. We want to make sure that we invest in good quality items for our homes that will last for years, as this not only saves money in the long run, it also stops worn out pieces of furniture going to landfill too often.
When planning a redesign, I'd suggest making a list of all the items you would like to change or add to to the room. This might include a new sofa, armchairs, curtains, paint, wallpaper, a rug, flooring, side tables, coffee table, lamps, and storage. Don't forget to add in art and accessories, as these are important and really do make a room look finished. You'll also need to make a note of the various delivery charges for each item, as these can quickly add up. Then, consider who will be carrying out the transformation for you. If you are happy to decorate yourself, then you won't need to factor in the cost of a decorator, but if you want a top quality finish, or simply don't have the time to do the decorating yourself, you'll need to add this cost to your list. Think of all the tradespeople you'll need to get the room finished - will you be having curtains made? Are you going to have any items reupholstered? What about bespoke shelving or storage? Add them all to your list and leave space for their costs.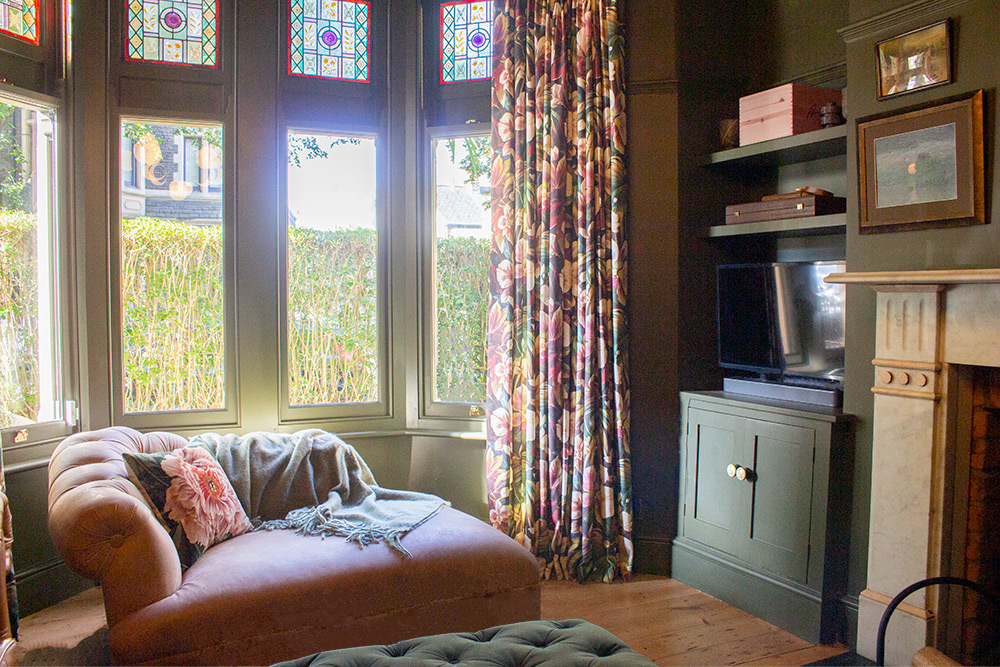 Now you have your list populated with everything you need, but how much is a reasonable amount to spend on each item? When I speak to my clients and ask them about their budgets, lots of them don't know what they need to spend to achieve the finished look they want. This is perfectly understandable, as most of us furnish a house over time and have never sat down and added up all the costs involved. You might have painted the walls, and bought a sofa, an armchair and a coffee table when you moved in, but then finished the room off gradually. If you look back and added up everything you've spent on that room over the years, you might be surprised by the total.
To get an idea of where my clients sit with their budget, I often ask what they are comfortable spending on a sofa. You can buy a sofa for as little as £300, but it won't last very long and will need to be replaced within a couple of years. At the other end of the spectrum, you can easily spend over £15,000 on a bespoke sofa made to your exact requirements. So how much should you spend? Most people will want to spend somewhere between these two extremes, making sure they get a good quality sofa which should last between 7 and 15 years.
If you are decorating a living room, then the items you will need to spend more on are the things you will sit on and use everyday, such as the sofas, armchairs, and the curtain pole or track. If you have a curtain pole which sags in the middle from the weight of the curtains, or the rings get stuck every time you use it, it will annoy you every day and spoil your enjoyment of the room. The same goes for your sofa, as it needs to be supportive, comfortable and look good for many years. So, what should we expect to spend on a good quality sofa? For one which is made with a strong wooden frame (such as beechwood), which has been glued and screwed together, with high quality foam and feather cushion inserts, I would advise spending no less than £2,000. An armchair made of the same quality materials would start at £900, with footstools around the £600 mark.
What about storage? With storage, I often advise investing in bespoke storage such as alcove shelving or built in cupboards. Many homes in the UK have chimney breasts, with alcoves on either side, which are perfect for building into. It can be hard to try to find ready made furniture that fits into these alcoves precisely, so built in or bespoke options work well and will make the most efficient use of the space. The cost of these will vary depending on the wood types used and the design of the storage, but expect to pay from £3,000 for a carpenter to build them for you.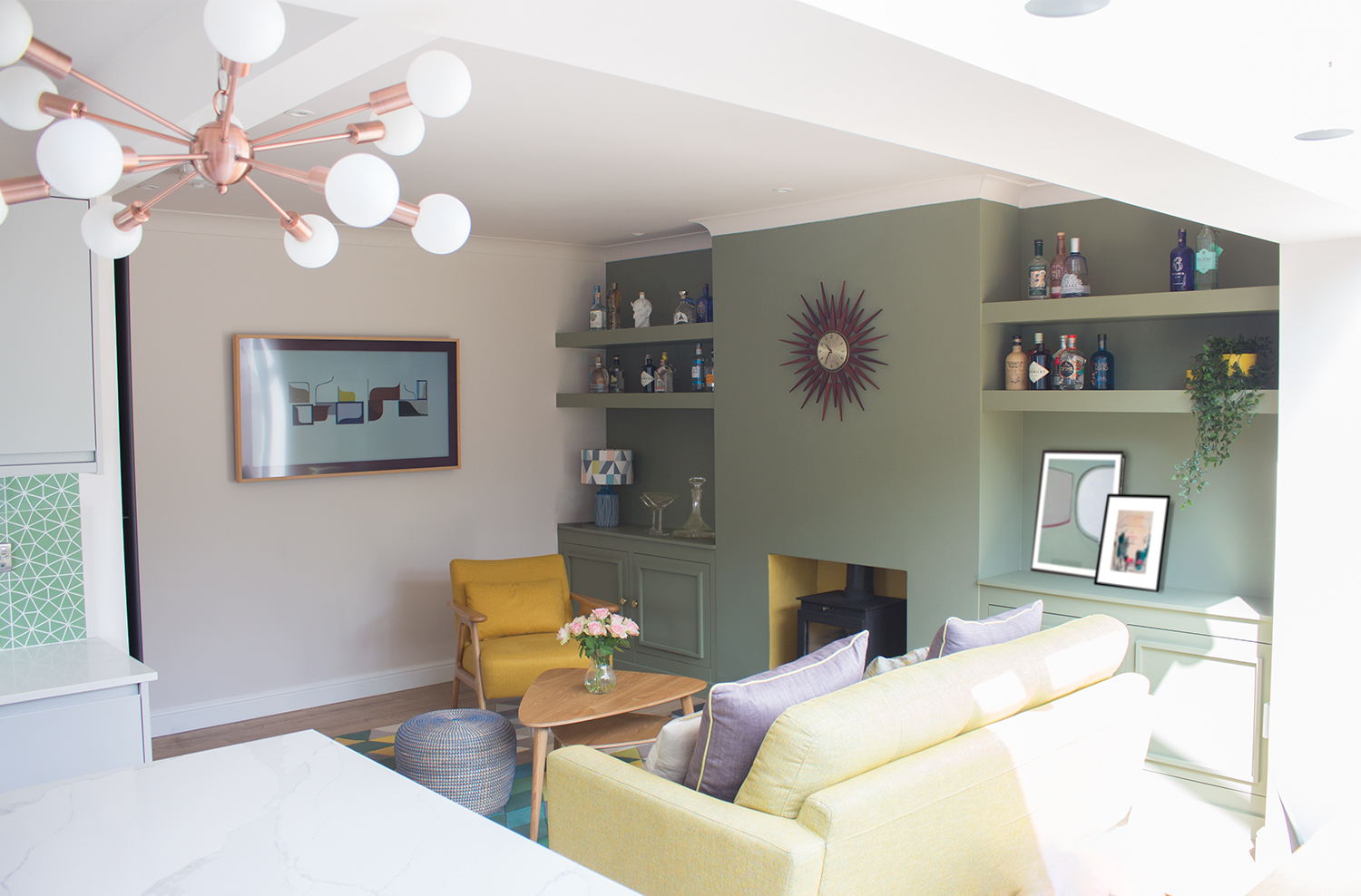 Lighting is also an area where it pays to get good quality fittings that look great and will last for years. I think you can really see the difference in the metal finishes and the construction of a cheaply made light and one made with higher grade materials. Look at these two similar lights for comparison - on the one on the right, you can see the screws holding the ceiling plate together and the joins where the opal globes are connected to the brass, whereas the transitions between materials are much smoother on the one on the left:
We've covered the costs of good quality seating, storage and lighting, but what about all the other items you might need? I've created a list of all the usual pieces you would have in a living room, and costed them out according to quality. I give this budget guide to new clients to help them determine their spending level, and to allow us to discuss budgets without plucking figures out of the air. You can see from the guide below that it has three columns - good, better and best quality, which they can pick and choose from, after deciding which items are more important to them (so worth spending more on).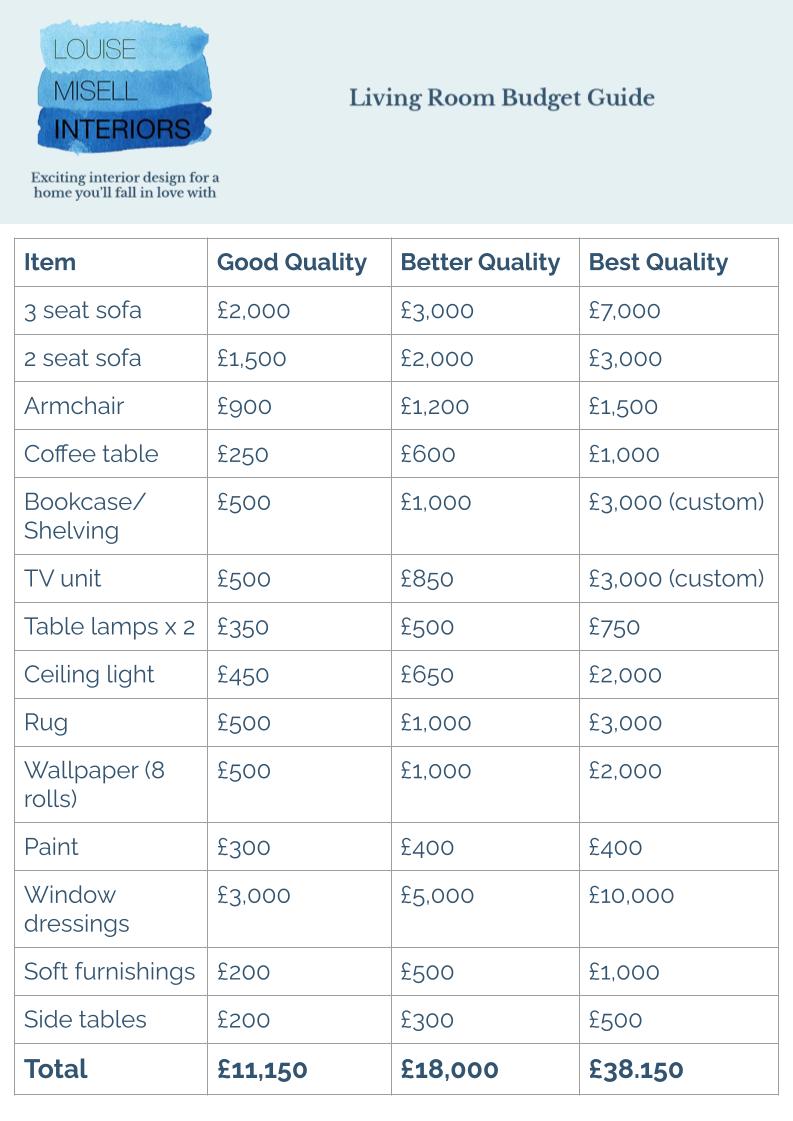 Of course, spending more doesn't necessarily get you better quality, as you need to look at the construction materials and how an item is made to determine its value, and if it is right for your home. I would also add that where an item is made will affect the price too, as something made in Britain by craftspeople will generally be of a higher quality and cost more than something made overseas by workers who are paid very little. In my opinion, it's always worth getting the best quality items you can afford, or making a plan to save up for them and to buy them later if you can't stretch to them now. If you are able to spend more on your new furniture, then I really encourage you to do that, as it will be a long term investment in your home which will give you joy for years and years to come.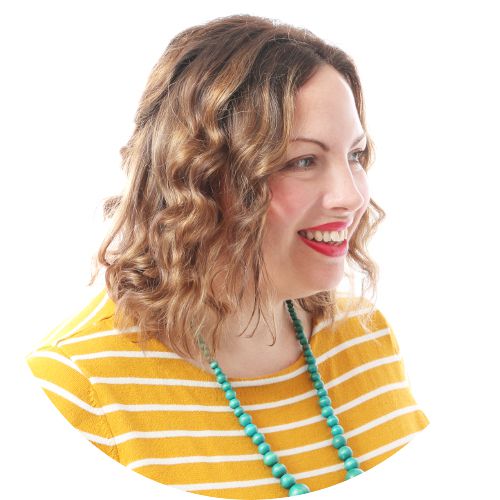 Welcome to the design blog, where you'll see posts about anything from the projects we are working on, to the latest fabric and wallpaper collections, and all things interiors related. We love colour, pattern, architecture and old buildings, and we love to share our finds with you.
Happy reading!