Should an interior designer design for themselves or for their client?
8 min read
Published 28 Oct 2020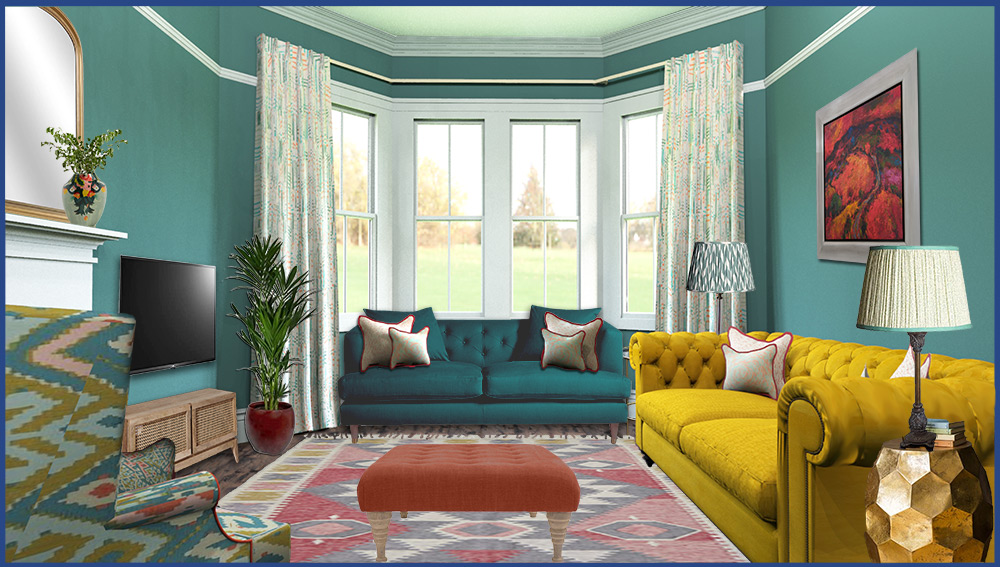 A visual for a room scheme I designed earlier this year
So, you're ready to hire an interior designer to help you with your home. You have a look around for potential designers who fit the bill, and find a few who look professional and experienced. Do you have a look at their portfolio on their website, to see what kind of style their design work is? Or do you think that it doesn't matter what styles they've produced before because they are designers and will design for you?

There is no right or wrong way to approach finding a designer, but the idea that a designer would have a personal style which they inject into their work is a tricky one. Should a designer have a 'house' style which they recreate for every client, or should they be more flexible and design in whichever style the client prefers? If I mention famous designers such as Kelly Hoppen or Abigail Ahern, you'll most likely think of their signature styles (glam neutrals from Kelly, and dark and moody interiors from Abigail). If you went to one of these designers for help with your home, would you expect them to continue to design in the styles which they are famous for, or to produce something unique to you?
Surely the answer to this question is simple - the client is paying the designer and it's their home, so of course they should do exactly what the client wants, right? Well, I think it's a little more complicated than that, and with good reason.
It's the designer's job to ask the right questions and draw out the brief from the client, and to find out exactly what they want for their home. You discuss styles and look at images together, so that the designer can get a better understanding of your taste. But, if the designer goes off to produce your design and comes back with exactly what you asked for, then have they done their job properly? If they follow your instructions to the letter, why did you need them in the first place? You might tell your designer that you want a navy blue feature wall with the other walls painted in a pale grey, and if that is the scheme you're presented with, then how has the designer helped you?

I see it as a huge part of my job to show the client what's possible, and what's available. I think I should be stretching and encouraging my clients to consider other possibilities to the ones they have come to me with. I spend a lot of my time researching ideas and practical solutions, and finding out which products are new to the market, so that I have these options ready for when they are right for a client. Say for example, you hired an independent financial consultant to discuss your pension and help you choose the right one for you, you'd expect them to know the range of products on the market, and to advise you which one best fits your needs. You'd also expect them to know the stock market well, and to advise you to invest your money in the best way for your long term goals.

It's the same with an interior designer. People often ask me what the trends are, and of course I know them and will discuss if they are right for you. But when it comes to renovating your own home, I would discourage you from purely following the trends as you will likely be investing a large amount of money into your project, and you need a scheme which will stand the test of time. You don't want to have to change your entire home six months later when there are new trends and all the improvments you've made suddenly look dated. As your designer, I would consider using a trend in your home, and think about ways in which we could work it in, but would also find ways to keep it looking timeless. For example, this kitchen renovation was completed back in 2013, when copper was just beginning to become trendy.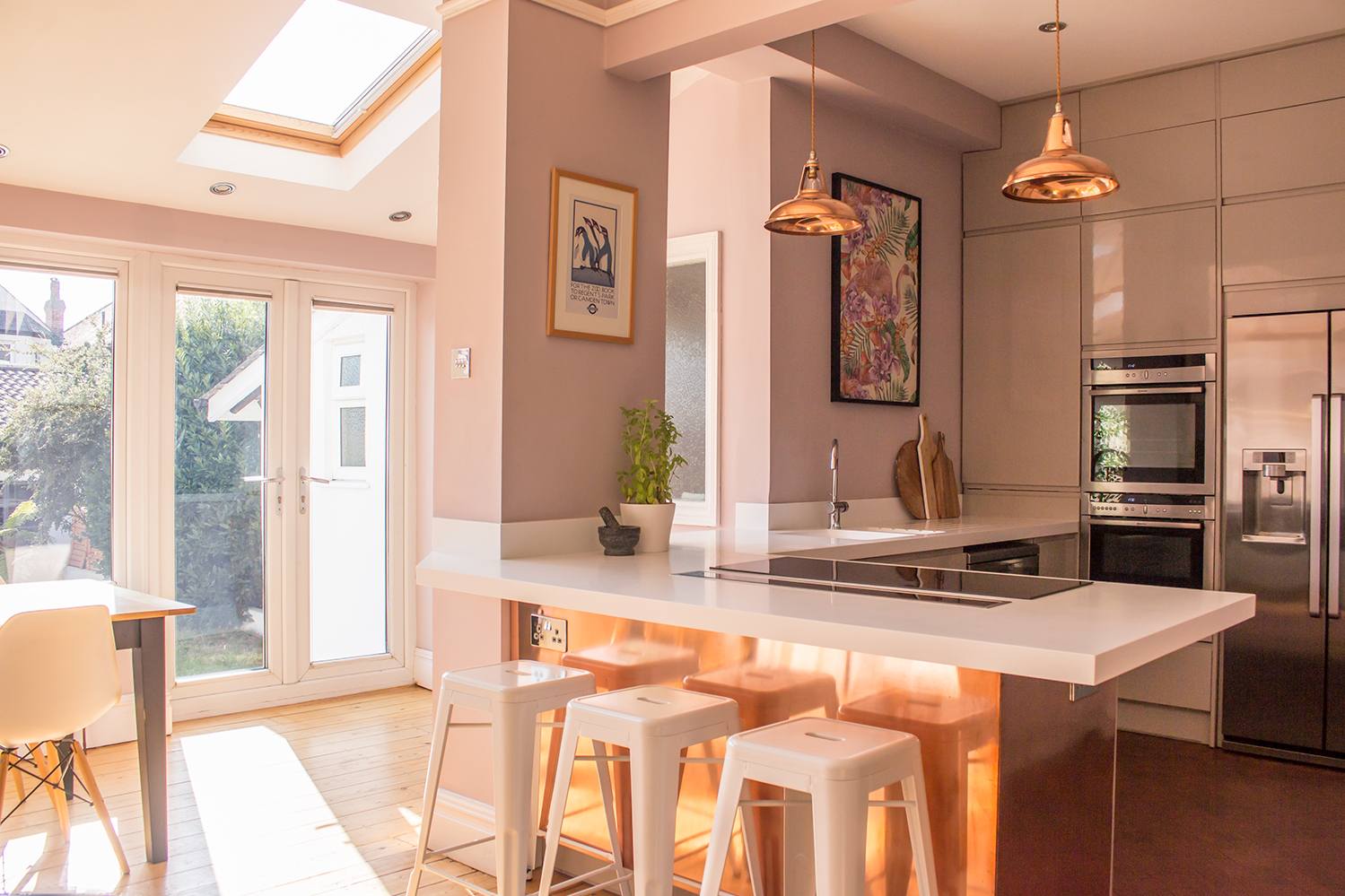 The Contemporary Copper Kitchen
My reasons for including some copper into the scheme were these - it added much needed warmth to a sleek kitchen which could have looked cold without it, and I was careful to add only a couple of copper touches and didn't go overboard with copper pans and accessories. Of course, a couple of years later copper was so on trend it was everywhere, and you couldn't look for items for your home without being inundated with copper candle holders or even copper cutlery.
But I stand behind this scheme, as the way which I wrapped the copper around the breakfast bar was innovative, and I knew that in the context of the overall design, with other metals such as brass and steel mixed in with soft pink walls, it would be loved and enjoyed for years to come. You can see more of this kitchen here.
As in the example of the copper trend, a client might come to me with an idea that they've seen in a magazine or on Pinterest, and ask me to design something like that for them. I encourage my clients to look for inspiration and ideas before we meet for our consultation, but sometimes magazines and Pinterest can be unhelpful. Interiors trends are much like high fashion trends and are predicted up to two years in advance, and will be showcased at industry events and in trade publications. Furniture and decor manufacturers produce high end, high fashion pieces which are shown to designers and writers much like the catwalk shows of the fashion world are presented to style editors. The new trends are then picked up by interiors magazines who will write pieces on them, and less expensive or high street stores will begin to make their own pieces influenced by the design shows. Eventually, the new trend will be everywhere, and you'll be able to pick up similar items at the supermarket. By the time these interiors trends have filtered down to your local Tesco, there are newer, fresher trends coming in and what was so current last year is now out of date.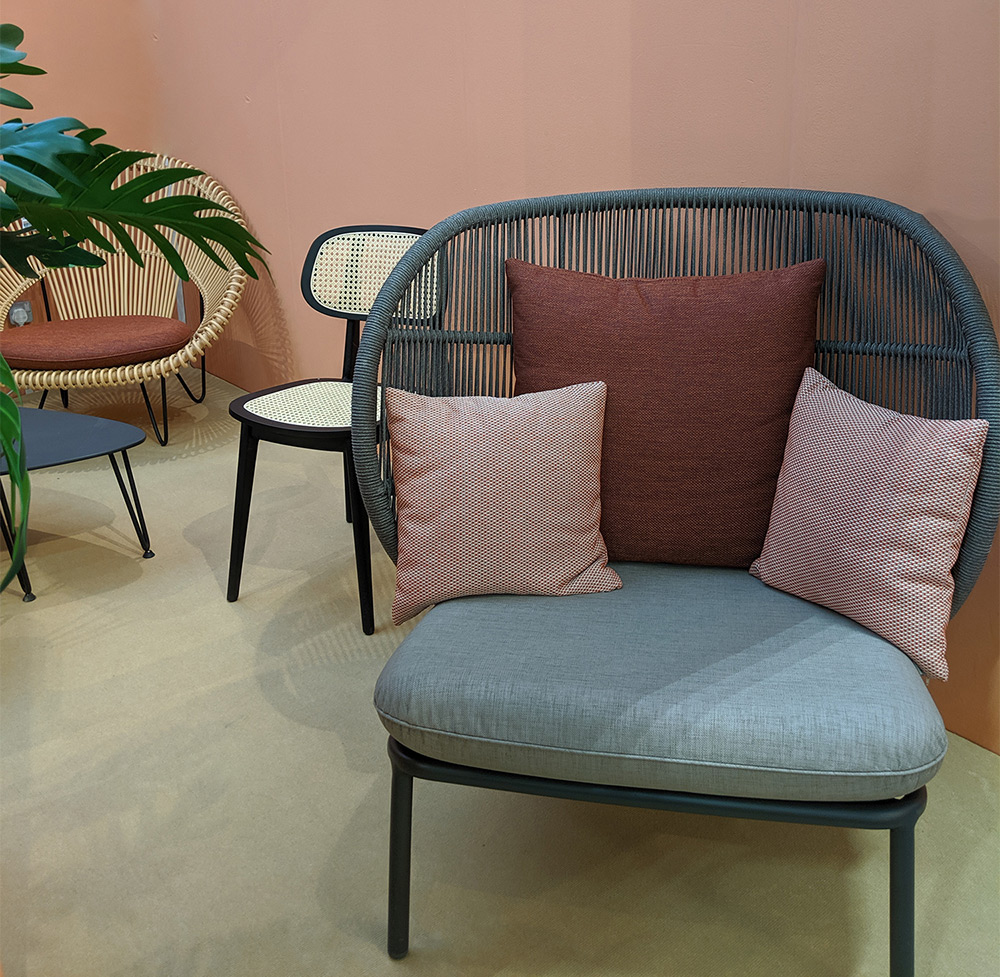 A rattan dining chair at the Decorex Trade Fair in 2019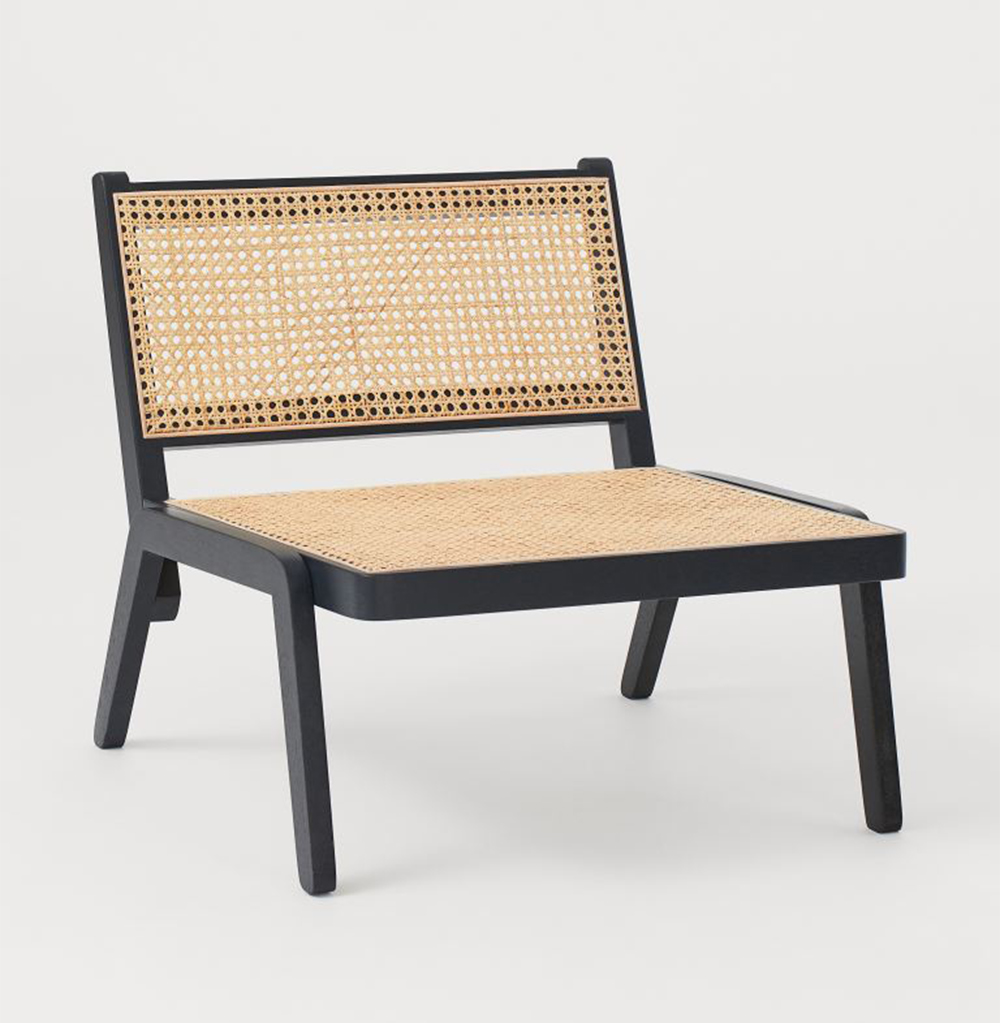 A similar rattan chair on sale over a year later from H & M Home
By the time those trends from the design shows have made it on to sites like Pinterest, the interiors world has already moved on, and as designers, if we produced a design heavily influenced by the images we are seeing all over the internet, we'd be replicating something that's already out of date. A good example of this is the kitchen I designed in 2019 as part of the Modern Country Renovation, which you can see more of here. At the time I designed it, navy had been predicted to be a big trend in kitchen cabinetry, and was already on the radar of the fashion forward interiors lover. But I knew from my design industry sources that navy had had its moment at the top of the interiors tree by then, and that dark green was becoming the next big thing for kitchens. So why did I design a kitchen with a navy island and navy accents? Because I knew from my discussions with my client that she loved navy, and that it would look timeless and classic in this kitchen. She wasn't into green at all, and it wouldn't have been right for me to steer her towards a green kitchen just because it would be on trend. This kitchen was right for her, and I made it work in a way that wouldn't date. Interestingly, my client is a busy woman and didn't spend her time looking out for interiors trends, so when I suggested navy she was a bit worried it might be too much, and that the navy tiles in particular were too dark. It's another part of my service to my clients to push them gently out of their comfort zones, and again, open their eyes to the possibilities and potential in their homes.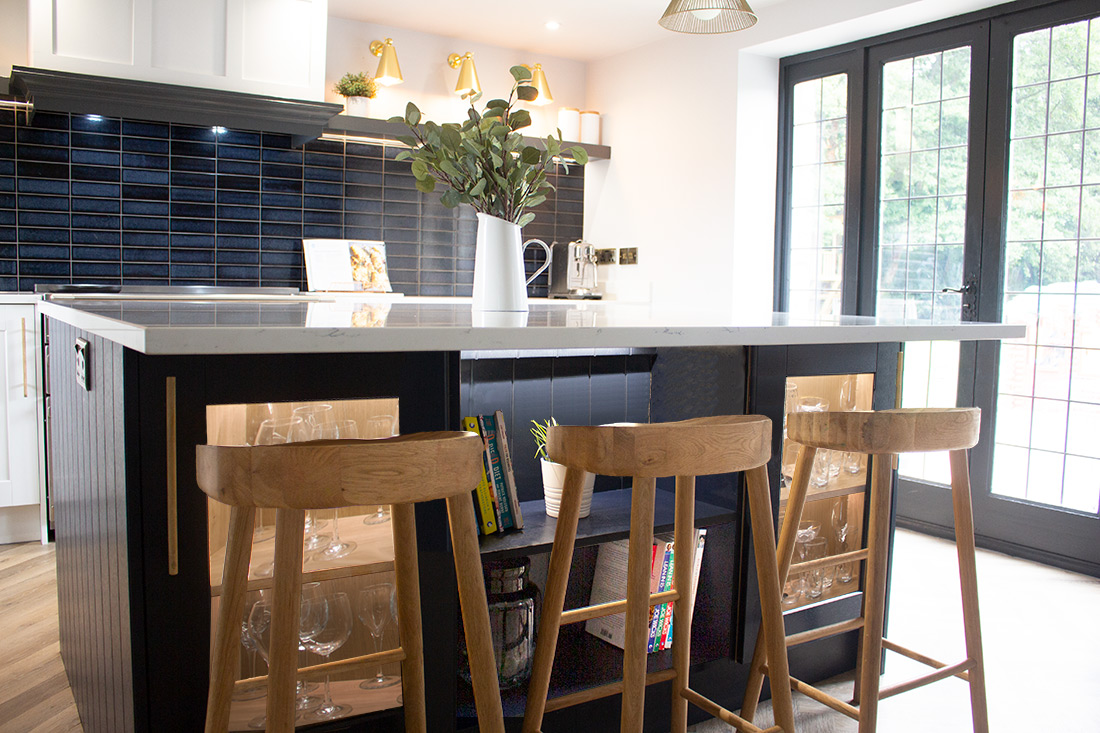 The navy and white kitchen from the Modern Country Renovation
When I was first discussing ideas for a new bedroom scheme for some clients in London, they initially wanted to keep the room light and bright. It had been painted in a beige colour by the previous owners, and they felt the room needed some personality, but didn't want it to be oppressive. We threw around a few ideas, but I really felt the space could take a strong colour, and suggested a dark green all over the room, including on the ceiling. They were very open minded, and could see the cocooning effect of having every surface painted in the same colour. They quickly got on board and were excited for how it could look. I took the idea and came up with a concept which not only suited the age of the house, their style, and their lifestyle, it also really excited me. I feel strongly that a designer produces their best work when they are enthusiastic and fully committed to the scheme they are designing. It can be a real labour of love to design a home, and a designer who believes in the work they are doing is much more willing to put in all the hard work required to get it done.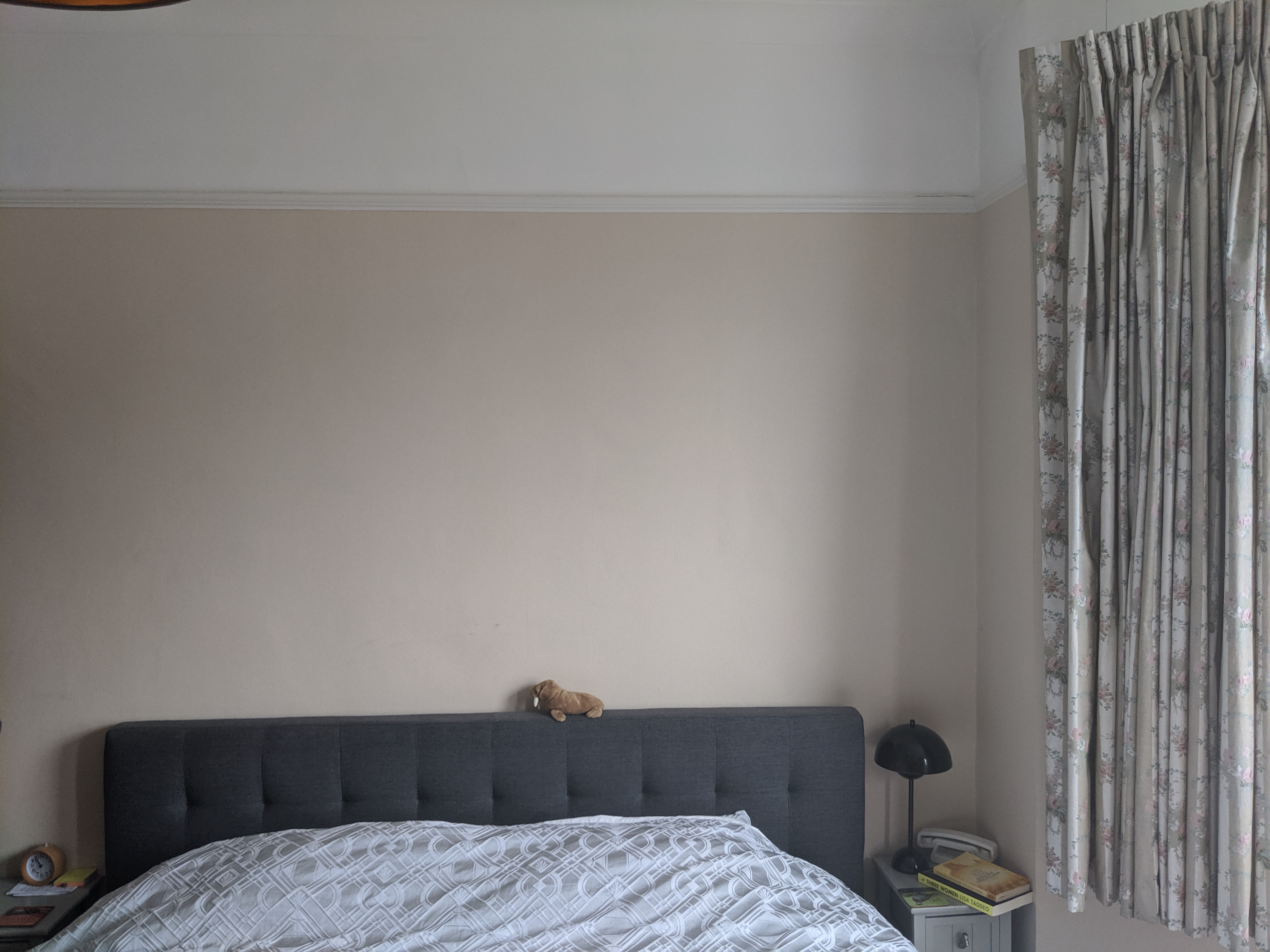 The client's room before we began the project - definitely in need of some personality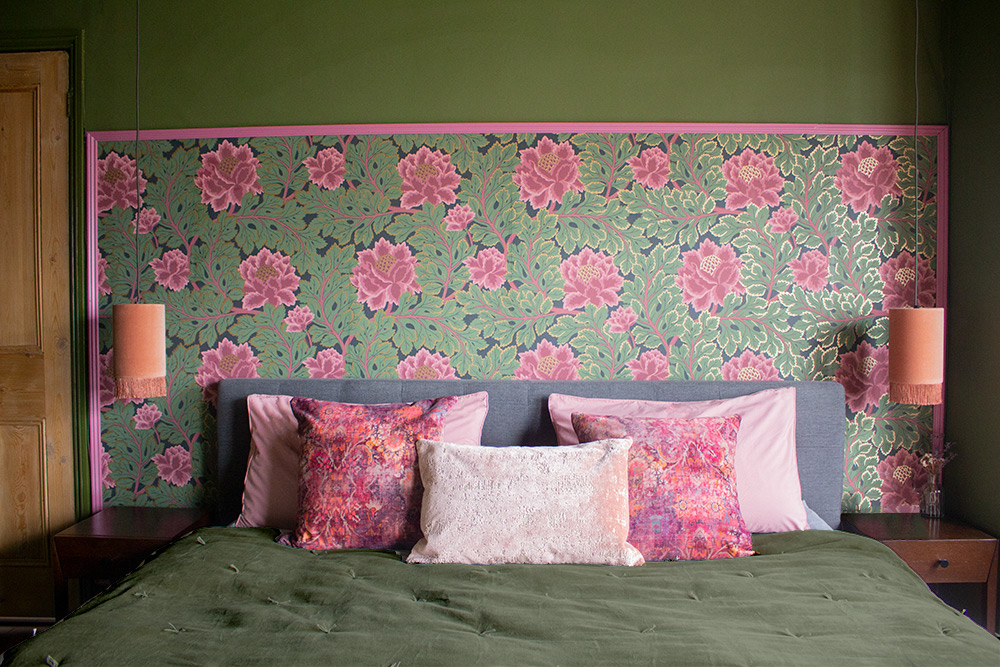 The same bedroom now the project is finished - with dark green walls and statement wallpaper
A final point to consider is why a client might ask a designer for help in the first place. I'm hired by my clients to have a vision for their homes that they just aren't able to see, for whatever reason. Putting together a scheme is like making a painting or piece of art, the designer not only has to consider all the practical solutions, but they work like an artist does. They select and pull together colours, shapes, textures and proportions, and layer them to create a unique scheme. Ten designers, when presented with exactly the same brief from a client, will produce ten very different schemes, because they will inevitably inject some of their style and personality into them. Interior design is personal to not only the client, but also to the designer, and I would encourage potential clients to do a bit of research to find the designer that is right for them - someone whose work they like, and has worked on projects similar to theirs in the past. That's the way to get the best results from your designer, and the best for your home.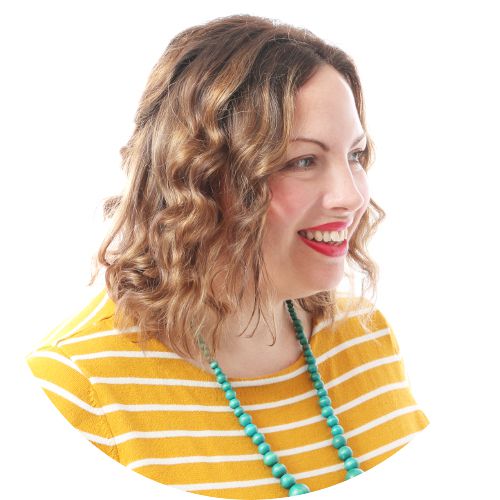 Welcome to the design blog, where you'll see posts about anything from the projects we are working on, to the latest fabric and wallpaper collections, and all things interiors related. We love colour, pattern, architecture and old buildings, and we love to share our finds with you.
Happy reading!