Work in Progress - The Loft office
7 min read
Published 28 Jul 2020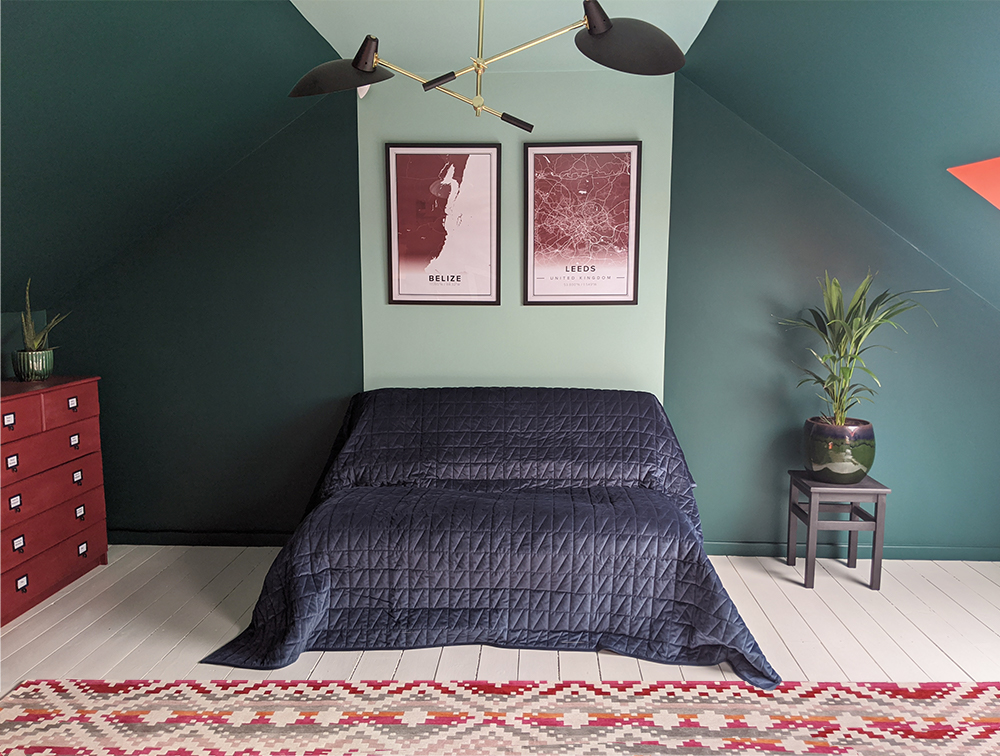 I'd thought I'd share a project of my own which I've been working on during lockdown - my office. I started running my business from this room as it's the converted loft at the top of the house (so it's nice and quiet). The only problem was that it hadn't been decorated since we moved in and was a very boring shade of beige. And I was working on an old computer trolley type thing which was too small and was falling apart. It was definitely time for a change - have a look for yourself: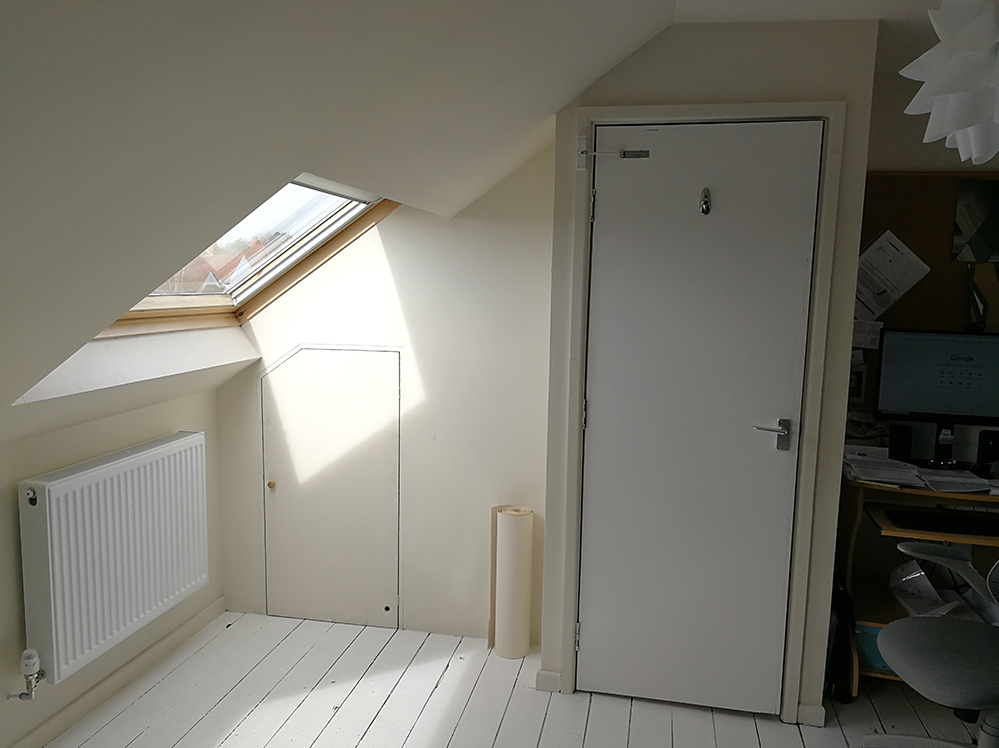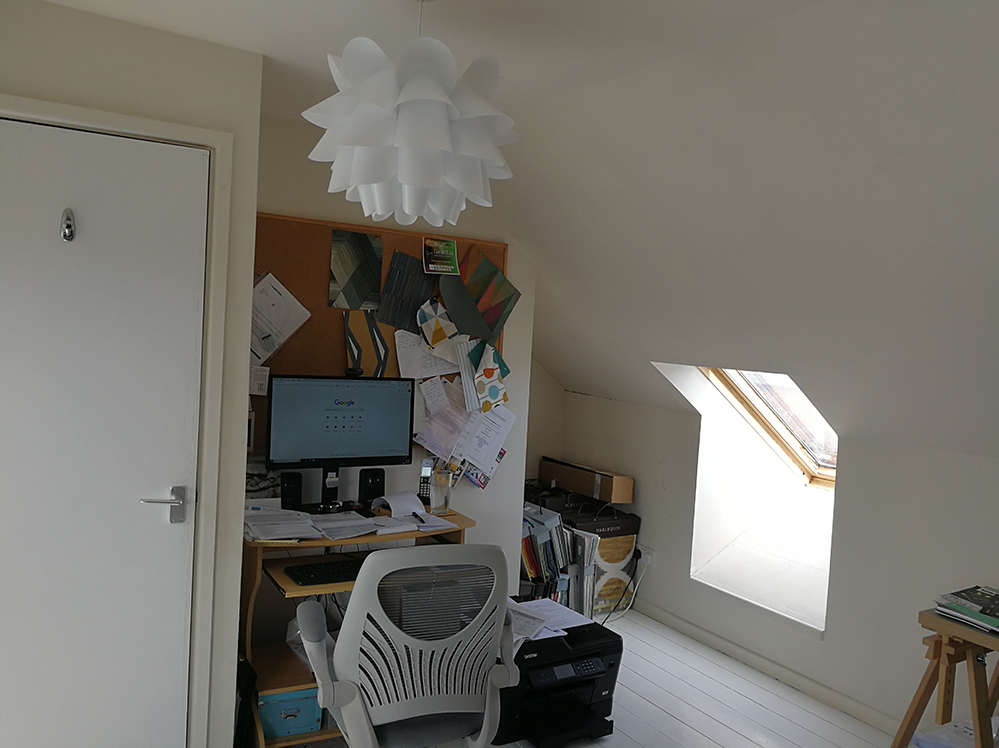 After around a year or so of working in this room, I started to have problems with my neck because the desk was too low, and the keyboard was on one of those pull out tray things beneath the desk, which was even lower. So, I decided to design a new built in desk, and also some extra storage as I was rapidly running out of space. Another issue was that all my fabric and wallpaper books were stacked up on the floor, and it was a huge effort to pull any out to source anything for a design.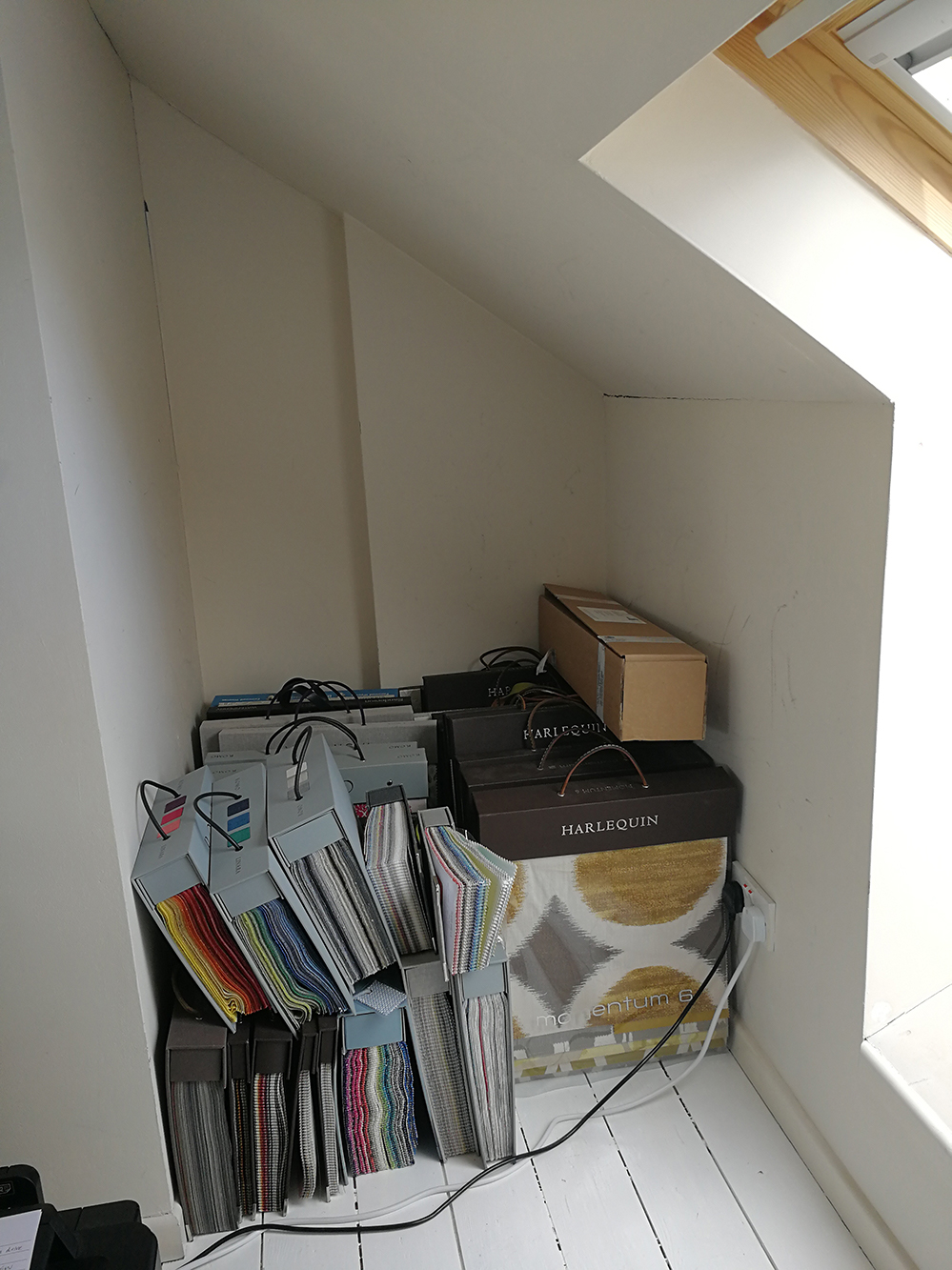 I decided to have the desk and storage made from plywood, as I like the slightly industrial way it looks, and also the contrast against a brightly painted wall. That part was the easy decision to make - I used my computer software to make a model of the room and design the built in parts within it. Here's the line drawing of the desk and shelving: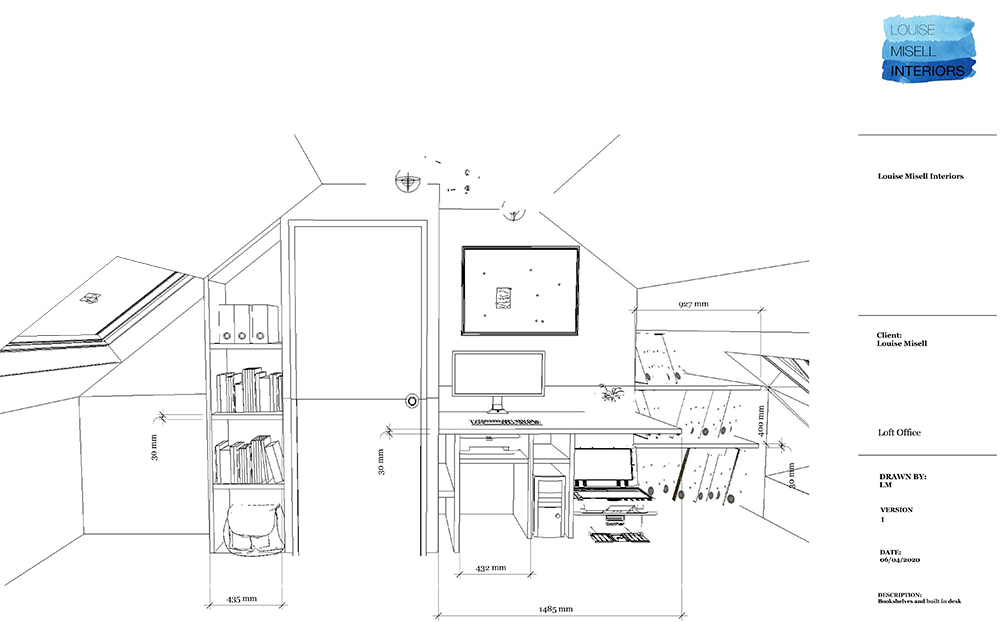 Next, I had to choose a colour scheme for the room. As I'm an interior designer, this should have been the easy part, right? Wrong. I know that I like a wide range of colours and am aware of all the different styles it could have been, making the choice harder. When I'm designing for a client, I work from their ideas, personality and style to come up with something which works for them. But when I'm the client, I can be soooo picky. Because I felt the world was my oyster, it was much harder to choose. I also know that I wanted to 'colour block' the room in some way, but as a loft room has so many angles and it could be divided up in lots of ways, and I needed to choose just one. I actually went through five colour schemes before I settled on one! Here are a couple of the rejected ones: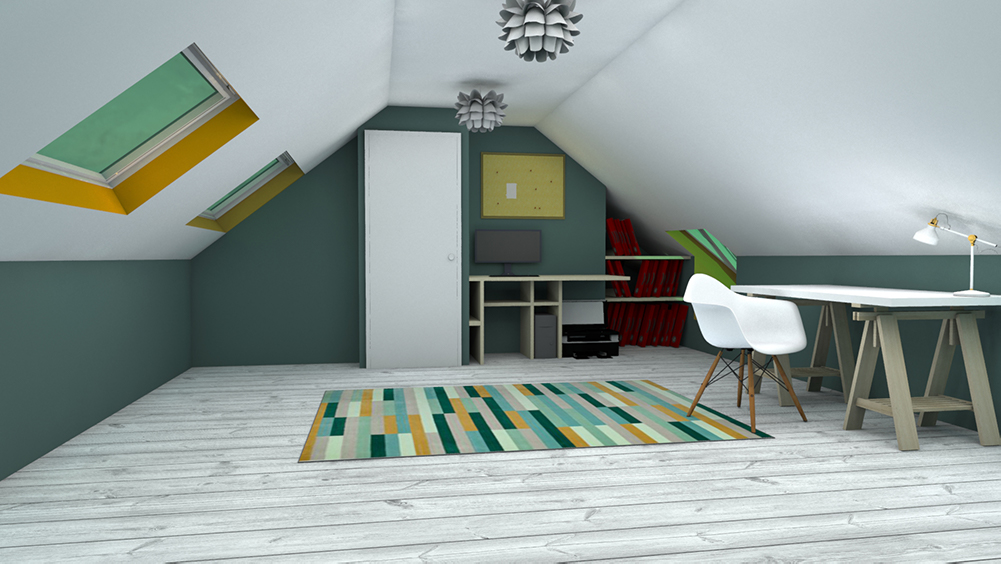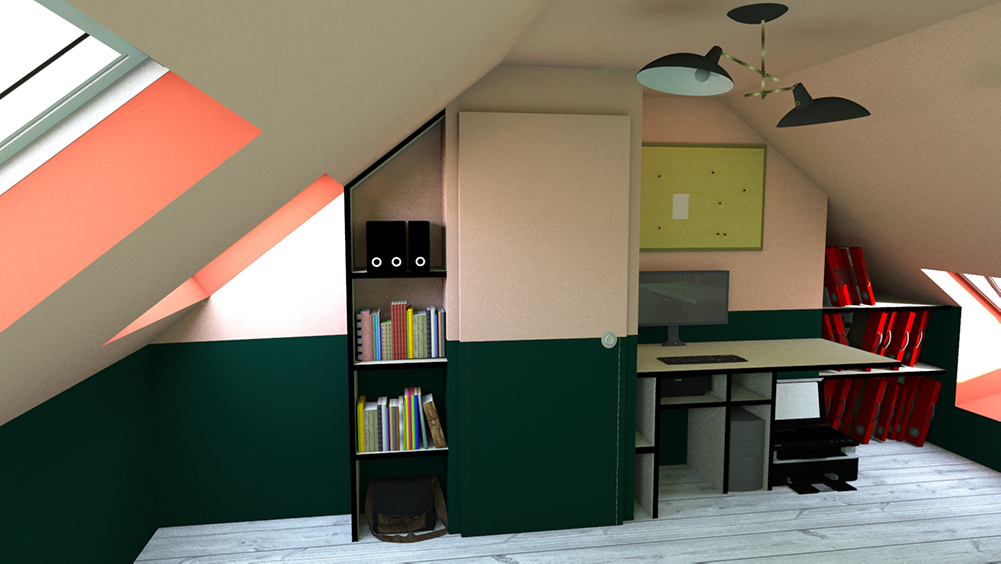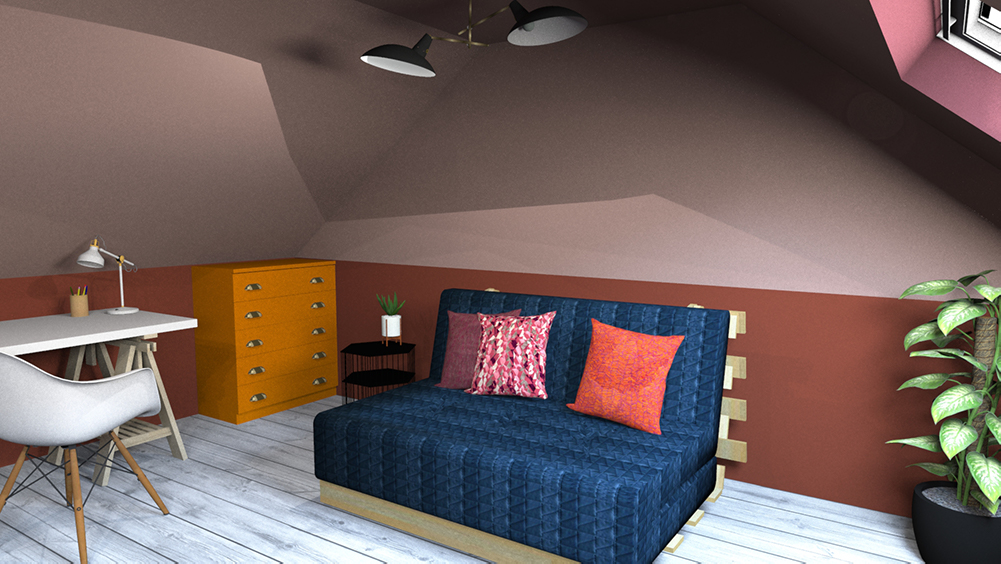 I finally settled on the perfect colour scheme for me by getting my paint charts out and just picking out anything which 'spoke to me' and putting them together. It sounds odd, but sometimes you have to go with what your gut tells you. I then off course checked that the colours worked together and bought sample pots to make sure, like a grown up. Here's the final design in the two visuals I made: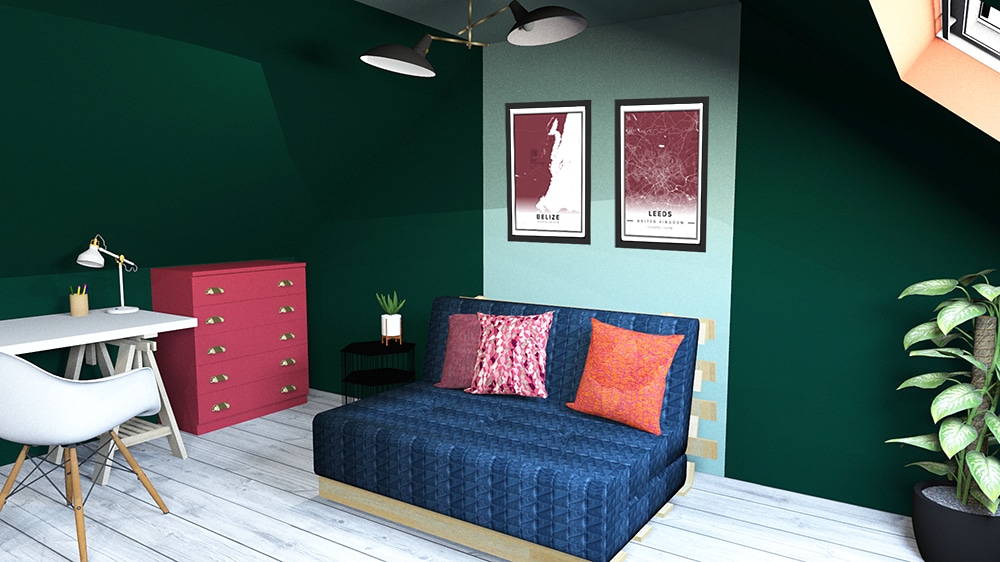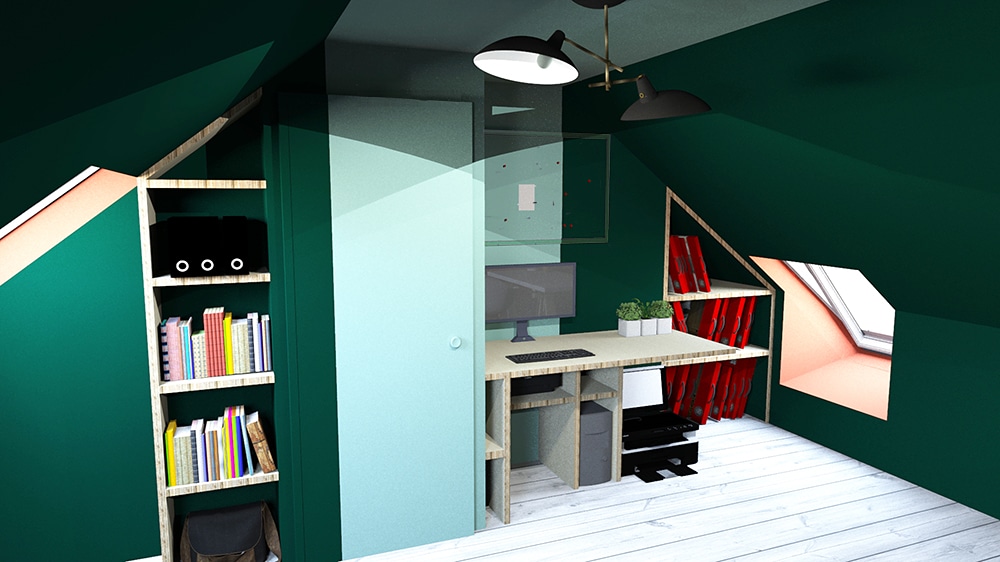 I was then of course too busy running my business and designing for my lovely clients to do anything about getting the desk built or to decorate the room, so nothing happened for over a year. The arrival of lockdown presented the ideal opportunity to get started, as I wasn't going to see clients for a while and could turn my office upside down without too many consequences. So I got started. Here's a few pics of the decorating in progress: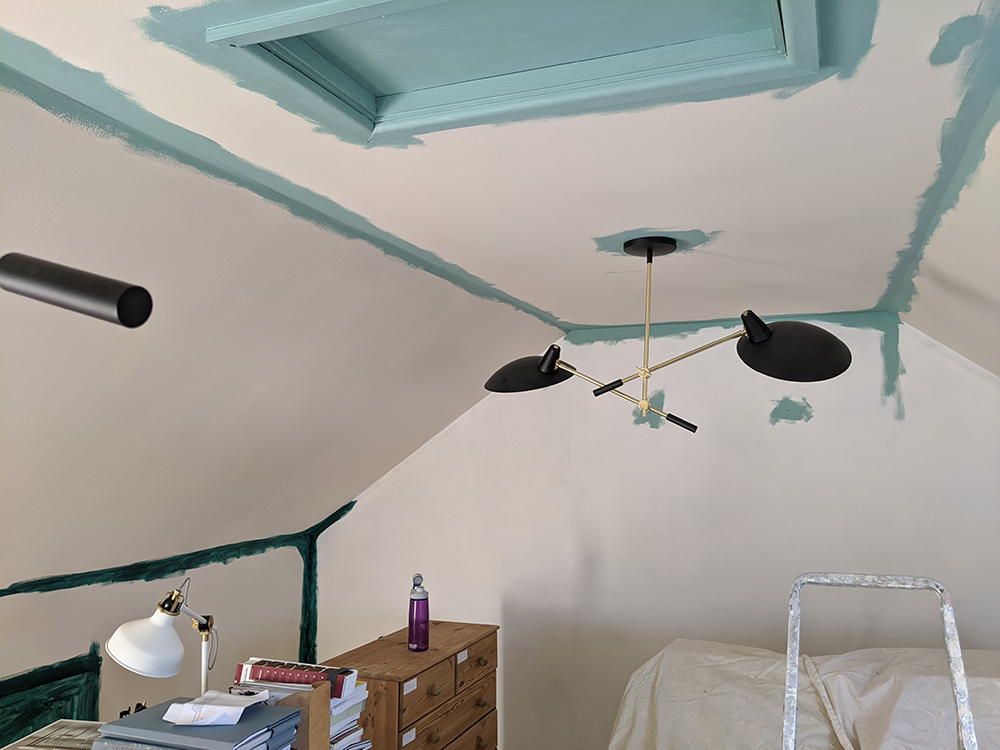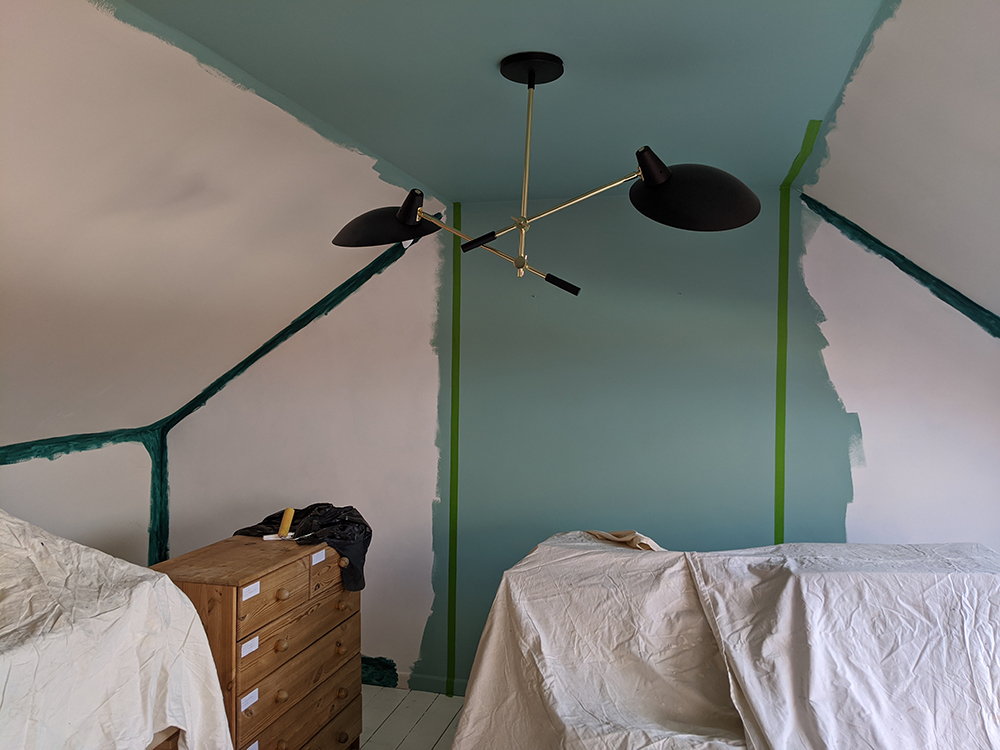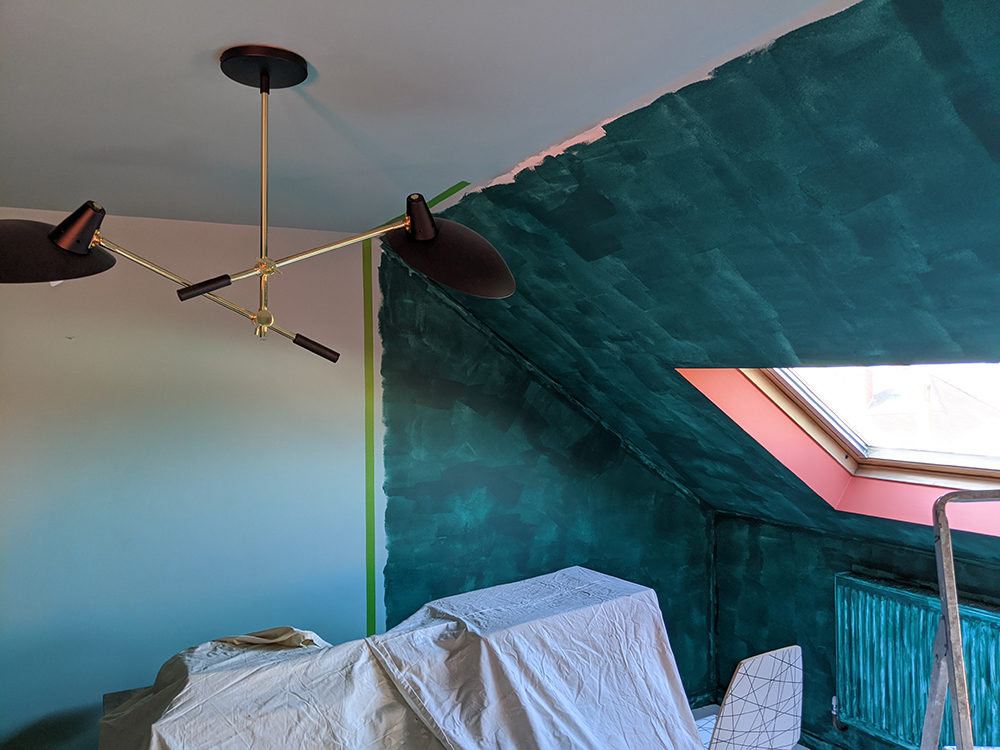 The straight lines which I'd decided to paint along the ceiling and down the walls were one of the things I had to work out as I went along. I've done a lot of decorating over the years and have steady hand, so usually paint any edges freehand. I knew this wouldn't cut it with the sharp lies that this design called for, so I used Frog tape for the first time ever. I was very impressed - it gave me beautifully crisp edges - even down the middle of the door.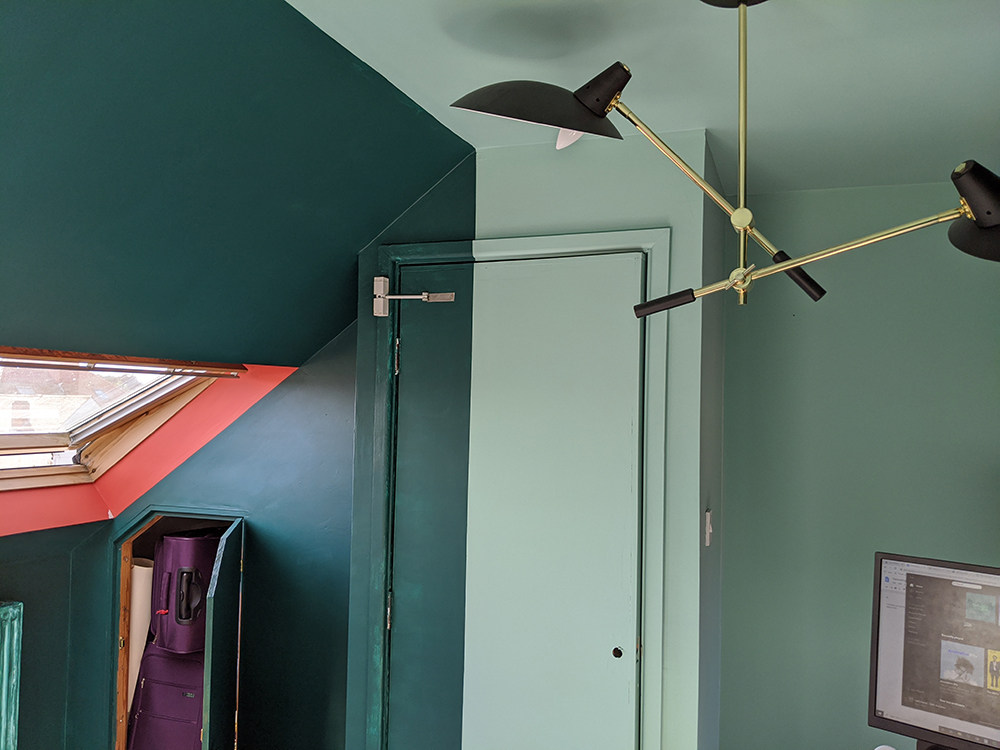 The next stage was to get the desk and shelving in. I sent the drawings to my very talented carpenter, who then constructed most of it at his home so that we could maintain social distancing. He then came to fit everything whilst I and the rest of the family stayed out of the way. Luckily, my measurements were accurate, but unfortunately the walls aren't true, so he did have to make a few adjustments along the way (I think he'd say more than a few!) Here's the desk and shelving going in:
Once the desk was in and protected with three coats of Danish oil (I chose this as I could apply this easily myself, and it darkens the wood slightly, bringing up the beautiful grain), it was time to start adding some decorative elements. I decided to paint my existing cork pinboard in the same colours as the walls, as it's so large it would have covered up most of that section of the wall where the light colour meets the darker colour. Luckily the old Frog tape worked a charm here too, so I have a perfectly straight line which is the same as the line down the wall. Here's how it looked before, and how it looks now that it's up:
I really loved the orange colour which I'd chosen to paint around the window reveals, and wanted to add some more contrasting colours. I also wanted a little more pattern, as the walls were very plain. I added both colour and pattern with the rug and some cushions. Here's a sample of the rug I chose, with me testing to see if I like it against the wall colour:
And next to it are the two fabrics I chose to make some cushions from - I love how the floral and geometric patterns clash, but the overall effect is harmonious because the colours all compliment each other.
One final piece of the puzzle was changing the look of the chest of drawers I use to hold all my samples. This was a boring piece of orangey pine, and definitely needed a refresh. I chose to paint it in a purpley red to complement all the other pink/orange shades (it's Annie Sloan Burgundy if you want to know). I also wanted to change the handles to something more industrial and practical. The ones I found are perfect because they have space for labels, so I can label the items in my drawers and stay organised.
I then added more burgundy in the form of these two framed maps. The first one is a map of the shoreline of Belize, the country where my dad is from, and the second one is the city of Leeds, where I did my real growing up. Both are places that make me feel happy when I think about them, so it made sense that I would have them in my office. Which brings me on to the most important reason for me undertaking this project - I wanted to feel happy and surrounded by colour. There were practical reasons, such as needing more storage and a better desk, but the beige walls were so uninspiring and boring, they made me feel nothing. Now I feel surrounded by the colours, like they are giving me a big hug. Isn't that how a room should make you feel?
I'll be posting the final shots of the finished room on my website, but for now, here are a couple of sneak peeks of the final result: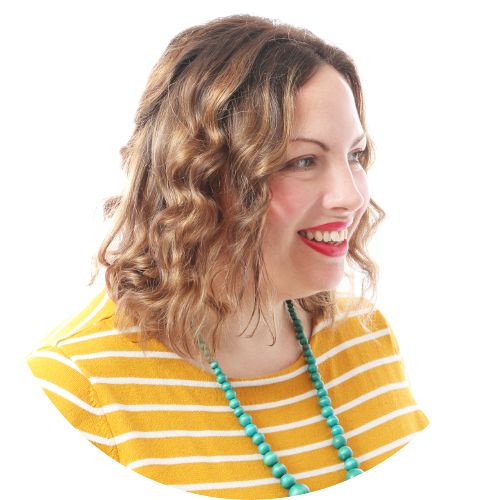 Welcome to my design blog, where you'll see posts about anything from my current interiors obsession, to the latest fabric and wallpaper collections, and 'how to' guides for all things interiors related. I love colour and pattern, architecture and old buildings, and I especially love the moment when you see something so beautiful it makes you take a sharp intake of breath. Happy reading, and if you have any questions, or would like to chat about anything interiors related, please use the contact form to get in touch.
Thank you,
Louise
Upcoming interiors trends from Love Rugs
10 Jul 2020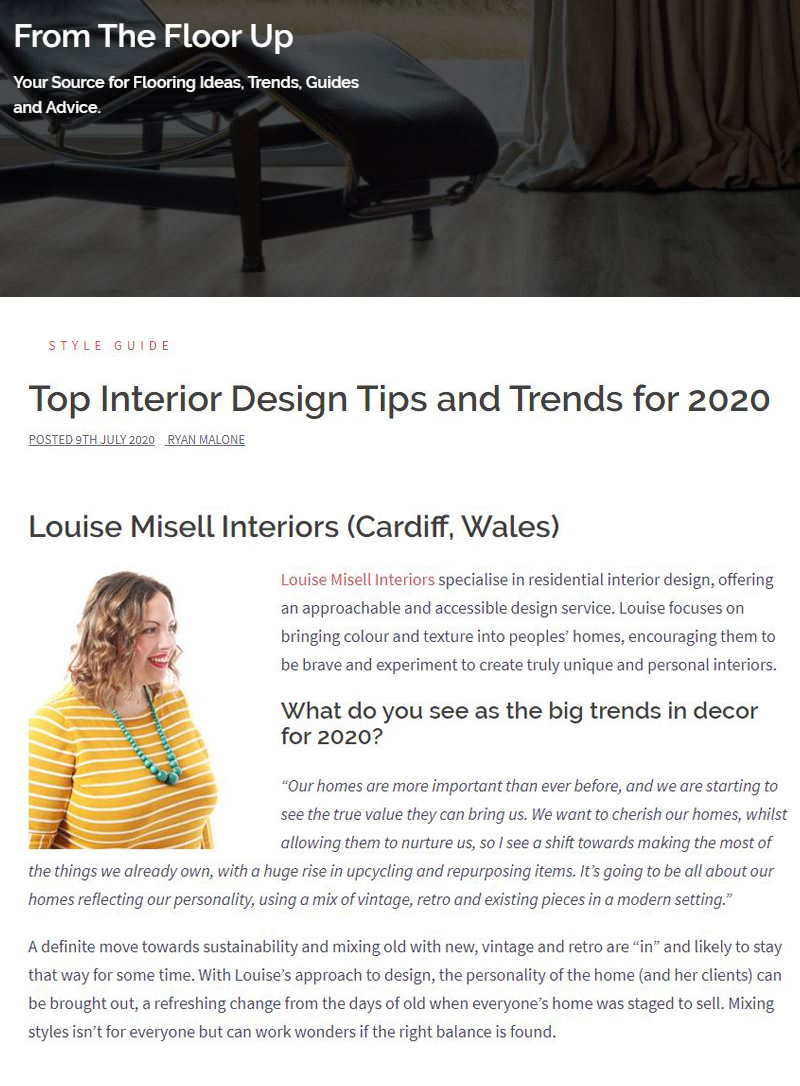 Love Rugs, the people who know about all things rugs have just published a feature on the upcoming interiors trends for 2020. They asked six of the UK's top interior designers (including me!) to tell them what the upcoming trends are, and in particular the changes we will be making to their homes. The article can be read here, and if you'd like to have a look at the huge range of rugs they offer, click here.
A new fabric collection from Linwood Fabrics
15 Jun 2020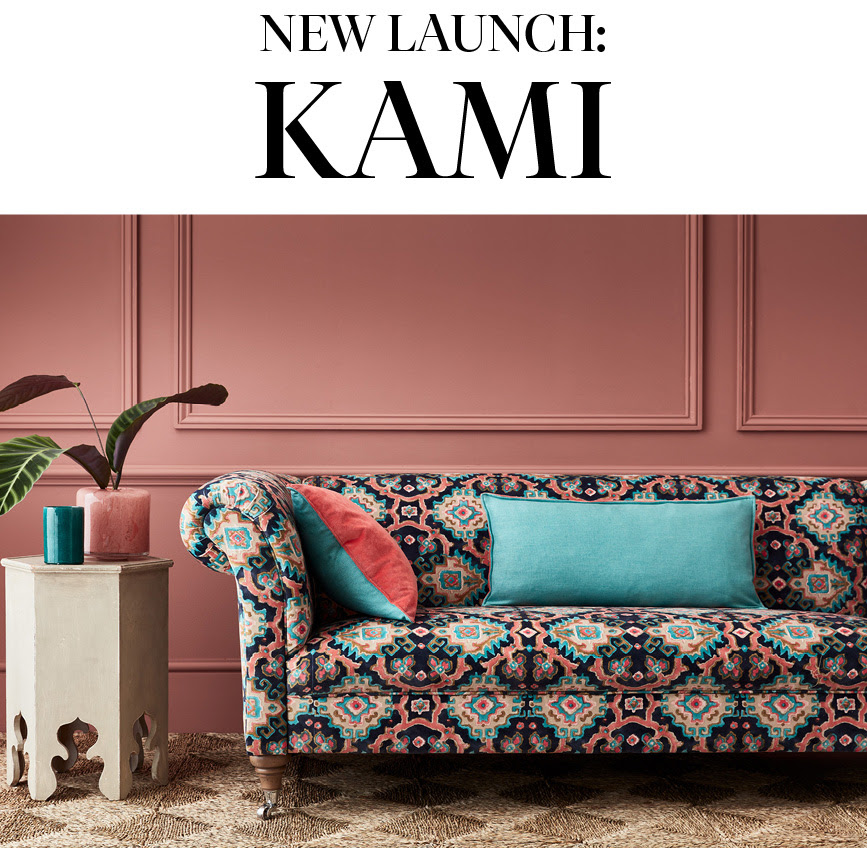 I love Linwood fabrics - they have a fab way of mixing colour and pattern into something really special, producing fabrics and wallpapers that make me want to coo. This new collection, available at the end of June, is just as gorgeous. It's called Kami, with the pattern inspired by a 19th Century document. The collection is a range of printed velvets, so perfect for upholstery and accessories like cushions.
An easy way to update your kitchen
16 Apr 2020
If you are looking to update your existing Ikea kitchen rather than replace it, Stockholm based company Superfront are here to help. They sell a range of fronts, handles, legs and tops to fit not just the Faktum kitchen range but also the Besta, Metod and Pax ranges - so you can customise anything from your sideboard to your wardrobe. These super cute round handles are part of their new birch collection, and the whole range can be found here
Move over boring taps - colour is the new black
13 Mar 2020
Colour has been taking over our kitchens and bathrooms for a while now (yay!), and has slowly been creeping into sanitaryware and fittings. These perfectly coloured mint green and pastel pink taps from the new Miami Colour Pop Collection from amazing homeware brand Dowsing & Reynolds are spot on and would look gorgeous in any kitchen or bathroom to add a shot of colour without overwhelming with sugary sweetness. You can learn more about this new collection

here

.
Who knew a door stop could look this good?
19 Feb 2020
Door stops are one of those little annoying things that we all need, but are not the prettiest to look at. Now London based Buster & Punch have turned their attention to the problem and transformed the humble door stop into something cool and covetable. They might cost more than your average one from a DIY store, but as you're going to see it every day, why not look at something beautiful? here.
Wallpaper made of cork?
29 Oct 2019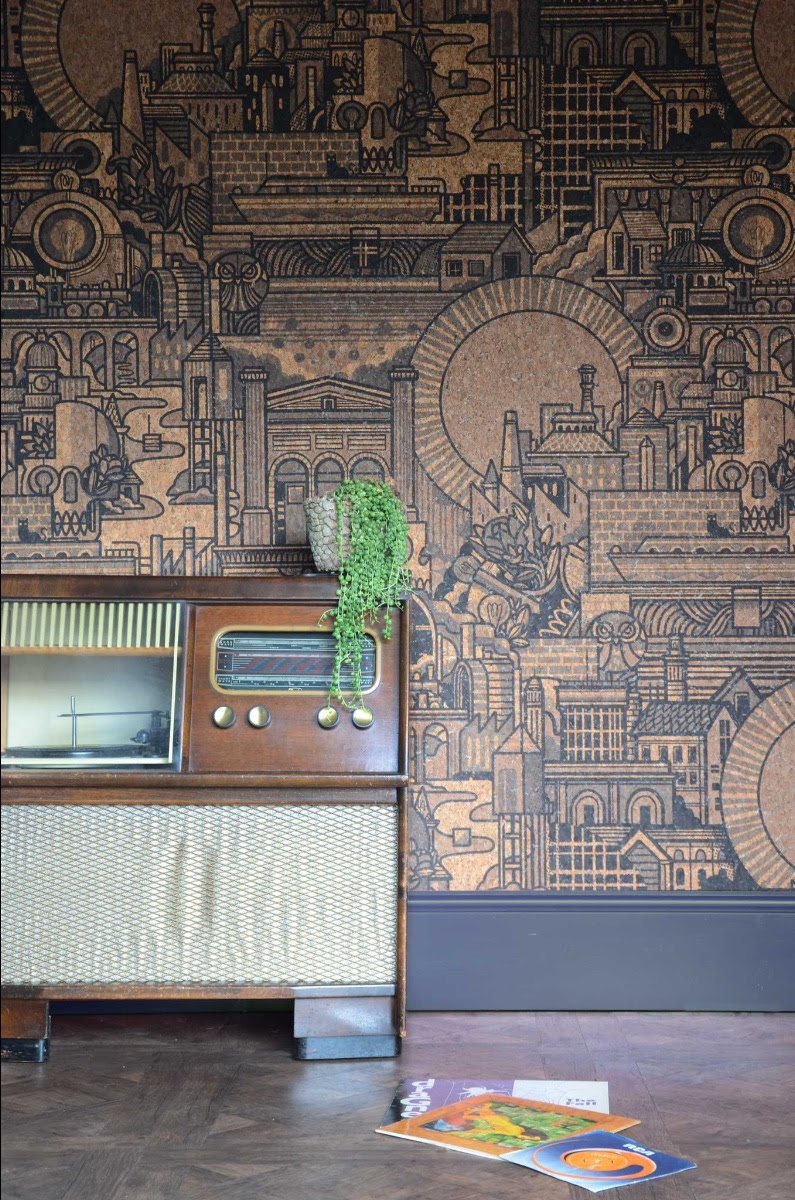 Sustainability and concern for our environment are key in the interiors world right now (as they should be). So when I saw that Monkey Puzzle Tree (a brand I admire for their sense of style and creativity) had produced this wallpaper made of cork, I was blown away. Cork is great for so many reasons - it can be harvested every nine years without harming the tree, is grown without the need for pesticides or fertilisers, has excellent sound and heat insulation properties, and is naturally antimicrobial and antifungal. This wallpaper has an A+ rating for emissions so it creates a healthy environment wherever it is hung. Add to this that the design was produced in collaboration with the talented Drew Millward who lives in my home county of West Yorkshire, and that it's called 'Hit The North', I was bound to fall in love with it. You can buy the wallpaper here.
I'm in Cardiff Life magazine - again!
17 Sep 2019
Now that the summer is officially over and our thoughts turn to cosying up our homes for winter, I'm here to help. If you're in need of some inspiration, you can read all about the interiors trends for Autumn and how to work them into your home in this month's Cardiff Life magazine. Hear what I and other interiors experts have to say on pages 18-22. You can read the digital version of the magazine here.
I've been nominated for an Amara Interiors blog award!
6 Sep 2019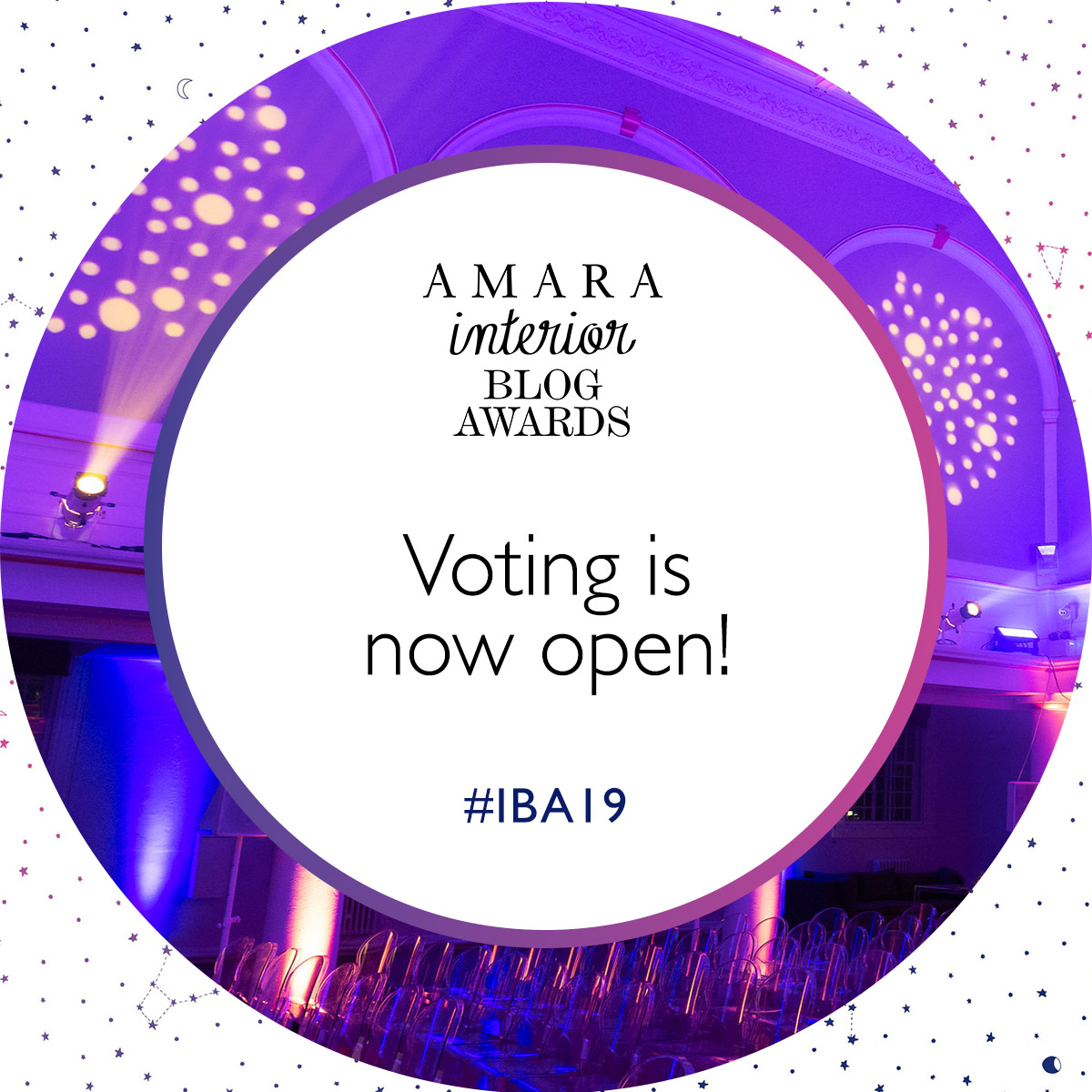 Exciting news! My little blog (Design Insider) has been nominated for an Amara Interiors Blog award! I'm so chuffed to be included at all, and not expecting to win, but if you enjoy reading my blog posts then please vote for me. I'm nominated for the Best Interior Designer blog category. Voting is open until the 11th of September and you can vote for me here.
My kitchen project featured on the Artifact Lighting blog!
1 Aug 2019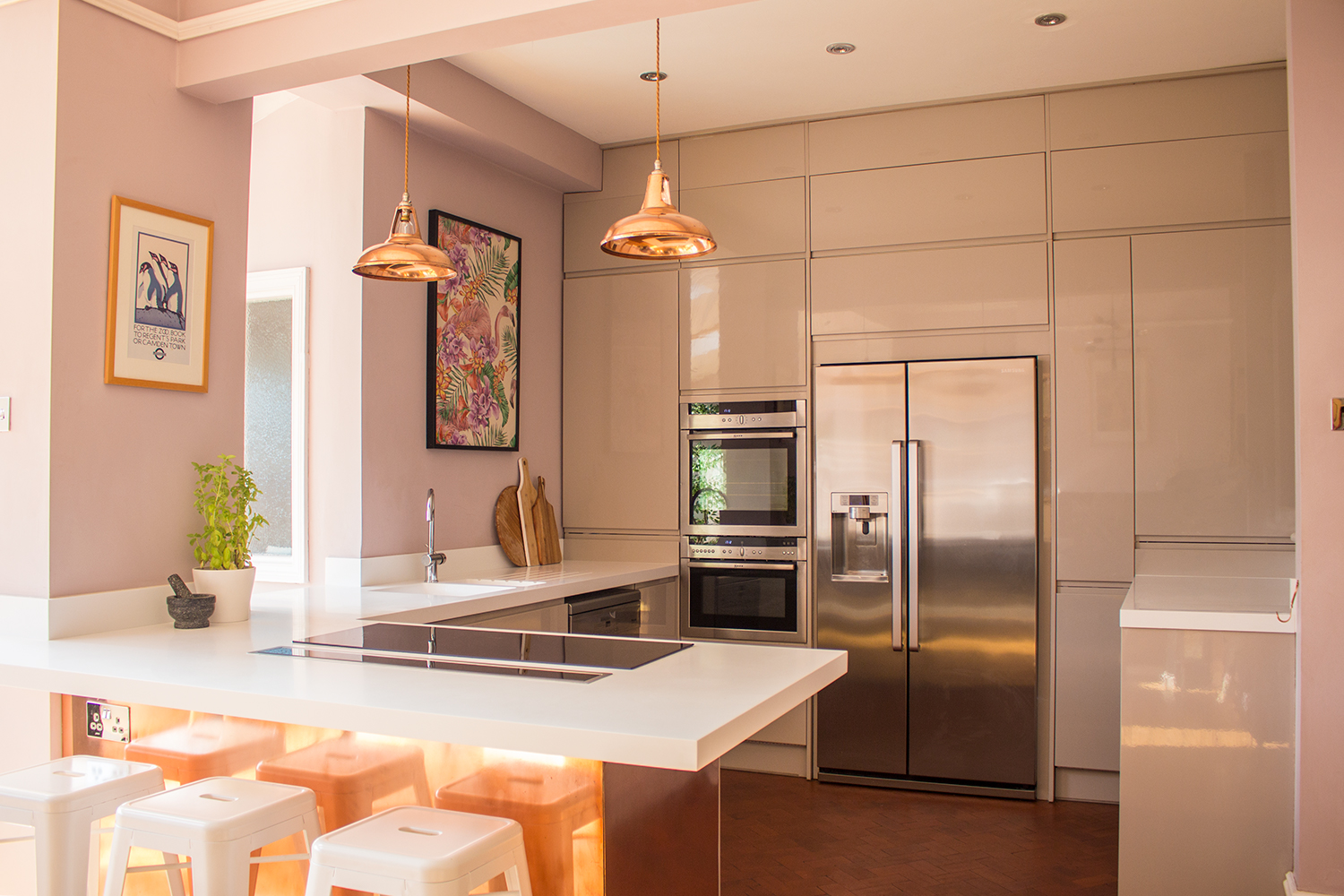 When I designed the contemporary copper kitchen, I wanted to use some copper elements to add warmth and also to tone in with the pink walls and pale grey units. I found these pendant lights from a company called Artifact Lighting, and they are perfect because they add to the 'warm glow' I wanted to acheive. They also have a vintage look which contrasts nicely with the sleek look of the kitchen units. When the kitchen was finished I sent some pictures to Artifact Lighting, and they liked the kitchen so much they featured it on the blog page of their website.
You can read the blog page here
House of Hackney's first outdoor fabric
26 Jun 2019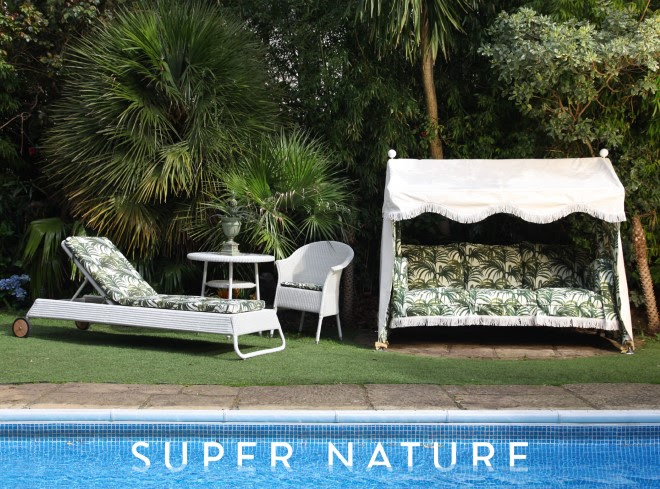 One of my favourite interiors brands, House of Hackney, who are known for their daring and quirky prints, have just released a new fabric which is suitable for our door use. They took one of their designs, Palmeral, and reimagined it in a fresh colour palette of off white and green. This colour fast and water resistant fabric can be used for anything from outdoor cushions to furnishing yachts (if you are lucky enough to have one!)
My thoughts on the colour Living Coral in Cardiff Life Magazine
31 May 2019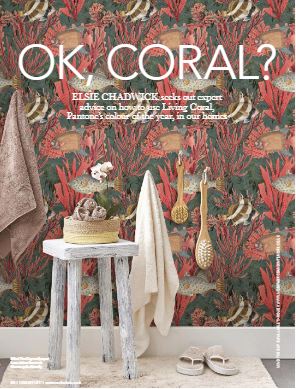 Hear what I and my fellow designers have got to say about Pantone's colour of the year, Living Coral, and how to use it, in this month's Cardiff Life magazine. The article is on pages 84-86, and you can read it here. Do you think you could use it in your home?
Sustainability in furniture design
7 May 2019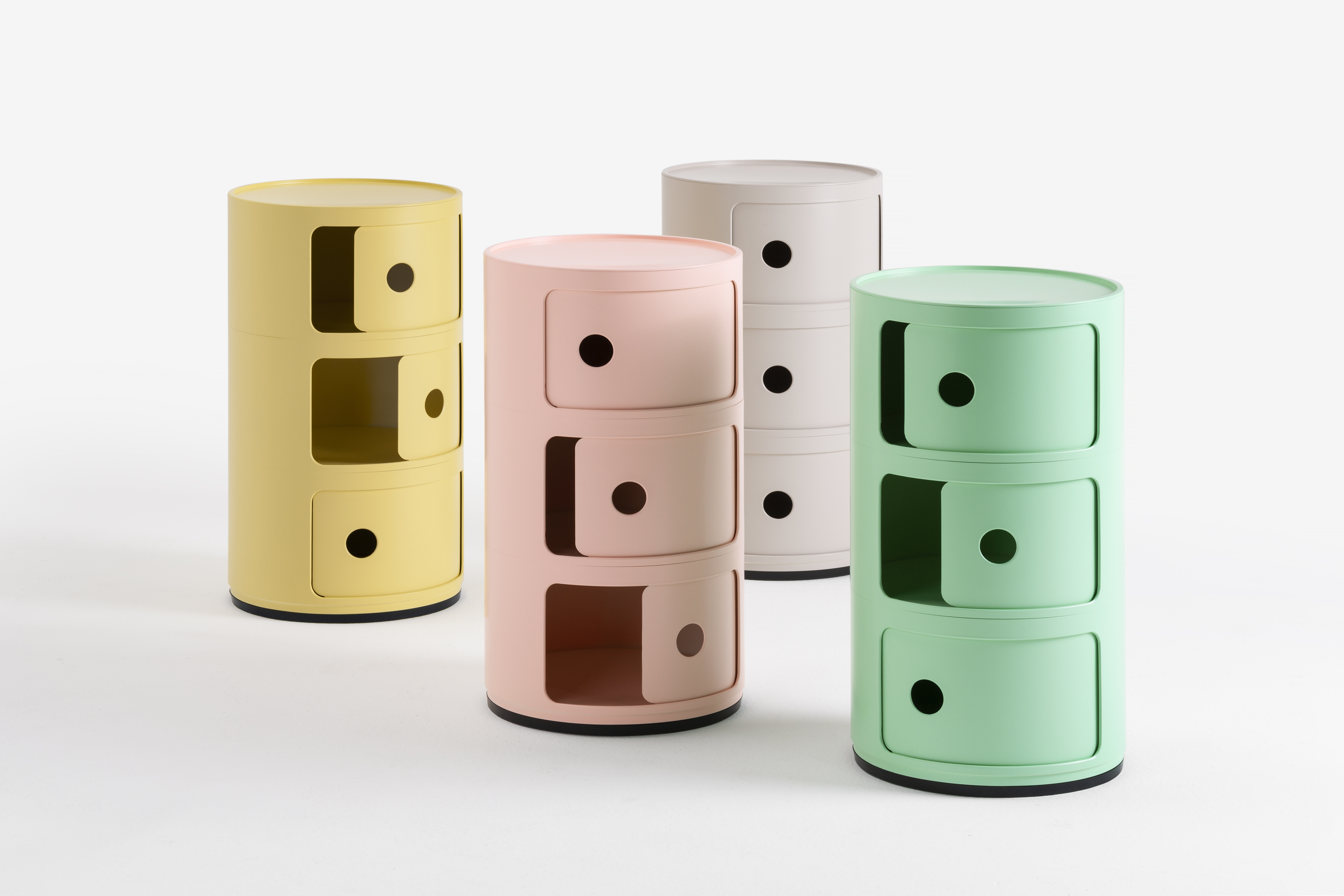 Sustainability is something that is becoming more and more important in interior design - not just where we buy items from and how far they've travelled to get to us, but also the materials that they are made from. Kartell, one of Italy's best known design brands, have just released the world's first piece of furniture made from a bioplastic called Bio-On. It's a fully sustainable version of one of their best selling items - the Componibili modular unit, and it comes in four delicious pastel shades. They may be 100% sustainable, but they are also super cute and bang on trend with this seasons colours. You can buy them here
The latest trend in shutters
24 Feb 2019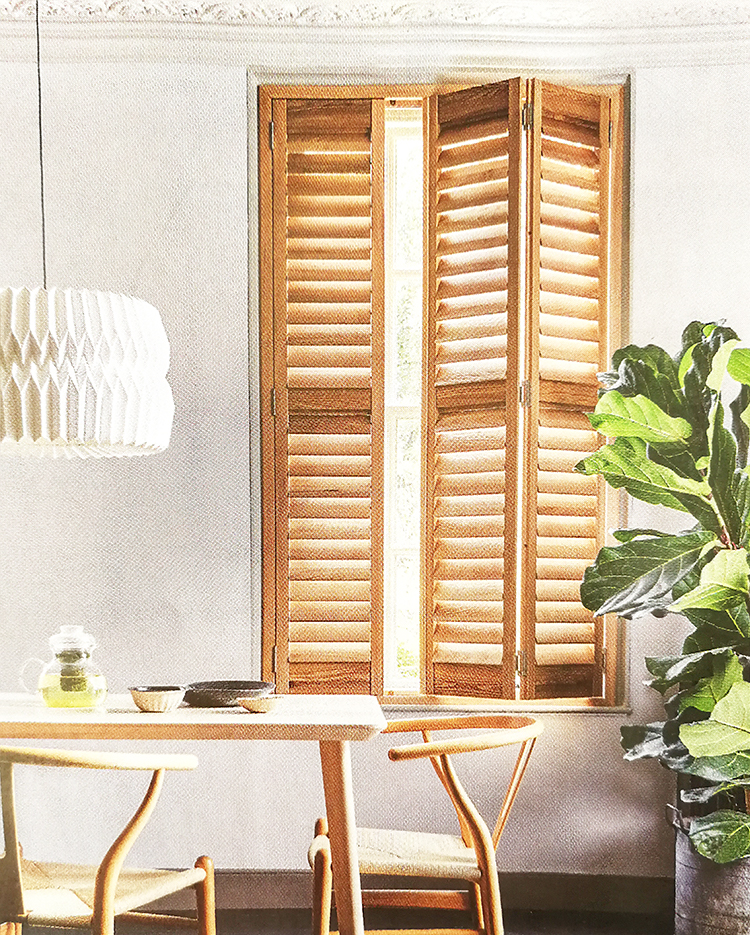 Forget painted shutters - the new style direction for window shutters is bare wood. These full height shutters made from sustainably sourced ash are the newest product from California Shutters, and are set to be big this year.
My new favourite tile!
7 Feb 2019
I was searching for some tiles for a client's splashback recently and came across these beauties from Topps Tiles. There's long been a trend for patterned tiles, with lots of geometric shapes and bold colours going on, but I've begun to see more and more tiles with a pattern in the surface of the tile itself. These ones are a lovely example, and the deep blue colour is just stunning. To get a closer look at them, follow the link below.
Pantone announce their colour of the year 2019
11 Dec 2018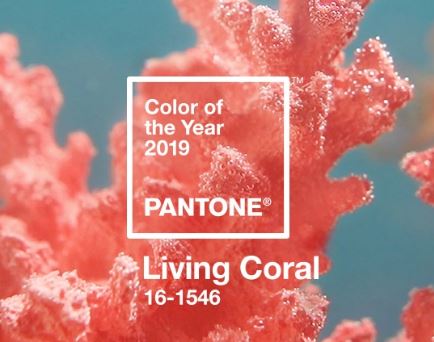 Leading colour experts Pantone have annouced the shade which they think will be the colour of the year for next year - Coral pink. It might look very bright and scary, but it's actually quite easy to use. I wouldn't suggest painting a whole room in it, as that might be a bit overwhelming, but I would use it in small doses, such as on cushions or in artwork, to liven up a shceme. Pantone say that the colour is meant to 'embrace us with warmth and nourishment and provide comfort and bouyancy in our continually shifting envirnoment', which basically means it's a happy, uplifting colour, and might just cheer us all up!
My work featured on Homify
8 Oct 2018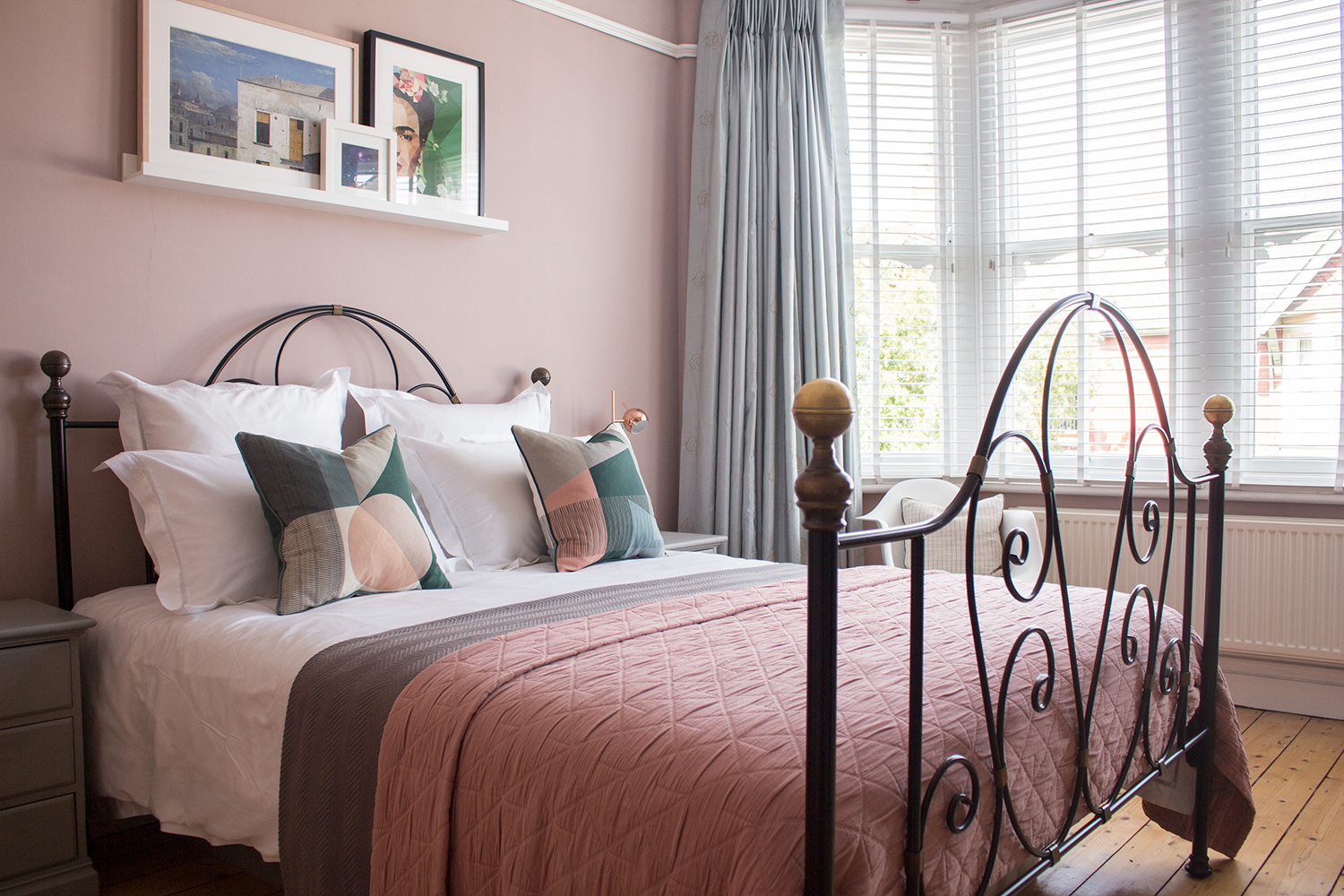 My work has been featured in an article on Homify - one of the leading online ideas platforms for all things interiors. My project is in an article on how to avoid common mistakes when designing a bedroom. The article mentions how important it is to block out light for a good nights sleep - something I addressed by adding blackout lining to the curtains and adding an extra layer of window dressing with the wooden Venetian blinds. To see the article, please use the link below.
Homfy article - Are you guilty of these 8 bedroom design mistakes?