Online interior design from a client's perspective
8 min read
Published 28 Mar 2020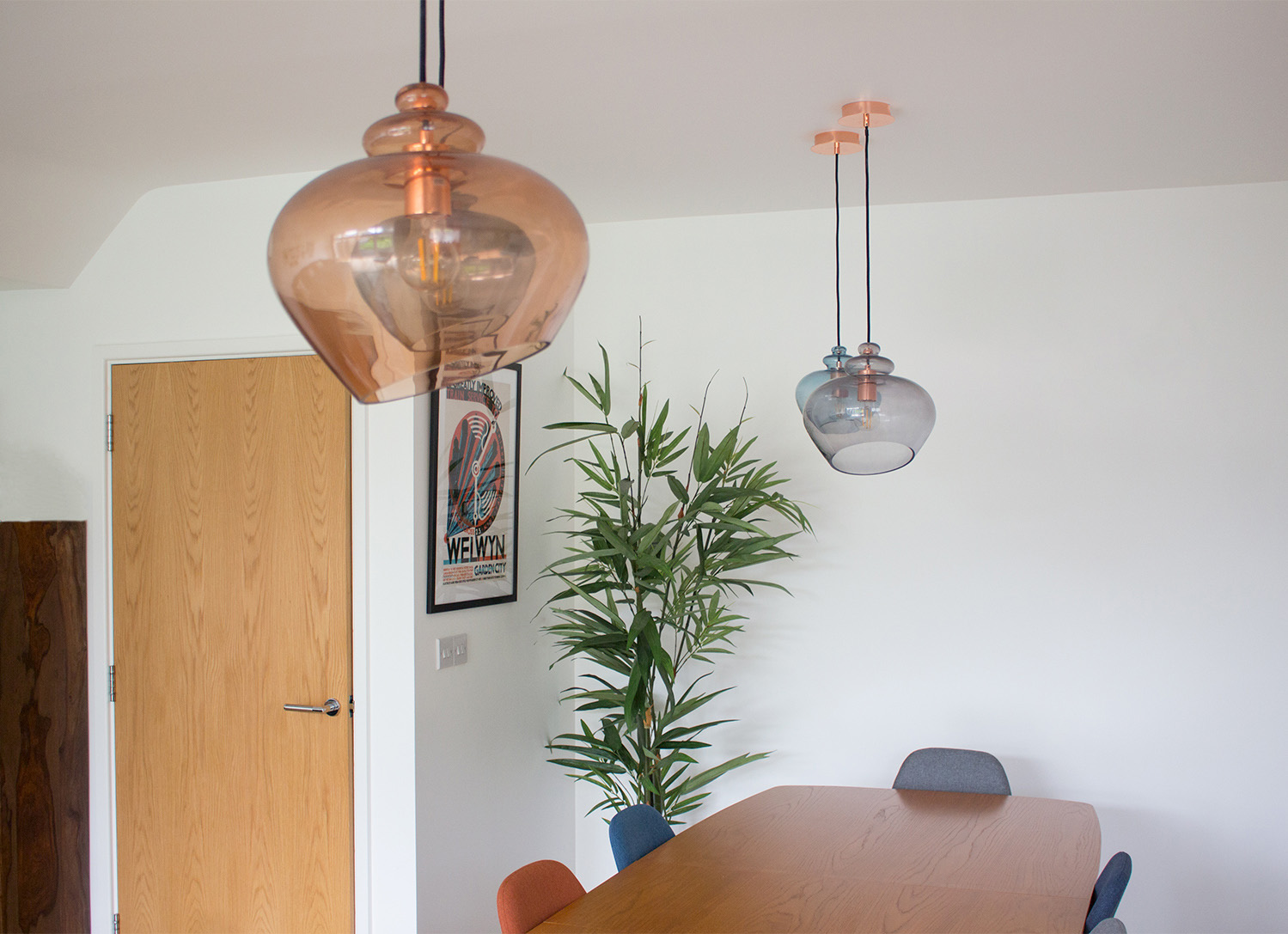 With everything that's happening at the moment, I've been thinking about how important it is for us to feel connected with each other. Acts of kindness and sharing are more important than ever, as is letting others know that we appreciate them. So, this month I wanted to share some really lovely feedback I've had from clients who have used my online design service. I'll also explain a little about how the service works, and the experience my clients had whilst using it. I'm also hoping that thinking about fun and positive things like designing a home can bring a little cheer into everyone's lives - something we all need right now.
So, on to my clients. These lovely people, Marc and Erika, live in London, so I couldn't see them in person and offer them my usual design service. Instead, we worked together over Skype and email and I designed their rooms completely online. You might be thinking, 'how can that work?' Surely a designer needs to see a room before designing it? Well, here's how we make it work - I ask the client to take photos and measurements, give me a little video tour of the room, and fill out a questionnaire. We then discuss their needs with me asking lots of questions until I've got a really good idea of what they are looking for. Then I can take all that info and produce the design just like I usually would.
This couple had just got married and moved into their first home, which is a really exciting time in their lives. Like lots of people, they had really been looking forward to 'doing up' their new home, and had lots of ideas and couldn't wait to get started. But, once they did start trying to pull all those ideas together, they got a bit stuck (also like lots of people do). Over to Erika to explain the problem:
We moved into our house and had a "blank canvas" to work with. Being first time buyers we had no furniture and therefore could "go to town" with designing the space. However, once we started looking at furniture and items I quickly became overwhelmed by the amount of choice available. I also started to find items I liked but which didn't necessarily complement other items I had previously found.
They decided they needed the help of a professional, and did some Googling to find a designer who offered online design and crucially, someone they felt they could work with.
The space wasn't really turning into any kind of look, so we took a step back and enlisted the help of Louise to bring a cohesive style to our room, and help decide on items with us within our budget. We hired Louise as after initial conversations I could see she understood my ramblings and ultimately our vision for the room. Additionally I liked the fact that she saw my mood board and inspirations and ran with the ideas creating an individual space just for us.
As with any design project, the end result comes from a collaboration between the designer and the client, so it's really important that the client feels that they can get on with the designer, and that the designer 'gets them'. If you start making initial enquiries when looking for a designer and something just isn't clicking - either your personalities are very different, or the designer doesn't really seem to understand your style, then it's perfectly fine to stop there and look for another designer. In fact I would encourage you to - afterall, this person will be working closely with you and will be changing something as deeply personal as your home, so you have to be able to trust them. Erika explains what the experience was like for her:
Working with Louise was great. She is friendly, personable, organised and creative. She kept in touch regularly and delivered results quickly. The balance was just right. She was available when things didn't go to plan and she always had time for us.
So, we worked together and designed their open plan living/dining room, and they took the design and implemented it just like we had planned. Here are some before and after pics of the room (you can see that they really had just moved in and had no furniture!).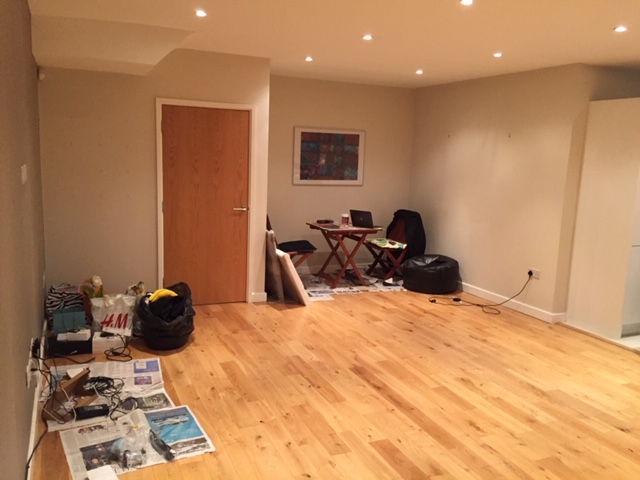 The client's living room just after they moved in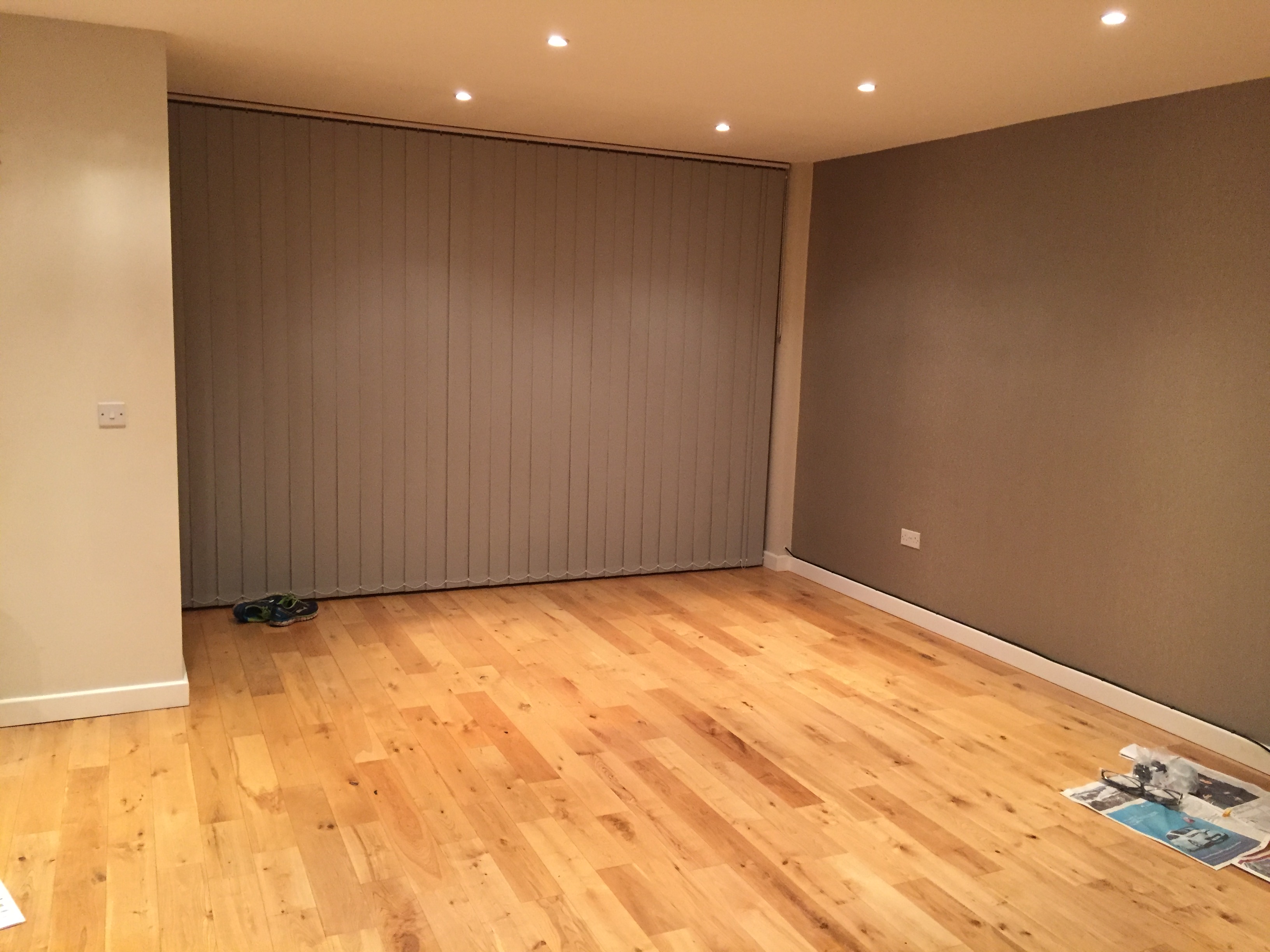 The client's living room which was fairly bare and uninviting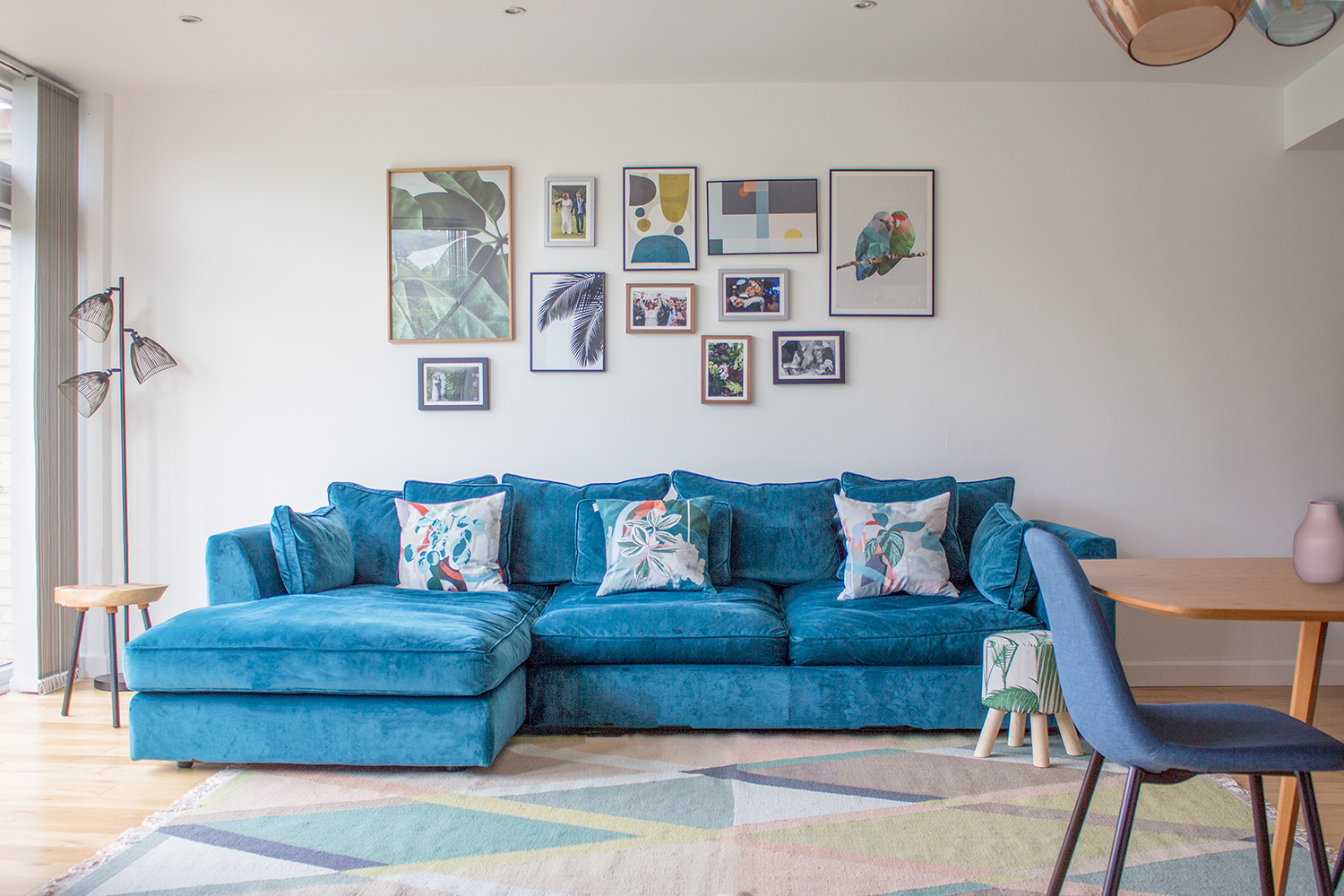 The client's newly designed living area, with the gallery wall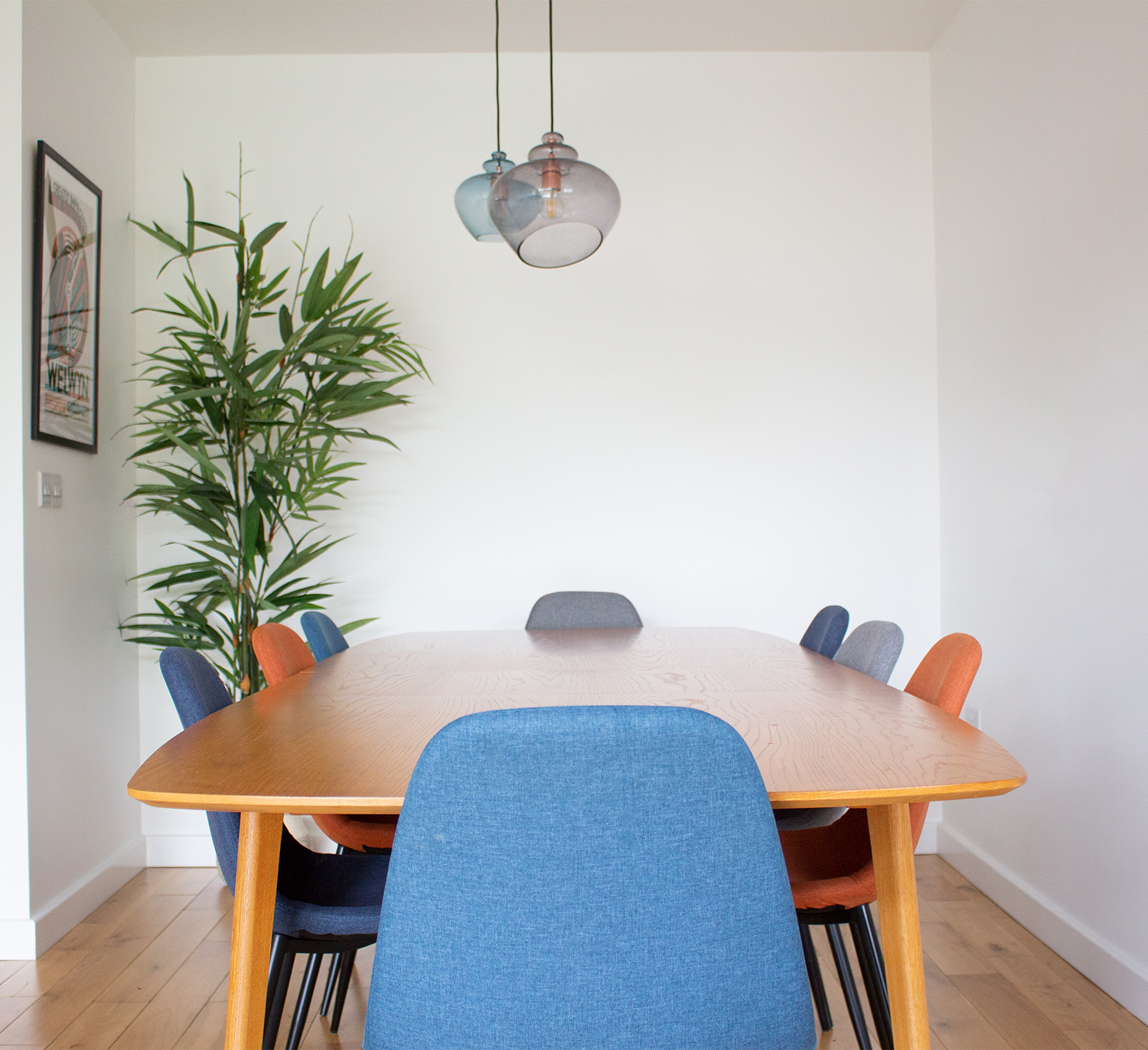 The new dining area
They even managed to get the gallery wall looking exactly as I had planned it, which is an achievement considering I couldn't be there to tell them where to hang the pictures.
They were so happy with the finished room that a few months later they asked me to help with another room. They told me the fantastic news that they were expecting a baby, and wanted me to design the new nursery. I was very flattered and so happy for them, and couldn't wait to get started. Here's the brief they gave me:
We want something creative, welcoming, cosy, fun, playful, colourful. We would like a room that the baby can grow with so the design of the room will be suitable for a newborn up until the age of 6 or 7 years. Whilst looking on Pinterest, we struggled to find a lot of inspiration. There seems to be a theme for neutral-coloured nurseries with matching neutral wall art. We would like something that is more creative, colourful and original without being brash.
They said that they wanted bright colours in the room, but didn't mind which ones they were. They also wanted to use wallpaper or paint to create a focal point or feature in the room. After some discussion, we decided to go for a wallpaper mural, to add that focal point for the little one to look at. This turned out to be a bit of a headache (more on that later), but the end result was just what they were looking for.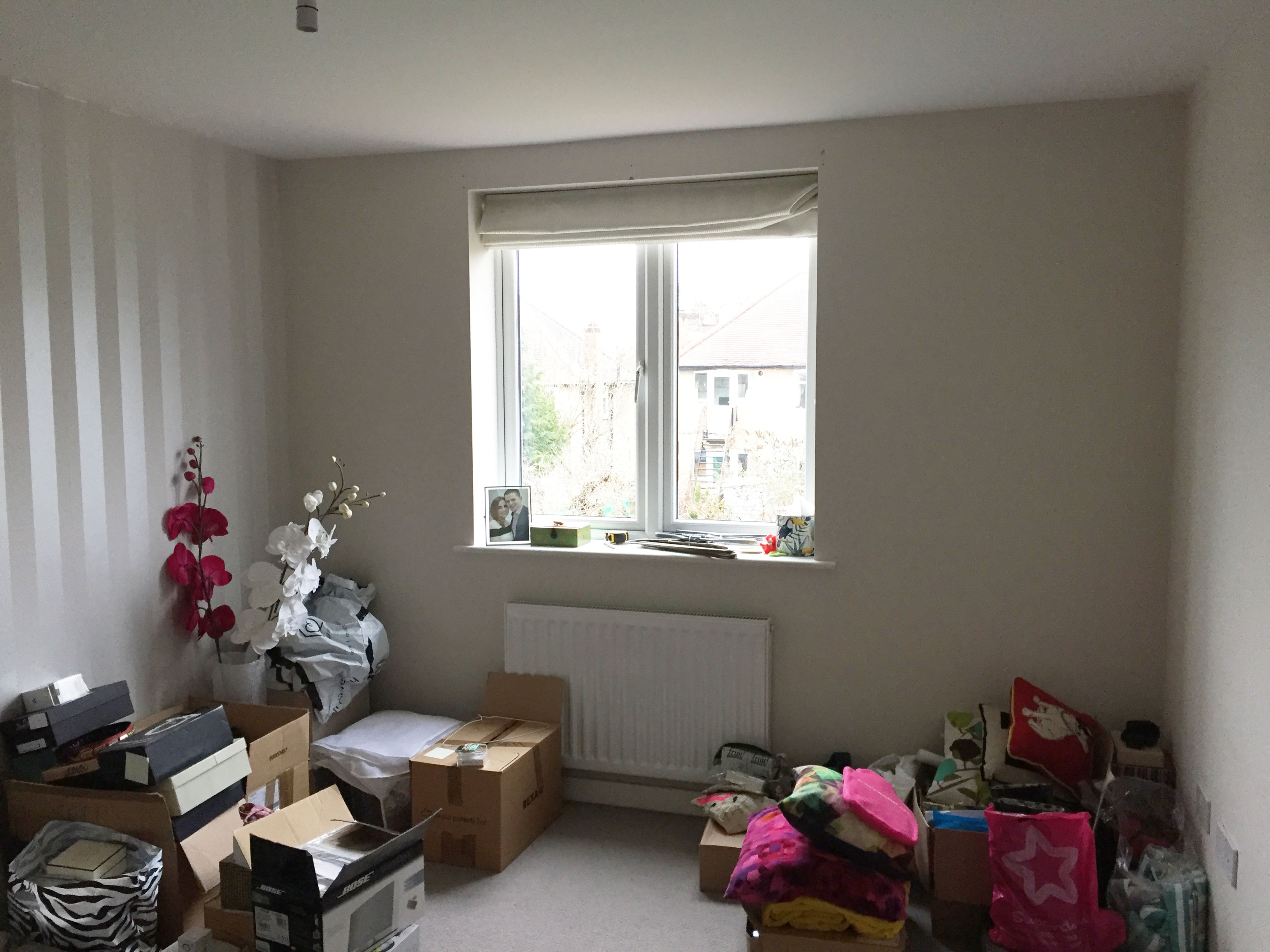 The nursery before the baby arrived - being used as a spare room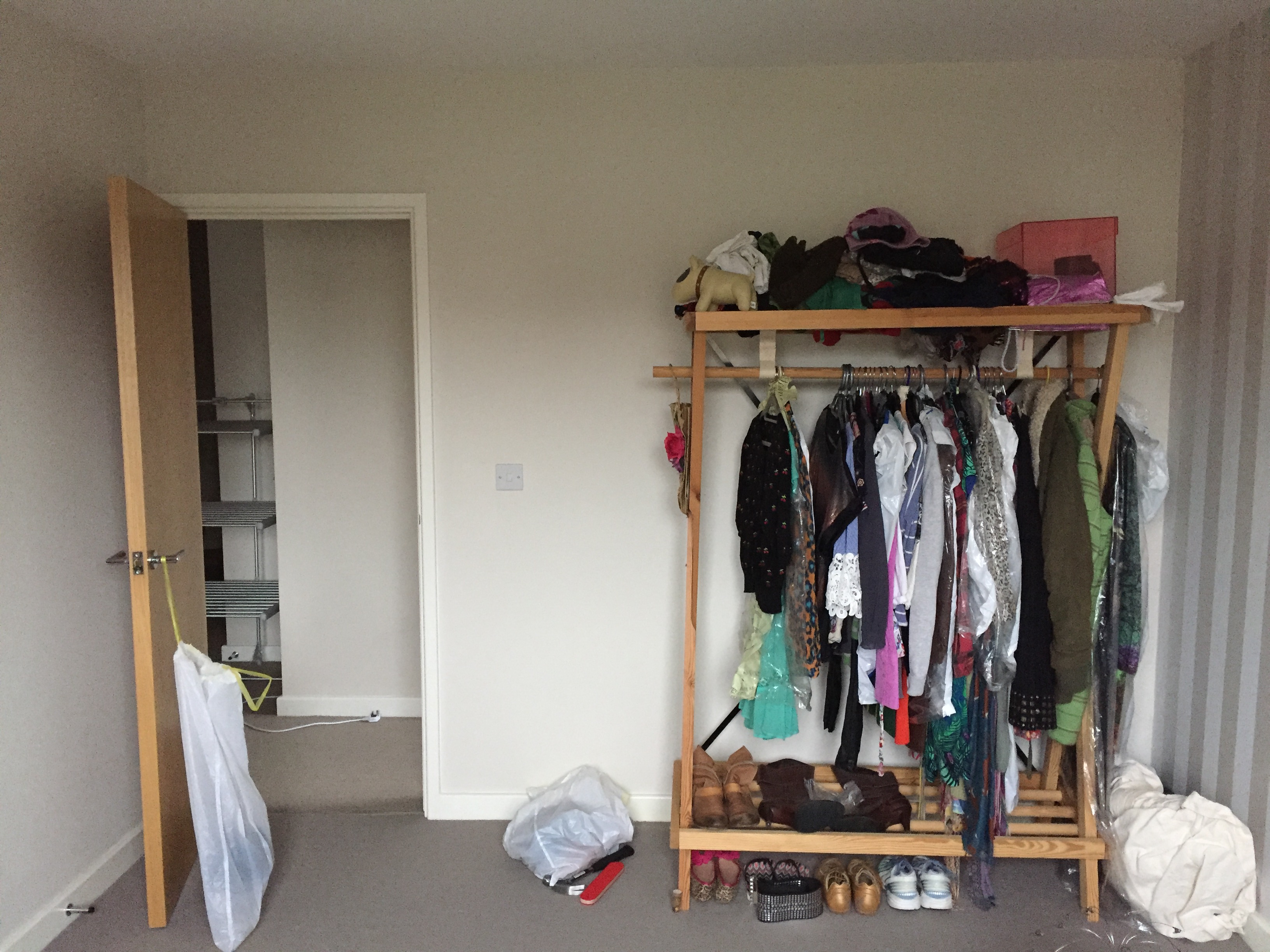 Another view of what was to become the nursery
The new nursery with a wallpaper mural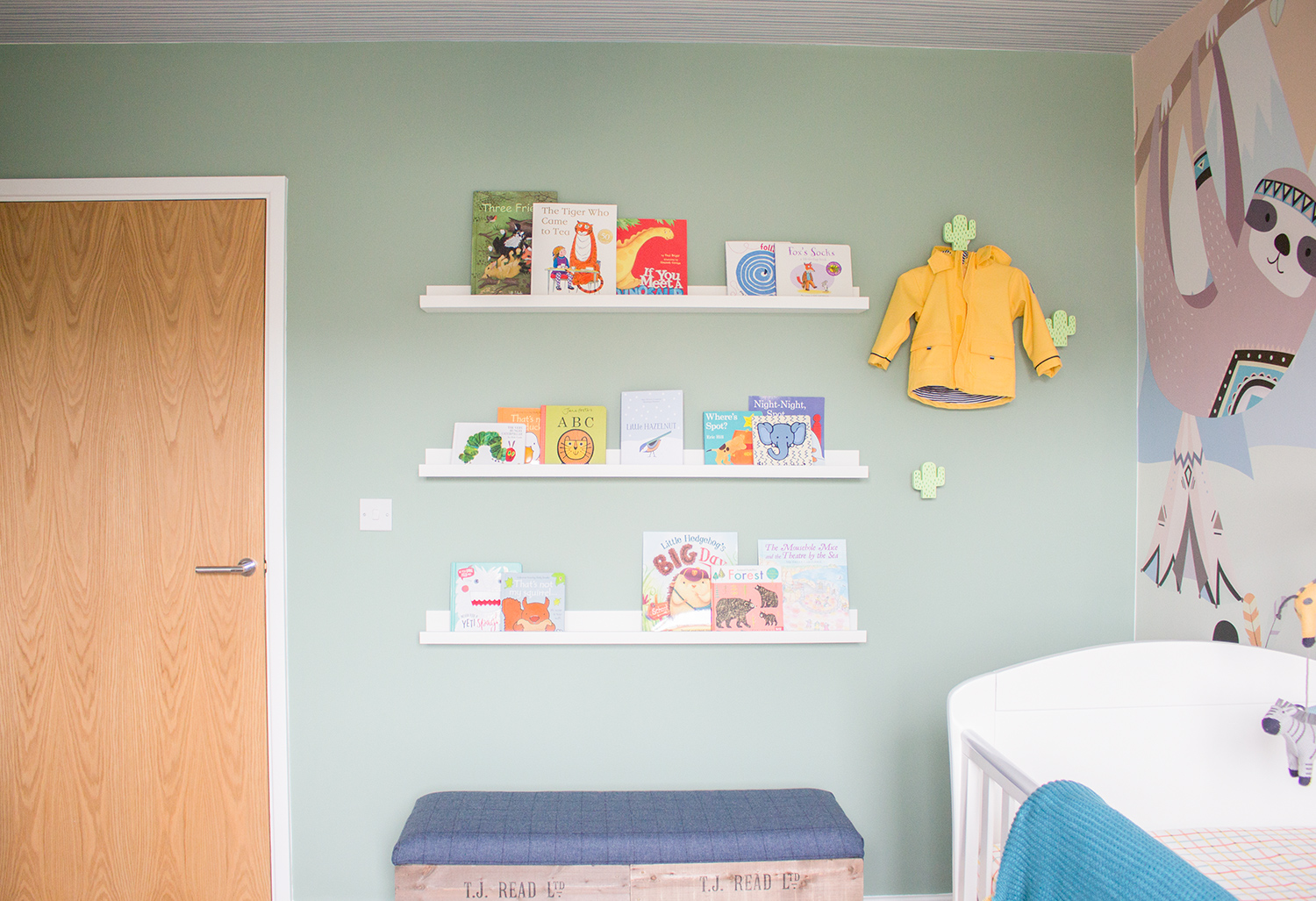 The nursery now has rows of colourful books on picture shelves, perfect for the little one
The mural came from the fab website Ohpopsi, and is made to measure to fit the wall. Hanging a wall mural is a bit different to hanging ordinary wallpaper, because you have to soak each piece in water just before hanging it, and do it very carefully. Unfortunately, the first decorator the clients hired didn't read the instructions and made a bit of a mess of it. Needless to say, he was off the job, so when the clients found someone else to hang it they were very relieved to find it went up easily. Ohpopsi were very helpful and gave us lots of advice, and more instructions.
The new decorator also had to wallpaper the ceiling, with a striped wallpaper, so he needed to know what he was doing. I had decided that it would be lovely if the subtly striped wallpaper I had chosen for one wall continued up and over the ceiling, to give the baby something interesting to look at and to create a cocooning effect. The wallpaper is from Cole & Son, and you can see it here.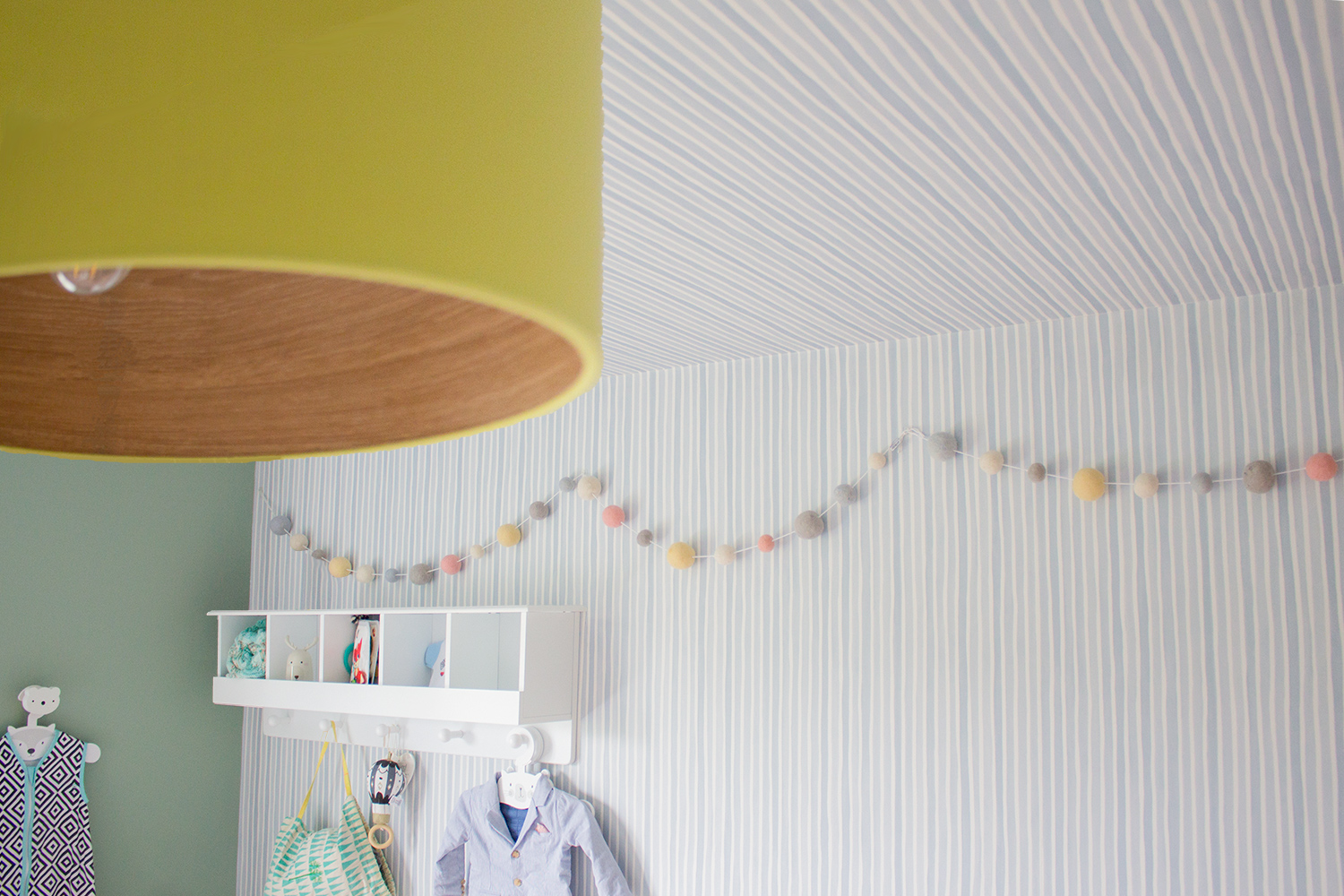 The subtly striped wallpaper on the ceiling
My clients were understandably a little unsure if this would look okay, but I reassured them and they were brave and went for it. This is what Erika thought of this part of the design process:
Louise came up with lots of ideas, not just with regard to design, but how to overcome unexpected issues and she also guided us when we were unsure as to whether we should implement a measure or not e.g. wallpaper a ceiling. Louise always 'thought outside of the box' and made sure that the designs not only fit our briefs, but stayed within budget, maximised space and wouldn't date.
I really enjoyed working with Marc and Erika as they are open to ideas, willing to try things, and never just say no to an idea. They are happy to talk things through and trust me when they need to. They even asked me to help with the design of their garden a few months after we finished the nursery, which was a pleasure to do. Working with the same clients more than once is great as we've already built up trust and a way of working together which comes from understanding each other. It's also really lovely when a client comes back to ask for more help, as it means they are truly happy with the service they've had and the results they've got. Here are Erika's final words on the experience of designing this way:
Family and friends think the rooms are lovely, people have been "wowed" when they have stepped in and seen the end product. The rooms are inviting, quirky, stylish and functional. Lots of people comment on different objects they love as there are lots of points of visual interest throughout. Louise is brilliant and we have worked with her several times. I can't recommend her enough!
I'm honestly so moved when I get comments like this, and it makes me so happy to know that I've improved someone's life with the skills I have. I finally got to meet Marc and Erika and their new baby last year, when I went to take some photos of the finished rooms. They are such warm and genuine people, and are clearly enjoying being new parents. I'm so glad that they decided to take a chance on me, and that I could meet them in person.

If you would like to know more about my online design service, please click here, to see more of Marc and Erika's rooms, click here for the open plan space, and here for the nursery.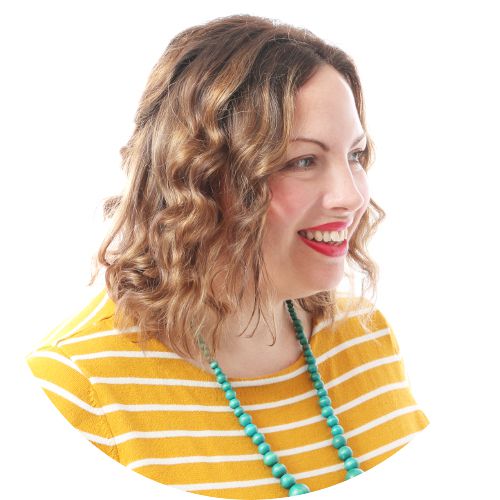 Welcome to the design blog, where you'll see posts about anything from the projects we are working on, to the latest fabric and wallpaper collections, and all things interiors related. We love colour, pattern, architecture and old buildings, and we love to share our finds with you.
Happy reading!