A weekend Ikea cupboard makeover
9 min read
Published 14 Dec 2018
Whilst everyone is madly trying to get themselves and their homes ready for Christmas, I decided to finally get around to a little project I've had on the back burner for a while now. I bought this cupboard when we moved in to our house over 13 years ago. We needed some extra storage in the hallway, and there was a handy space next to the front door which was perfect. We didn't have much spare cash (having just bought the house, that and the fact that I wasn't working as I was looking after our two boys). So, off we went to Ikea, and I found this cupboard which fitted the space perfectly.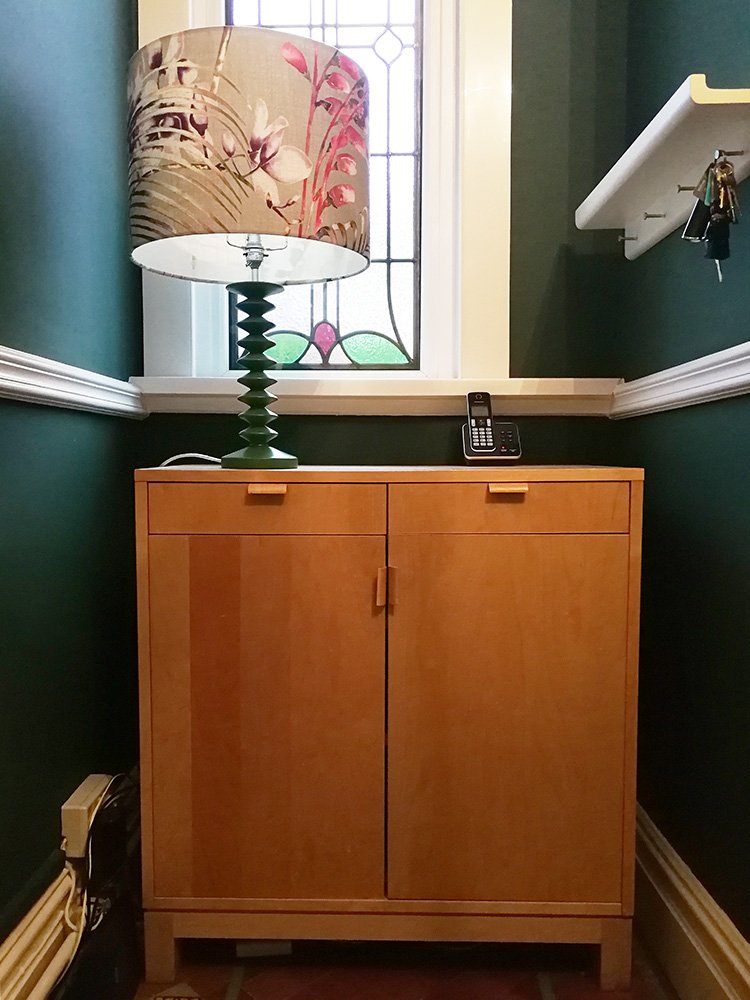 I never really liked the finish of it, as I'm not really a Scandi type girl when it comes to decor, but it did the job and I always thought I would replace it sooner or later. Fast forward 13 years and although I'd completed lots of projects around the house, including a kitchen extension and a new bathroom, somehow I never quite got round to doing anything about this cupboard. It looked even worse when I painted the hallway this gorgeous shade of dark green (Paint & Paper Library's Hunter Dunn) a couple of years ago, as it really made the pale wood stand out.
So, one weekend I finally tackled the problem. I didn't want to go hunting for a new cupboard, and this one does fit the space well, so I decided to revamp it. I'd had a go at painting furniture with chalk paint before, and that turned out well, so I thought I'd paint it. I also wanted the finished look to be a little more glam (especially as the hallway is now a rich colour), so I thought of combining paint with wallpaper to make it look a little special. I also wanted to change the handles to something a little more interesting.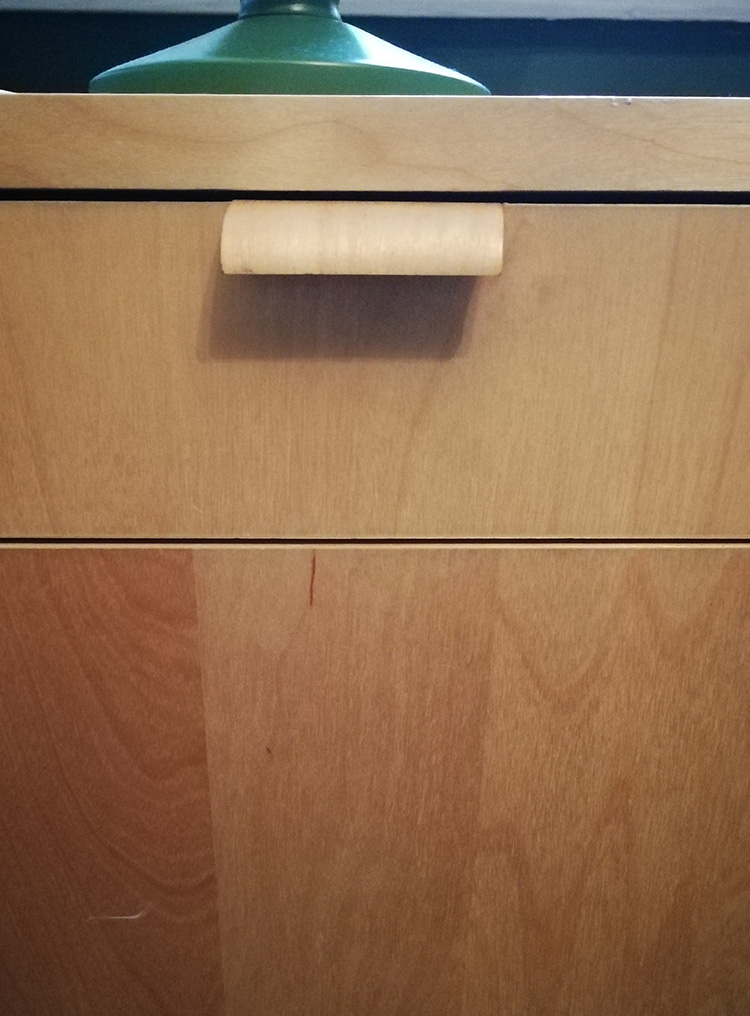 The paint I chose to use is this gorgeous shade of blue from Annie Sloan called 'Aubusson Blue', and an inexpensive wallpaper from John Lewis called 'Pavone' in Teal. I thought the rich blue would look great against the dark green of the hallway, and the background colour of the wallpaper matched the paint perfectly. The gold Art Deco inspired pattern on the wallpaper exudes glam, so I thought it was perfect. You can buy the paint here, and the wallpaper here.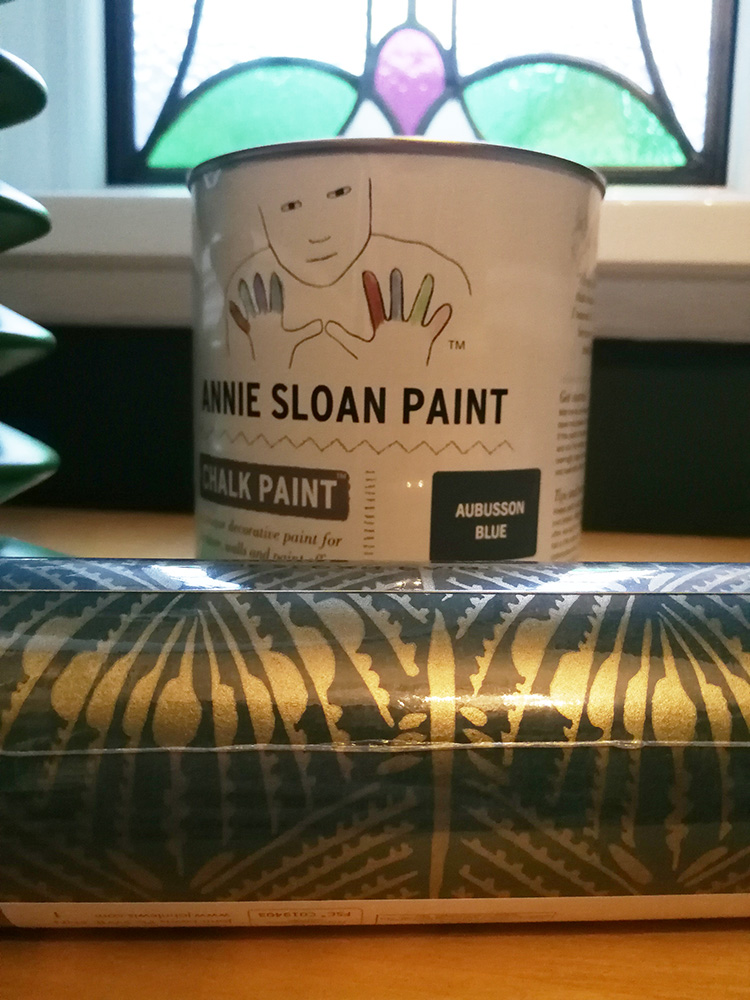 I used masking tape to cover the areas where I was going to wallpaper, as I didn't want any stray paint stopping the wallpaper from sticking to the wood. I didn't do this on the drawer edges, or on the parts of the doors which I could just open to avoid getting paint on.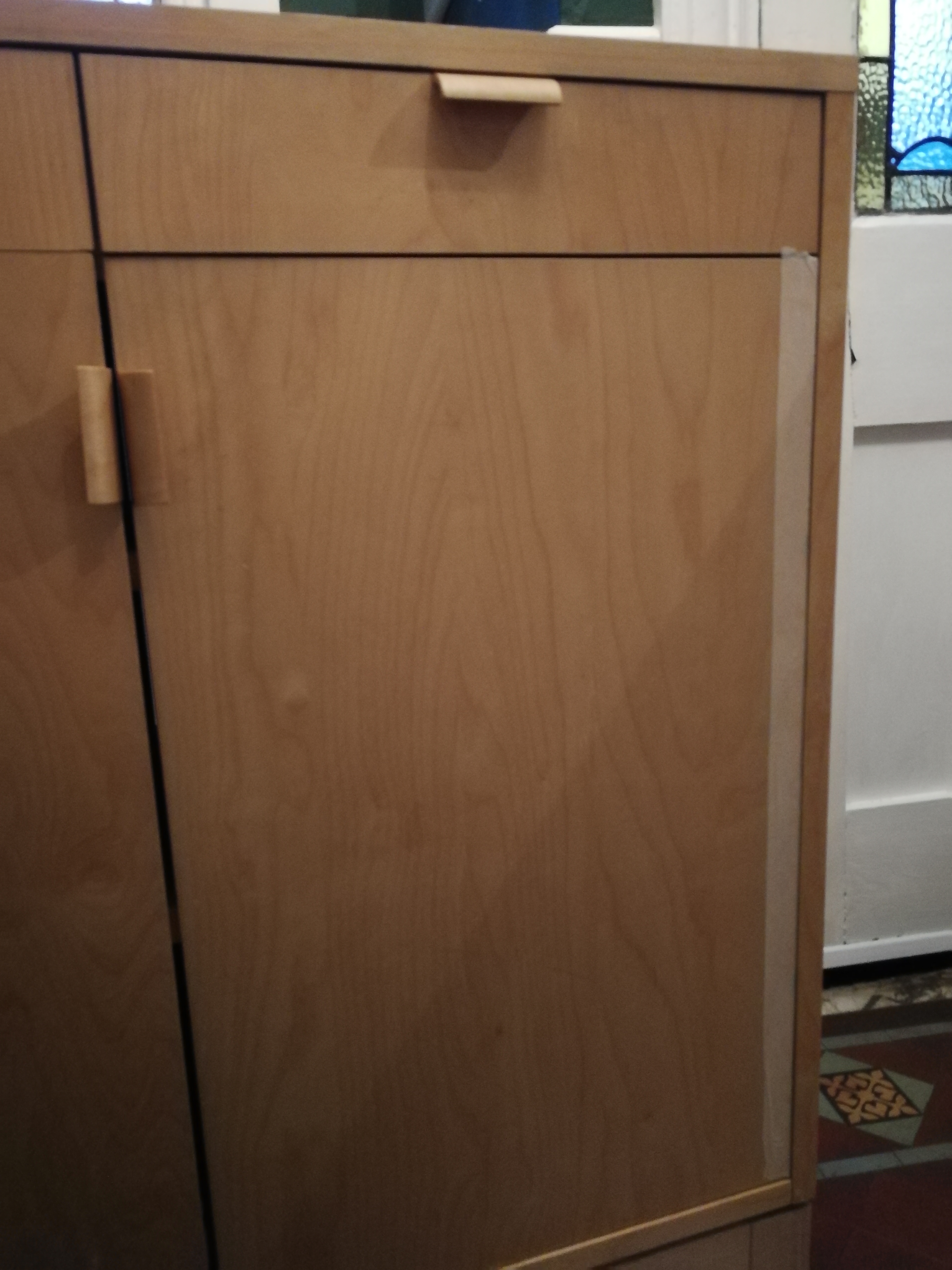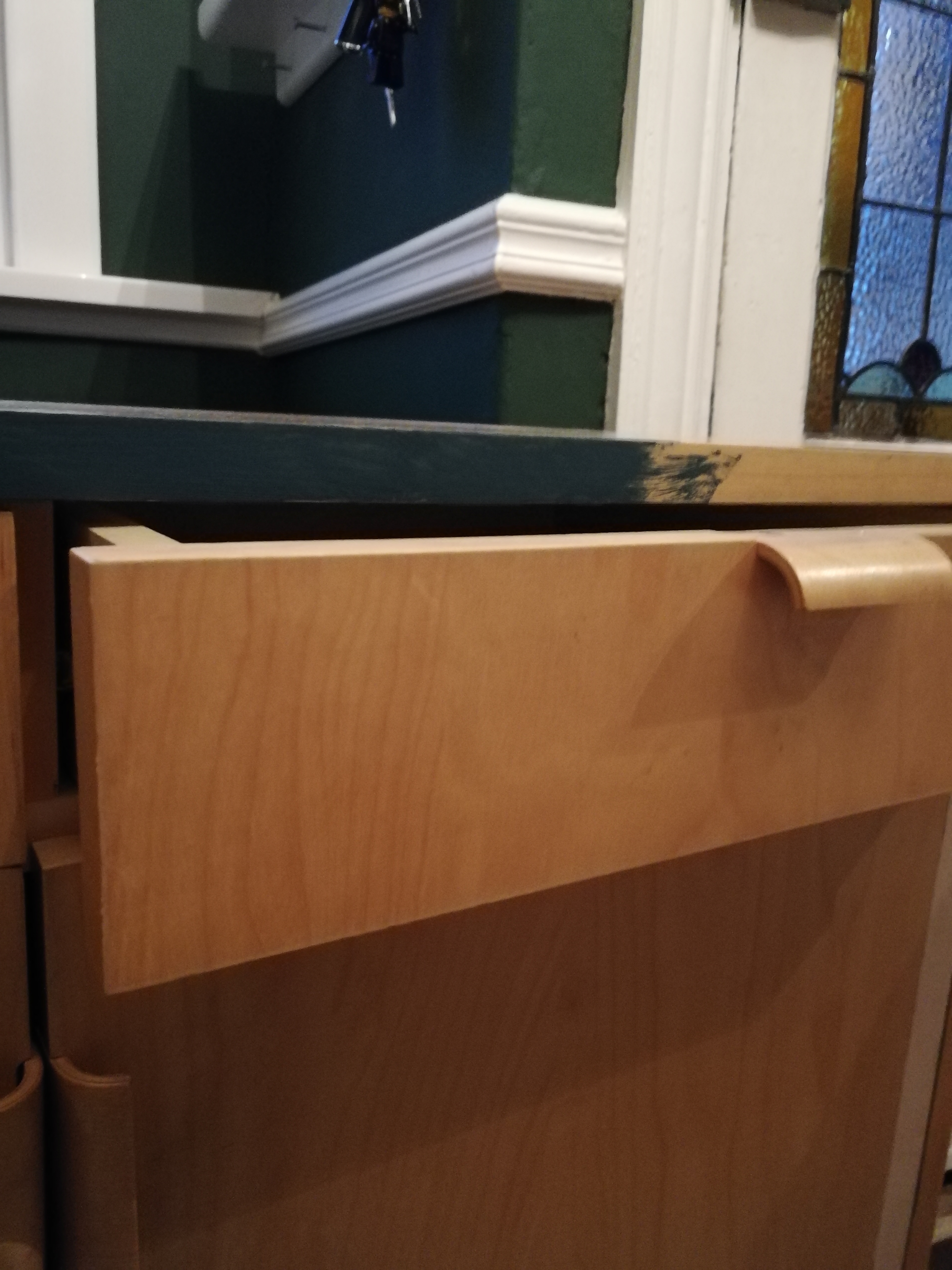 Next I had to start painting. The first time I used Annie Sloan chalk paint I was worried about how easy it was to use, but it's SO easy, and as you don't need to do any prep (such as sanding the wood) it's great for impatient people like me. There are two ways to use the paint, depending on the finished look you'd like. The first one is to use the paint straight out of the tin, and apply it quite thickly, and then sand it back lightly - this is best for creating the distressed look that the paint is famous for.
The second way to use this clever paint is to add a small amount of water to it and apply it more thinly, so that the finish is solid and even, for a more contemporary look.
I wanted a smooth finish, so chose the second option.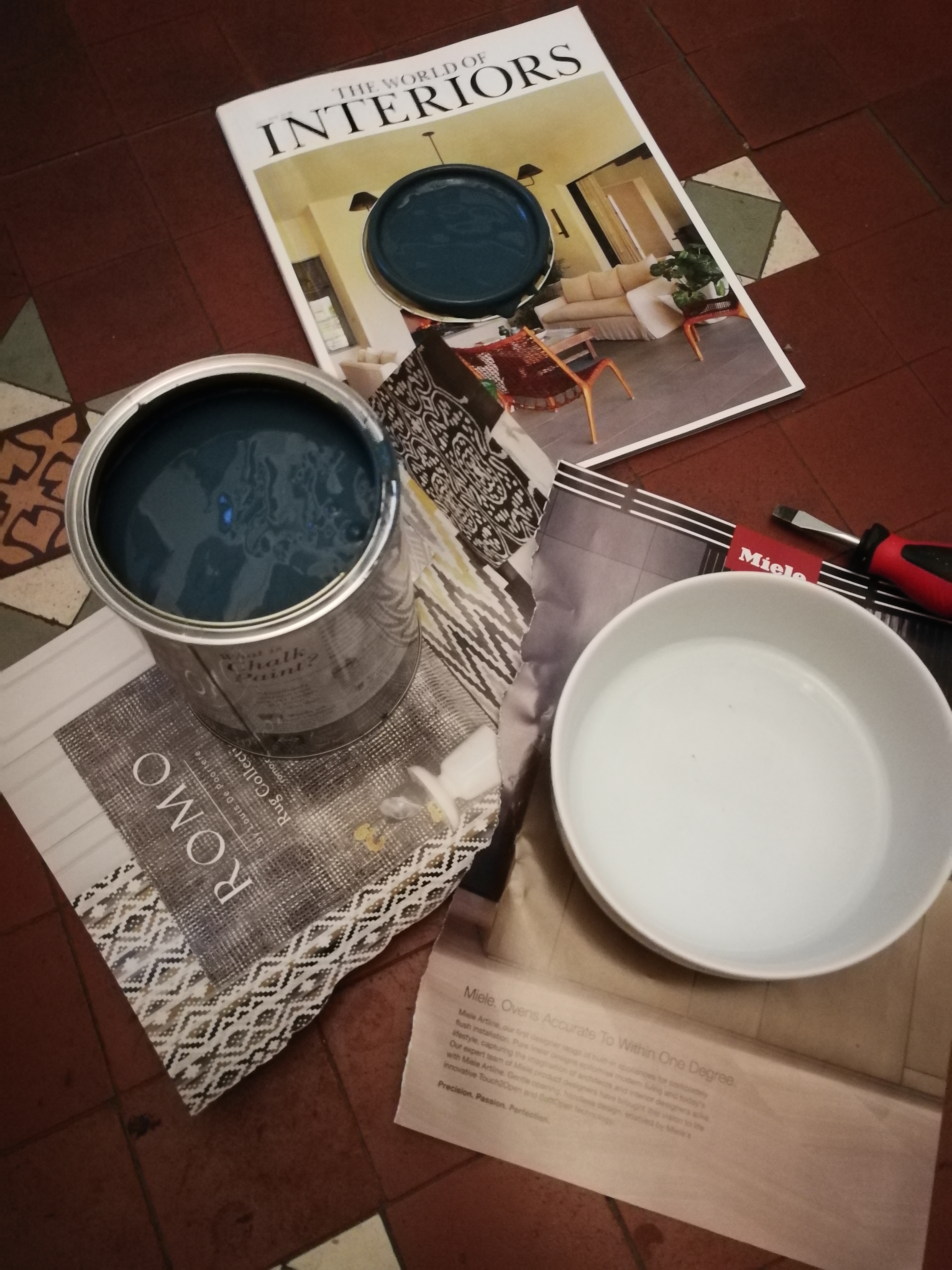 The best way to add the water is to just dip your brush into a bowl of water before dipping it in to the paint - you don't want too much water or the paint will get drippy. You don't need to dip your brush in the water every time you dip it in the paint, but you'll get to feel when the paint is starting become drier and needs more water. The great thing about using this paint is that it's very forgiving, so if you add too much water or make a mistake, it's really easy to sort out - you can just wipe it off with a cloth and start again.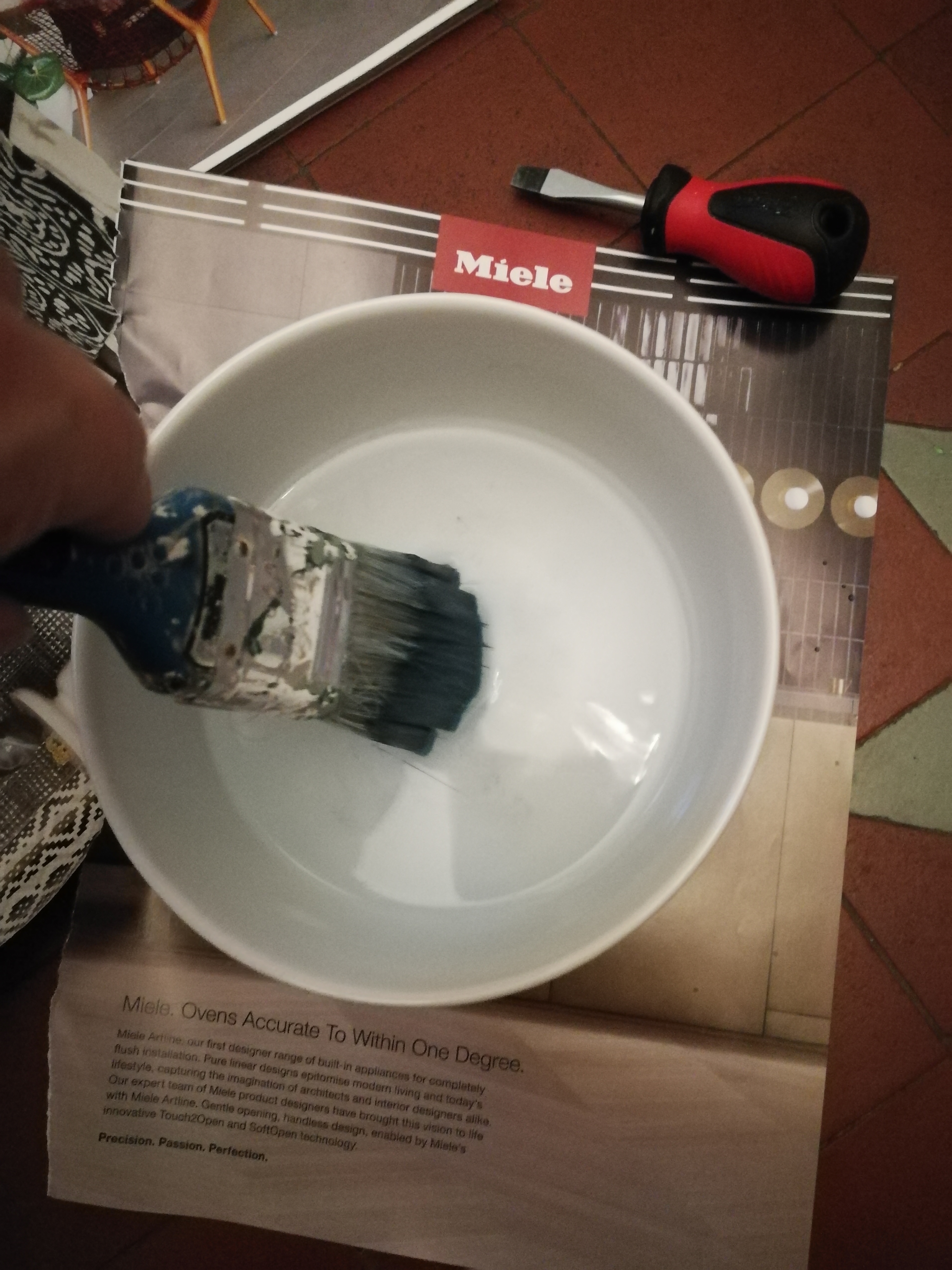 Dipping the slightly wet brush in to the paint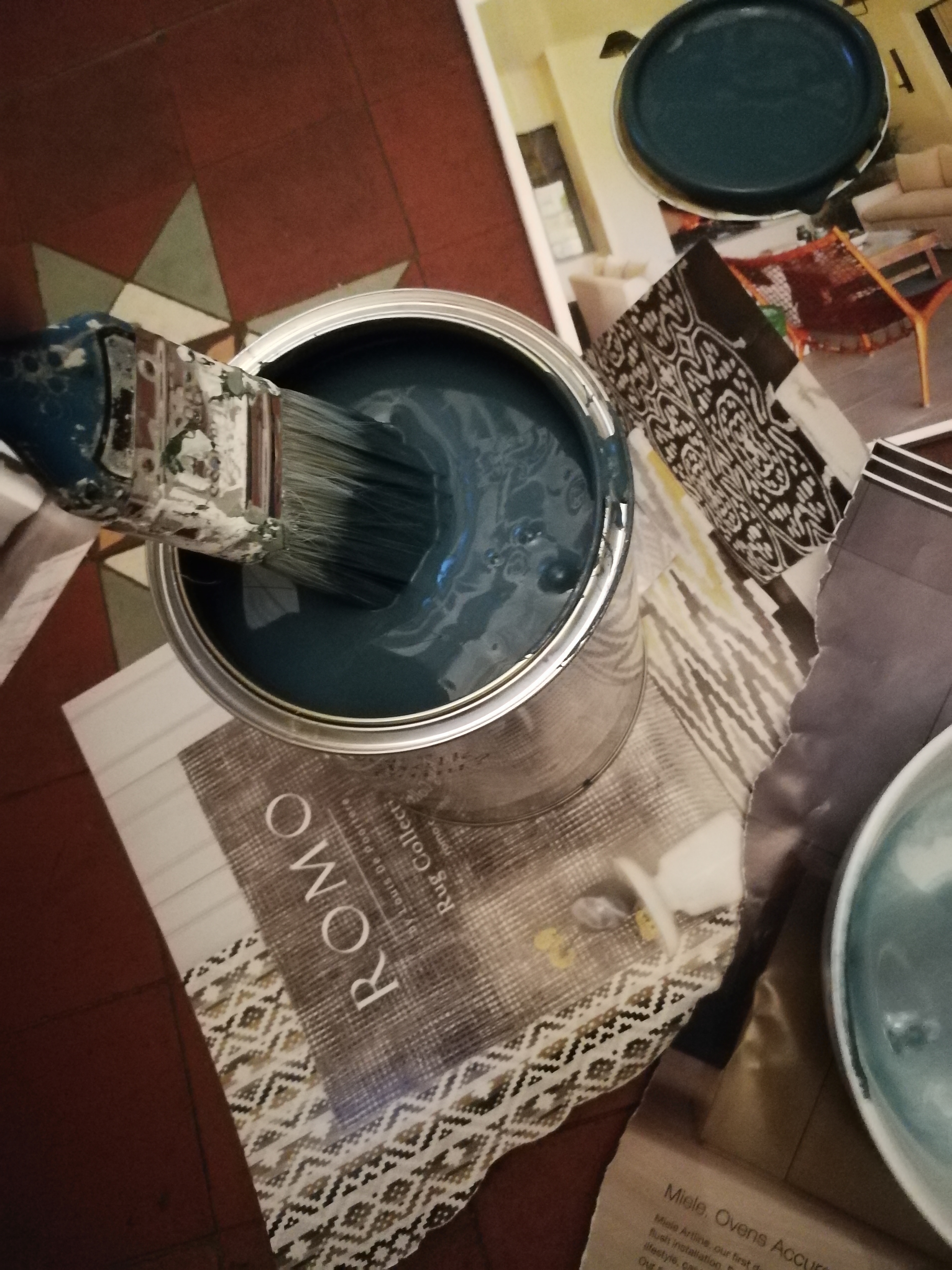 The painting went pretty smoothly, and was so easy to do.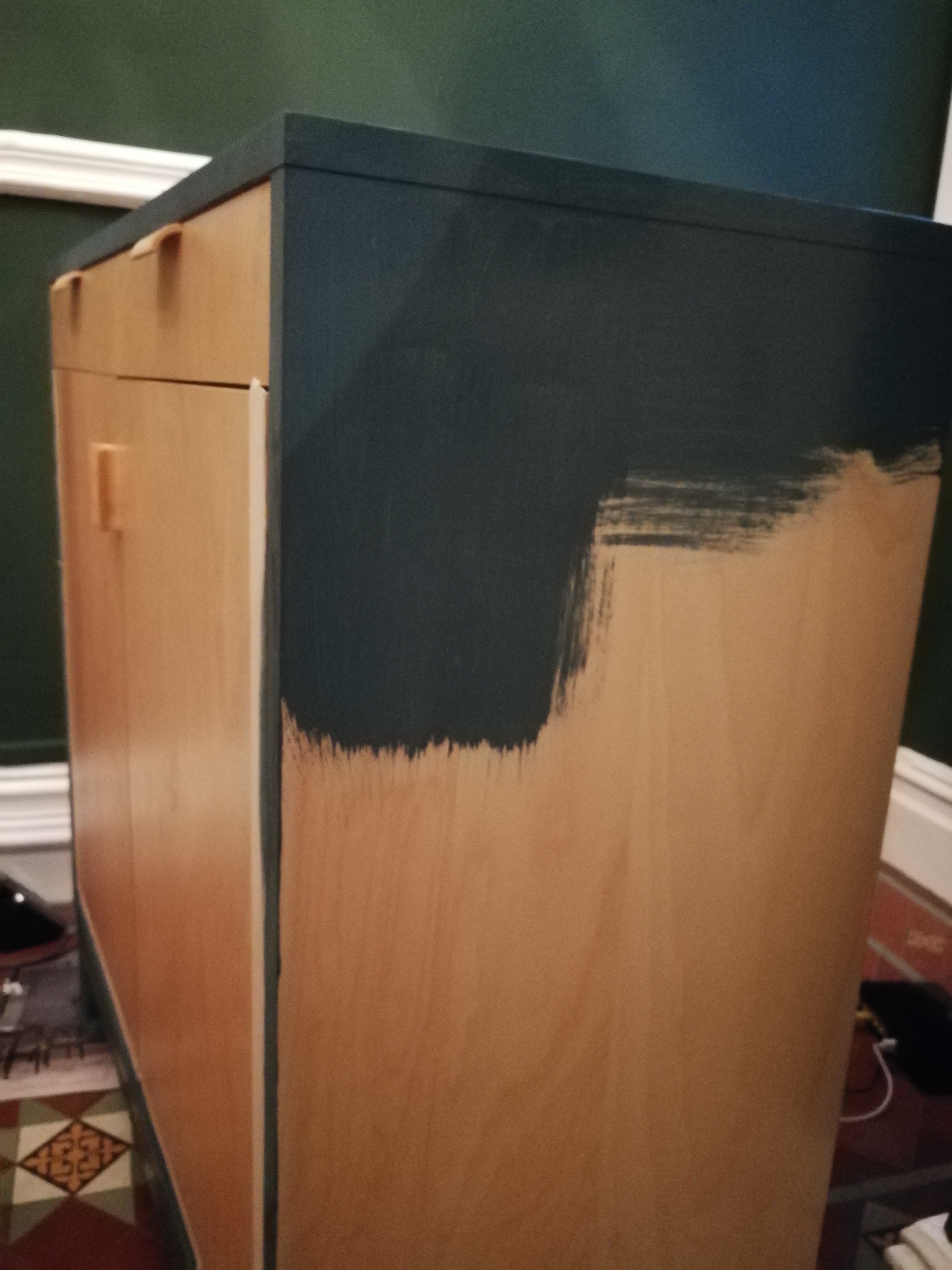 Once I'd finished the second coat of paint (leaving 24 hours to dry in between coats) and it was touch dry, I started to prepare for the wallpaper to go on the door and drawer fronts. I took off the handles and measured the areas I needed to cover.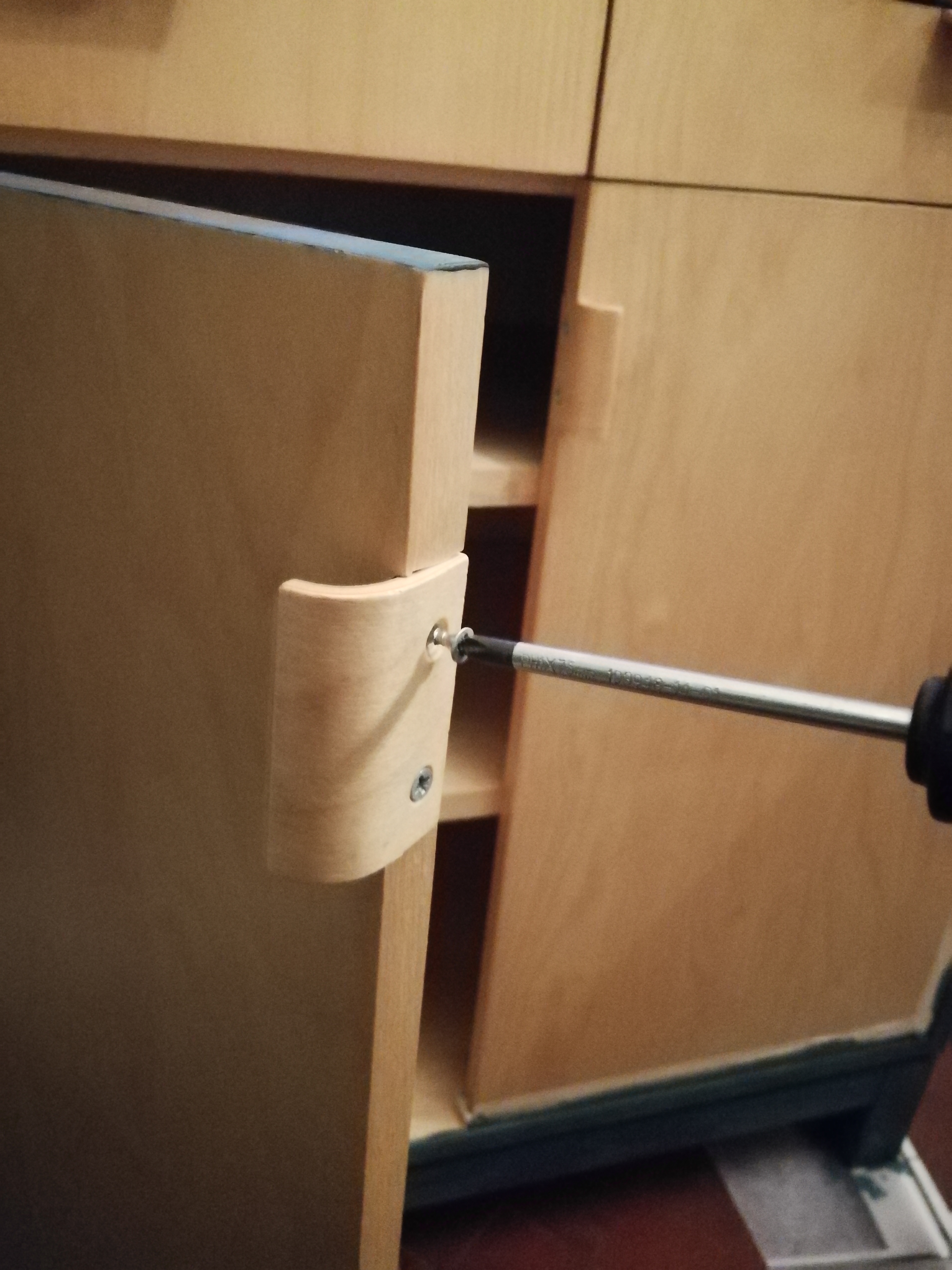 The main thing I had to think about when measuring for the wallpaper pieces, was that I needed 4 pieces (2 doors and 2 drawers) and that the pattern had to match across them all. This caused a bit of head scratching, but I think I got there in the end. To be honest, if I'd considered this before buying the wallpaper I might have gone for a less repetitive pattern!
I then had to cut out the pieces pretty accurately, as I knew it would be hard to make adjustments once the wallpaper was on. I used the stuff I use to make my sample boards for clients, so I already had a cutting mat, metal ruler (to protect my fingers) and Stanley knife.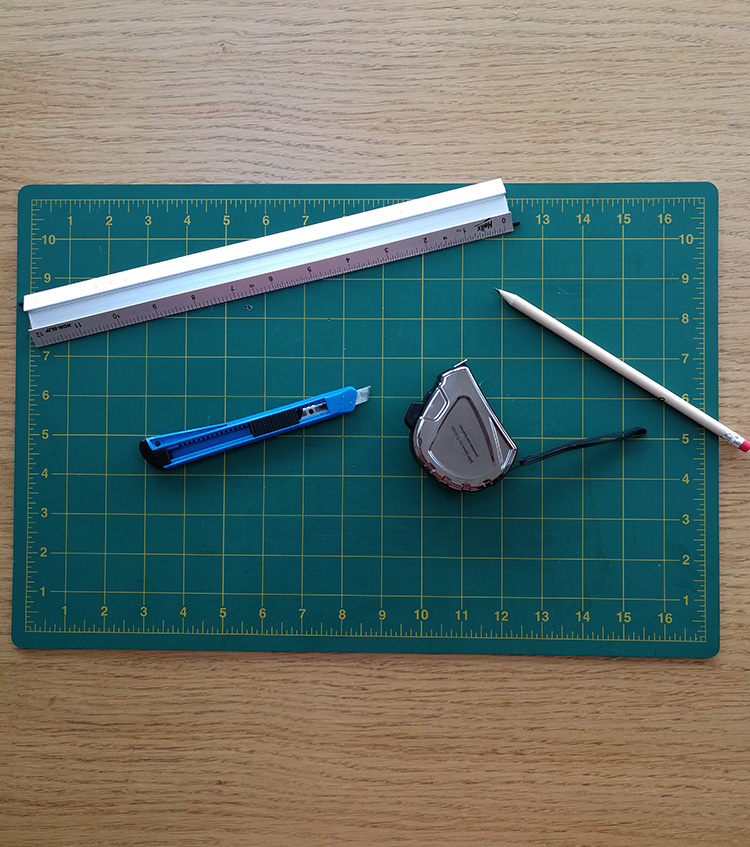 You could use sharp scissors but it's harder to get a really clean cut with scissors. They always say measure twice, cut once, so I did make sure I checked my measurements before cutting. I used a metal tape measure as the cloth ones can stretch over time, and give inaccurate measurements. I then labelled each piece on the back, so that I wouldn't get them mixed up, as they were all slightly different sizes.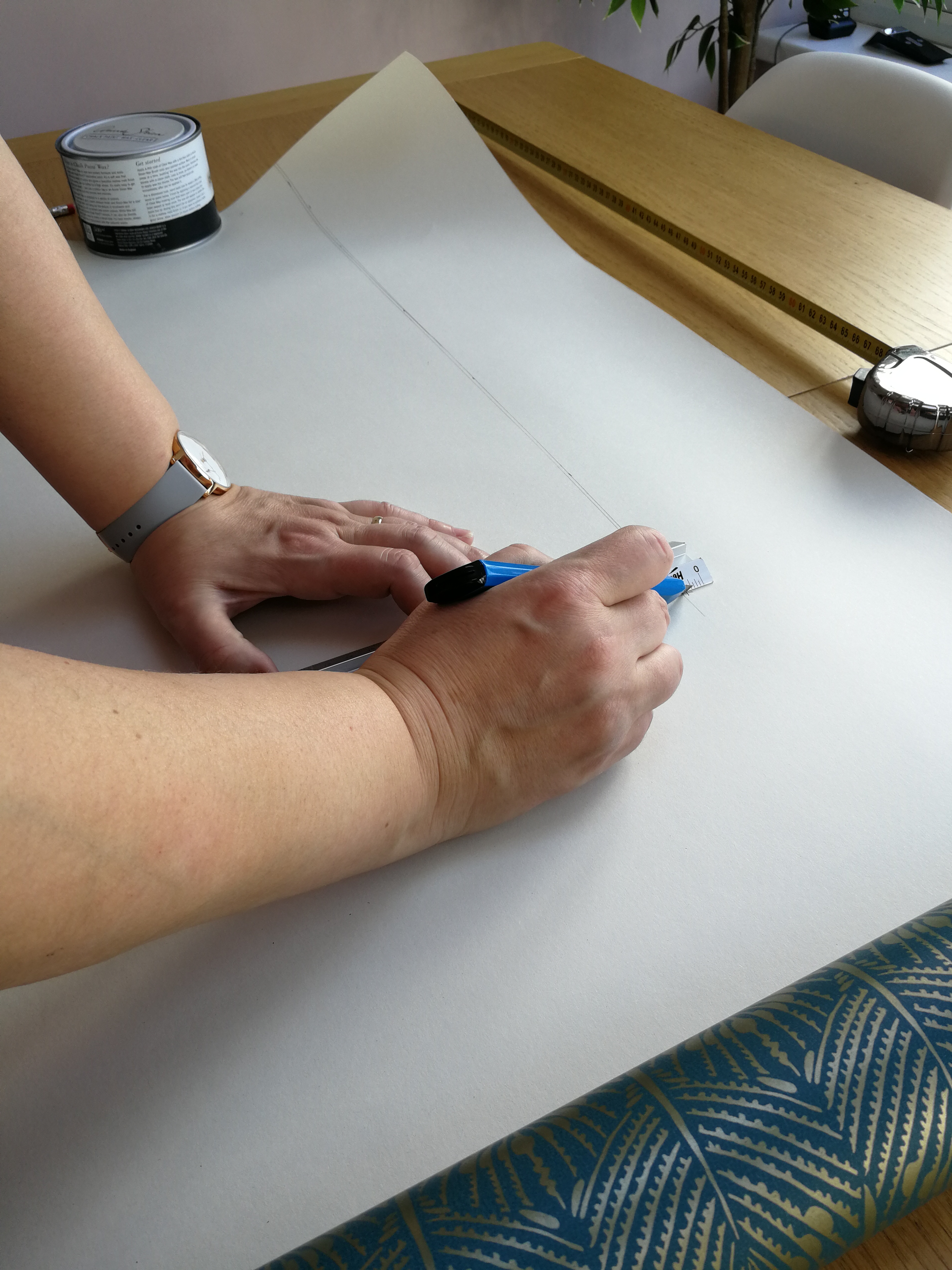 Then came the nerve wracking bit, I had to get the cut pieces on to the doors. I had done some research and found that contact adhesive would be the best glue for the job. It's a spray glue, so easy to apply to large areas, and can bond two different surfaces easily - in this case laminated wood and wallpaper.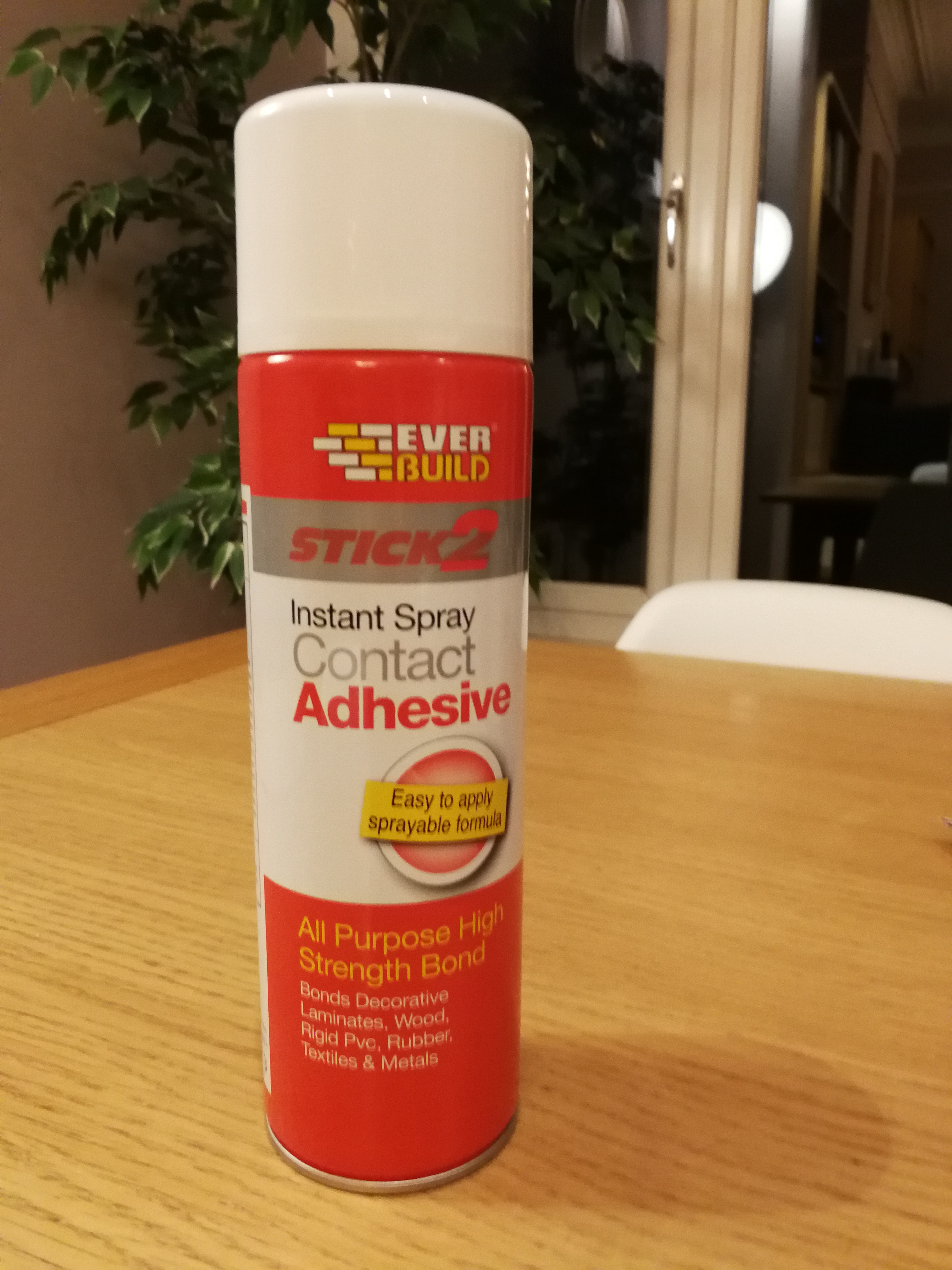 I had some help to hold down the wallpaper pieces, as this bit needs three hands!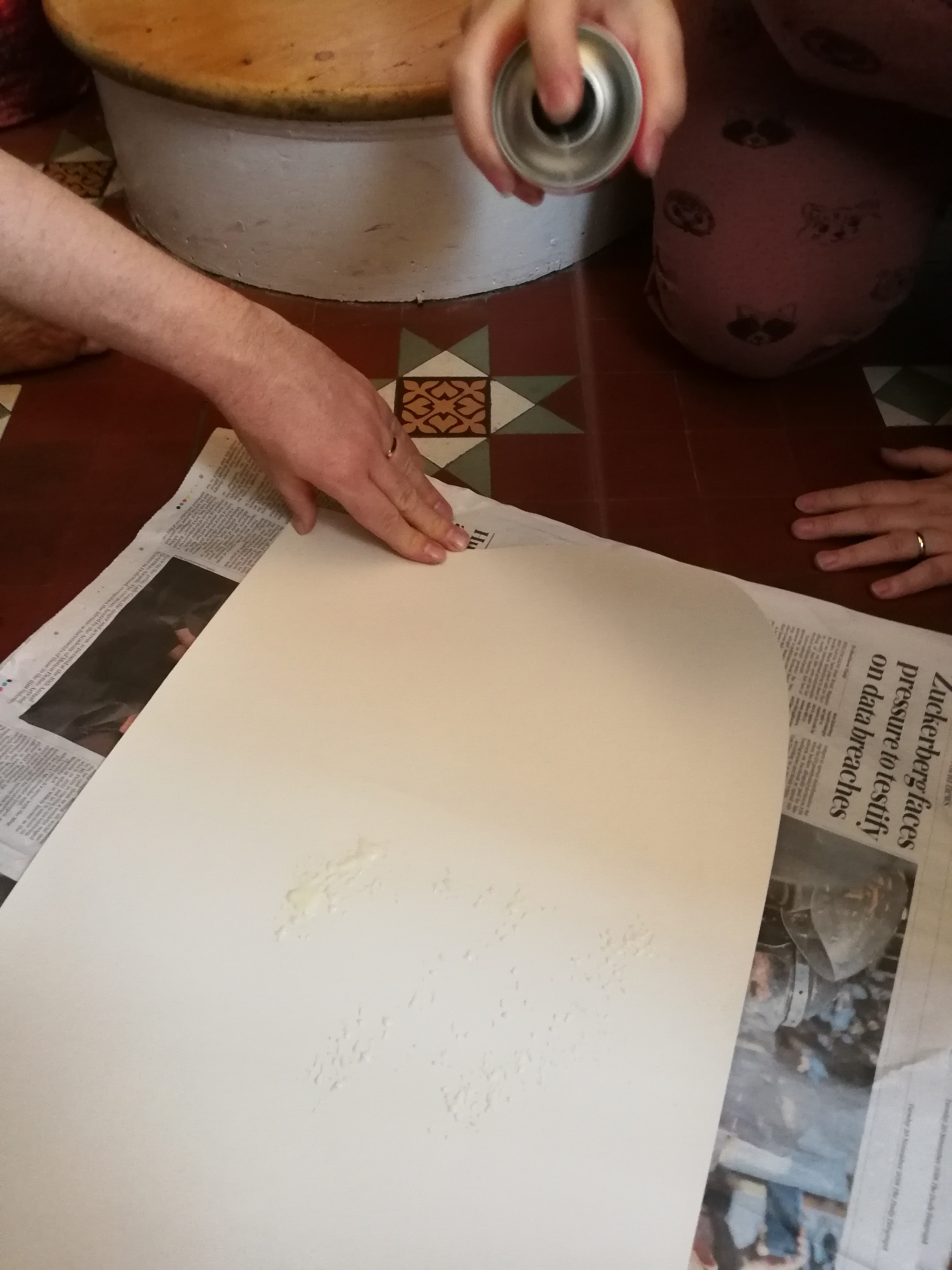 I put the drawer fronts on first, as these pieces were smaller and I thought they'd make a good practice run.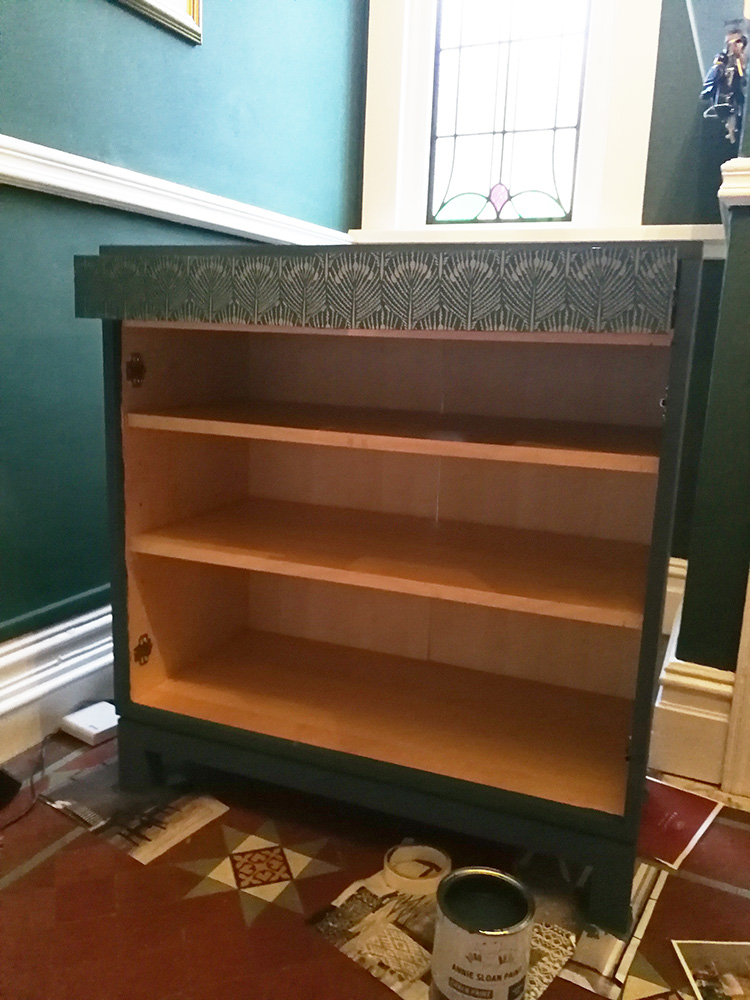 I then decided to take off the doors, as I wanted to make sure I got the wallpaper on straight. I have to be honest and say that the contact adhesive bonds pretty quickly, so there isn't much wiggle room if the wallpaper ends up going on wonky. I just consoled myself with the thought that I'd bought a whole roll of wallpaper, so I could always try again. Luckily, it went well at the first attempt.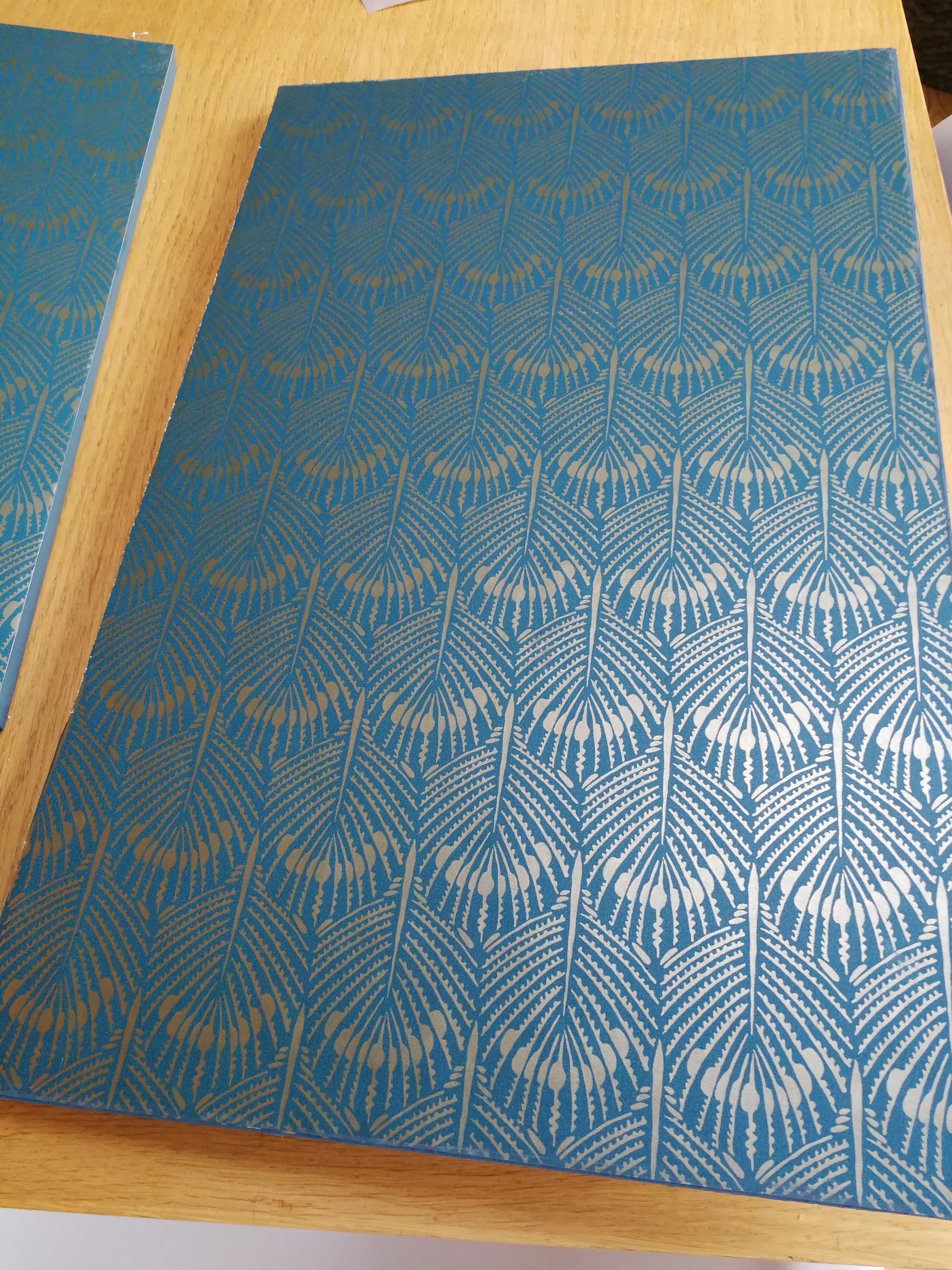 Once the glue was all dry, I had to protect both the paint and the wallpaper. Wallpaper is meant to go on walls, where it doesn't get touched very often, not on a cupboard which is used daily, so could get damaged easily. I'd done some more research (the joys of the internet) and found that you can varnish the paper to protect it. However, it's not the kind of varnish I was thinking of - the stuff that goes on wooden floors - it's a decor varnish which is milky white and goes on clear. This is the one I used.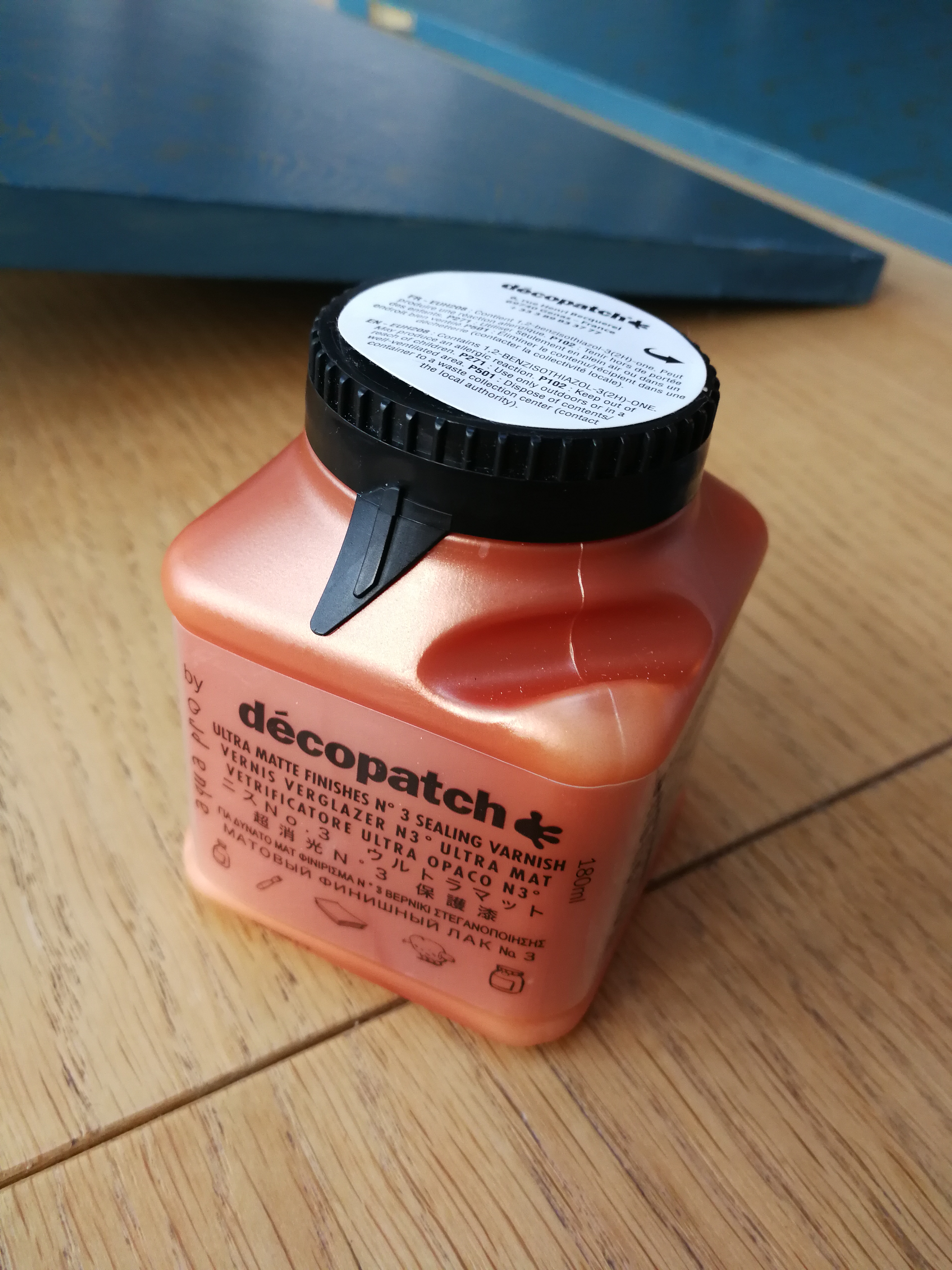 You need to apply two coats to fully protect the wallpaper, and this is where I started to think that it was all going to go horribly wrong. As soon as I applied the first coat, the wallpaper wrinkled and bubbled.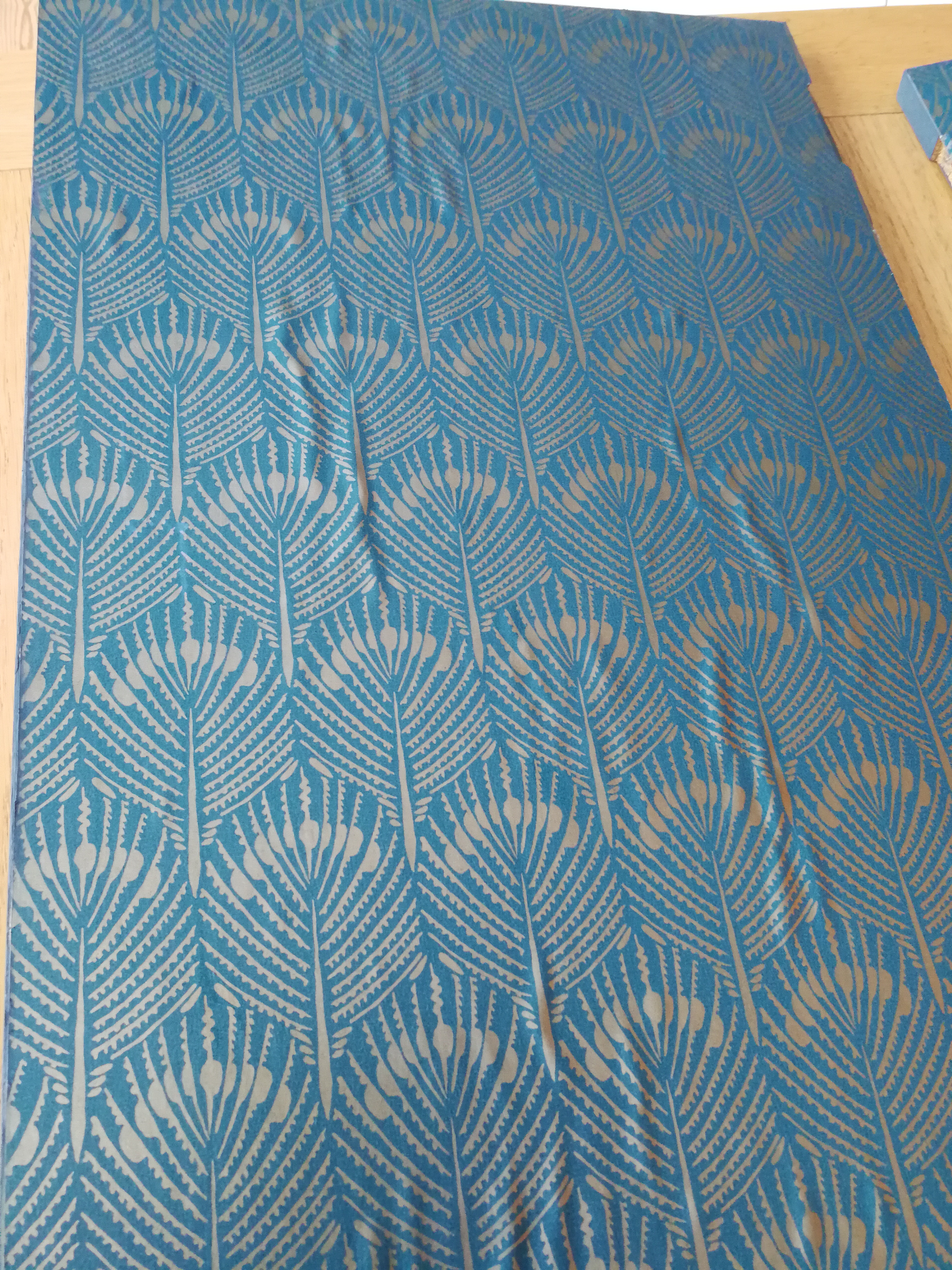 But I needn't have panicked, as once it was dry it was perfectly smooth again. The second coat wrinkled too, but I knew what was coming, so just waited patiently this time.
Next I needed to protect the paint - as it's water based it can chip quite easily (this is one of the reasons it's so easy to work with - you can just wipe off any mistakes). I used the recommended Annie Sloan wax, which seals and protects the paint from wear. As it's water repellant, it also adds a layer of spill proofing, and more wax can be added as and when needed down the line. I chose the clear wax because the blue paint is a very rich colour and I wanted it to shine through, but there is also a dark wax available which will change the colour of the paint slightly, and give you a different look. You can buy the wax here.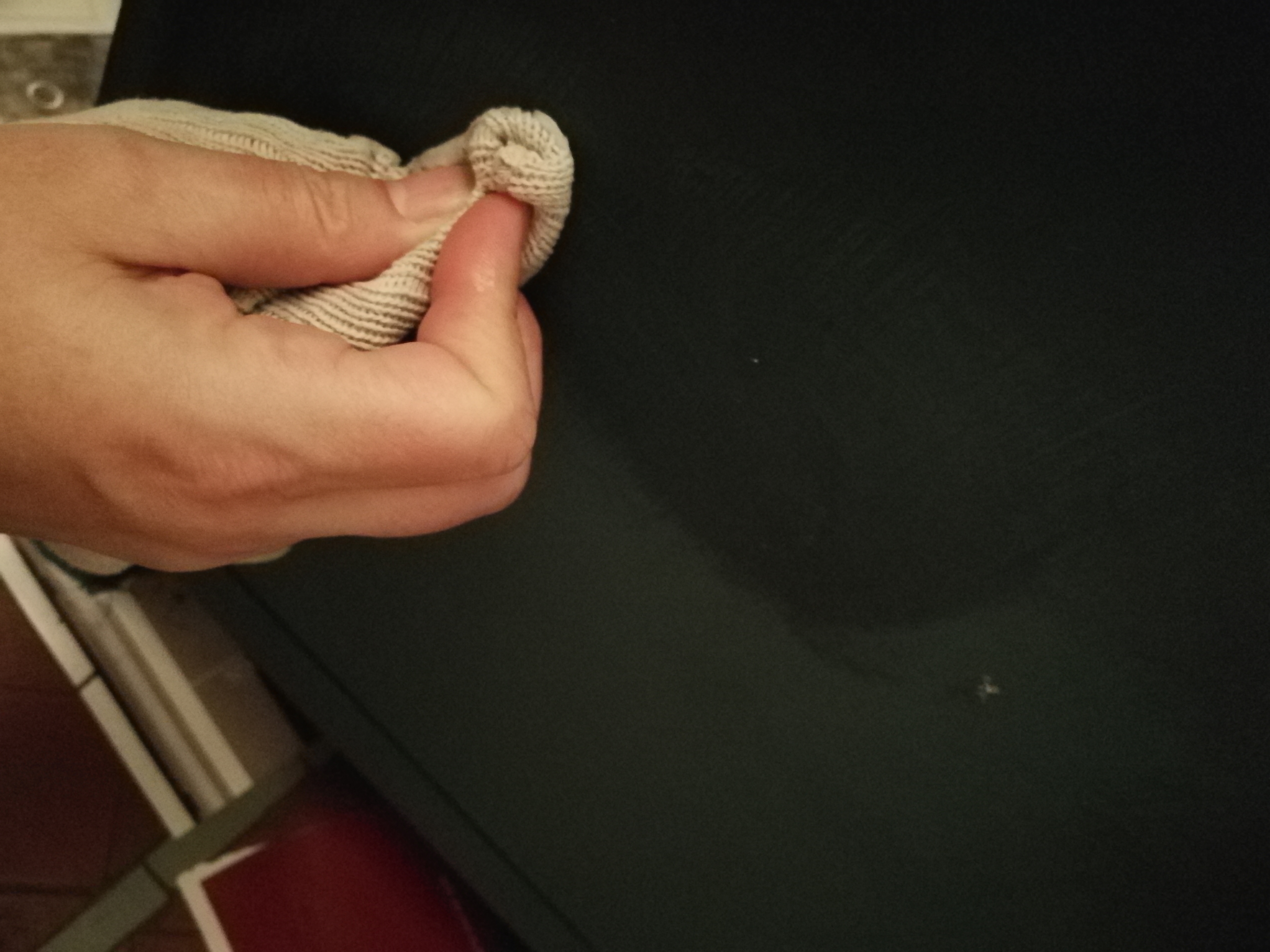 The final stage was to replace the handles I'd taken off with the some fab new ones. I found these gorgeous ones from Dowsing and Reynolds which were the right shape and size for my cupboard. You can buy the handles here.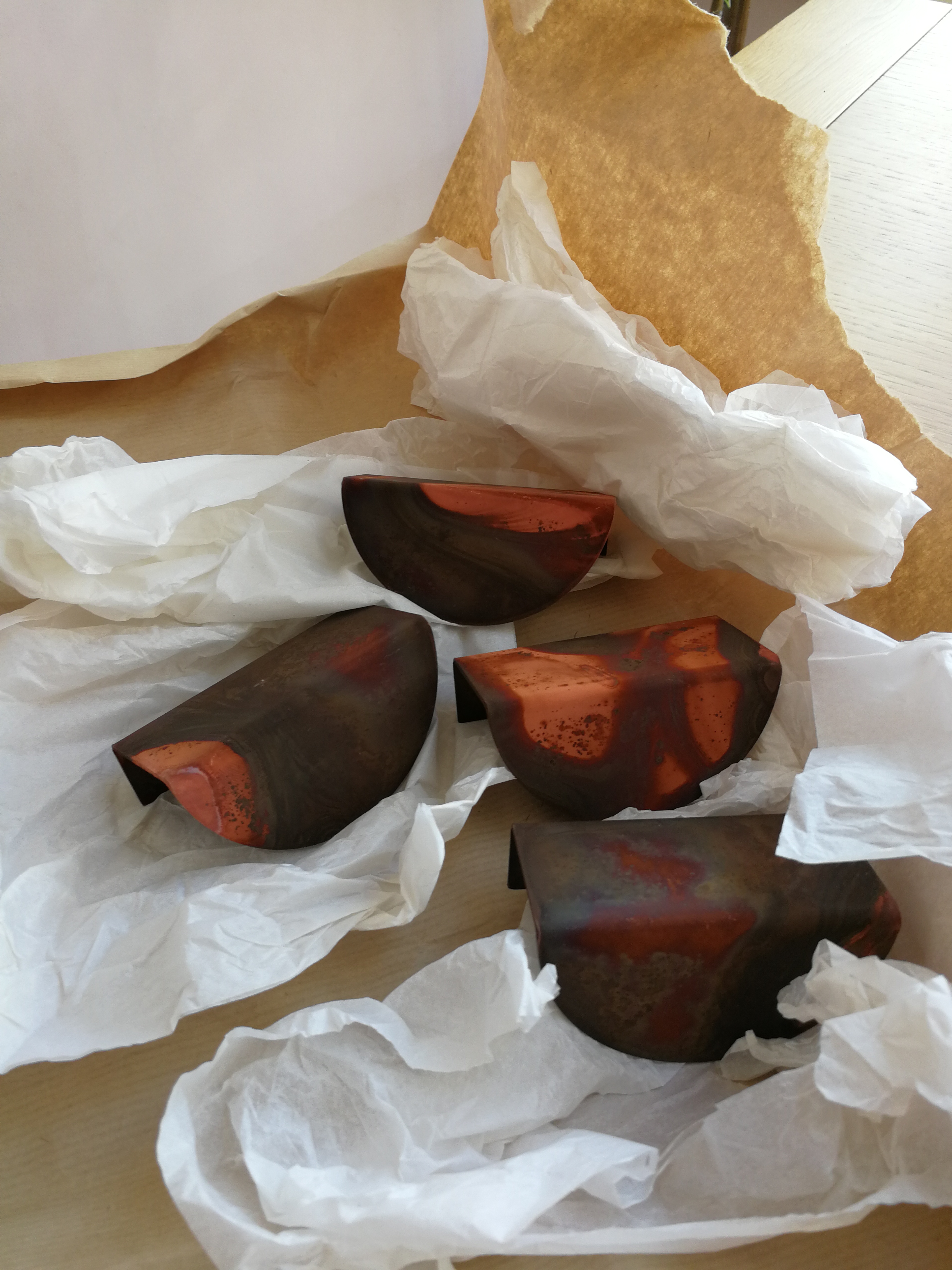 The thing I love about these handles is their tarnished copper finish. As I mentioned, I wanted the cupboard to have a glam look, but I felt that shiny handles would have been too much bling for me. The uneven, slightly industrial look of these handles contrasts well with the even pattern of the wallpaper, and adds extra textural interest. I also really liked the fact that the two handles on the doors make a circle when put together - another Art Deco reference.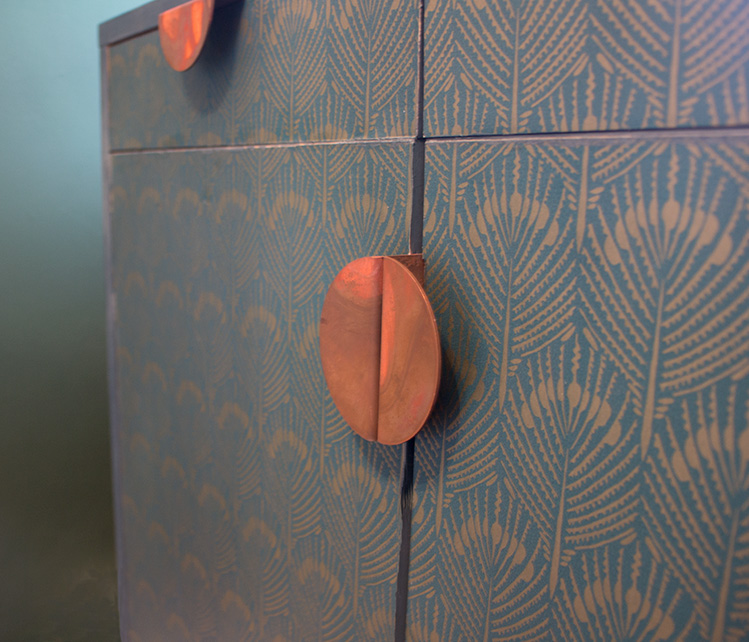 So, here is the finished project! It may have taken most of a weekend, but I really enjoyed doing it, and I think the finished cupboard looks so much better than it did when I started. Let me know what you think, or if I've inspired you to have a go, please share your projects with me, I'd love to see them.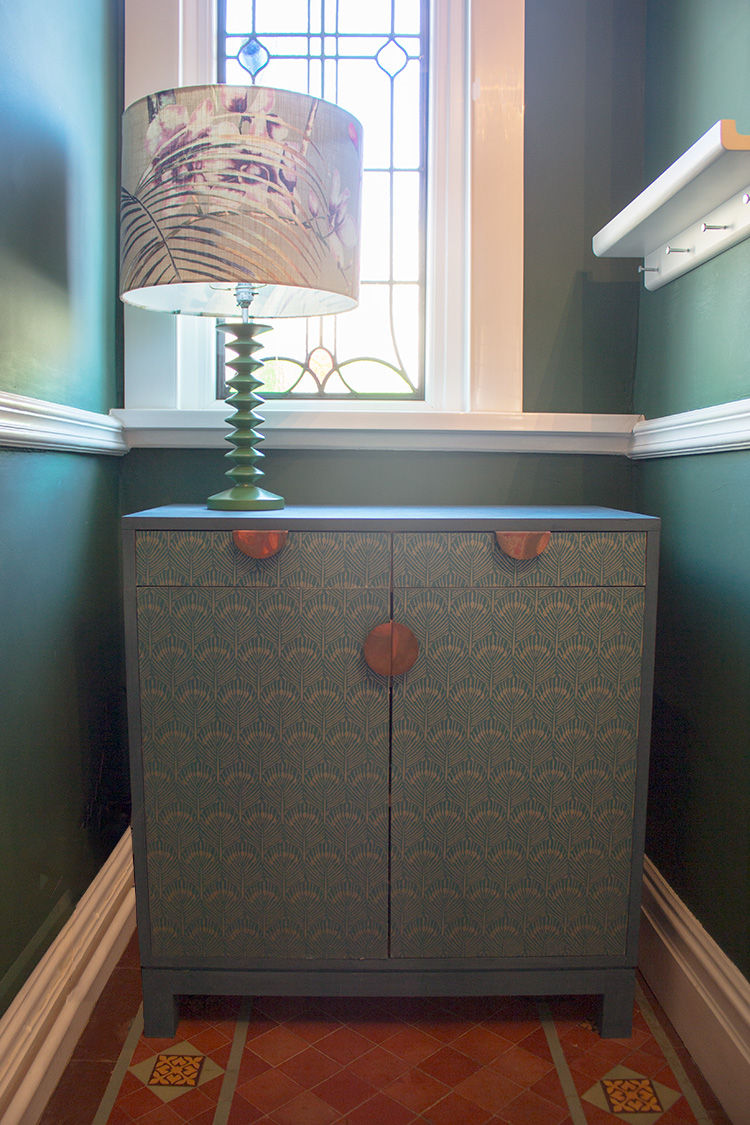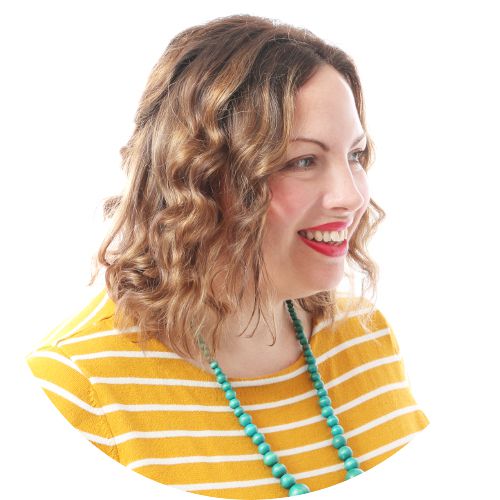 Welcome to the design blog, where you'll see posts about anything from the projects we are working on, to the latest fabric and wallpaper collections, and all things interiors related. We love colour, pattern, architecture and old buildings, and we love to share our finds with you.
Happy reading!