Green is my favourite colour - could it be yours too?
8 min read
Published 28 Jun 2021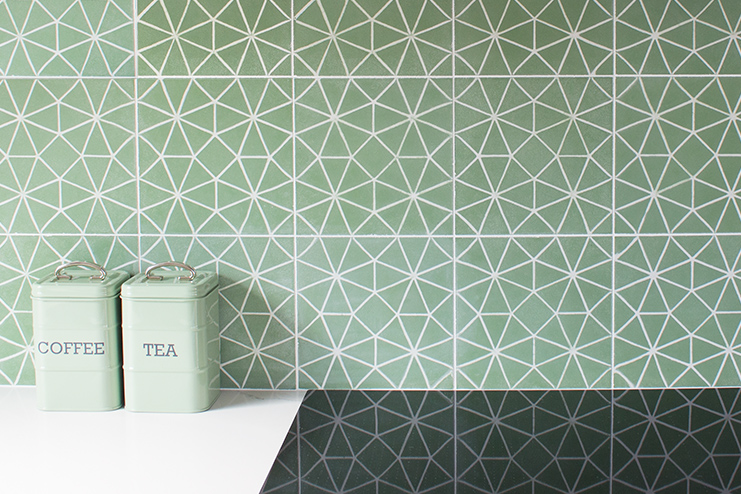 When it comes to renovating our homes, there are a huge number of things to think about - budgets, colours, flooring, furniture and finishes, and lighting, as well as organising any building work which needs to be done. Keeping on top of all these things can often feel like a mammoth task, so understandably, we don't really want to increase the pressure by adding in anything else. But I think there is one more consideration which deserves to be on the list - the impact our renovation project can have on the planet.
I've had a few clients come to me recently with requests that their new spaces not only be beautiful and inspiring, but also that they are as eco-friendly as possible. This got me thinking about the challenge of marrying up our need for newness in the home with the need to be careful with our planet's resources. Can we redesign and renovate our homes in a sustainable way? Is this really possible? As I have sometimes said to clients, I have wondered if I'm in the wrong job when it comes to being green.
Despite the growing movement against the trend of automatically replacing old with new, there is a feeling that trying to source homewares in a sustainable way is more expensive and very time consuming. The interior design and home furnishings industry is all about replacing old with new and selling furniture and finishes to us. To support suppliers, manufacturers and retailers all over the world, we rely on and encourage newness. There are a lot of people making money from telling us what the trends are, and that we should be keeping our homes fresh and up to date if we want them to look good.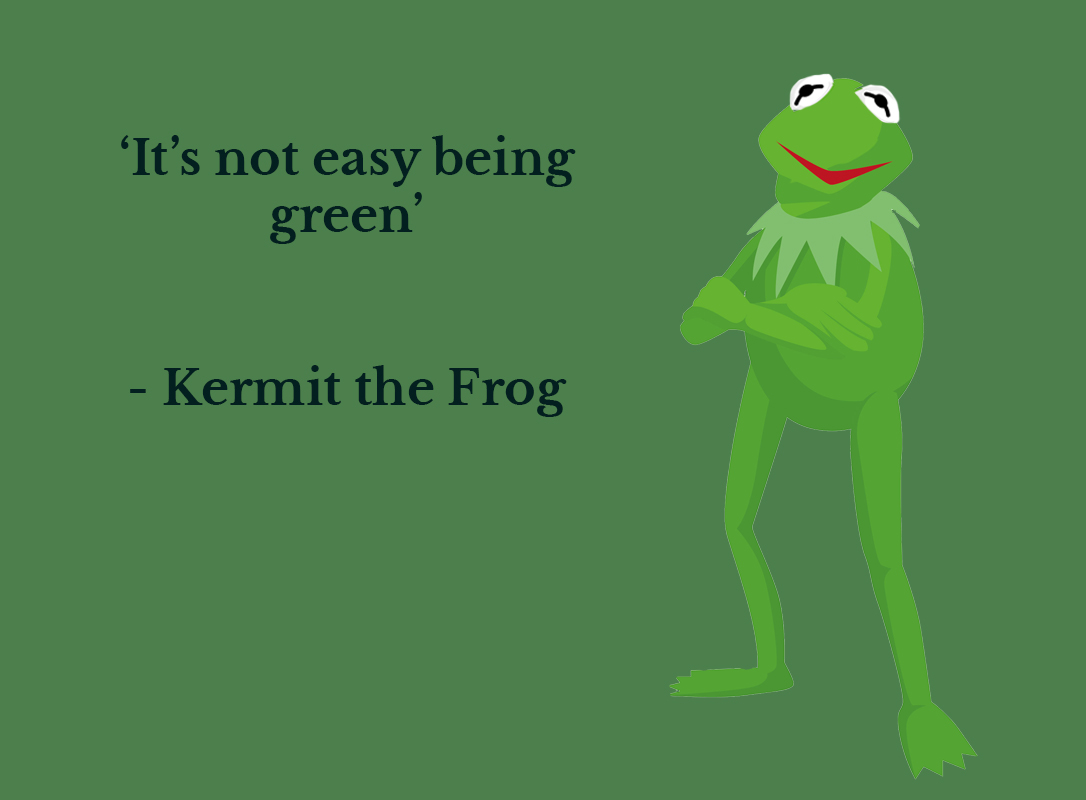 So what can an interior designer do when faced with creating a new look for a home? As Kermit the frog once said, it's not easy being green, but I think there are lots of ways to reduce our impact whilst renovating, and most of them don't cost a fortune. I'm sure if you think about it, many of us are doing some of these things without even realising that we are 'being green'.
My advice when tackling a new project whilst thinking about sustainability (or any new project for that matter) would be to follow these steps.First, think about the items that really need replacing and if they can be used somewhere else in your home. Sometimes just moving pieces around from one room to another can have a huge impact on the way your home looks and functions, and this doesn't cost a penny. Is there a sideboard which could work really well in the hallway as a place to put things when you come in the door, or to hide shoes and hats etc? If I have a client who has a beautiful piece of furniture that they might be tired of, I try to encourage them to look at it in a new way, and find a purpose for it. I had some clients a few years ago who wanted to replace all of their original Ercol dining room furniture because they had had it since they got married and it looked outdated to them. These were beautiful, solid pieces of furniture which still had many years of use left in them, so I showed them how well made everything was and explained that it would be very expensive to replace all of it with a similar quality of furniture. I also showed them images of how people are using this style of Mid Century furniture in new ways, mixing and matching with other pieces of furniture, and how it could be made to look new and interesting to them again. As an example, here's a design I completed with a vintage Mid Century sideboard: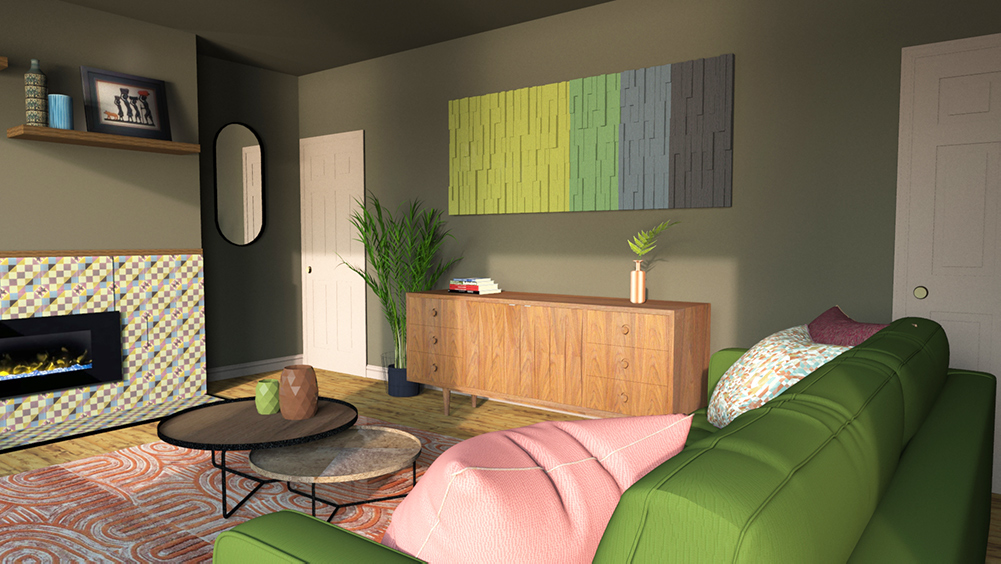 I also have another client who has a very comfortable, well made sturdy sofa which was manufactured over 20 years ago, but is still going strong. Instead of trying to replace it, we have decided to have it reupholstered in a fab new fabric, which will extend its life and look amazing in her new room. She chose a good quality, well made piece in the first place, so it was an easy decision to keep it and breathe new life into it. The idea is to try not to be wasteful or to get rid of items which still have useful life in them - even if you don't love these pieces anymore, there will be someone out there who does. Which brings me to my next point - if you can't reuse the items, you can recycle or 'upcycle them' and then pass them on to someone who will give them a new home.
You can have a go at doing this yourselves, as it's often easier than you think, or you can call in an expert who does this everyday. One of my favourite upcyclers on Instagram is Elizabeth Dot Design, who produces some spectacular pieces - she takes items that would have been thrown away, works her magic on them and then sells them to someone who will love them for years to come. If you fancy having a go yourself, here's some inspiration from a project I completed for my own home, upcycling a cheap Ikea cupboard to give it new life:
Some people are happy to upcycle or paint their existing furniture to create a new look, but what can we do if we really don't like our stuff or want a complete change? The next best thing is to buy existing items that someone else no longer needs or wants. This can take many forms - a vintage chair, reclaimed floorboards from a reclamation yard, or reconditioned lighting to name a few. The clever people at Skinflint Lighting specialise in taking vintage lights and reconditioning them to make them usable and beautiful again. Another of my favourites, Bert and May, who make beautiful tiles, also have a huge collection of reclaimed tiles which have been restored and are ready to be relaid to bring the gorgeousness all over again.
So if we can reuse or recycle, that's great, but what about buying new? When we do decide to buy new items for our homes, if we can take a little bit of time to think about the materials they are made from, how they have been made, and how far they have travelled to get to us, then we are sourcing responsibly.
I recently designed a living room for a client who wanted to make the project as sustainable as possible, so I started by looking at furniture which was made from recycled materials. I found this beautiful side table made from reclaimed oak, which is a great use of old materials that would otherwise have gone into landfill. Using recycled wood also meant that no new wood was needed to make it, which also saved a few trees.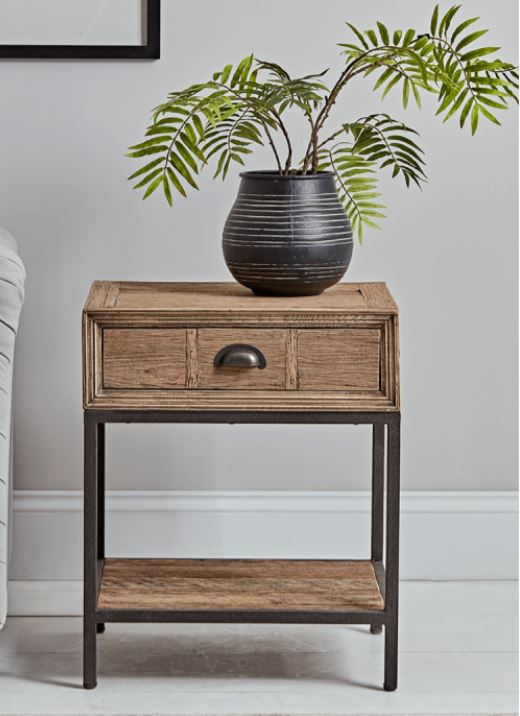 the reclaimed oak side table from Cox & Cox
Here's my finished design: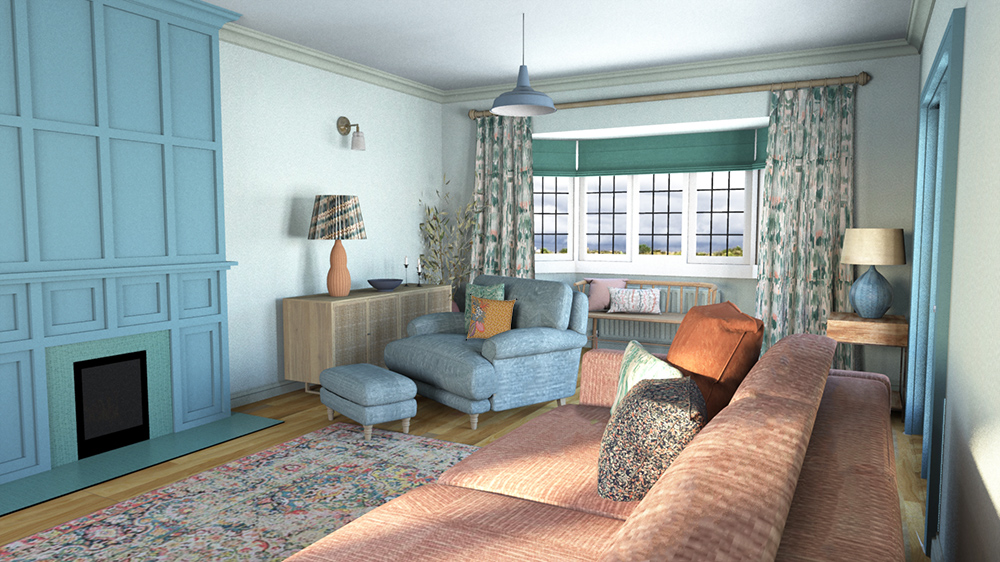 I also sourced a bench made from recycled teak to go under the bay window for this client, but when I couldn't find vintage pieces or items made from recycled materials for every piece of furniture needed, the next best thing was to specify pieces made from sustainable woods such as Mango and Mindi wood. These woods are great because they grow very quickly (15 years from start to finish), and the suppliers I chose make sure that new trees are planted regularly so there is a steady yield of wood before all of it is harvested. The frames for the sofa and armchair in this design are made from fast growing Scandinavian Birch, which is harvested in a similar way. The seating is constructed in Britain so the pieces will travel shorter distances to get to the client, reducing their carbon footprint.
With this design I also specified chemical free paint from Earthborn, which is water based and doesn't contain any plastics in the form of polymers used to bind the paint together. Even gloss and satin wood paint finishes these days are water based and don't use any oil. And because they don't contain oil, the bonus is that white colours don't turn yellow over time, as it's the oil that creates the yellowing process.
I've spoken about rugs made from recycled plastic bottles before, which are very soft and you would never know that there was any plastic in them, but technology has improved so much that there are now fabrics available for curtains and upholstery which are made from 100% recycled plastics, wool and acrylics. The Sustainable Collection from Kirkby Design has four different designs in these new fabrics, and lots of lovely colours to choose from. Another naturally eco-friendly fabric is linen. The flax plant it is grown from needs no extra watering other than from rainwater, so growing it uses much less energy than producing cotton, and it needs far fewer pesticides and fertiliser than to grow other crops. Linen itself is very hard wearing, so it is a great choice for sofas and other furnishings as it will naturally last a long time.
These are just a few of the many ways that you can redecorate and redesign your home in a more responsible way, which won't cost us the earth. There are also many things you can do when renovating or having any building work done, and I think I might need to write another blog post with more ideas rather than cramming it all into one post.
I think the most important thing you can do when redecorating and renovating is to really think about your true interiors style. Once you've worked it out, if you express your unique style with every project, you won't be following a trend which will quickly be replaced with another one. You'll naturally be creating a sustainable interior which you can enjoy for years to come.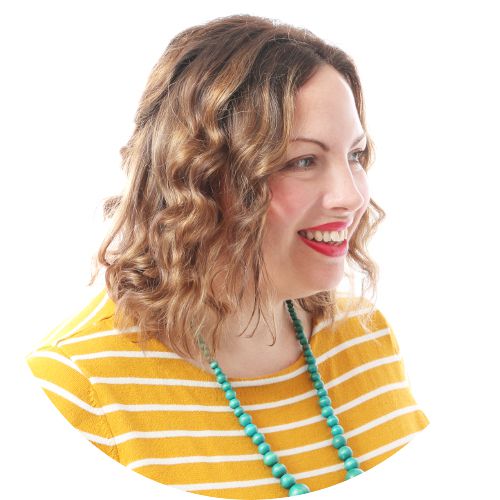 Welcome to the design blog, where you'll see posts about anything from the projects we are working on, to the latest fabric and wallpaper collections, and all things interiors related. We love colour, pattern, architecture and old buildings, and we love to share our finds with you.
Happy reading!