The importance of sound in interior design
9 min read
Published 28 Oct 2023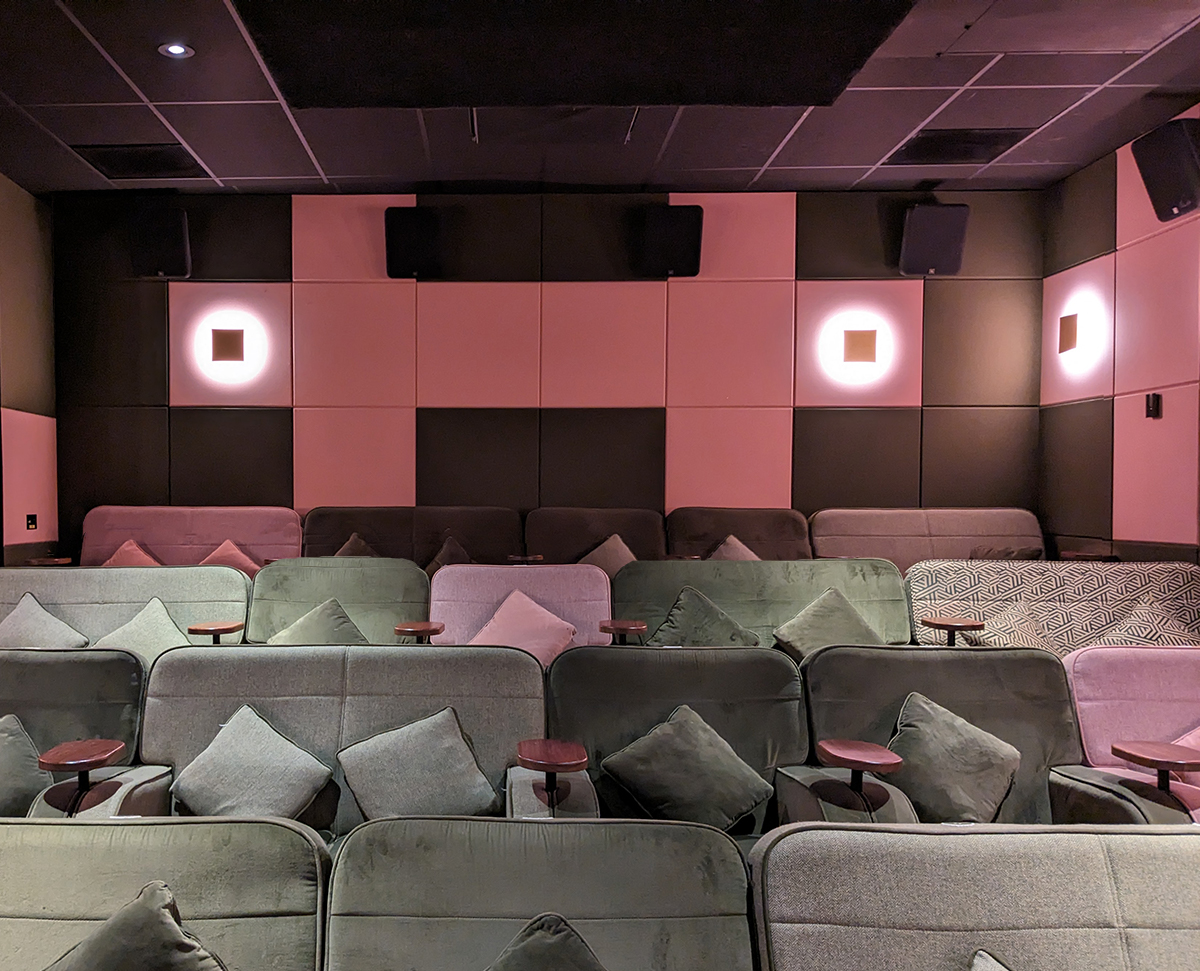 When a client considers starting an interior project for their home, they usually begin by thinking about how their spaces should look. They might want to renovate a room by changing the wall colour, updating the wallpaper, or adding new soft furnishings such as cushions or curtains. The reasons for doing this are many and varied, but most clients who come to us want their homes to look good, and they also say they want them to feel good too. When giving us their wishlists, clients usually use words such as warm, cosy and comfortable, and ask us to help them create spaces which are enjoyable and relaxing to be in.
As you probably know, the way we choose to decorate our homes can really affect our mood and our quality of life, but it doesn't all come down to the way they look. It's also about how our homes sound. This may seem strange, but sound, or noise, and the way we experience it in our homes, has a real and quantifiable impact on the way we feel, think, behave, and on the inner workings of our bodies. Sounds and noises affect our heart rate, our hormones (particularly the release of the stress hormone cortisol), our breathing, and even our brain waves, and they can do this in both positive and negative ways.
The sounds we hear when moving through the world can usually be divided into two categories: welcome and unwelcome, or pleasant and unpleasant. The welcome or pleasant sounds we hear, such as birdsong or the gently lapping waves of the sea, have a positive effect on our bodies and minds; they will usually make us feel calm, and will lower our heart rate. Unwelcome or unpleasant sounds, such as car alarms or unexpected loud bangs, will have a negative effect on us, making us feel stressed and breathe more quickly, with an increased heart rate, as our bodies prepare to flee or fight off a potential predator.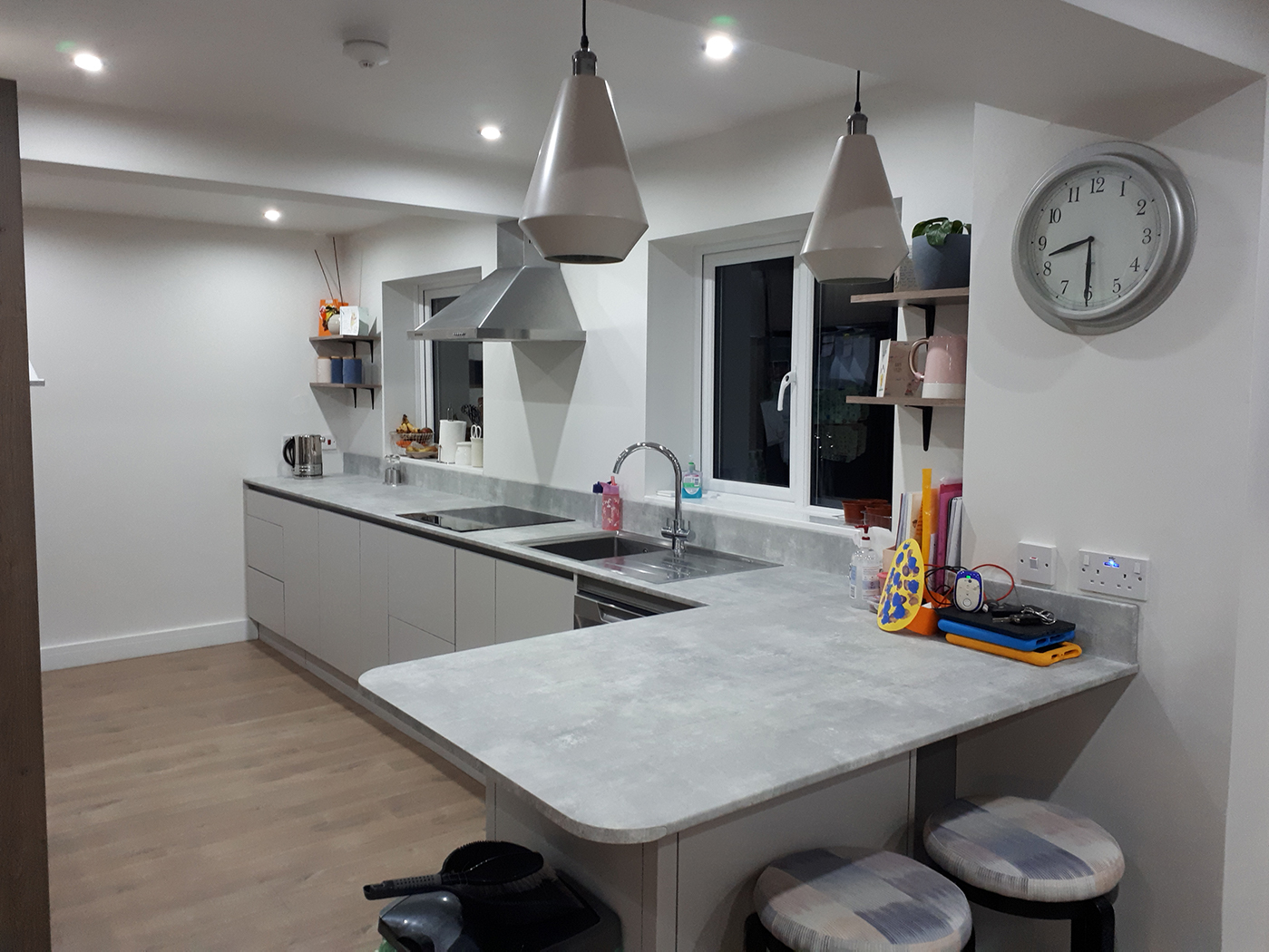 This client came to us after her kitchen was freshly installed, wanting help to warm it up and make it feel more homely
The effect sounds have on us can clearly be felt in public spaces such as open plan offices and restaurants, where there are usually lots of people in one space performing different tasks or lots of conversations going on at once. When we hear all this noise it can be difficult to concentrate or relax, and it can easily overwhelm us and disturb our sense of calm. If measures aren't in place to help reduce the noise levels, we can quickly become stressed, so it's vitally important that we handle sound correctly in these spaces. Julian Treasure, in his 2009 Ted Talk states that in badly designed open plan offices which have no methods of controlling the sound we create, productivity has been shown to reduce by up to 66%. And of course, we've all been to restaurants where the acoustics are poor - we can hear all of the conversations going on around us as well as the noises of the food being prepared in the kitchen. These restaurants sound loud and chaotic, and are unpleasant to be in, with the result that we don't enjoy ourselves and are unlikely to visit again.
I recently stayed at a Premier Inn Hub (the ones with the tiny bedrooms) as I needed to visit a trade fair in London and all the nearby hotels were fully booked. I ate in the restaurant one night, and felt very uncomfortable. The space felt too bright and light, but it was also very much like a public, open space and I didn't feel settled. The bright lighting certainly didn't help, but it was also the echoey sound which made everyone else's conversation seem so much louder, making it hard to switch off and relax. This is the restaurant space at the hotel I stayed in: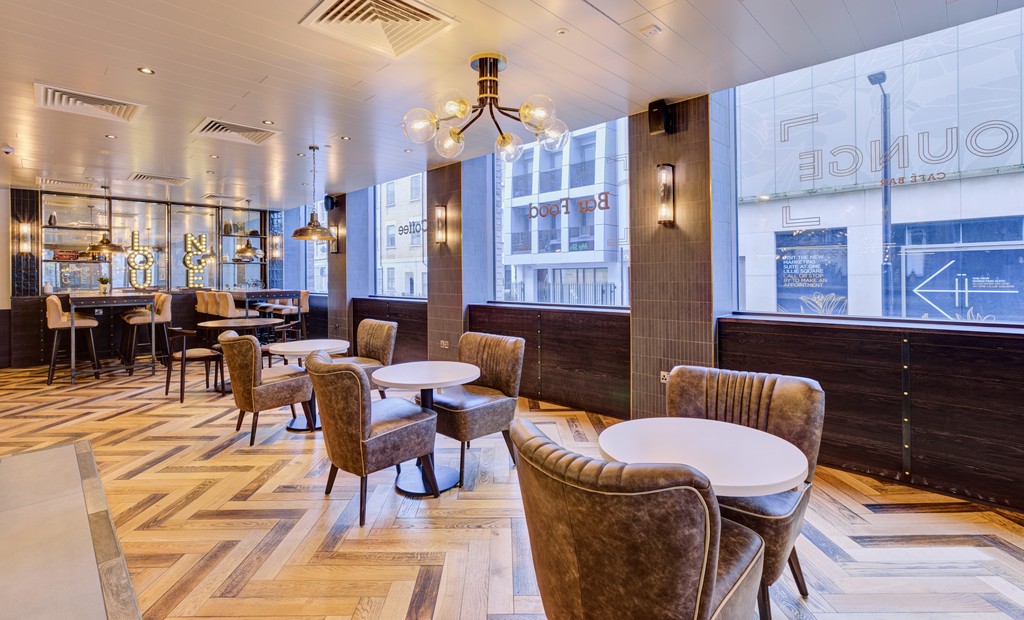 If you look at the photo of the restaurant above, you can see that the room has wood effect tiled floors, tiles on the pillars around the perimeter, a shiny plastic ceiling, lots of windows and glass shelving, and very little in the way of soft furnishings. It's a very practical space and easy to keep clean, but it isn't great for the acoustics. Why not? In order to understand, we'll have a quick look at how sound works.
Sounds are emitted in various ways - from our bodies (our voices), from audio speakers (music or TV), from animals, from machines or technology (phones and car alarms) and from things coming in to contact with each other (dropping a spoon on a worktop). The sounds travel outward from their source, through the air until they reach our ears. On their journey to our ears, these soundwaves will come into contact with things which have an effect on them, such as a wall, a floor or a piece of furniture. If the surface is hard (such as glass) it will reflect or bounce the sound back around the room, creating an echo or reverberation. If the surface is soft (such as a carpet) it will absorb the sound and effectively stop any reverberation from happening.
If we were in a room full of hard surfaces with no soft ones, the sound would keep bouncing around and there would be a great deal of echo, which is disorientating. If we were in a room where all the surfaces were soft, the sound would be absorbed by all of them, and there would be no echo. The sounds heard in this type of room would be 'flat' or 'dead', and would sound unnatural to us. Spaces which feel comfortable to be in ideally have a mix of soft and hard, or absorbing and reflective surfaces. This mixture of surfaces will allow some reverberation from the sounds hitting them, and absorb some of the soundwaves to reduce echo and create a good acoustic balance.
The problem with the restaurant I ate in was that nearly all the surfaces were hard, without enough soft ones to absorb the sounds coming from the other diners. Those sounds were echoed and amplified around the room, which felt intrusive and unsettling. The echoey sounds only added to the feeling of coldness which was created by the sparse decor, so I was never going to feel relaxed there. In contrast, this picture of the loos in The Ivy restaurant in Cardiff shows how the interior design has incorporated sound absorbing materials. The doors are all wood, the walls have wallpaper panels, and the ceiling has been covered in faux roses, all of which will stop the echoes and dampen down any unwanted noises.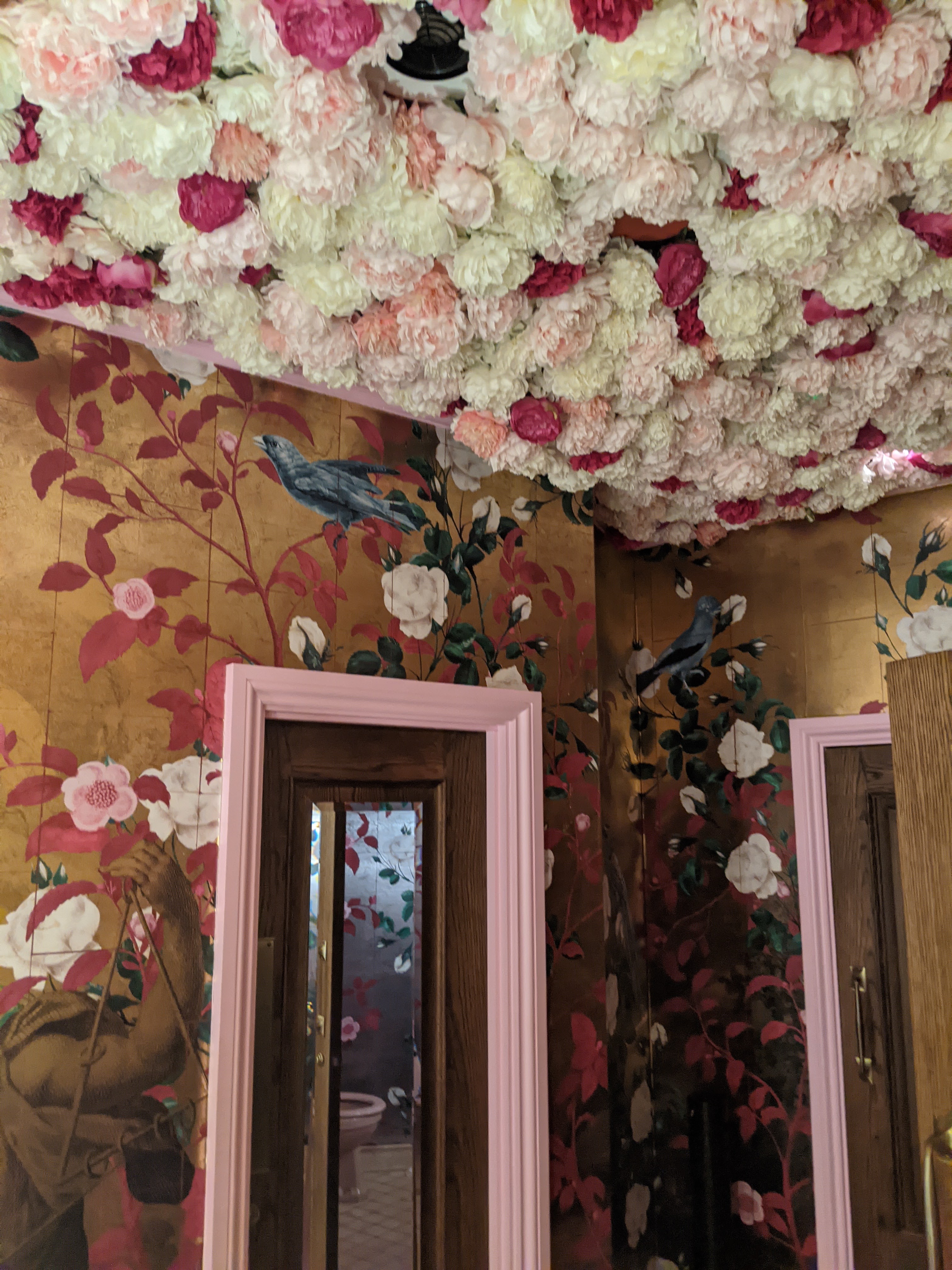 To avoid an echoey or cold sounding space in your home, you need to add some softer items and surfaces into your rooms, which will absorb the echoes and create the ideal acoustic mix. Rooms with lots of hard surfaces such as kitchens and bathrooms will suffer more from echoey sound than say, living rooms or bedrooms, which generally have more furniture and soft furnishings to absorb sound. We have come across this problem when working with clients who come to us after they have installed a new kitchen, chosen a practical tiled floor, and added large bifold doors to maximise their views of the garden. They come to us because the space doesn't feel homely or comfortable, and feels cold. It is, of course, all those hard and shiny surfaces reverberating the sounds around the room, with nothing to absorb them.
Ideally, the acoustics of the room would have been considered when the space was being planned, but if they weren't, there are things which can be done afterwards to help. Adding curtains or soft blinds to the windows will absorb a lot of reverberation, adding rugs to the floors will dampen down the sound of shoes on the tiled floor, and adding upholstered pieces of furniture along with cushions will help considerably, as a sofa is a fairly large item and can easily break up the movement of the sound waves across the room. Plants are also surprisingly good at absorbing sound, and can really help in a kitchen, as they will soften it both acoustically and visually. Who doesn't love a few plants in a kitchen (or bathroom)?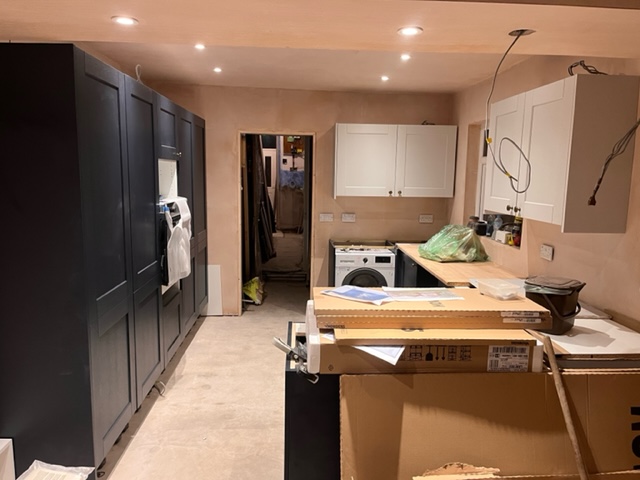 Above - A recent client's kitchen before we helped them with the design - cold, hard surfaces and boxy cabinets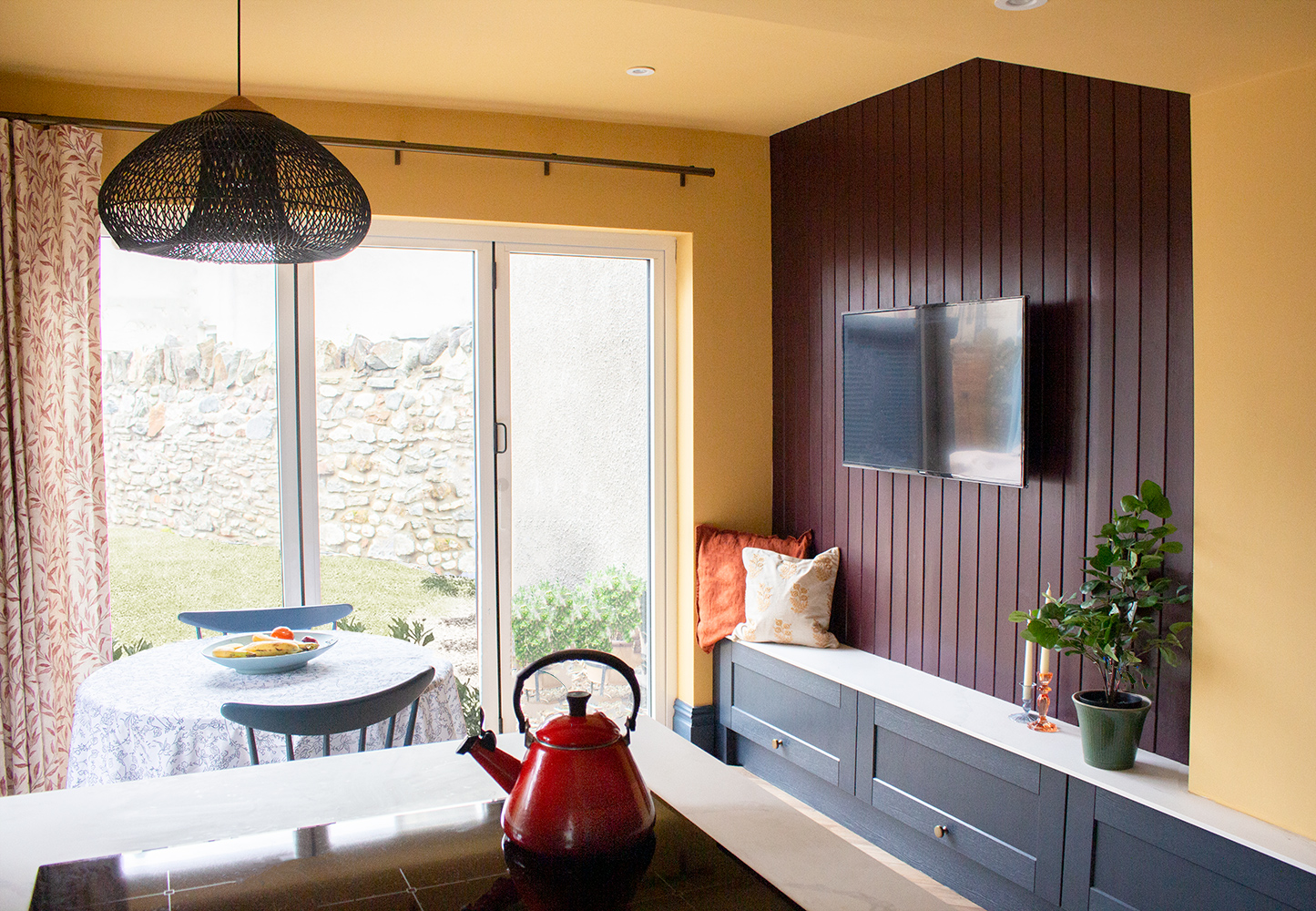 The same client's kitchen with curtains, blinds, furniture, a tablecloth, and wooden panelling added to help absorb the sounds
In order to avoid this problem from the beginning, if you are in the planning stages of a bathroom or kitchen renovation and budget and space allow, you can consider adding the latest materials to dampen down the echoes. New double glazing units with noise reducing glass are available, and you can even buy acoustic plaster which will absorb sound. This works like an insulation, and not only improves the acoustics of a room inside, but will help prevent noise from outside the room (such as noisy neighbours) from disturbing you. You can also consider using natural materials where possible as they are inherently sound absorbent. Adding a wooden worktop in a kitchen, wooden panelling on the walls or ceiling, or even a cork floor with a 100% wool rug on the top, will all help to make your space more acoustically pleasing and comfortable to be in.
Wall or ceiling panels are fairly easy to install and can be added to greatly help with the acoustics of a room. They are usually made from some form of fabric or wood on rectangles (but other shapes are available) to help absorb the sound. You can see examples of these in places like theatres and cinemas - here are some coloured ones inside the Everyman cinema in Cardiff.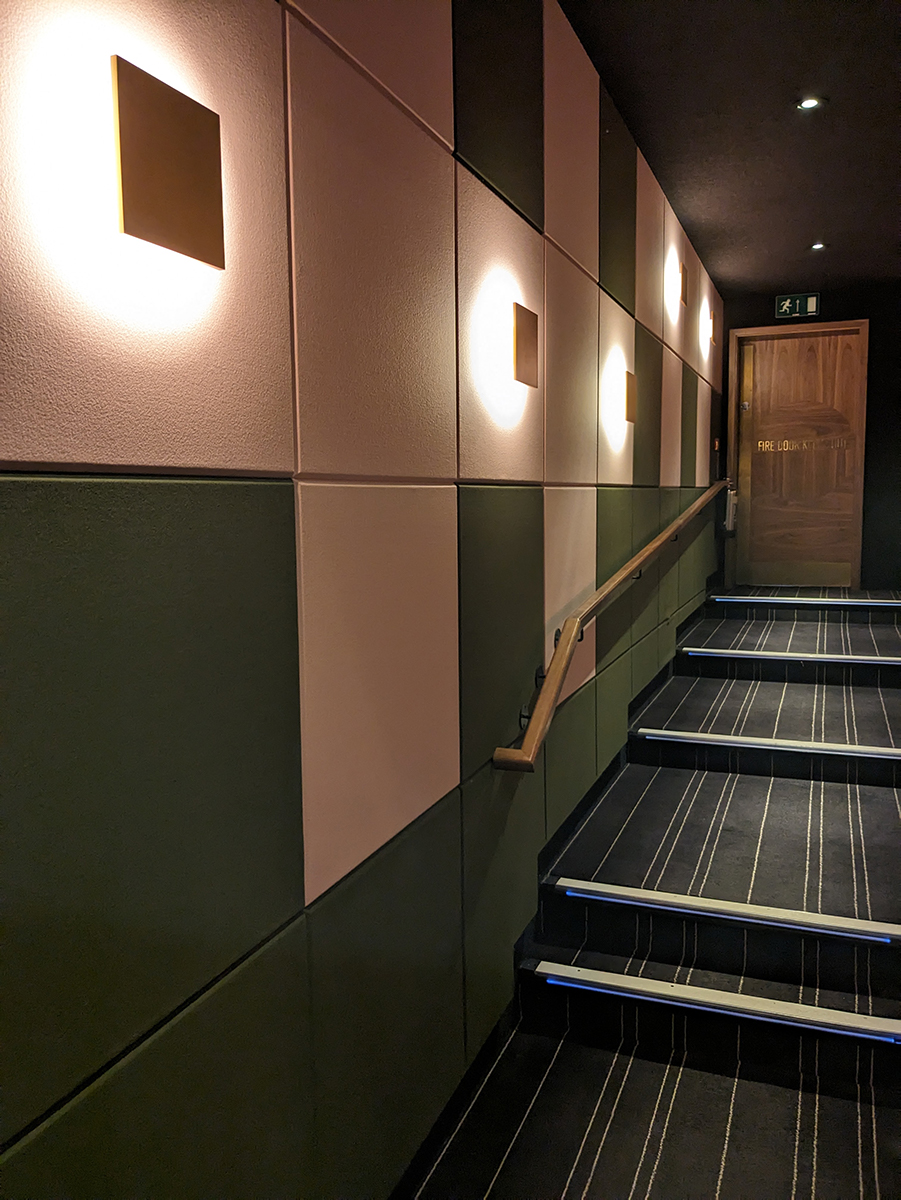 They are pretty and you would be forgiven for thinking that they are just a nice wall treatment, but here they are helping to absorb the sound from the films and to stop it from leaking into the cinema next door. There are many types of these panels available, with a wide range of designs, from fluffy ones which can be attached to glass, to wooden slatted strips on felt backing, which also nail the trend for wooden wall paneling.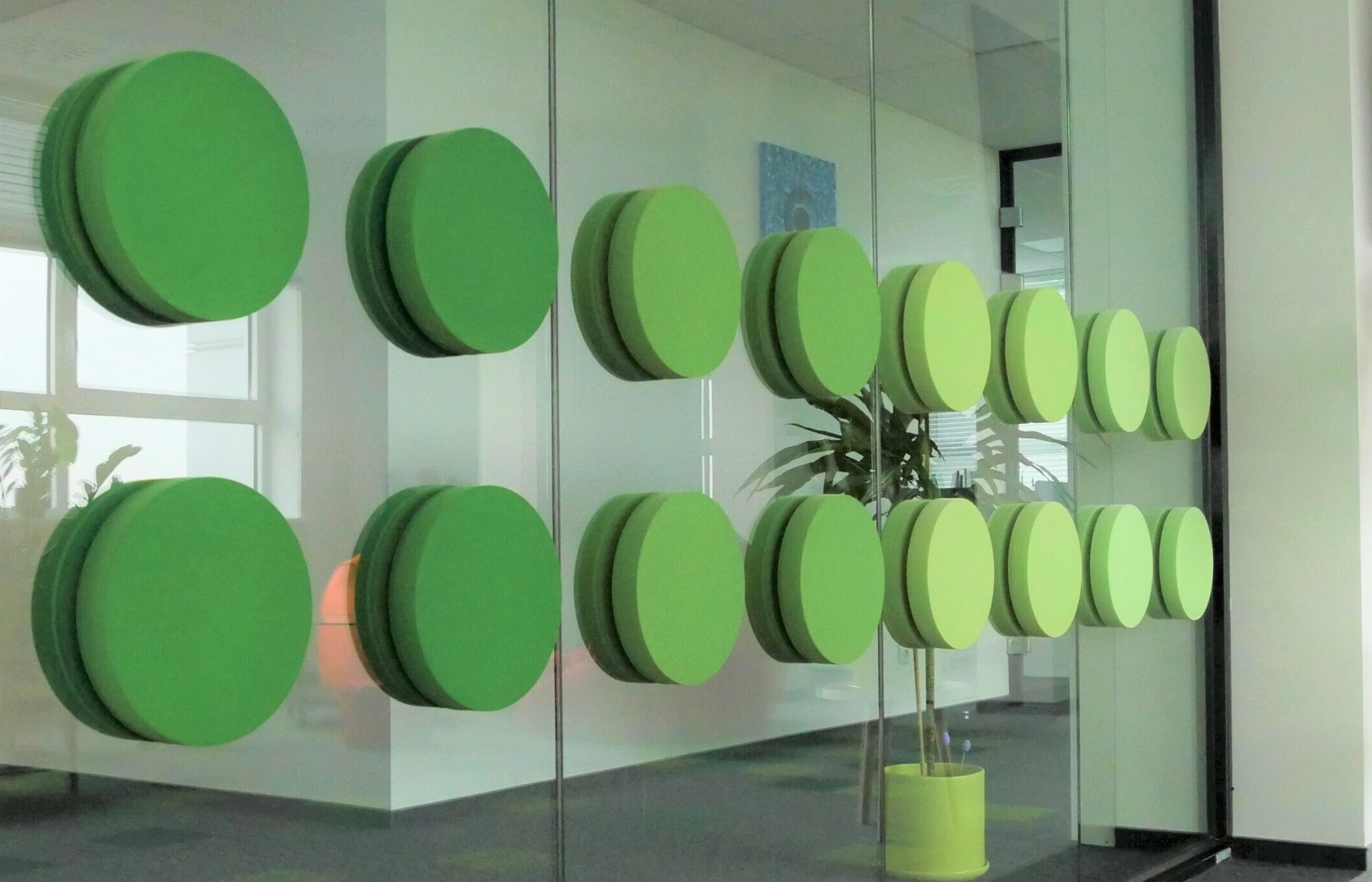 Panels from Office Reality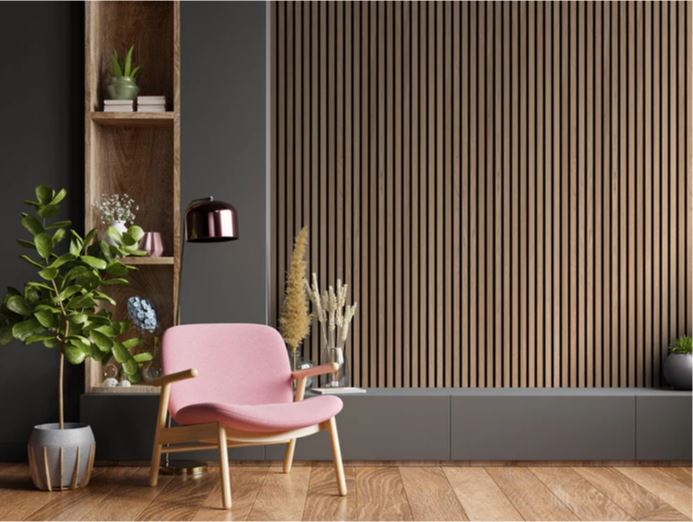 Panels from The Wood Veneer Hub
As with all the elements which make up good interior design, acoustic design should be considered and integrated seamlessly into the design of a space as a whole, with the aim that it is either unnoticeable, or adds to the overall aesthetic. The best designs take a room by room approach, based on the use of each room and the activities we will perform within it, as the right acoustic mix will be different for each room. If we take the time to get it right, it will add to our enjoyment of the spaces we work and live in, and allow those spaces to support us as they should.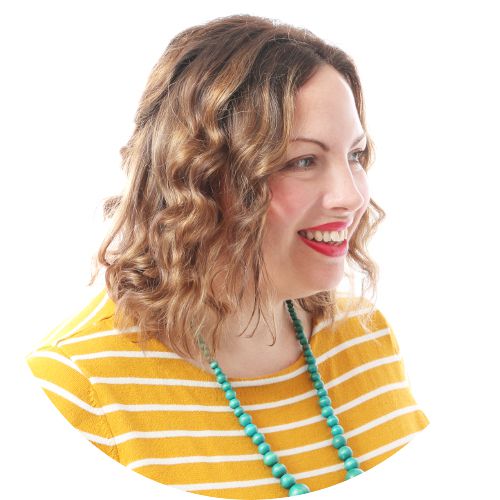 Welcome to the design blog, where you'll see posts about anything from the projects we are working on, to the latest fabric and wallpaper collections, and all things interiors related. We love colour, pattern, architecture and old buildings, and we love to share our finds with you.
Happy reading!