Can I put a TV over a fireplace?
8 min read
Published 28 May 2023
Almost all rooms in the home need a focal point of some sort, which could be the view of the garden, a period fireplace, a beautiful piece of art, or, as is often the case, the TV. As most TVs are basically large black rectangles when switched off and aren't the most attractive things to look at, it's usually best not to draw any more attention to them than is necessary. Even though you might want your furniture to face the TV for comfortable viewing, it's not something you want to be the main focus of the room when you aren't watching. If you are lucky enough to have another natural focal point in your room, generally speaking, it's best not to add a second one by placing your TV somewhere where it will compete visually with it. So where should you put it?
With TV sizes getting larger and larger these days, most people struggle with where to place their TV in the room. If the room has a chimney breast, the alcoves on either side of it are an obvious place to put the TV, which can work well. But, the size of the alcove then restricts the size of the TV - it can't be any wider than the narrowest part of the alcove. I have my TV in an alcove and because of this it can't be much bigger than a 43 inch screen, which is considered pretty small these days (one of my friends says she prefers we watch movies at her house because I have a small telly!)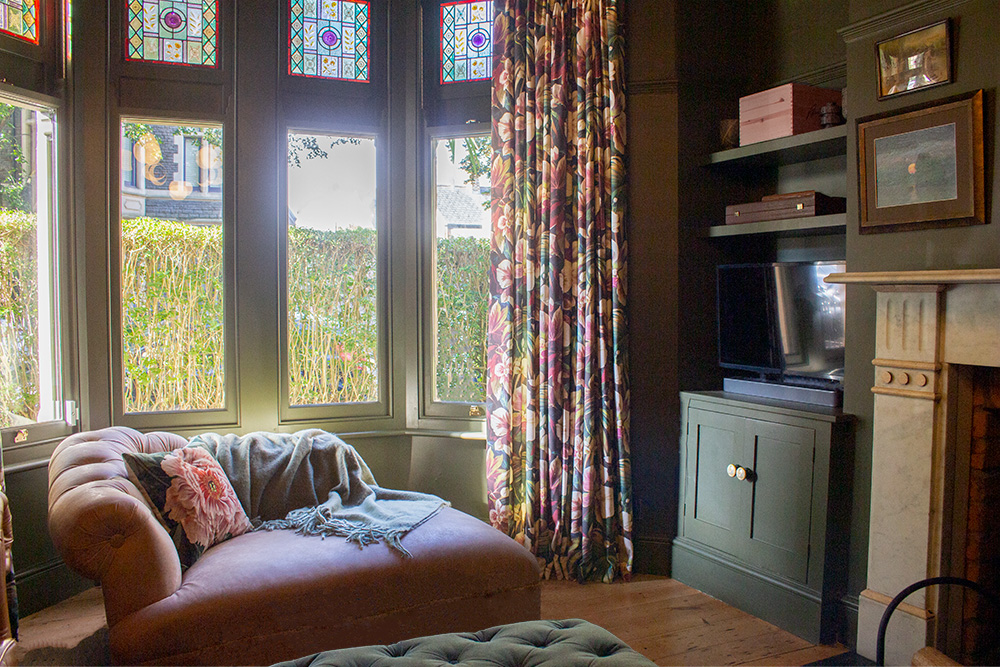 The living room from our 'Quirky Victorian House' project, with the TV tucked into an alcove
So if you have a larger TV and it isn't going to fit in an alcove, where can it go? The chimney breast or the wall opposite the door is usually a large, flat piece of wall, wide enough for a larger screen size, so it can work well there. But what if you have a working fireplace too? Can you put the TV above it? Do you have to remove the fireplace? How do you make the TV and the fireplace look great together? These questions come up often with our clients, particularly when we're working on living rooms. If you take a look at fireplace suppliers' websites, brochures and on Pinterest, you will see stunning images of sleek fires underneath large TVs everywhere. It can look great, and it does solve the problem of having two large focal points competing with each other, as they are both in one place and can complement one another. Lots of people choose to incorporate their fireplace and TV into a media wall, which is a creative way to add storage and visual interest at the same time. So, if lots of people are putting their TVs above their fireplaces, what is the problem?
Most professionals will tell you that it's really not a good idea to put the TV above a fireplace as the heat will eventually melt your expensive TV, and I would generally agree with them. The heat the fire is giving off will rise and can damage your TV or the cabling behind it, but there are ways around the problem. One way to tackle this is to reduce the fire's heat output, which will reduce the chances of the TV becoming heat damaged. Obviously, a decorative fire which doesn't heat up at all would be ideal in this situation, but if you actually need the heat from your fire to keep the room warm, then you'll need to look at the heat output of the model you have or are planning to install. Bioethanol fires (ones which burn ethanol or alcohol) don't produce a great amount of heat and the surrounding parts don't usually heat up too much when in use. The typical heat output from a bioethanol fire is between 1.7 and 4 kW, depending on its size. Compared to a gas fire, which will have a heat output of between 8 to 14 kW, it is significantly lower, and your TV would be much safer above a bioethanol fire than a gas fire. Bioethanol fires are also much more eco-friendly and economical to run than other types of fire, so using one means it's less likely that you are going to damage your TV and you are helping the planet, so it's a win win (but always check with your installer first).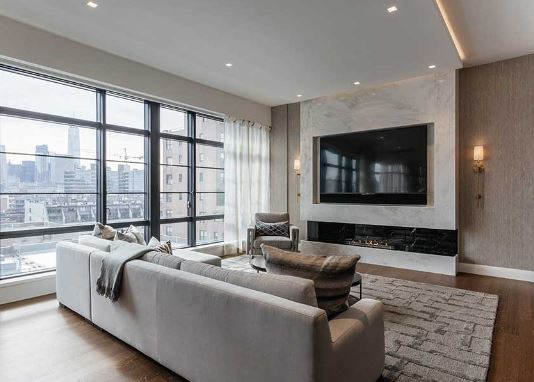 An example of a bioethanol fireplace with a TV above from bioethanol-fireplace.co.uk
Wood burning stoves have a higher heat output than bioethanol fires (between 7 and 10 kW) and are more of a risk to your TV, although this type of installation can still be done. One thing to consider is the heat given off by the flue. The flue usually goes up through the chimney and will get hot, passing the heat right next to your TV, which isn't ideal.
Electric fireplaces give off much less heat than gas ones, usually between 1 and 2 kW of heat, and don't need a flue, so if you opt for an electric fireplace, it greatly reduces the potential heat problem. However, there is still a risk that your TV will overheat in this situation, so what else can you do to protect it?
There are electric fires which have blowers which force the heat forwards and into the room, rather than upwards, so these are much safer to use with your TV, but they will still allow some heat to go up the wall and towards your TV. To prevent this, you will need to place some form of barrier between the source of the heat and the TV, which can be done in a number of ways. If you look at the diagram below, it explains three methods of placing a barrier between your TV and fire.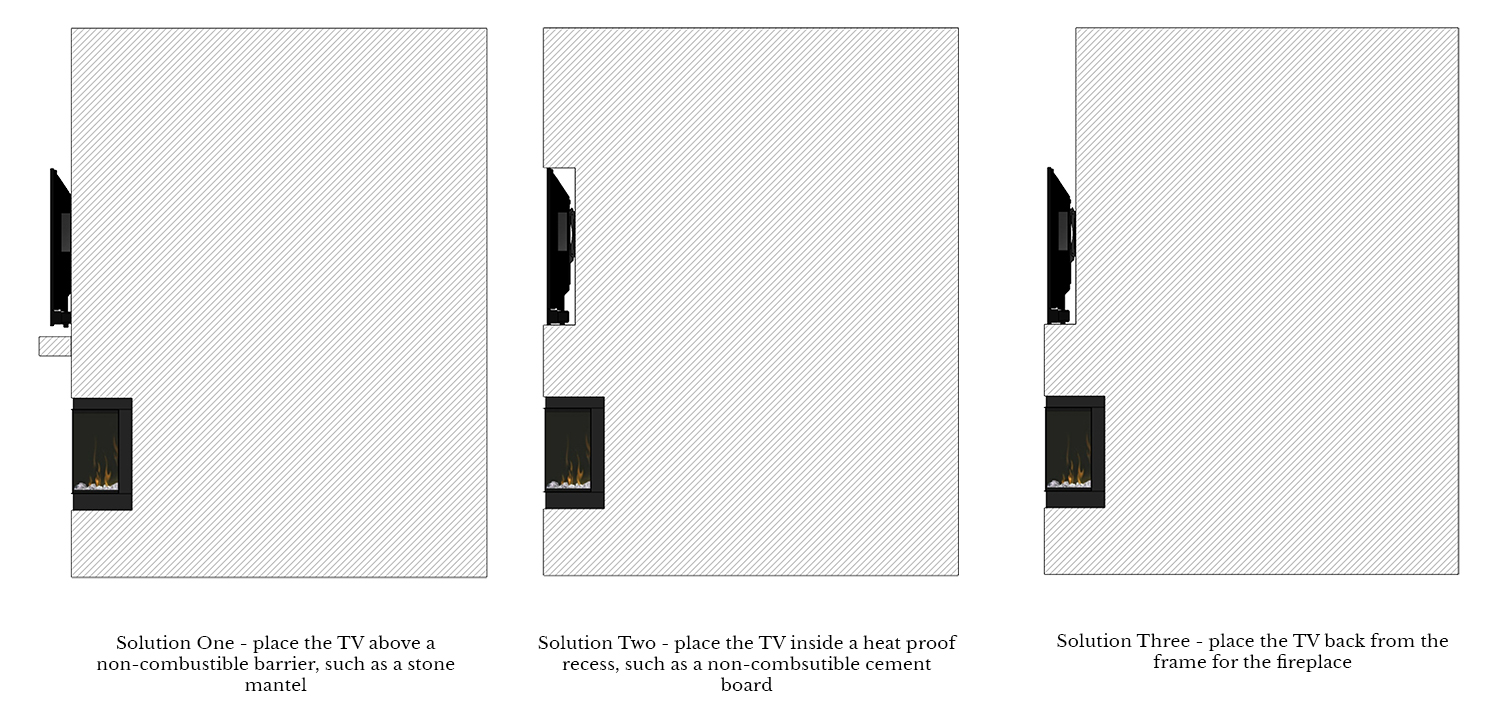 These three methods are essentially different variations of shielding the TV from the heat of the fire whilst also directing it away from the TV. In solution one, you could use a non-combustible material such as a stone mantle, or a specially made cast ceramic beam such as the ones from Geocast. They can be made to look like stone or wood and look very realistic. The wood effect ones are also great for placing as a mantel above a wood-burning stove without worrying that your beam will catch fire too.
In solutions two and three, you are effectively preventing the heat from rising from the fire by either enclosing the TV in the wall or building a ledge to put it on. These structures need to be made from a heatproof material such as Promafour board, which is designed to withstand temperatures up to 1000°C.
There are also gas fires available which have a built-in shelf which acts as a barrier. The Icona range from Nu Flame has this feature, and the manufacturers say it is safe to place a TV above it as long as there is a space of 200mm or more between the top of the fireplace and the bottom of the television. We have used one of these gas fires in a past project, as the client specifically wanted a gas flame.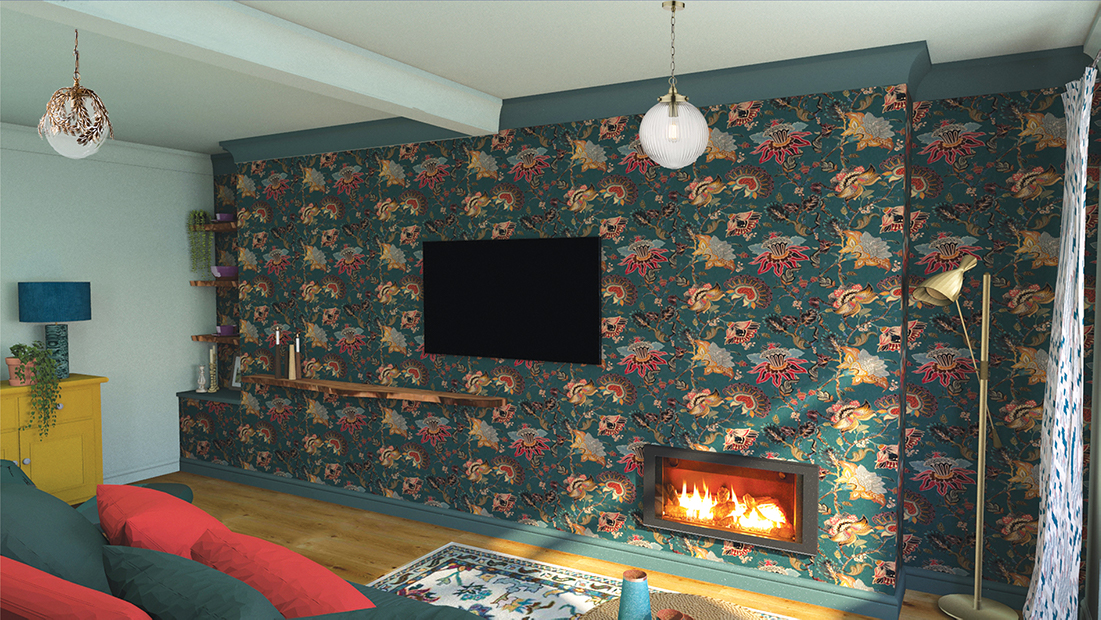 Our design for a living room with teal wallpaper, a gas fireplace and a wall mounted TV on the same wall
In this project, because the room is long and narrow, we offset the TV so it wasn't directly above the fireplace to create visual balance and provide the best viewing option for our clients. It also meant that the TV was further away from the heat of the fire, providing more protection.
We're also in the process of finalising a living room design where the client wants an electric fire with his TV above. We have solved the heat problem by building a mantle and surround with heatproof tiles, making a version of the ledge in solution three above. We will also be lining his existing chimney breast with Promafour board, to further protect the TV and cabling inside the wall.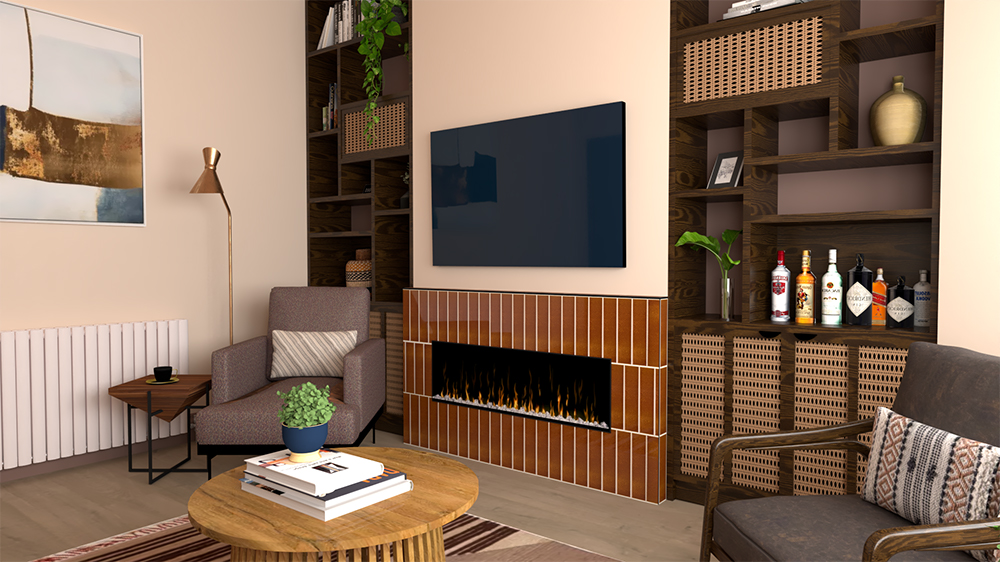 Our design for a client's living room with an electric fire with their TV above
There is one final thing to consider when placing a TV above a fireplace, or in a media wall, and that's the ideal comfortable viewing height. If your fireplace is tall (and lots of period or traditional style mantles are) then placing a TV above it will be too high and will strain your neck. A TV should be hung at a height where your eye level is in the centre of the screen when you are sitting down (this can be lower if the TV is in the bedroom and you will be watching lying down). It's for this reason that my TV is in an alcove in my living room, as my period fireplace is very tall and it just wouldn't be practical to have it above. It's also the reason why placing a TV above a log burning stove generally isn't a good idea too.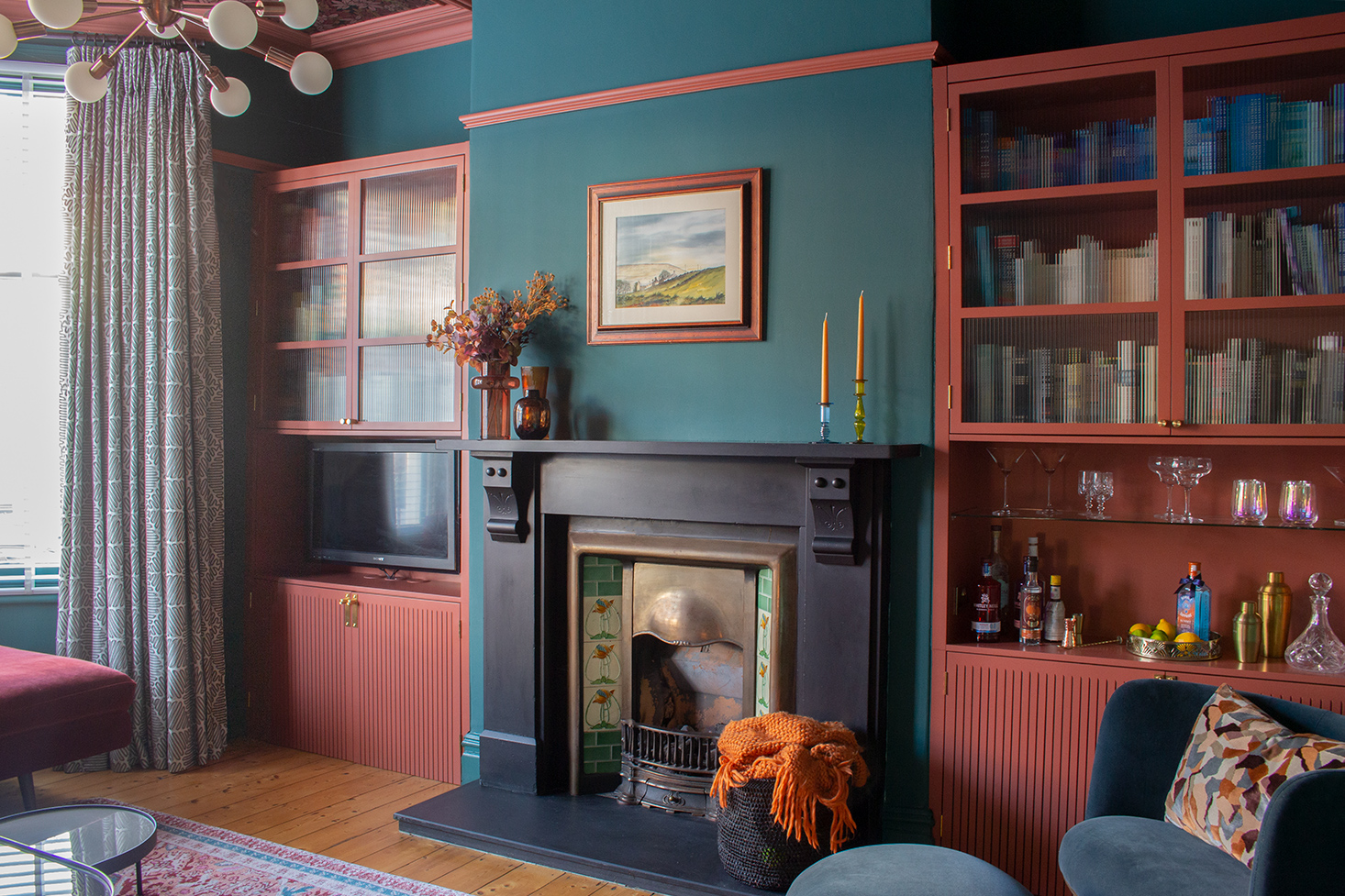 If you are at all worried about damaging your expensive TV, I would suggest carrying out the thermometer test. This involves taping a thermometer in the place where you are planning to wall mount your TV, and then turning on your fire for a couple of hours until it reaches its full heat output. Check the thermometer; if the temperature goes above 38°C, then it's not safe to hang your TV there.
If you are buying a new fire and planning to wall mount your TV above, I wouldn't assume that because there is a sleek pic on the brochure with a TV above it, it can be safely done. Always check with whoever is doing the installation for you and do the thermometer test. The last thing you want is for your TV to melt!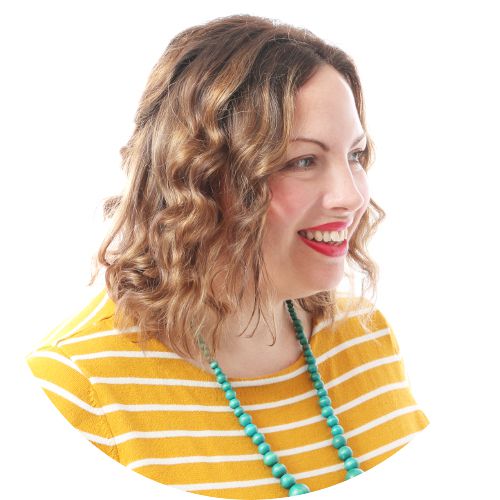 Welcome to the design blog, where you'll see posts about anything from the projects we are working on, to the latest fabric and wallpaper collections, and all things interiors related. We love colour, pattern, architecture and old buildings, and we love to share our finds with you.
Happy reading!