When it's time to hire a professional
9 min read
Published 28 Apr 2021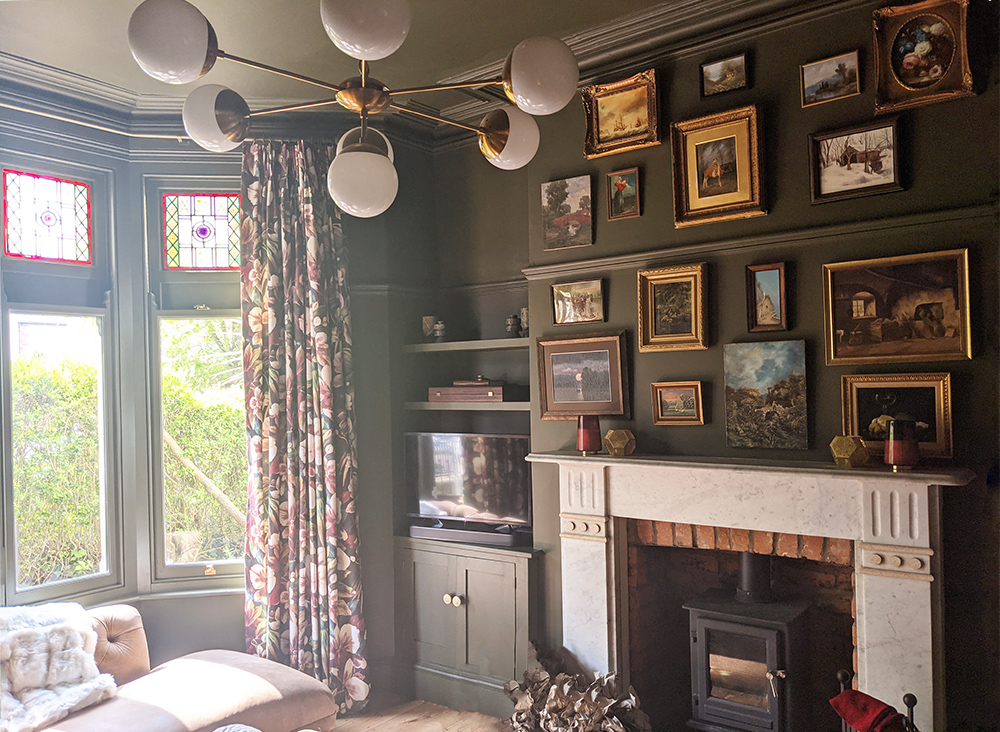 Lockdown was stressful for all sorts of reasons, and many of them were unexpected, but the one thing that I wasn't expecting at all was that I would finally crack and hire a cleaner. After years of 'discussions' with my husband with him telling me why having a cleaner is a bad idea, I got to the end of my tether and put my foot down. I had been doing the cleaning for years (my husband did his fair share too) and I actually quite like cleaning. But after a year of having everyone at home and homeschooling, and trying to run my business whilst doing all the things, it was time for something to change. I tried paying the teenagers to do it, which worked well for a couple of weeks until they got bored. Despite very clear written instructions from me, the house was no cleaner after they'd 'cleaned', so I decided to get a professional in. And boy, what a great idea that was! After the first visit and with very little instruction, my home was much more sparkly and cleaner than it ever was before, and I didn't have to lift a finger. I truly hadn't realised the benefit of getting someone in who actually knows what they're doing and does it every day. They could do a great job in half the time and get much better results than I ever could.
This got me thinking about my own job, and our approach to hiring people who have more knowledge and experience than us. There are some things we wouldn't dream of doing ourselves (performing your own dentistry anyone?), but there are others that we think we should be good at despite not having any training or little experience. I've lost count of the number of clients who tell me in an embarrassed tone that they really aren't very good with interior design. I wouldn't expect them to be, and I'm glad that I am able to help them navigate the very confusing world of colour, shape, scale, proportion and practical use to get to a finished working home. I know that we all have our priorities, and when doing renovations, budgets are always tighter than we would like them to be. But, I would encourage us all to think about why we could choose to hire someone who can do the job better than we can, and what the benefits of doing that might be. Here's the story of one renovation project to illustrate my point.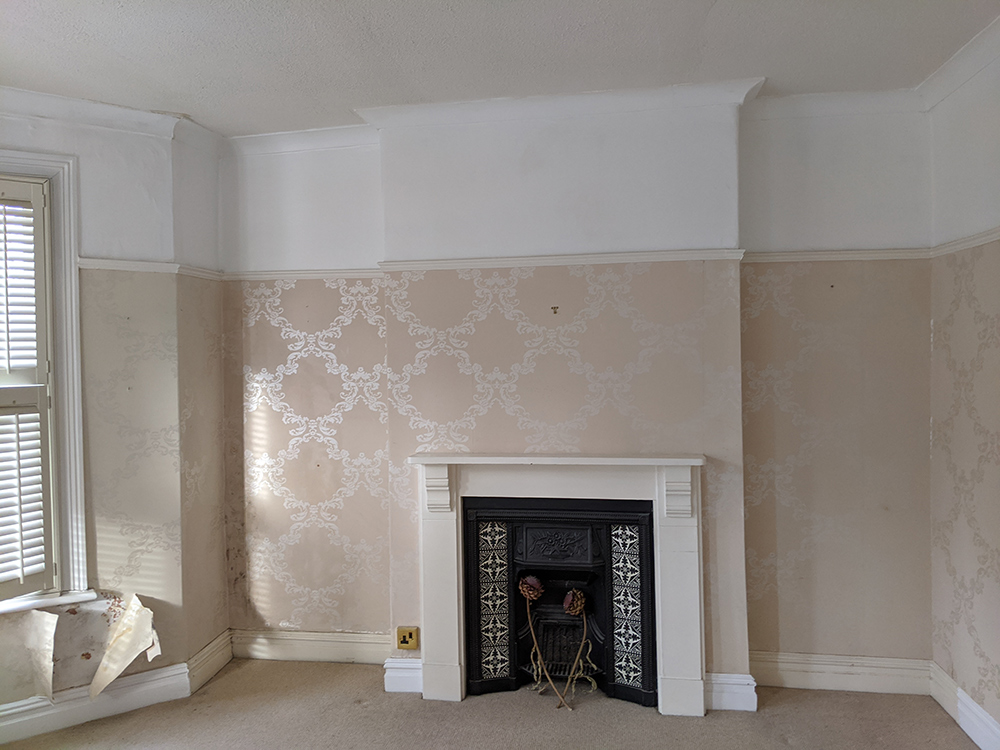 the main bedroom when I first saw it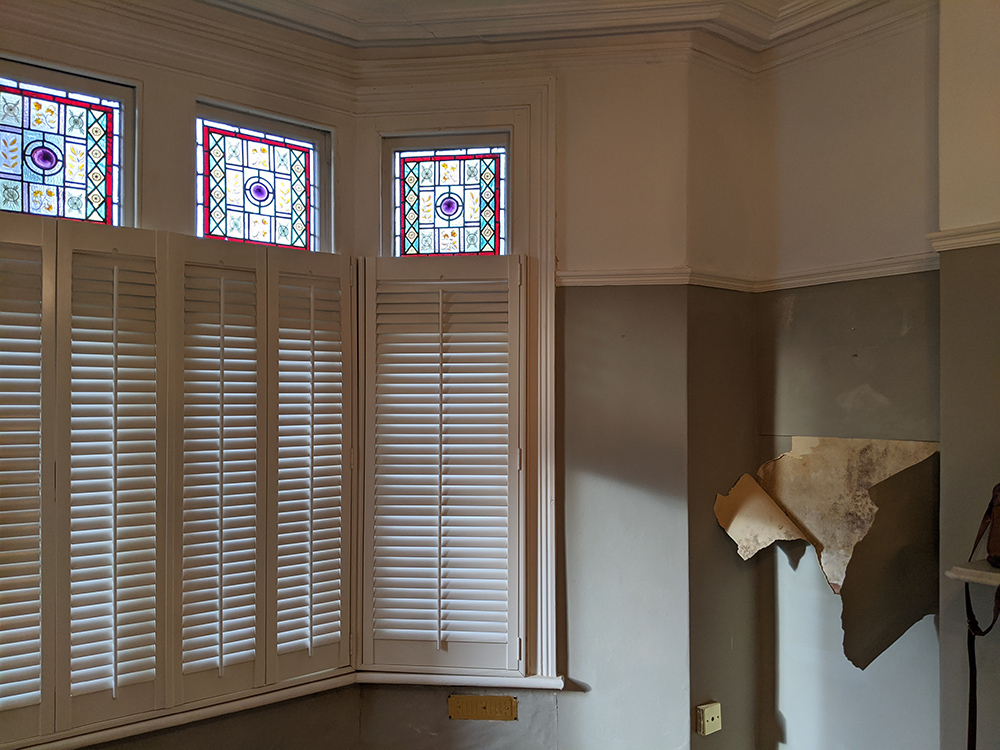 the living room definitely needed some work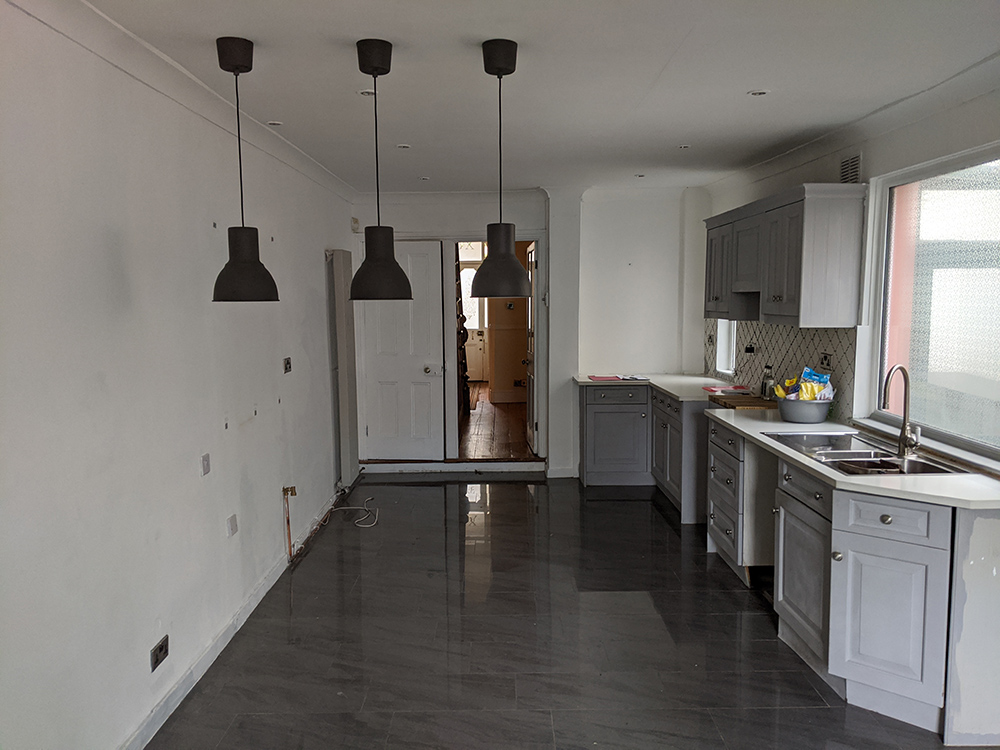 the kitchen was in a bit of a sorry state too
I have been working with a wonderful client on her home for over a year now, and have seen her go through the many ups and downs of a home renovation. When I met her, I was hired on a consultancy only basis, so no design plans or project management work were needed from me, as that's how she wanted to run her project. At our first meeting she excitedly showed me the house (which had so much potential) and asked for help with choosing paint colours for each room. We agreed a plan and started work, and she got in touch whenever she needed help with some decision making. As she realised that she liked my ideas and that our visions for the house aligned, she then began asking me for help with choosing furniture, lighting and finishes such as tiles and worktops etc.
The whole house needed a lot of work, so she had it rewired, and installed new bathrooms and a new kitchen extension with wet room. She has been working with wonderful builders who have supported her and worked tirelessly to make sure everything was just right, but still the experience was very stressful for her, resulting in lots of panicked phone calls to me. As I hadn't been asked to design each room, there were no plans to work from. Each item which needed to be sourced was found as and when it was needed, resulting in lots of choices the client wasn't happy with and a lot of rushing to source alternatives at the last minute.
When the client asked me to choose items, I thought about the overall design of the house and what would work best, and those choices worked well. But the client didn't involve me in every decision - she understandably relied on her plumber to source fixtures and fittings for the bathrooms, and was unhappy when they didn't fit in with the look she wanted. This is something that I see a lot of homeowners do - they think that the plumber would of course know where to get the best fixtures and for the best prices, so they ask them to find everything. Plumbers are wonderfully skilled at the work they do, but they aren't interior designers, and often aren't aware of the range of products available and how they can be chosen together to achieve the right look. The client had to ask me to help re-source fittings and ask the builders to change items as the build went along, which is not the most efficient way to complete a project. These pics show that we'd chosen funky tiles and black finishes for the lighting in the main bathroom, but unfortunately the client hadn't discussed this with the plumber, and he fitted chrome taps, shower and a towel rail.
Luckily, the fab builder came up with a solution and had the fittings powder coated so that they were black, and much more in keeping with the overall look the client wanted. What a difference it made:
Another area of stress was the kitchen. The extension had been planned out by an architectural designer, who did a great job making the most of the natural light and maximising the footprint of the available area, but designing the kitchen itself wasn't part of the brief. The client didn't ask me to do it because the builder had recommended a kitchen supplier who would do it for free and you would assume that a kitchen specialist who does this every day would do a great job, wouldn't you?
The kitchen supplier worked from a basic layout which was given to them by the client, and everything was done over email. The kitchen supplier didn't visit the site (which was understandable given the circumstances) and trusted the measurements they had been given by the client. Of course, when the kitchen was installed, some items didn't quite fit and the client had to pay the builder to alter them on site. But the bigger issue was that the layout didn't make the best use of the space - there wasn't enough storage and there was a whole wall which could have been used for cabinets but was empty. The client also found that there were no internal 'extras' such as corner solutions or drawer dividers included in the design, and felt that the kitchen supplier wasn't too interested in how the kitchen would actually be used by her. This is vitally important when designing a kitchen. For example, what would be the best place to store the items that you need everyday, so that you can get to them easily? Which items are rarely used and can be stored in harder to reach areas? The client quite rightly felt that she spent a lot of money on her kitchen and these things should have been considered at the beginning. So, I was asked to help solve the kitchen problems, and was happy to. We knew that more storage was needed, but we both felt that a long row of tall cupboards could dominate the kitchen and make it feel too crowded. Here's the wall with no storage on it: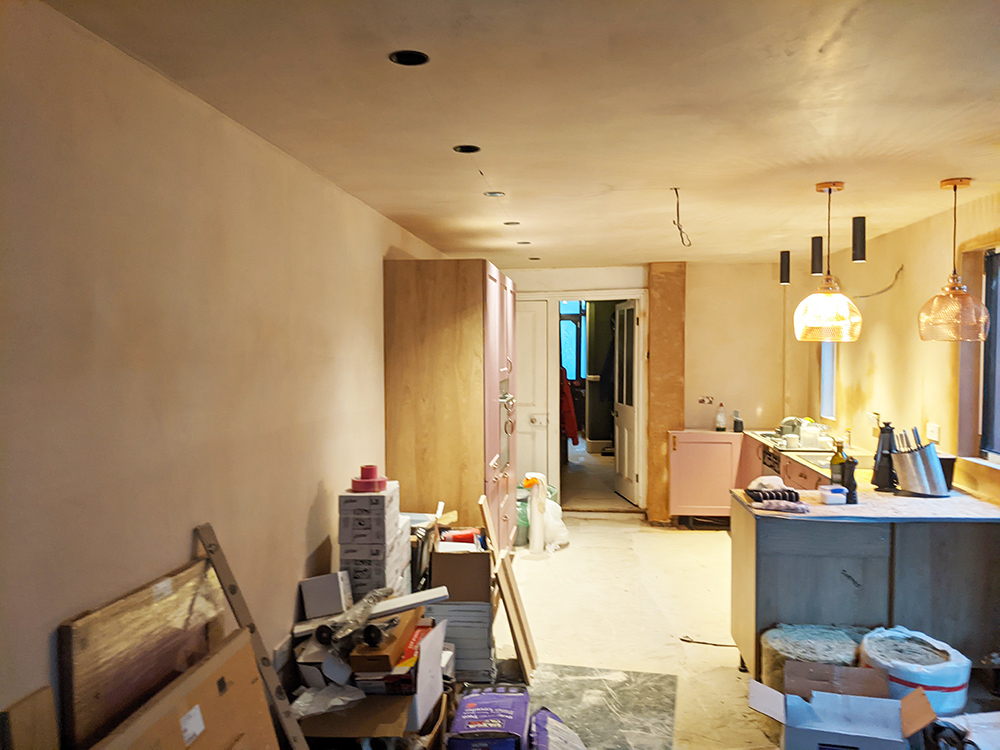 Here's my design to add more storage on the empty wall: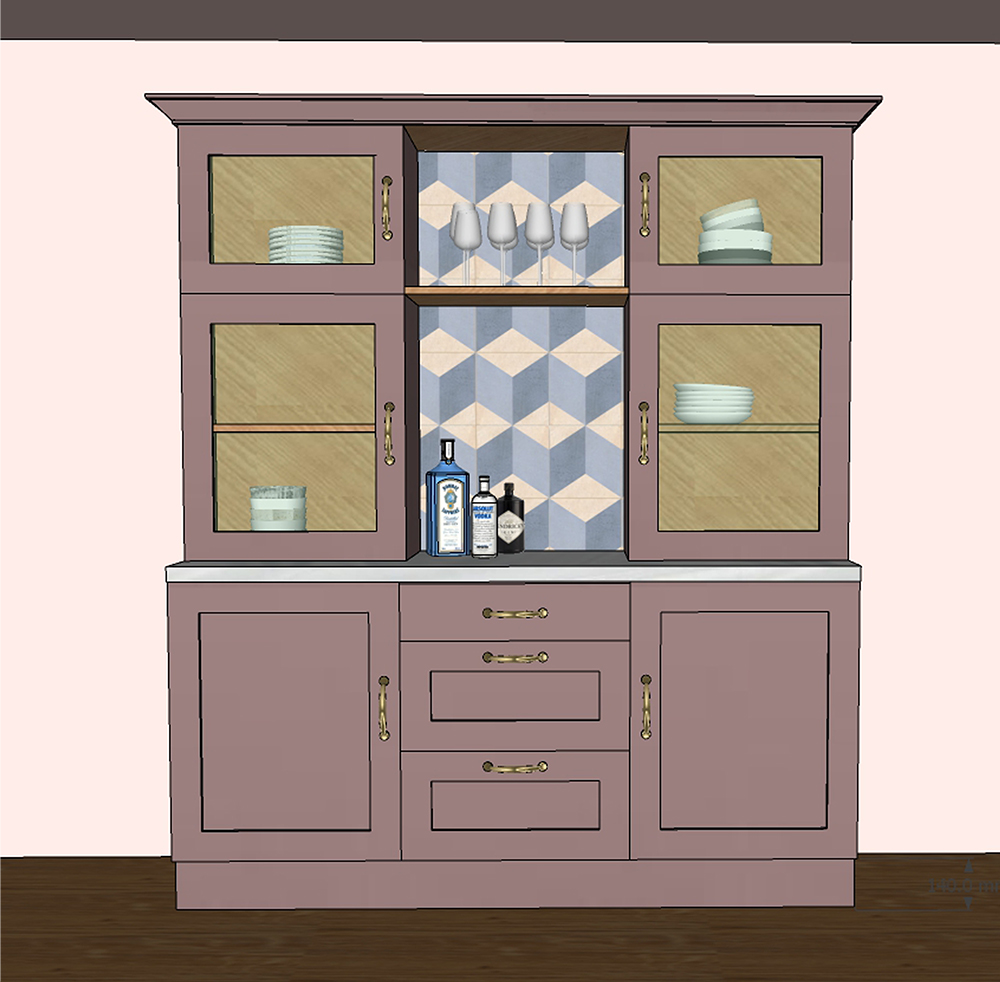 And here's what the finished dresser looks like now: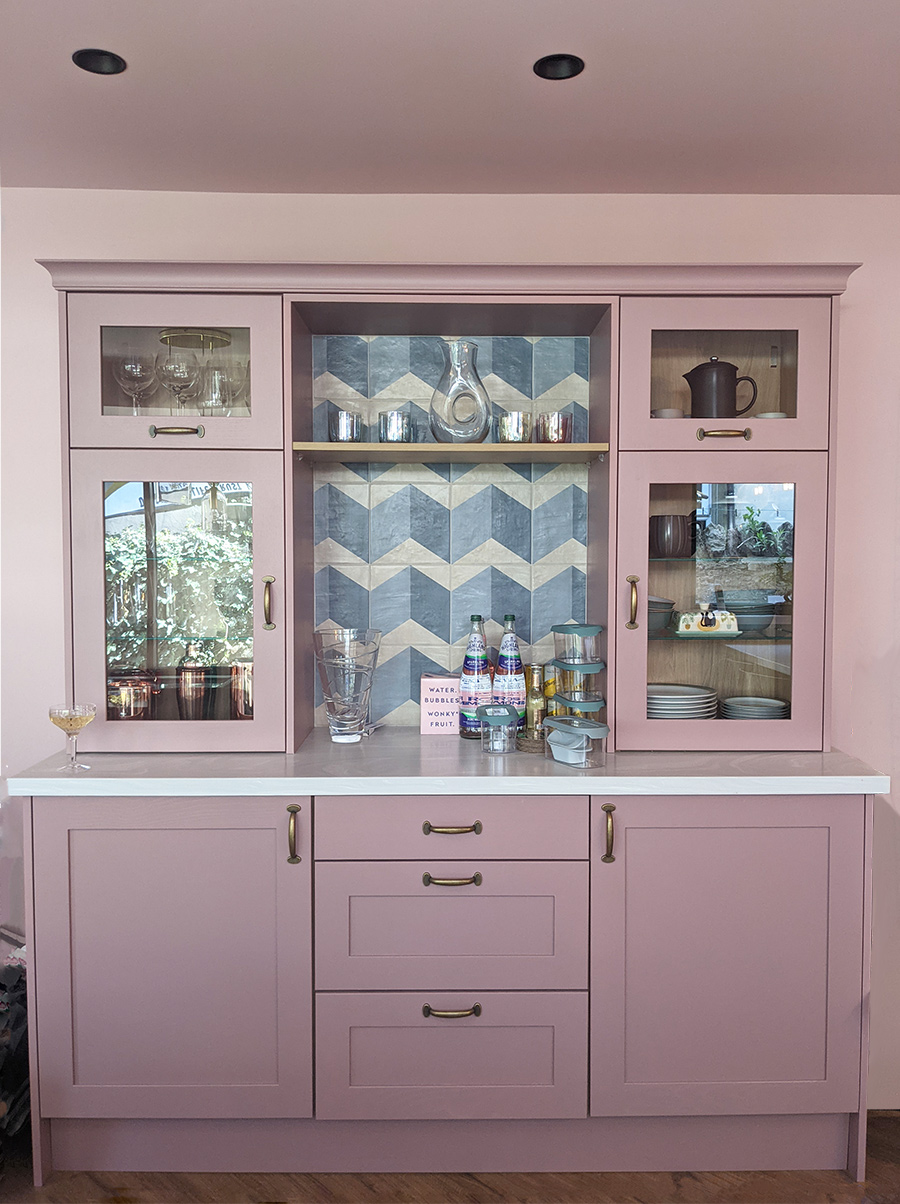 The client is really happy with the solution and now feels that it makes the whole room, and the dresser has turned it from a room she was very unhappy with to her favourite room in the house, which honestly makes me grin from ear to ear.
There were many other problems to overcome, from issues with the underfloor heating system which had knock on effects on the flooring installation, to the sink in the small WC being too large, to light switches and fittings not being in the correct places.
The issues in the main bedroom with wall light placement are another example of the value of hiring a designer to oversee things - the client had never done any work like this on a home before, so didn't know that the sizes of furniture chosen would affect the light placements. The cabling for the lights was installed before the bed arrived, and the client hadn't told the electrician that the bed was a super king size one. The wall lights were supposed to be either side of the headboard to light up the areas by the bedside tables, but instead were above the headboard, so the lights would have lit up the bed and left the bedside tables in shadow.
Here's what it looked like when the cables were first fitted: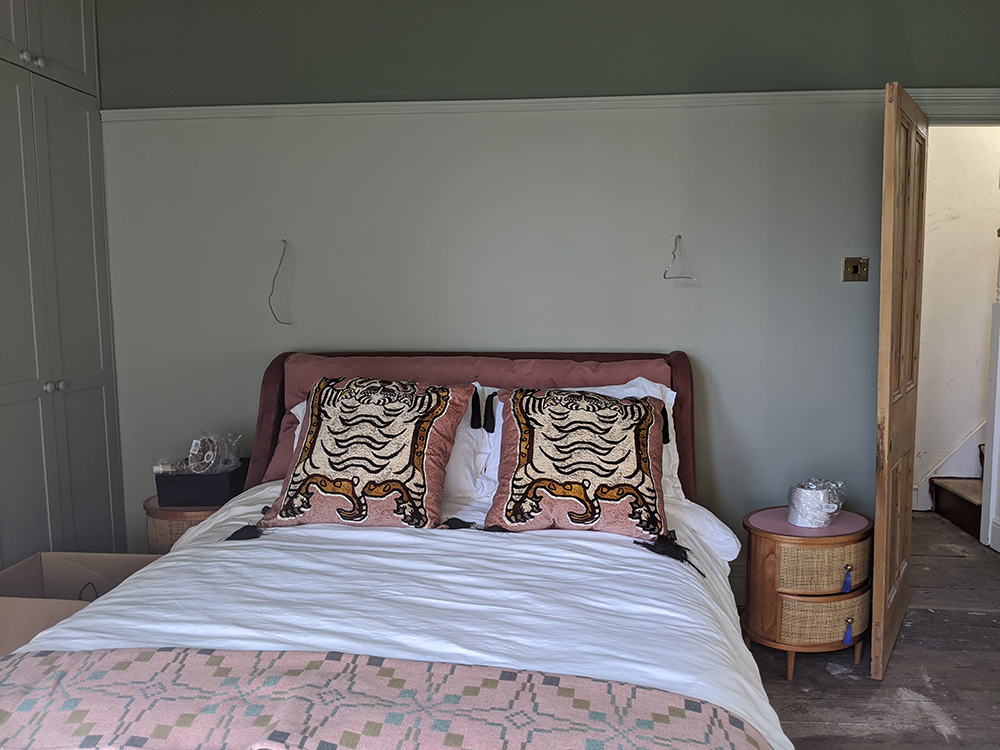 Thankfully the client was able to get the wall lights moved further out, but she had to pay the electrician to move the cables, then the plasterer to patch up the walls, then get the decorator back to repaint the patched up area. Which all adds up to more money spent on the project unnecessarily.
The client tells me that her planned spend tripled because of mistakes and the delays caused by them, but also because she hadn't set a realistic budget for a project of this size (again, why do we expect that we should be able to do this without the necessary experience?). With hindsight, the client wishes she'd hired me to run the project. She was trying to save money on design fees but the whole process ended up costing her way more than my fees would have done. It's been a learning experience for her, and she very humbly admits to making some mistakes. Here's what she has to say:
Louise is clearly an expert in her field but I also found her to be flexible, personable, friendly and collaborative. At times all I needed was a little help in the right direction and at other times I needed her to take full control. She adapted to each challenge with ease, however large or small. I am convinced without her the whole process would have been so much harder and more costly. If I were to start this project over I would definitely ask Louise to be more involved, particularly in space planning and project management. I've learned the hard way but I now fully appreciate how much stress and financial cost can be saved when these areas are handled by an expert
I think this client has got great taste and the project certainly wouldn't have turned out as well as it did without her input and hard work, but I really am so pleased that she can see the value of hiring a designer. I'm also very grateful that she is happy to share her experiences with you so that hopefully others won't make the same mistakes, and I'm excited to share more pictures of this project with you soon.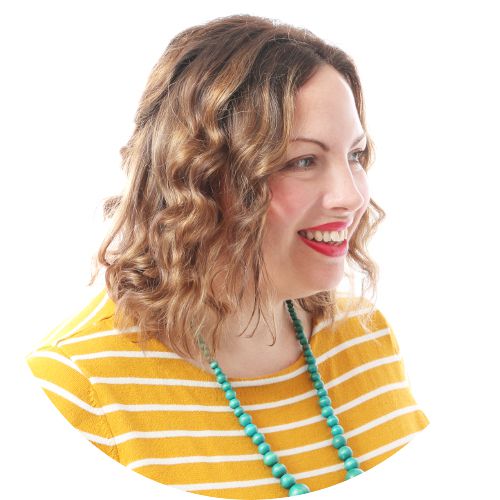 Welcome to the design blog, where you'll see posts about anything from the projects we are working on, to the latest fabric and wallpaper collections, and all things interiors related. We love colour, pattern, architecture and old buildings, and we love to share our finds with you.
Happy reading!