Not just a cushion plumper
8 min read
Published 28 Dec 2020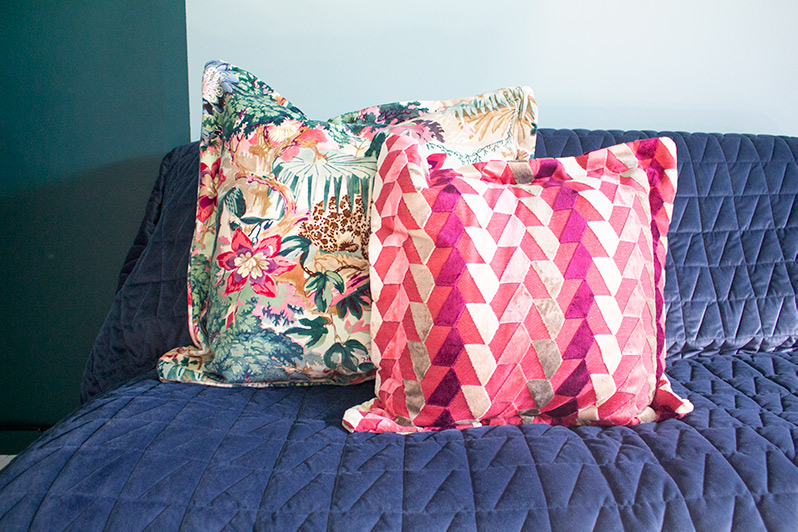 Well, 2020, what can I say? It's certainly been eventful. Many things have happened to make us shift our focus, but one thing to come out of this year is that we are trying to make our homes work for us, to get them to function in the way we need them to now, and to make us feel better. It's definitely been a year for home improvements, with tradespeople and home professionals busier than ever. As more and more of us make changes to our homes, it seems that many of us are looking for professional help to make those changes.
When a potential client gets in touch, I always ask them if they have worked with an interior designer before, and I often find that they haven't. Some say that they didn't think they could afford an interior designer, some have made expensive mistakes in the past and want to avoid making more, and some just know that they need help with their homes but don't know what kind of help that might be. When I have those initial chats with clients, part of my job is to explain what a designer does and what I can do to help. It's understandable that people aren't sure what I do - there are literally thousands of interior designers across the country and they all offer different services or describe their skills in different ways. So what does an interior designer do, and how can you choose the right one for you?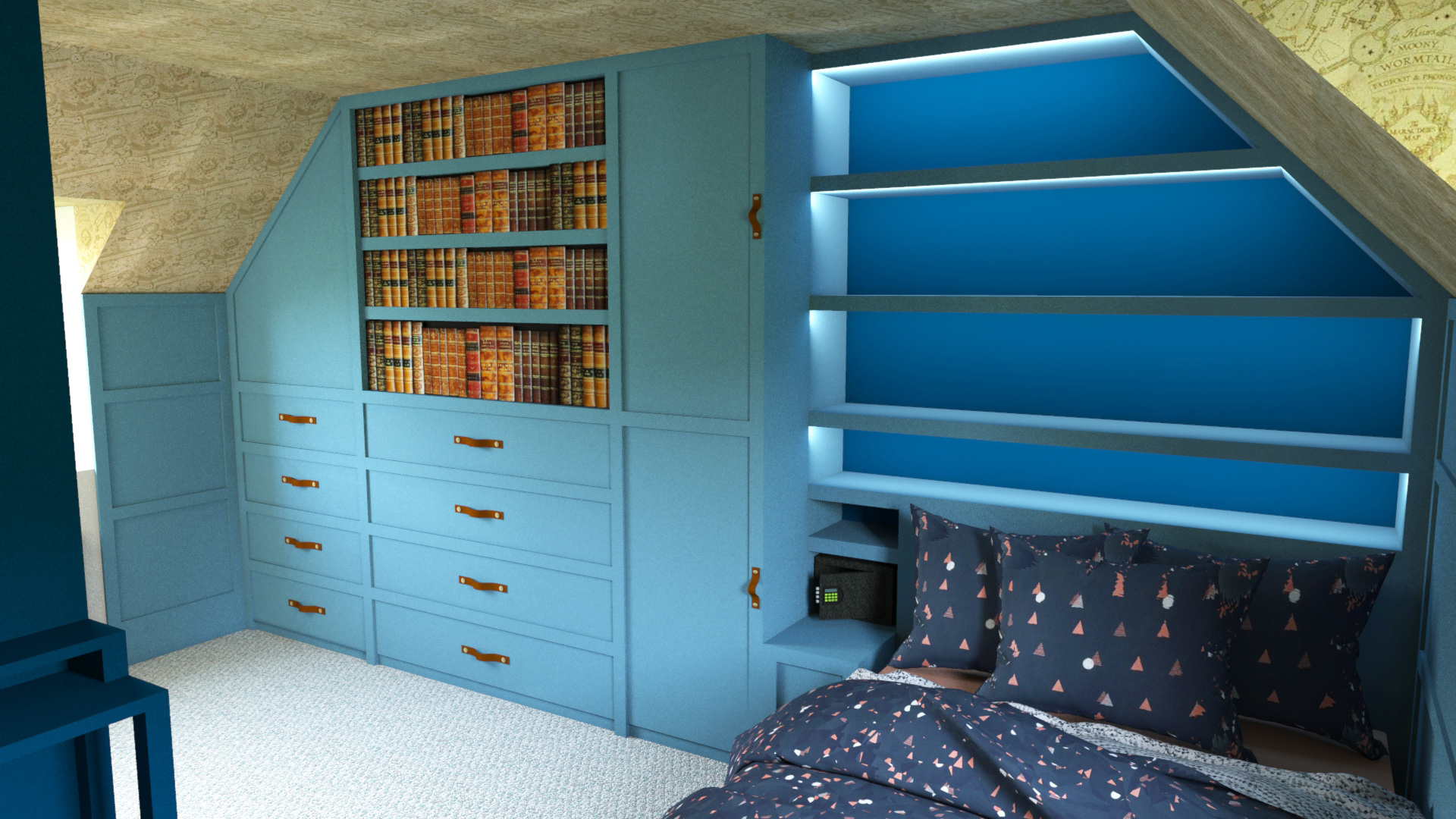 A recent design I produced for a little boy's bedroom, with bespoke storage
In the UK there is no accepted definition of an interior designer, and there is no standard route to becoming one. Some designers study interior design as a degree, others take shorter but accredited courses, and others still have no formal qualifications in the field. Many talented and experienced designers in this country have never had any formal training and are excellent, producing fabulous (and safe) results, but they have had to learn through experience.
There are also many ways to specialise too. Is the person who makes beautiful curtains and cushions offering the same service as one who can help you plan and project manage an extension? Can a designer who offers a paint colour selection service design your new bathroom?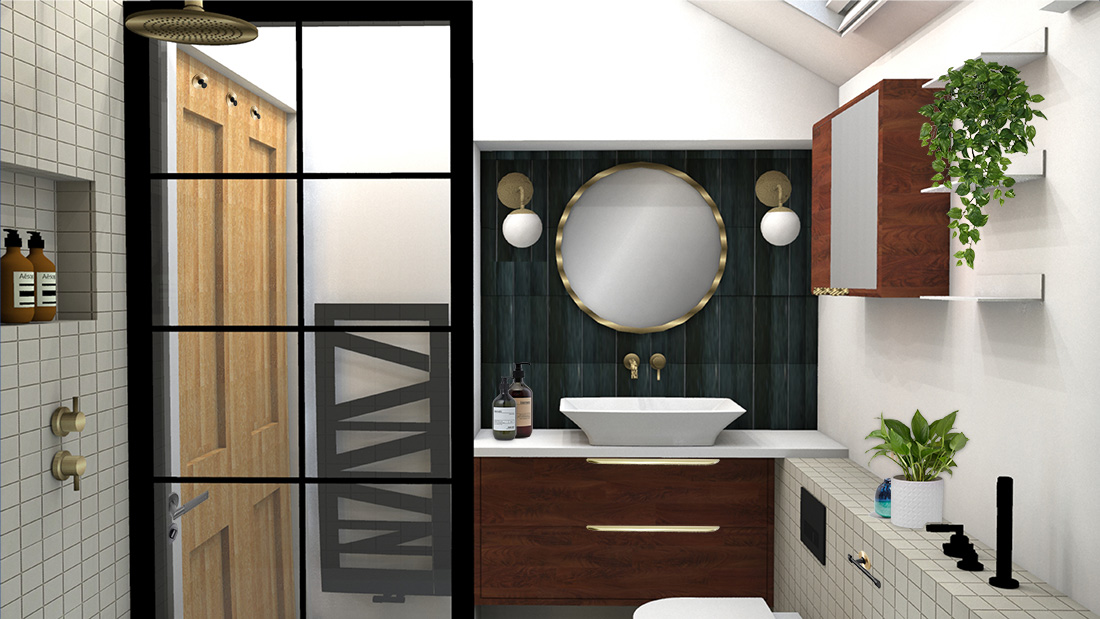 A visual for a recent bathroom design of mine
In the US, they use two terms - interior designer and interior decorator. There is a very clear distinction between an interior designer and an interior decorator, and what they can do for you. To be an interior designer in the states you have to be qualified to at least degree standard (most have more professional qualifications on top of their degrees). If you don't have an interior design degree, then you can't call yourself an interior designer, and can work as an interior decorator only. This seems pretty clear cut, and in the states you can get into big trouble if you are a decorator and stray into designer territory.
So what about here in the UK? Is it the same? You actually don't need official qualifications to be an interior designer here. We don't really use the term 'interior decorator' in Britain (it quite rightly sounds too American for us), so there are no distinctions between types of interior designers. This can be confusing when you're looking for the right person to help you, but the main difference between a designer and a decorator is whether or not they touch the structure of the building. The Society of British Interior Design says that an interior designer will work on
The outcome and impact on the wellbeing, safety and function of the interior performance of a building. An interior designer is responsible for the design of the internal space of a building or structure. It relates to the layout and configuration of interior space and includes the skills of first fix installation to buildings such as kitchens, bathrooms, path-finding and surfaces. It also incorporates the responsibilities of what is often referred to as a space designer in other countires
Although we don't really use the term interior decorator in the UK, the SBID has attempted to make the distinction between types of designer by also defining an interior decorator's role -
Interior decorators do not provide advice on space, structural reconfiguration or fittings. An architect and interior designer may also provide the service of a decorator but a decorator cannot provide the service of an interior designer or architect
But what does that mean in reality? If you are a qualified designer, you can deal with things like knocking walls down and altering the structure of buildings and will need to be up to speed with all building codes and safety regulations. If you are a decorator, you don't touch anything that alters the fabric of the building, and will deal with finishes and furniture only. Anything like curtains, sofas, wall coverings, choosing tiles and paint colours is what you can do for a client - the decorative elements in a home. I guess this is where the term 'cushion plumper' comes from, and the idea that a designer just flounces in with fabric and wallpaper swatches whilst the builders do the real work.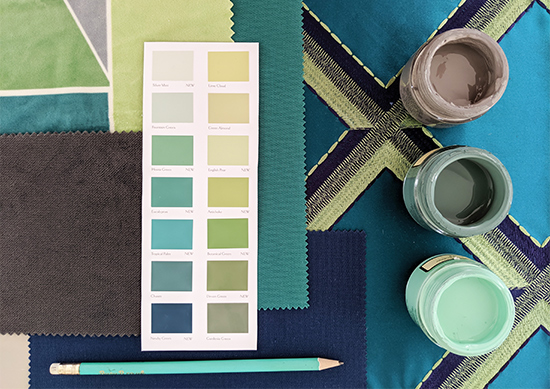 Then there are designers who like to shop for a room, and not add anything original to it. I was watching reruns of Interior Design Masters on Netflix recently (as any self respecting interiors obsessed person does) and the head judge, Michelle Ogundehin, described one of the contestants as an 'interiors shopper, rather than a designer'. When Michelle called the contestant a 'shopper' what did she mean? Speaking about the bedroom he had designed, she said 'has this room been interior designed? It feels like a shopping list of items, it feels a bit flat'. I think there's a big difference between being able to add new furniture and accessories to a room and really thinking about what will enhance the way the client uses the room, and then coming up with a practical way to make that happen. For example, you might remember my recent kitchen project where I told the client that in order to make the best use of her space and to give her the kitchen she needed, we would have to remove the huge stone fireplace and build seating there.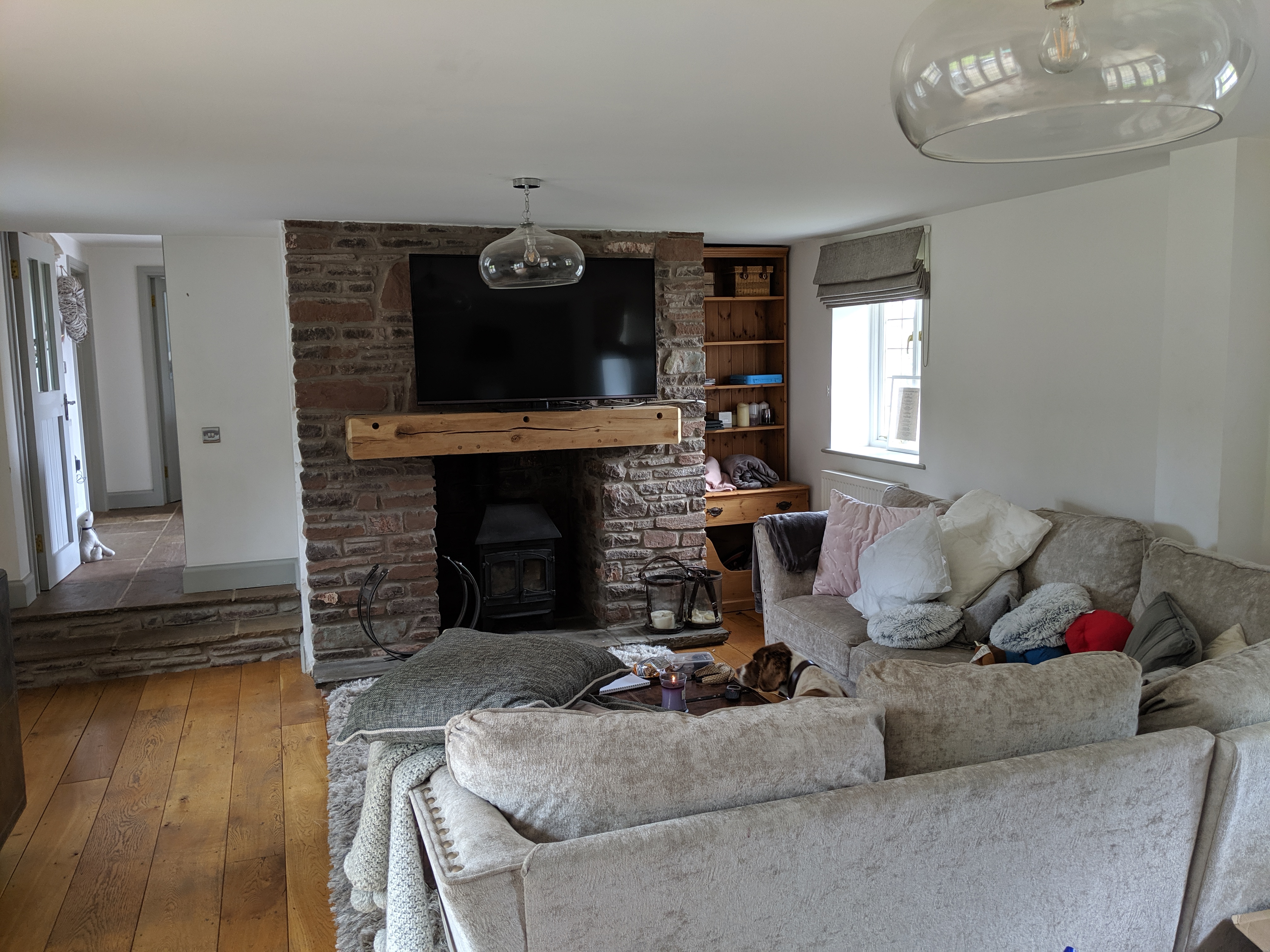 The kitchen project before we started work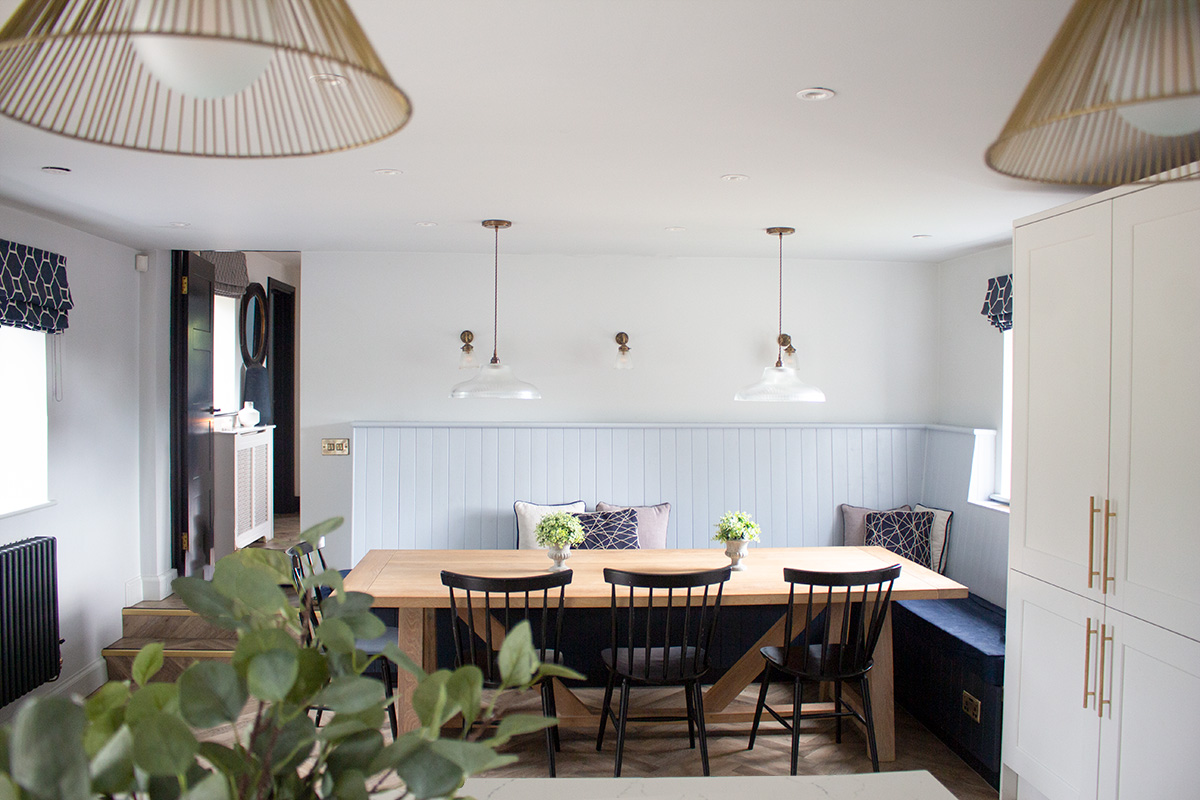 The completed kitchen - fireplace gone and banquette seating installed
Does all of this matter to the client? I think it does, as you might need a designer to help with very different parts of your project, and you need to be able to pick the best person for the job. If you are looking for a designer and type 'interior designer' into google, then you will see everyone in your area that is listed as an interior designer. As a client, you need to be able to look at each designer and see the range of skills they have before deciding if they are the right one for you. If you want someone who can help you plan that kitchen knock through you've been dreaming of, then you'll need them to know how to plan all the electrics, lighting and heating you'll need. It would be great if they could also advise on all the finishing touches like worktops and wall colours too. What if you would love some new curtains and blinds for your whole house? You'd want an experienced curtain maker who knows how all the types of fabric will hang, what styles will work best for your windows and can help you choose the right fabrics for your project.
I am asked by my clients to work on a variety of projects which need a wide range of skills from me - sometimes I'm planning structural changes alongside an architect or structural engineer, sometimes I'm designing bespoke elements such as built in seating or bookcases, and sometimes I am planning a lighting scheme. Some clients need help with choosing furniture and furnishings, and some need advice on colour schemes.
I do enjoy working on a range of projects, but I have to say that I personally get more satisfaction from projects that call for me to be an interior designer more than a shopper. I can of course choose and plump cushions, and enjoy that styling part at the end of a project, but you will get better results and a more cohesive home if you bring me in at the start of a project to help you plan the way you are going to use your home. I have had a few clients that have called me towards the end of their project, when the building work has been done and they need to know which colours to paint the walls. Through working with me, they have then realised what else I have to offer, and have said that they wished they had contacted me earlier on in their project, as they would have got a well designed and well functioning space which sits well with the rest of their home.
When choosing the right designer for you, I'd ask you to not focus on their cost alone, but look at the range of skills they have and the value that they can bring to your project - if they can improve the layout, flow and the way you use your home, and make it look the way you'd like it to, then I think they will have done their job properly.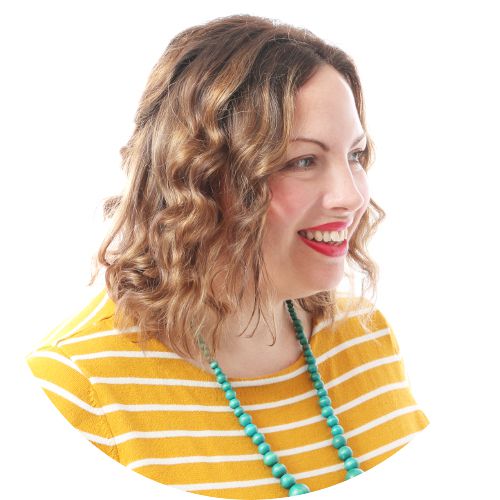 Welcome to the design blog, where you'll see posts about anything from the projects we are working on, to the latest fabric and wallpaper collections, and all things interiors related. We love colour, pattern, architecture and old buildings, and we love to share our finds with you.
Happy reading!