The challenge of dressing a bay window
6 min read
Published 28 Jan 2019
Like a lot of people in Britain, I live in a property with bay windows. The bay window was a Victorian idea, as it allowed more light into the home, afforded a better view of the street outside, and also made the room appear larger and grander (something the Victorians were all about). Lots of people like houses with bay windows, and developers often incorporate them into new builds as they work so well.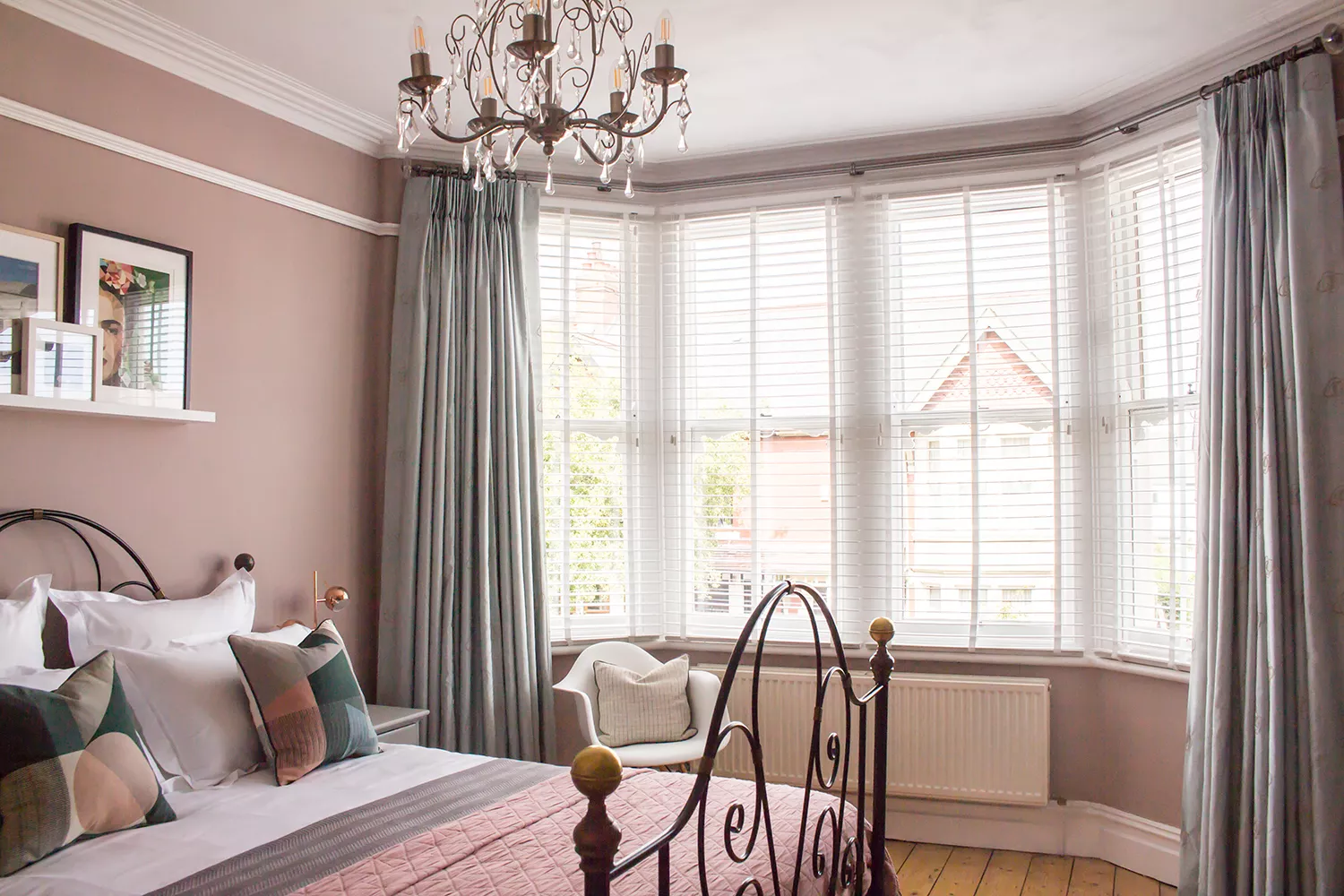 Living in a house with bay windows can present it's problems though. Apart from the fact that if you have original sash windows (like me), they can be cold and draughty, bay windows can be really difficult to dress for a few reasons. Unless you live opposite a field, you'll probably want something to give you some privacy, but finding something that doesn't block out all that lovely extra light can be tricky. You might also want something to help you combat those draughts and to keep the heat in the room. When choosing something for your bay windows, the angles made by the shape of the bay can also cause a few headaches, especially when it comes to hanging your chosen window dressings.
To show you what I mean, I've mocked up a bay window in a room showing you the main options available for dressing bay windows. I've used the same room each time, so you can see how each window covering looks, and compare them with each other.
Roller blinds - relatively inexpensive and easy to put up, they come in lots of colours and are the simplest solution. The downside is that they don't give any privacy when they're open and can leave the room feeling a little bit cold if they are the only window dressing, but a good choice for a minimal, fuss-free look.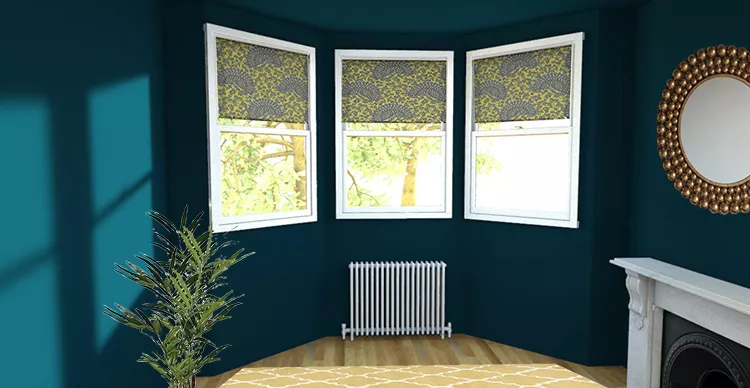 Roman blinds - a softer option for bay windows as they are made with gently folding fabric, and they can make a room feel more finished. Like roller blinds, they also don't give any privacy when open and can be expensive to have made to measure. They do look really elegant when combined with curtains, and one option is to have the Roman blinds made in a sheer fabric, so they act a little like - dare I say it? Net curtains. But much more stylish.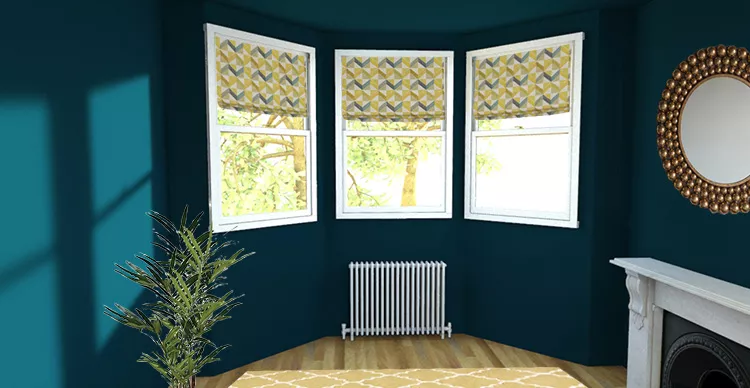 Plantation style shutters - these look great on large bay windows when closed, and also when the frames are closed and the louvres (or slats) are open. I have to say that I'm not a fan of shutters on bay windows, because if you want to really let the light in, you need to open up the frames all the way. This causes a problem as the open frames will always cover the side windows, which kind of defeats the point. Lots of people never really open up the whole shutter frame anyway, so if you decide you are happy with this, then shutters could be a good choice for you.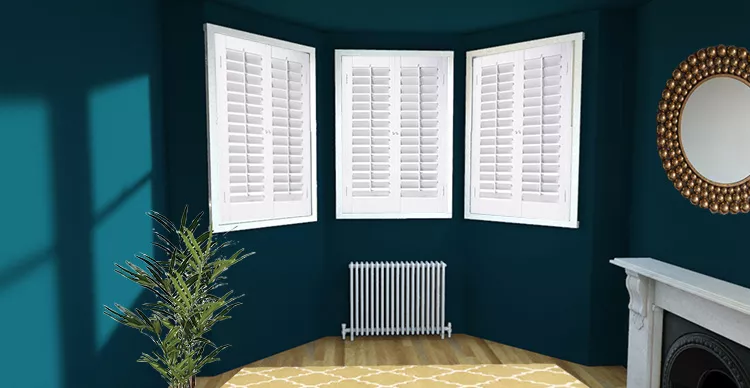 Solid shutters - if you have original solid shutters these do a great job of keeping out the cold and blocking out light at night time (good for a bedroom), and they usually have an area in the wall next to the window frame where they can be tucked neatly away. You can get new solid shutters made to measure, and if you get them hinged so that they fold all the way back, you won't need a space in the wall to store them, and you'll be able to open them up to let the light flood in.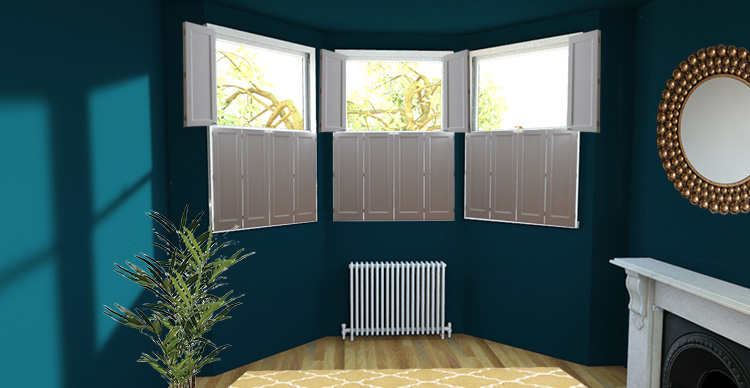 Venetian blinds - these are the blinds with horizontal slats made of either wood, plastic or metal. Venetian blinds are very versatile, as they can be open, closed, or angled to give privacy and control the sunlight (or stop the sun from reflecting off the TV). They can also be pulled up all the way to let maximum light in. All the different types of slats can have a painted finish, which can really make a statement and help integrate them into the room scheme.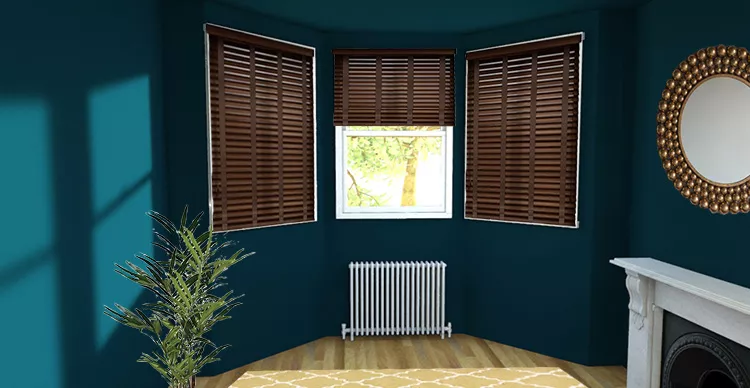 Window film - this can be applied to the whole window, or the lower half of the windows only, which allows plenty of light in but will still give you privacy. The film can be frosted, blackout or can be made to look more decorative with a cut out pattern or image. Windows dressed this way would still need another layer added, such as curtains or Roman blinds, to stop the room from looking too bare (unless you're going for the minimal look).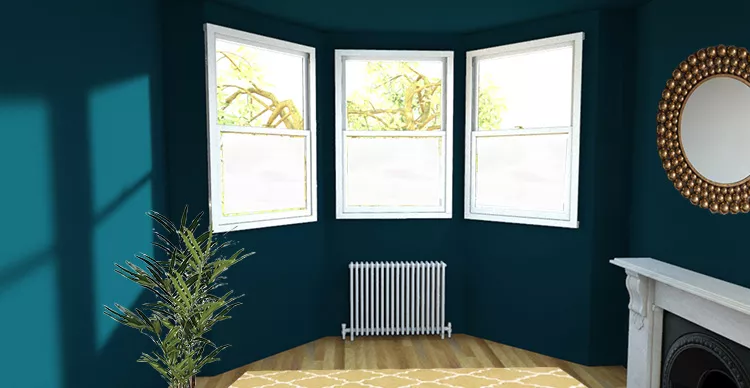 Curtains - they are a good choice for keeping the heat in (especially if you choose heavier fabrics or blackout linings), as they give privacy at night, and also add another decorative element to the room. They are good for absorbing noise too, so can soften the acoustics of a room, making the room feel more comfortable.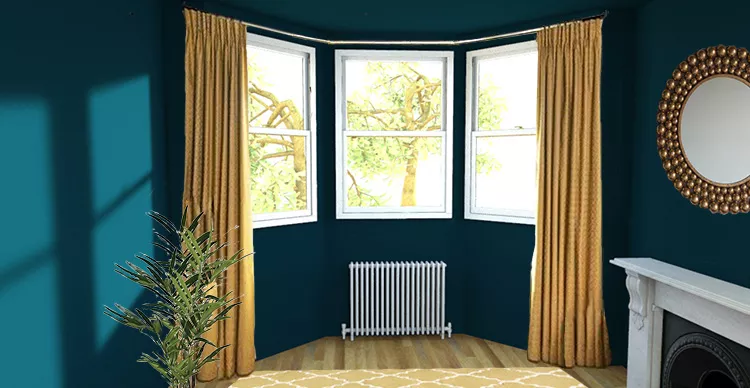 One thing to consider with curtains is the placement of any radiators in the room. Radiators are often placed under a window to warm up the cold air coming in, so if you'd like full length curtains (please don't have short ones, I beg you!) then you'll have to keep them open when the heating is on. This can work as long as you also have a secondary window dressing which provides privacy, such as Venetian blinds.
If you opt for curtains, then the next challenge is how to hang them at your beautiful bay windows. As the windows are angled, sadly you can't buy a curtain track or pole off the shelf and then put it up. You can buy some ready made tracks or poles which will bend, but they aren't usually capable of taking much weight, and if they're not made to measure, they probably won't run very well and will become annoying to use (and nobody needs that every day).
The only real solution is having your track or pole made to measure, as it will fit the angles of your bay perfectly and your curtains will run smoothly on it. This can be a pricy option, but after struggling with cheaper fixes for years before deciding to bite the bullet and pay to have poles made, I can honestly say its an investment worth making.
You can also put a straight pole or track across the whole of the bay, but this means you'll block off part of the room when the curtains are closed. This might work for you, and can look beautiful, but it's worth considering if you can afford to lose the space.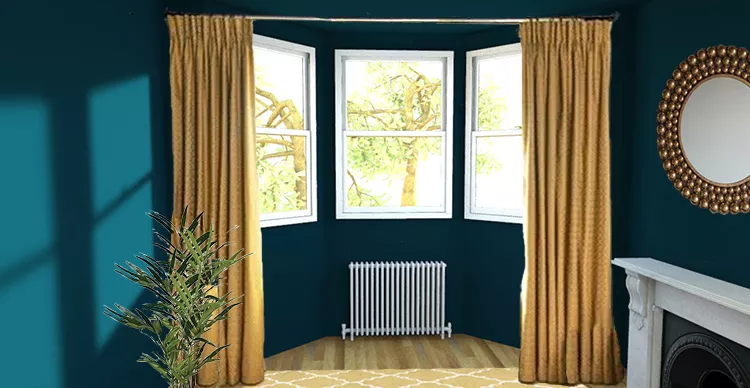 Whatever you decide to do with your bay windows, it really is a personal choice, and as long as your window dressing works practically for you, you can choose to make a real statement with your window dressings, or let your elegant windows speak for themselves.
On my next blog post I'll show you what I decided to do with my living room bay windows, how I did it, and the costs involved to get them looking and working the way I wanted them to.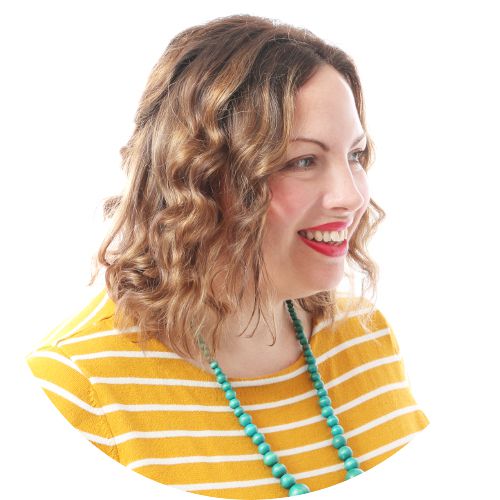 Welcome to the design blog, where you'll see posts about anything from the projects we are working on, to the latest fabric and wallpaper collections, and all things interiors related. We love colour, pattern, architecture and old buildings, and we love to share our finds with you.
Happy reading!