Re: mix - Honest, upcycled paint from Little Greene
6 min read
Published 28 May 2022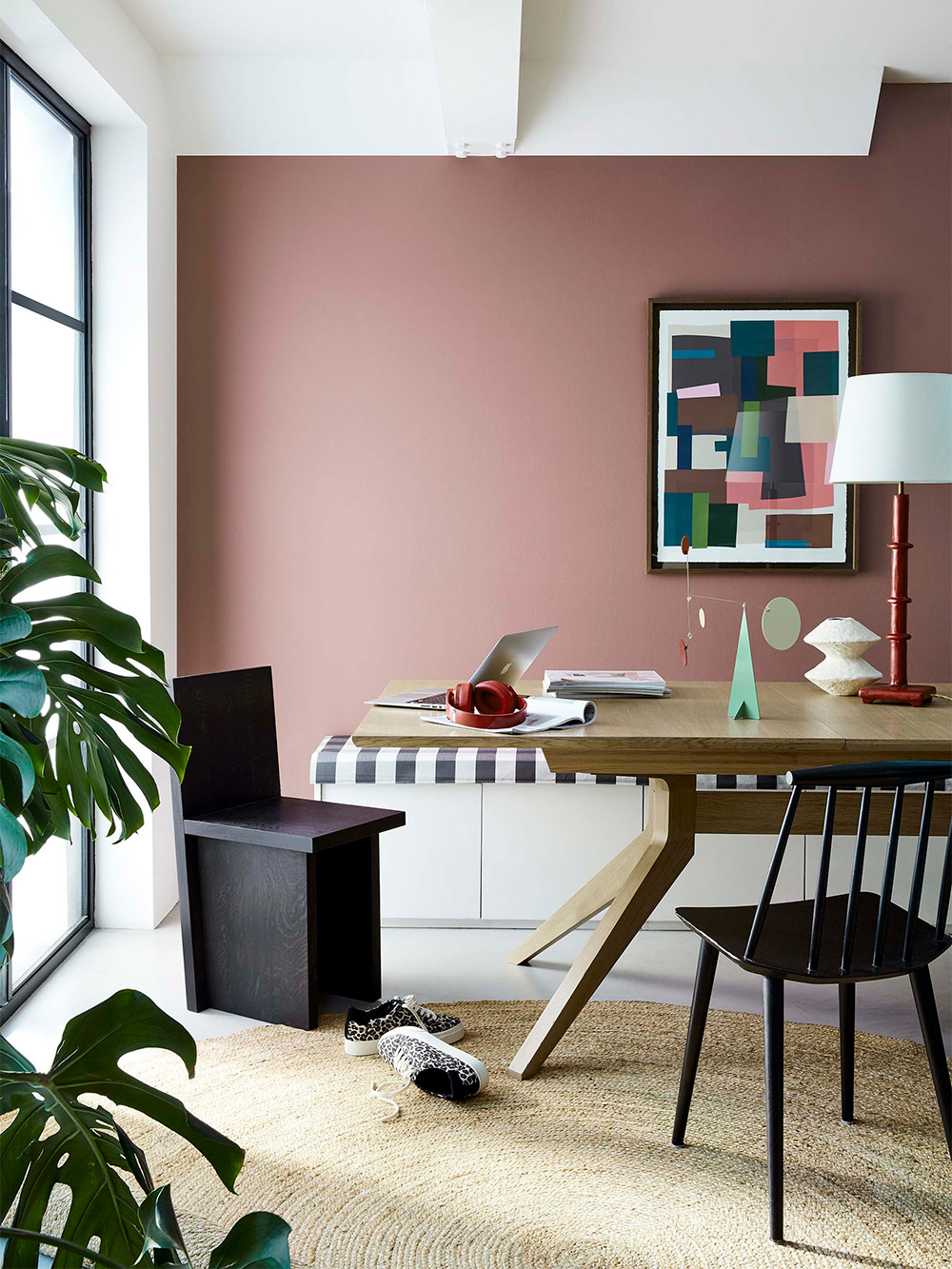 Nether Red Re: Mix paint by Little Greene
images supplied by Little Greene
Regular readers of my blog (or anyone that has ever talked to me about paint) will know that I am a big fan of the brand Little Greene. I love the depth and range of their colour palette, the fact that the paint is vegan, and that it covers and performs so well. They have just released a new paint collection, and I'm more excited than usual, because this one is a little different.
Little Greene are well known for being one of the most environmentally friendly paint companies out there for many reasons. They manufacture their paint in the UK, they make it with naturally occurring minerals, it has very low VOCs (the harmful stuff that is released into the atmosphere when anything is made) and they only make it once an order is placed, to reduce waste. But the process of making and selling paint will always create some waste, from the stuff that is leftover from the manufacturing process, to the stuff that is returned to them because the tins are damaged or it is simply not wanted anymore. Little Greene have long wanted to tackle this problem, but how?
Well, it's taken two years, but they've finally cracked it. They've come up with a way to mix all this surplus paint together and produce colours that we would actually want to use, which is no mean feat. Remember back in school when we had those powdered paints we had to mix with water? We would usually start the lesson carefully keeping them all separate so we could make yellow, or blue. Then we would mix them together to make green, and then add in other colours, until eventually our neat little pools of paint would all end up as one sludgy mess. The resulting colour was always brown, because that's what you get from mixing all the other colours together. So how have Little Greene managed to mix up over 60,000 litres of waste paint and not made brown? (I'm sure it would be a beautiful brown coming from them, but still, we don't all want to live in brown homes).
This is where their clever chemists had a brilliant idea. Each batch of unwanted paint is separated by colour, so all the blues would be put together, all the yellows together, all the reds, and so on. They then used algorithms to determine which of their own colours they could make from the mix of paints they had on these shelves. The blues became Juniper Ash or Celestial Blue, the yellows became Sunlight or Yellow Pink, and the reds became Nether Red or Castell Pink.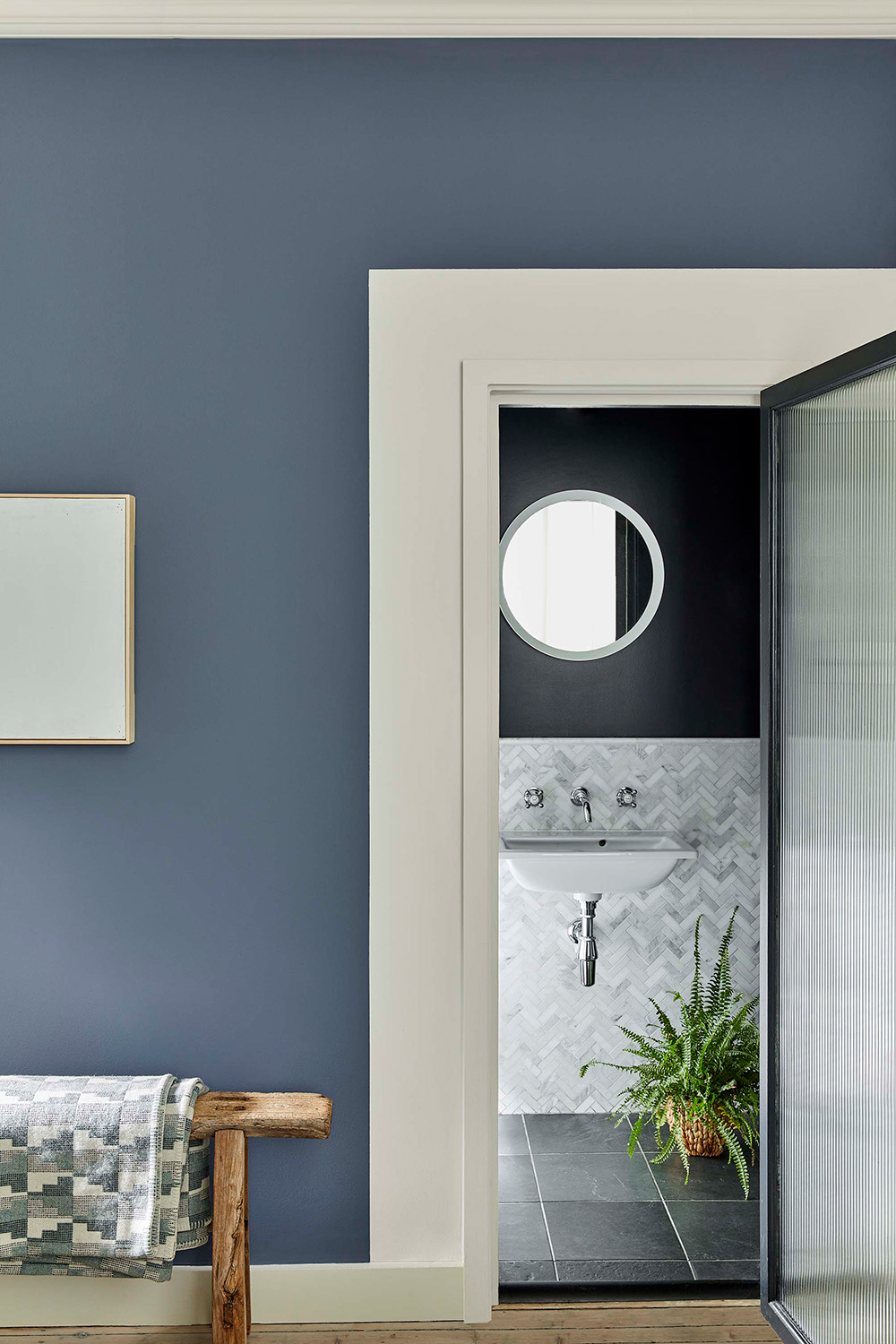 Juniper Ash Re: Mix paint by Little Greene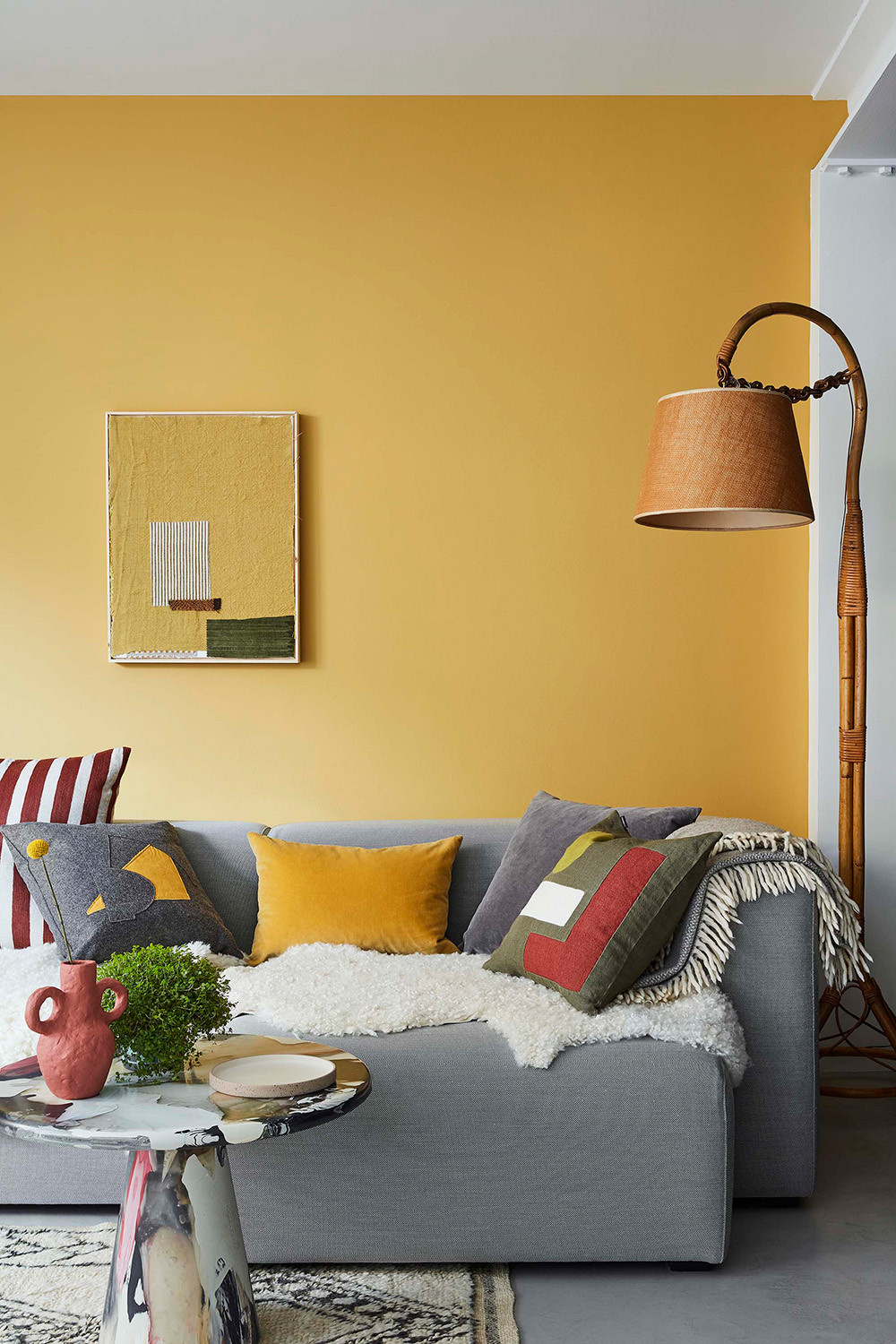 Yellow Pink Re: Mix paint by Little Greene
Remarkably, Little Greene have managed to come up with a limited edition colour palette featuring twenty of their colours, all made with recycled paint. They are limited edition because these are the colours which can be made from the current batch of unwanted paints - the next batch will have different shades to blend together, so there will be another limited edition collection. This one includes on trend darker blues and greens, and also a range of neutrals, so there is something for everyone.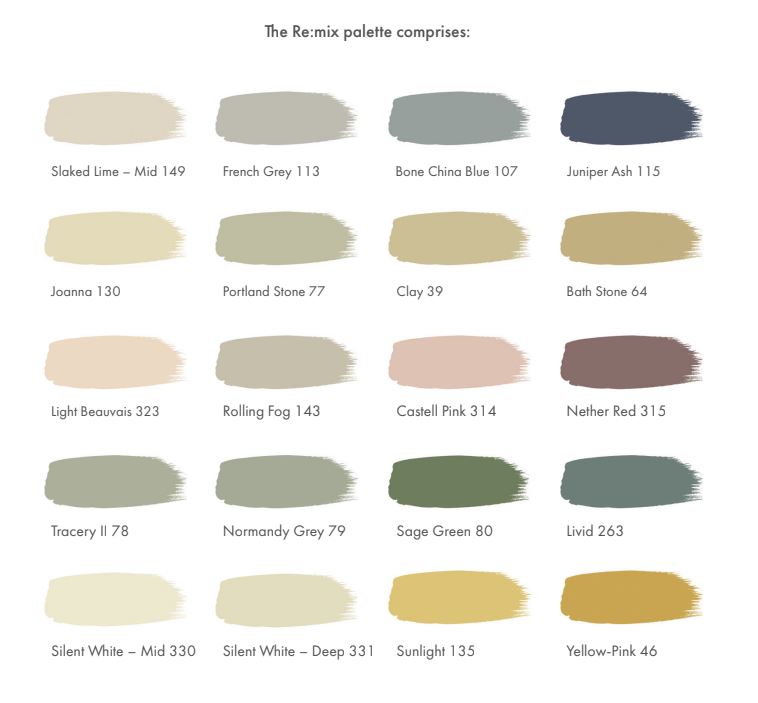 The paint has a matt finish, and is a beautiful emulsion you can use to paint walls and ceilings. It has a slightly higher sheen level than their usual matt finish (which is so velvety smooth and flat it is actually called Absolute Matt), but for a good reason. Little Greene sell a whole range of finishes, including eggshell, satinwood and vegetable oil based paints, which are usually used to paint woodwork or metal. As they have no control over the types of paints which are leftover or returned to them, they had to come up with a way to mix different finishes together and still create a usable paint. Again, their chemists have cleverly worked out a way to mix Absolute Matt, Intelligent Matt (which is wipeable so has a higher sheen level than Absolute Matt) and Intelligent Eggshell paint to create a matt finish paint. The upcycled paint is a 5% sheen compared to 2-3% for Absolute Matt, so the difference is barely noticeable and it is still super smooth.
The new collection is called Re: Mix, and I think this approach to recycling paint is genius, as any leftover Re: Mix paint can be recycled again and again. Using paint is one of the easiest ways to transform your home, and it's relatively inexpensive, so it's something we do often. According to the furniture retailer Furniture123 who carried out a survey, on average we redecorate our homes once every 25 months, so that is a lot of paint we are using. This is a workable way to lessen the environmental impact of redecorating whilst still giving us gorgeous colour choices and a paint which offers fantastic results. Just look at what can be done with a couple of tins of Re: Mix paint and some imagination: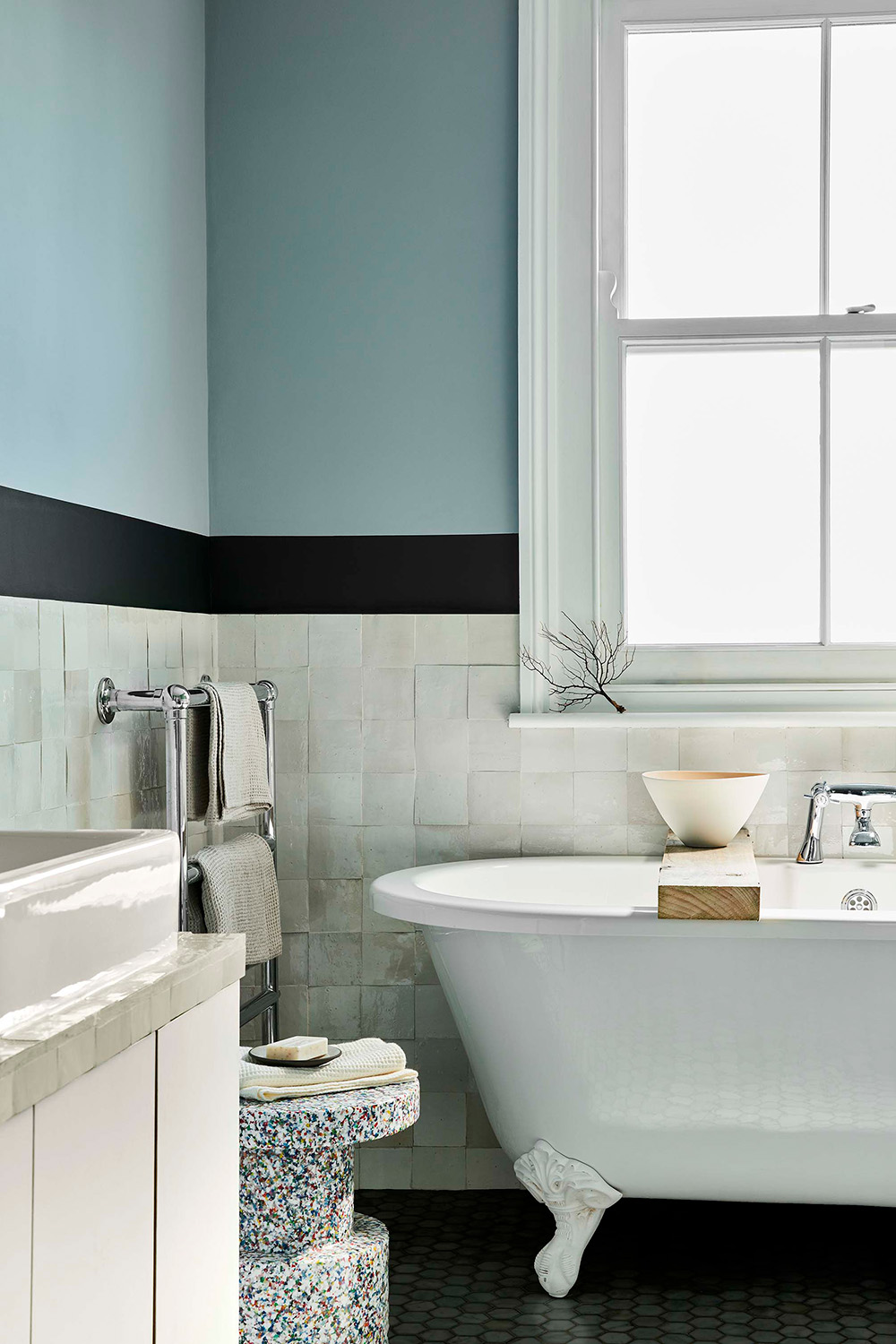 Bone China Blue Re: Mix paint by Little Greene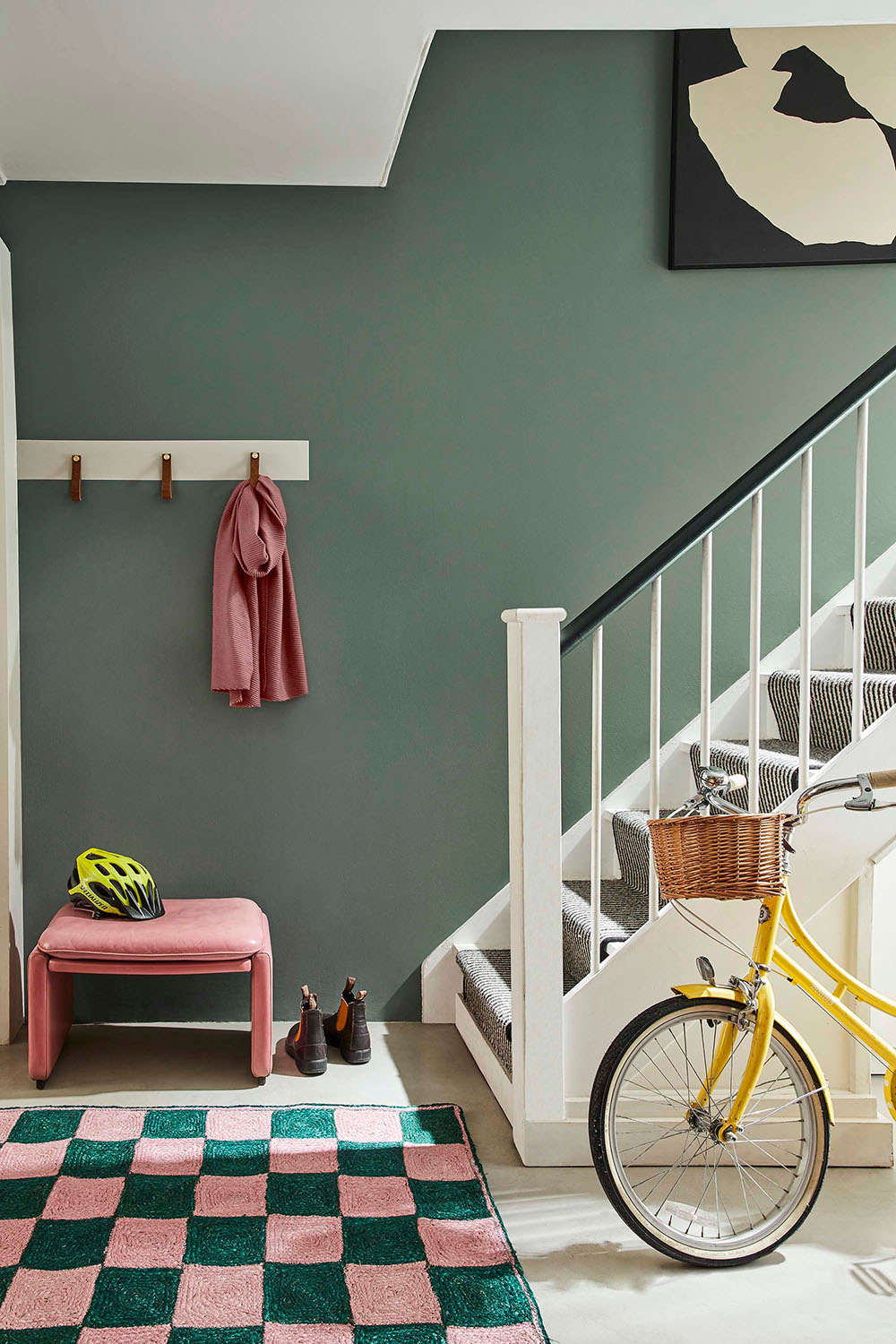 Livid Re: Mix paint by Little Greene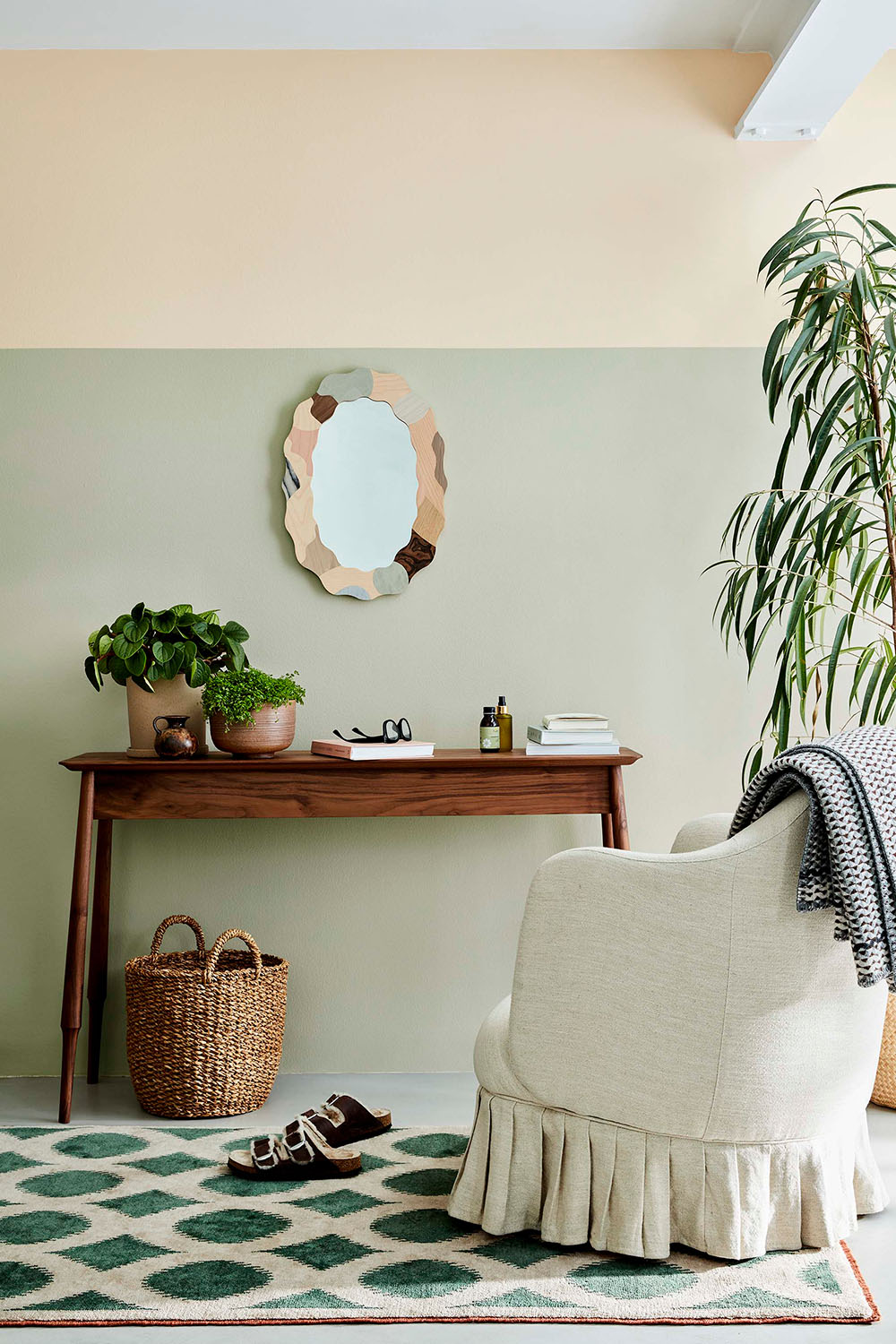 Tracery II, Light Beauvais and Loft White Re: Mix paint by Little Greene
I also love the artwork on the tins of Re: Mix paint - it's playful, joyous and almost looks like what we would do if left alone with lots of paint and brushes and told to have a play around. The artwork was specially commissioned for Little Greene by Manchester based artist and maker Caroline Dowsett
who also painted a mural of the artwork using Little Greene paint for the Whitworth Art Gallery in Manchester. You can see the tins here.
As this is recycled paint, Little Greene are selling it at half the usual price of their Absolute Matt - it's just £28 for 2.5 litres, compared to £56.50 for Absolute Matt. It's a great way to get really good quality paint at an affordable price, meaning that designer paint is no longer more expensive than other brands. Selling it in smaller 2.5 litre tins is also a good way to reduce the possibility that this paint will be wasted too, as it's harder to overorder and have too much left.
This new collection solves lots of problems, including how to reconcile the need for newness and freshness in our surroundings, with the need to look after the planet we live on. Little Greene hope that their ideas will be used by other paint manufacturers, and are continually working on ways to improve it and reduce their environmental impact in any way they can. You can see and buy the Re: Mix collection here.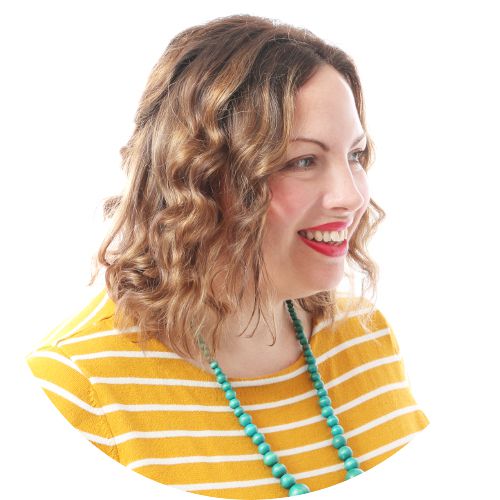 Welcome to the design blog, where you'll see posts about anything from the projects we are working on, to the latest fabric and wallpaper collections, and all things interiors related. We love colour, pattern, architecture and old buildings, and we love to share our finds with you.
Happy reading!