Morris Pure North fabrics and wallpapers collection
3 min read
Published 29 Aug 2018
I love William Morris, the designer, artist, poet and philosopher, and somehow I don't think I'm alone! I grew up thinking that Morris's wallpapers and fabrics were the best way to bring a bit of history in to your home, and that as soon as I owned a period property I would use his gorgeous patterns all over the house.
When I did finally get that period property, my interiors tastes had changed, and although I still loved Morris's designs, I wanted a sleeker, less busy look for my home. I love Morris's intricate patterns based on the natural world, but felt that they might 'overwhelm' my space. This was also a time when 'Victoriana' was out of favour, and minimalism was everything. The clever people in charge of the Morris & Co. brand knew their designs sold well to a traditional interiors market, but wanted to extend the appeal of his work. So they created the Morris Pure collection in 2016, which is a fresh look at some of Morris's best known designs. It includes some monochrome wallpaper prints, and introduces some sheer fabrics which took my breath away and would look fantastic in any modern Scandinavian interior.
The Pure collection is extremely popular, as it embraces the current trend for greys and understated interiors but keeps all the fine detailing. Three of the wallpaper designs were made using Morris's original wood blocks, adapted by the designers to make new patterns, which thrills the art history geek in me. I think this collection continues Morris's tradition of using fine craftsmanship to produce beautiful items for everyday use.
Now we have the Morris Pure North collection, an updated version of Pure, again based on popular archive designs revisited and reworked. This is a beautiful collection of embroideries, prints, weaves and wallpapers, all inspired by the 1871 and 1873 expeditions Morris made to Iceland. He kept journals where he wrote about his wonder and awe at the colours and drama of the landscapes he saw, and how he felt he had 'come home'.
The colour palette is still neutral, with colours named 'Linen' and 'Cloud Grey', but there are stronger colours which add depth such as 'Black Ink', and the 'Faded Sea Pink' is a gorgeous and perfectly on trend update for modern interiors. These fabrics and wallpapers really could be used in any home or setting, and work particularly well when contrasted with rough textures such as sawn wood or exposed brick, and more industrial touches like Crittall windows. So, now we don't have to choose between traditional and contemporary style!
To find out more about the collection, ore see the entire range of fabrics and wallpapers visit https://www.stylelibrary.com/shop/fabric/pure-morris-north-fabrics/
all images copyright Abaris Holdings Ltd. used with permission.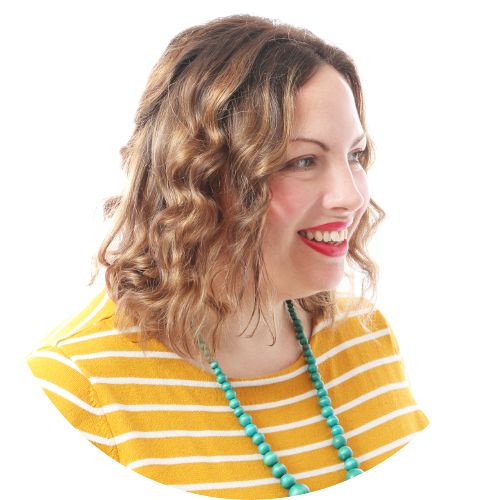 Welcome to my design blog, where you'll see posts about anything from my current interiors obsession, to the latest fabric and wallpaper collections, and 'how to' guides for all things interiors related. I love colour and pattern, architecture and old buildings, and I especially love the moment when you see something so beautiful it makes you take a sharp intake of breath. Happy reading, and if you have any questions, or would like to chat about anything interiors related, please use the contact form to get in touch.
Thank you,
Louise
Upcoming interiors trends from Love Rugs
10 Jul 2020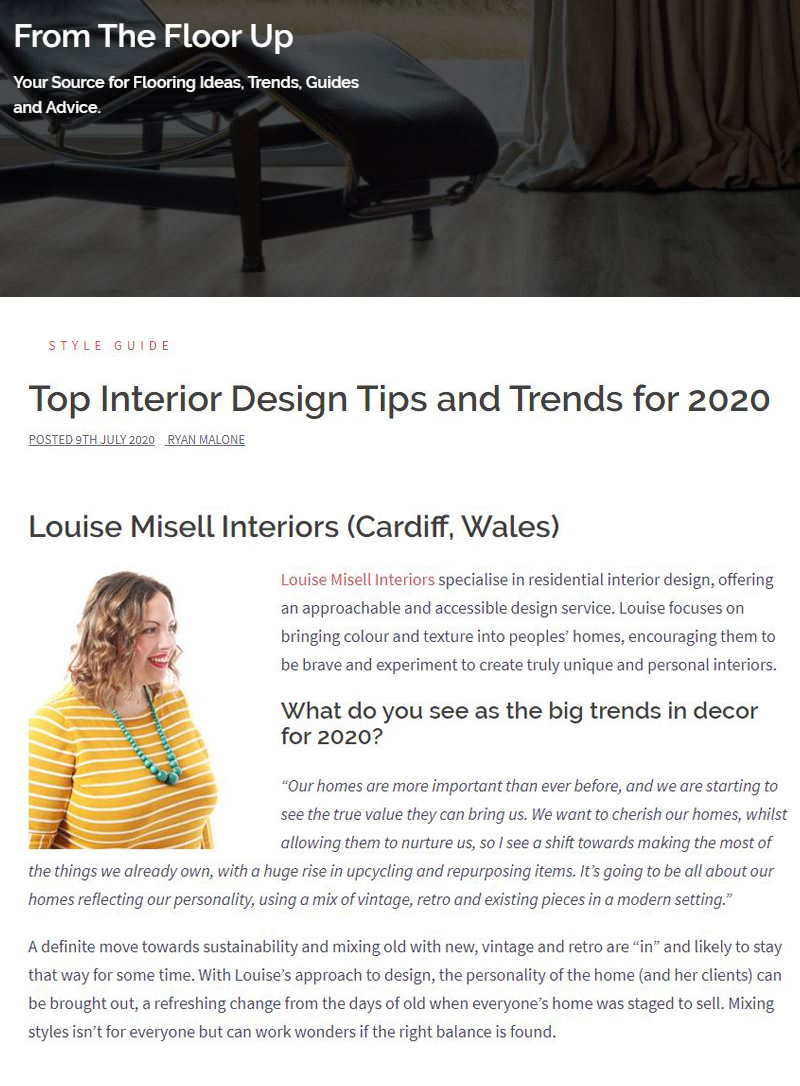 Love Rugs, the people who know about all things rugs have just published a feature on the upcoming interiors trends for 2020. They asked six of the UK's top interior designers (including me!) to tell them what the upcoming trends are, and in particular the changes we will be making to their homes. The article can be read here, and if you'd like to have a look at the huge range of rugs they offer, click here.
A new fabric collection from Linwood Fabrics
15 Jun 2020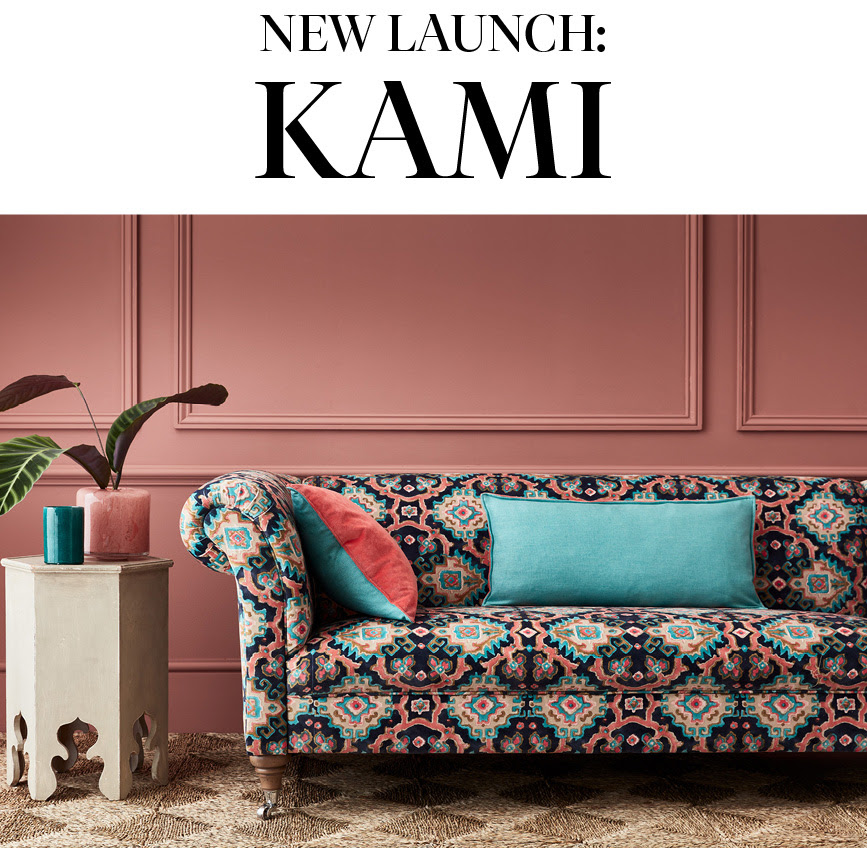 I love Linwood fabrics - they have a fab way of mixing colour and pattern into something really special, producing fabrics and wallpapers that make me want to coo. This new collection, available at the end of June, is just as gorgeous. It's called Kami, with the pattern inspired by a 19th Century document. The collection is a range of printed velvets, so perfect for upholstery and accessories like cushions.
An easy way to update your kitchen
16 Apr 2020
If you are looking to update your existing Ikea kitchen rather than replace it, Stockholm based company Superfront are here to help. They sell a range of fronts, handles, legs and tops to fit not just the Faktum kitchen range but also the Besta, Metod and Pax ranges - so you can customise anything from your sideboard to your wardrobe. These super cute round handles are part of their new birch collection, and the whole range can be found here
Move over boring taps - colour is the new black
13 Mar 2020
Colour has been taking over our kitchens and bathrooms for a while now (yay!), and has slowly been creeping into sanitaryware and fittings. These perfectly coloured mint green and pastel pink taps from the new Miami Colour Pop Collection from amazing homeware brand Dowsing & Reynolds are spot on and would look gorgeous in any kitchen or bathroom to add a shot of colour without overwhelming with sugary sweetness. You can learn more about this new collection

here

.
Who knew a door stop could look this good?
19 Feb 2020
Door stops are one of those little annoying things that we all need, but are not the prettiest to look at. Now London based Buster & Punch have turned their attention to the problem and transformed the humble door stop into something cool and covetable. They might cost more than your average one from a DIY store, but as you're going to see it every day, why not look at something beautiful? here.
Wallpaper made of cork?
29 Oct 2019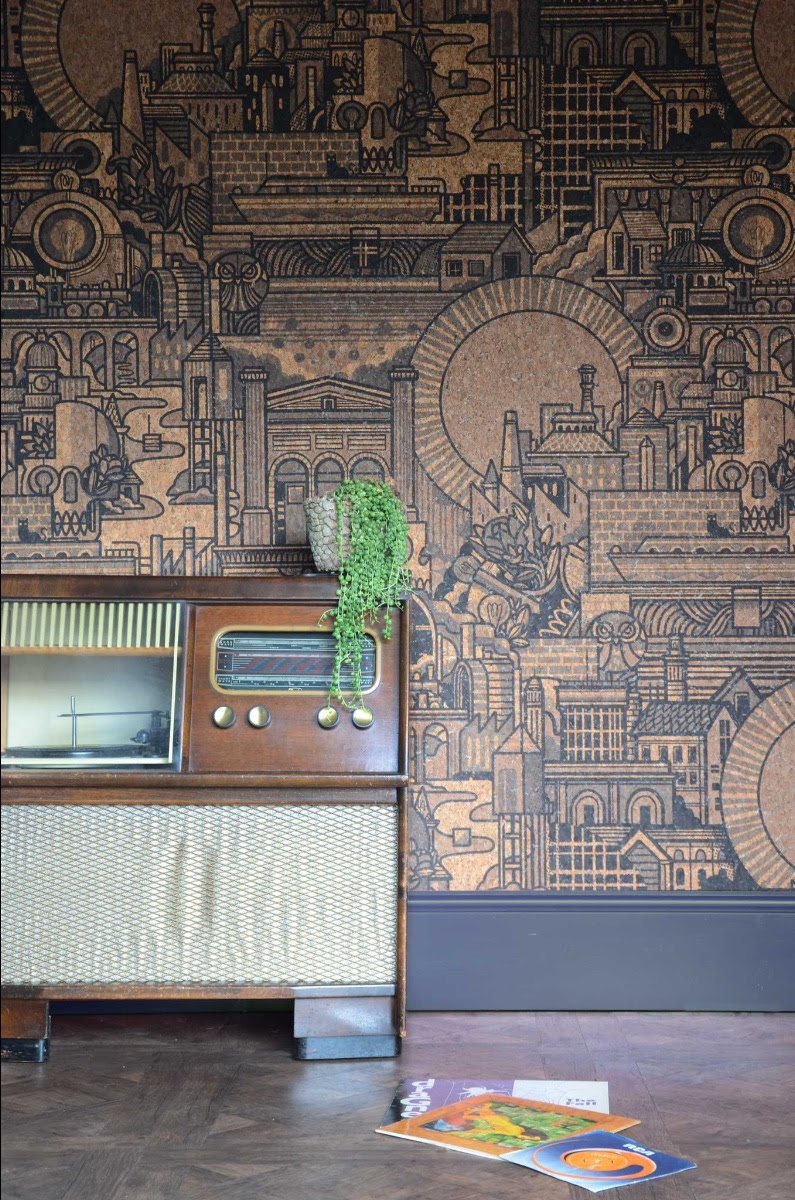 Sustainability and concern for our environment are key in the interiors world right now (as they should be). So when I saw that Monkey Puzzle Tree (a brand I admire for their sense of style and creativity) had produced this wallpaper made of cork, I was blown away. Cork is great for so many reasons - it can be harvested every nine years without harming the tree, is grown without the need for pesticides or fertilisers, has excellent sound and heat insulation properties, and is naturally antimicrobial and antifungal. This wallpaper has an A+ rating for emissions so it creates a healthy environment wherever it is hung. Add to this that the design was produced in collaboration with the talented Drew Millward who lives in my home county of West Yorkshire, and that it's called 'Hit The North', I was bound to fall in love with it. You can buy the wallpaper here.
I'm in Cardiff Life magazine - again!
17 Sep 2019
Now that the summer is officially over and our thoughts turn to cosying up our homes for winter, I'm here to help. If you're in need of some inspiration, you can read all about the interiors trends for Autumn and how to work them into your home in this month's Cardiff Life magazine. Hear what I and other interiors experts have to say on pages 18-22. You can read the digital version of the magazine here.
I've been nominated for an Amara Interiors blog award!
6 Sep 2019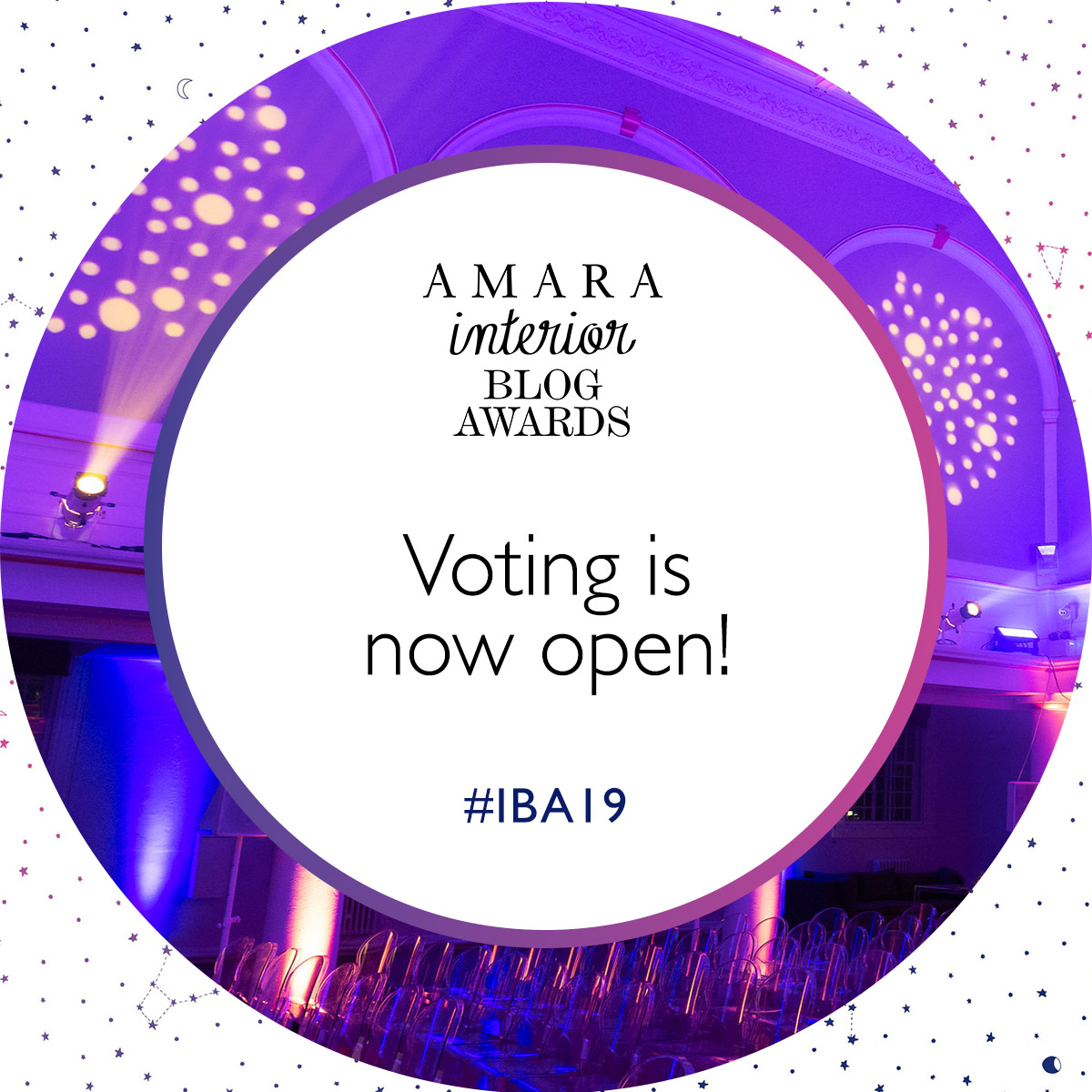 Exciting news! My little blog (Design Insider) has been nominated for an Amara Interiors Blog award! I'm so chuffed to be included at all, and not expecting to win, but if you enjoy reading my blog posts then please vote for me. I'm nominated for the Best Interior Designer blog category. Voting is open until the 11th of September and you can vote for me here.
My kitchen project featured on the Artifact Lighting blog!
1 Aug 2019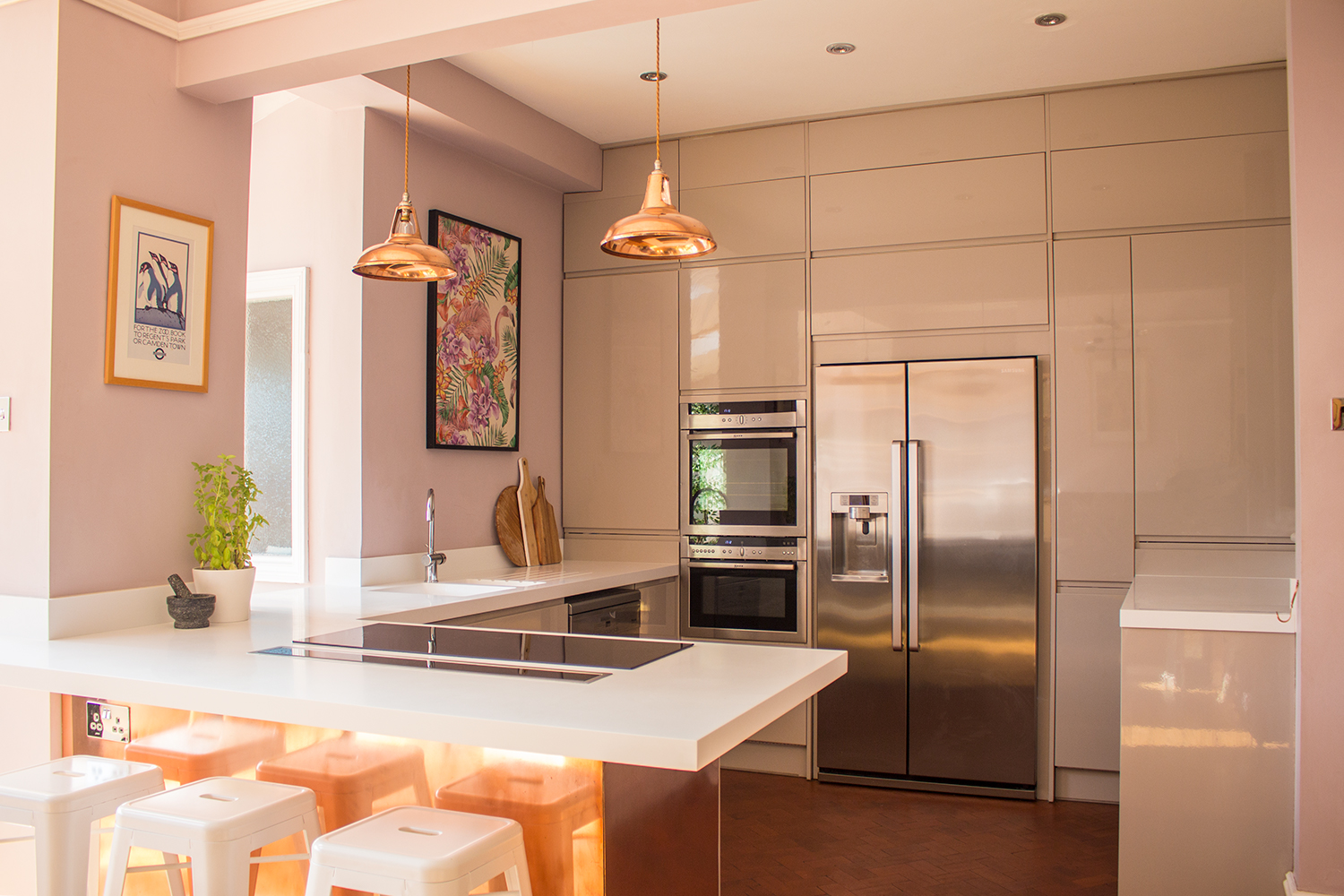 When I designed the contemporary copper kitchen, I wanted to use some copper elements to add warmth and also to tone in with the pink walls and pale grey units. I found these pendant lights from a company called Artifact Lighting, and they are perfect because they add to the 'warm glow' I wanted to acheive. They also have a vintage look which contrasts nicely with the sleek look of the kitchen units. When the kitchen was finished I sent some pictures to Artifact Lighting, and they liked the kitchen so much they featured it on the blog page of their website.
You can read the blog page here
House of Hackney's first outdoor fabric
26 Jun 2019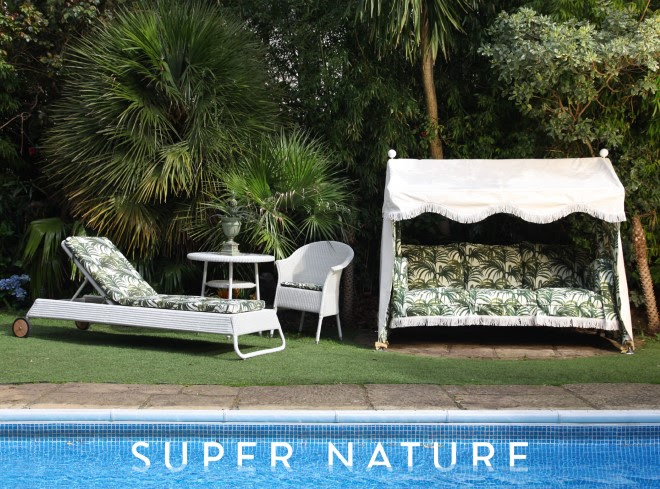 One of my favourite interiors brands, House of Hackney, who are known for their daring and quirky prints, have just released a new fabric which is suitable for our door use. They took one of their designs, Palmeral, and reimagined it in a fresh colour palette of off white and green. This colour fast and water resistant fabric can be used for anything from outdoor cushions to furnishing yachts (if you are lucky enough to have one!)
My thoughts on the colour Living Coral in Cardiff Life Magazine
31 May 2019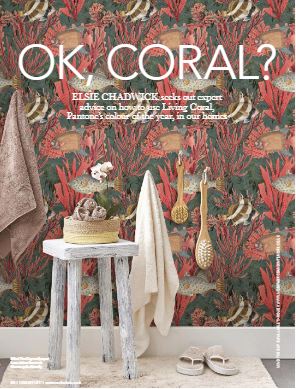 Hear what I and my fellow designers have got to say about Pantone's colour of the year, Living Coral, and how to use it, in this month's Cardiff Life magazine. The article is on pages 84-86, and you can read it here. Do you think you could use it in your home?
Sustainability in furniture design
7 May 2019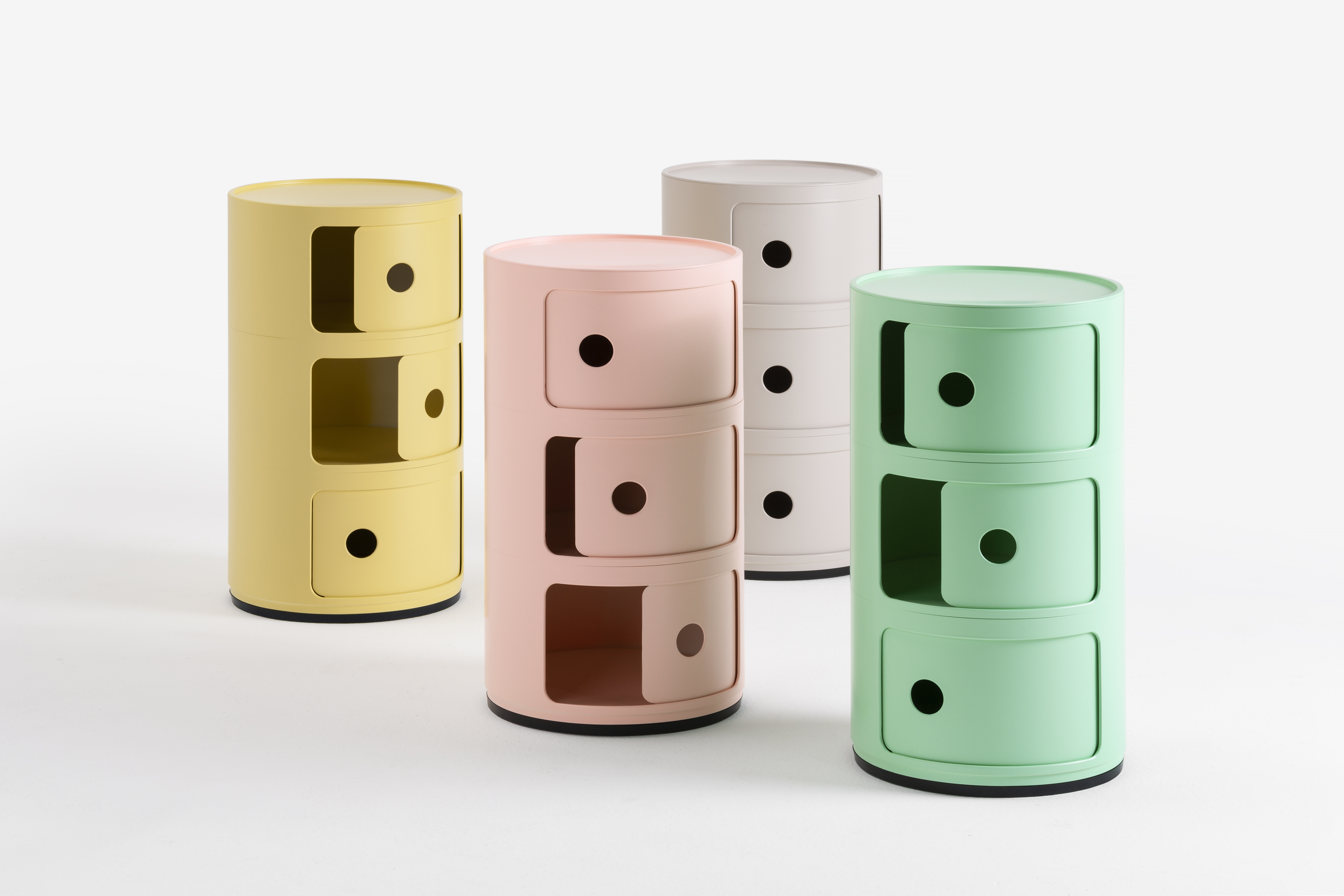 Sustainability is something that is becoming more and more important in interior design - not just where we buy items from and how far they've travelled to get to us, but also the materials that they are made from. Kartell, one of Italy's best known design brands, have just released the world's first piece of furniture made from a bioplastic called Bio-On. It's a fully sustainable version of one of their best selling items - the Componibili modular unit, and it comes in four delicious pastel shades. They may be 100% sustainable, but they are also super cute and bang on trend with this seasons colours. You can buy them here
The latest trend in shutters
24 Feb 2019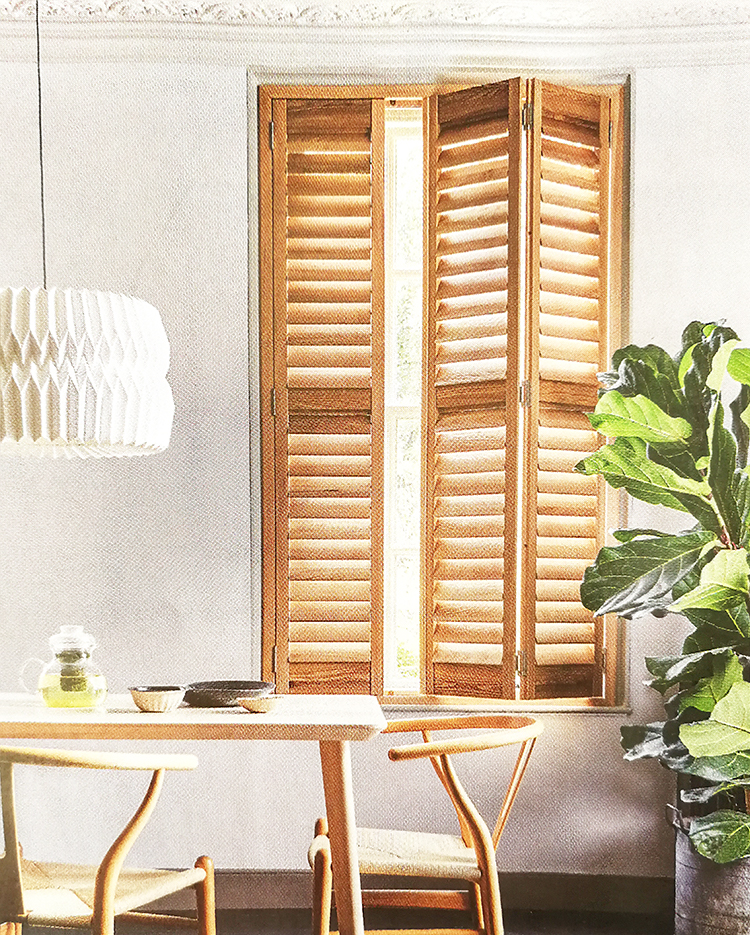 Forget painted shutters - the new style direction for window shutters is bare wood. These full height shutters made from sustainably sourced ash are the newest product from California Shutters, and are set to be big this year.
My new favourite tile!
7 Feb 2019
I was searching for some tiles for a client's splashback recently and came across these beauties from Topps Tiles. There's long been a trend for patterned tiles, with lots of geometric shapes and bold colours going on, but I've begun to see more and more tiles with a pattern in the surface of the tile itself. These ones are a lovely example, and the deep blue colour is just stunning. To get a closer look at them, follow the link below.
Pantone announce their colour of the year 2019
11 Dec 2018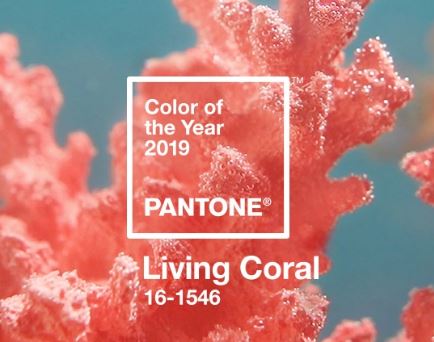 Leading colour experts Pantone have annouced the shade which they think will be the colour of the year for next year - Coral pink. It might look very bright and scary, but it's actually quite easy to use. I wouldn't suggest painting a whole room in it, as that might be a bit overwhelming, but I would use it in small doses, such as on cushions or in artwork, to liven up a shceme. Pantone say that the colour is meant to 'embrace us with warmth and nourishment and provide comfort and bouyancy in our continually shifting envirnoment', which basically means it's a happy, uplifting colour, and might just cheer us all up!
My work featured on Homify
8 Oct 2018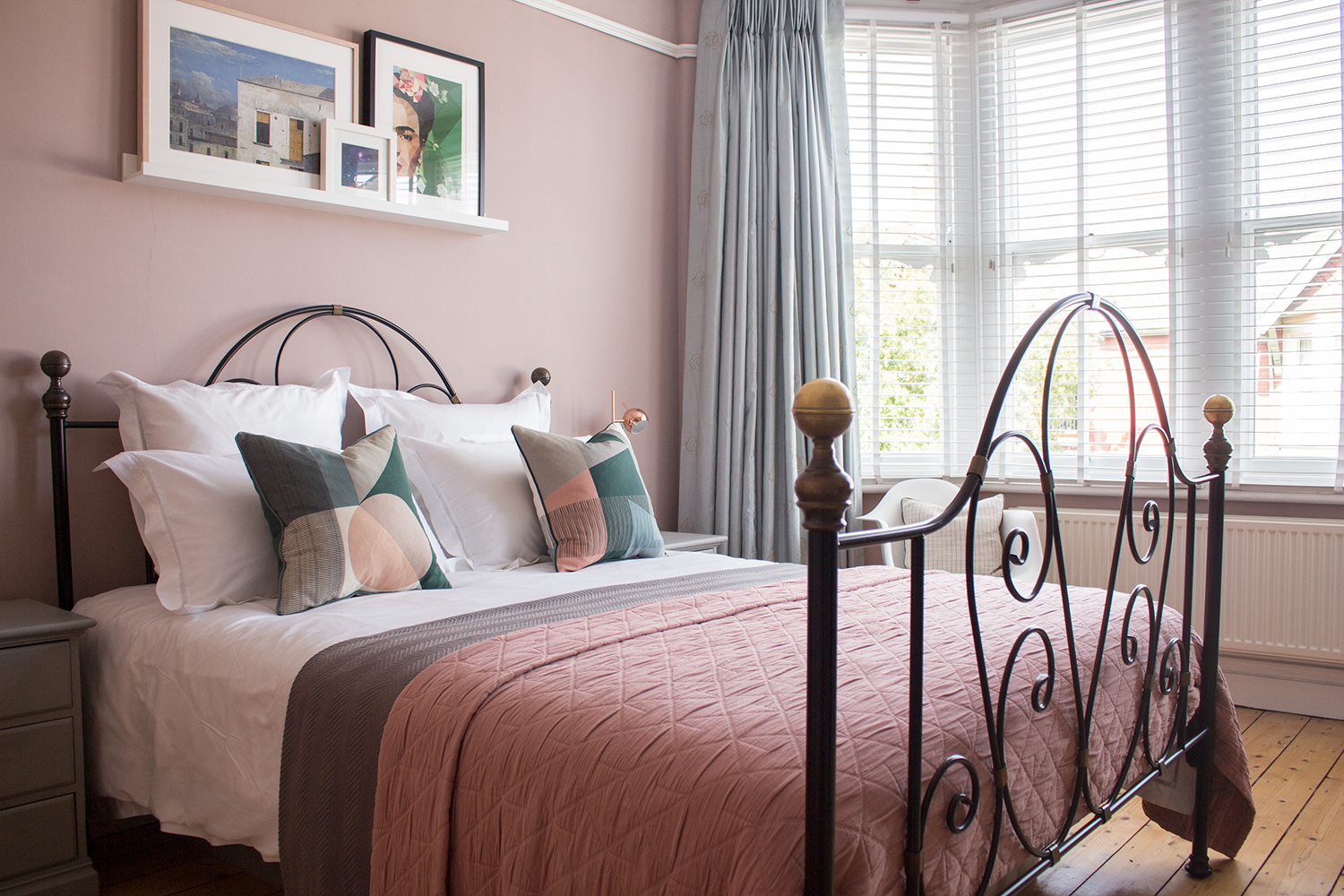 My work has been featured in an article on Homify - one of the leading online ideas platforms for all things interiors. My project is in an article on how to avoid common mistakes when designing a bedroom. The article mentions how important it is to block out light for a good nights sleep - something I addressed by adding blackout lining to the curtains and adding an extra layer of window dressing with the wooden Venetian blinds. To see the article, please use the link below.
Homfy article - Are you guilty of these 8 bedroom design mistakes?