Help with colour schemes - Introducing Designer in a Box
7 min read
Published 28 Aug 2021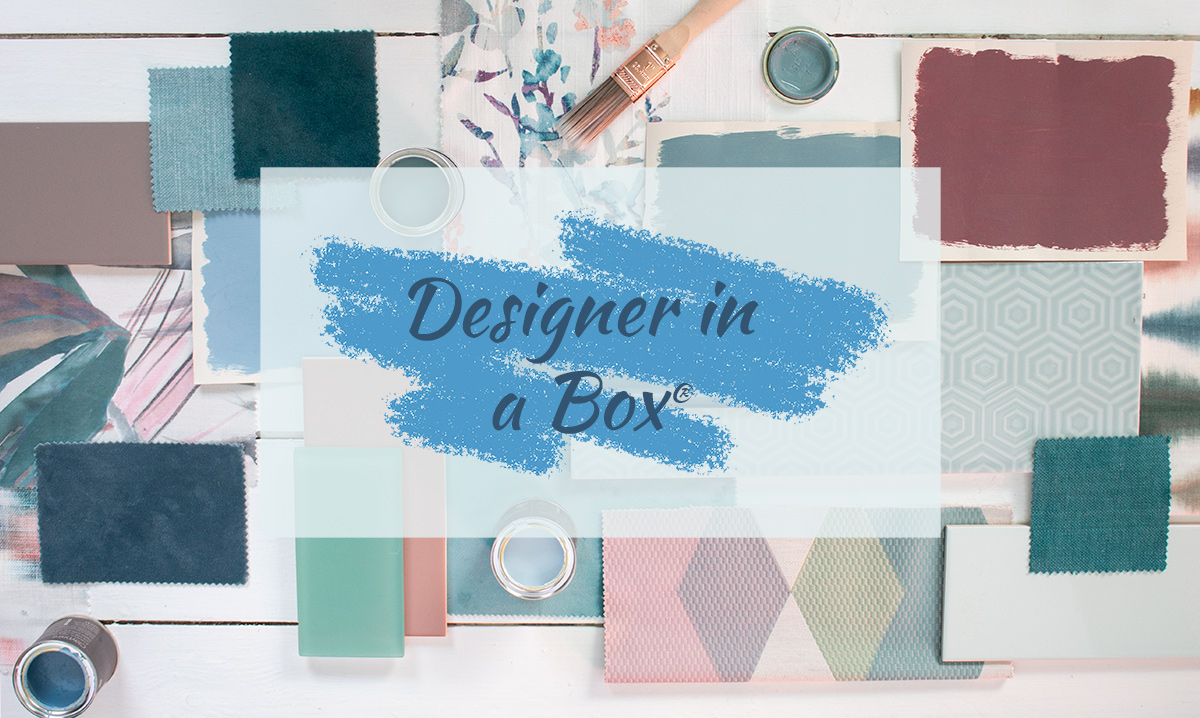 An interior designer can help you with many aspects of renovating or upgrading your home, but one of the most popular (and fun) services we offer is to help a client choose their colour schemes. Colour, in particular, seems to be the thing that scares people the most - clients tell me they are worried that they will choose the wrong shade to go with everything else in their room, or worried that the colour won't look at all like it does in the tin (or in the carefully touched up photos on the paint companies' websites). This is understandable, as everyone reacts to colour in a personal way, and we can all relate to the experience of looking through paint charts and feeling overwhelmed, or choosing one colour we love only to have doubts about it the next day.
It's easy to get confused by terms like 'undertone', 'hue' and 'shade', and the idea of having to choose a warm colour over a cool colour can often leave us cold. You might know that your favourite colour is green, but there are literally thousands of green paint colours to choose from and they all seem so similar on the paint chart. You could pick a colour because you like the name of it (we've all done it, but it's a bit like choosing a smaller size of jeans because you can get them on, and going down a size makes you feel great - but once you are wearing them no one knows or cares what the label says).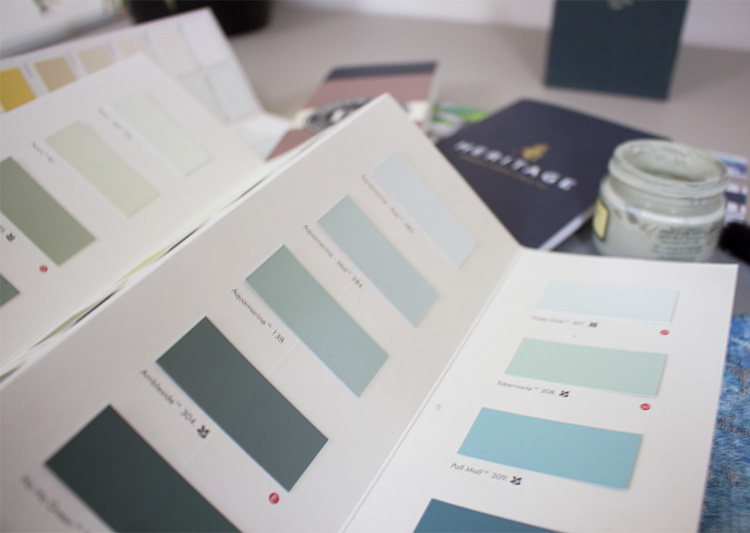 It's really not that expensive to paint a room, so in one sense the risks of getting it wrong are small - as I often say 'it's only paint, you can paint over it if you don't like it'. But what if you have the decorator coming next week, and they need a decision from you now? With things the way they are at the moment, you don't want to be waiting months for your decorator to be available to do the work, only to find that once you've had the room painted you hate the colour. The costs of decorating can soon add up, but even if you decide to decorate yourself, you'll have wasted a whole weekend if you don't like the results. Then you'd have to find the energy to do it all over again, and choose another paint colour!
So what help is there for choosing colour schemes with confidence? There is a lot of online guidance out there - a quick search will show many websites explaining the 'rules' of choosing colours, but a lot of the time they leave us feeling just as confused as we were before we read them. How can you really tell if it's a warm colour, or if it's from the Spring colour palette?
Then there are the websites which tell you all about the colour trends. You could go for the colour of the year - but what if you don't like lavender? (which is hotly tipped to be the next colour of the year by the way). Colour trends can be a useful starting point, but your home is unique to you and you don't necessarily want to use the same colour scheme as your next door neighbours.
Even if you manage to find the perfect shade, what other colours should you use with it? Then what about where to use the colours? When I am choosing colours with my clients, the next question they ask me is 'where should I put the colour? All four walls or just a feature wall? What about the ceiling? The skirting boards? The coving? There are an endless number of decisions to make, and it's no wonder it gets overwhelming and we end up feeling stuck.
So what can you do to avoid costly mistakes? You could ask an interior designer for help as most will offer some sort of colour consultation, but sometimes their fees can push your budget over the edge. In my case, I love to help as many people as I can, but there are only so many hours in the day and I really can't fit in everyone who comes to me for advice. Rather than turn potential clients away and leave them with nothing, I started thinking about other ways I could help them. What if I could take my colour knowledge and make it available to everyone who wanted it?
This is when I came up with the idea for Designer in a Box. I could offer colour schemes which I've created, which are tried and tested, and I know work well, but can also be adapted to suit the needs of each person and their colour preferences. It would be like having me, your own personal designer, choosing colour schemes for you, but in a box that you can buy.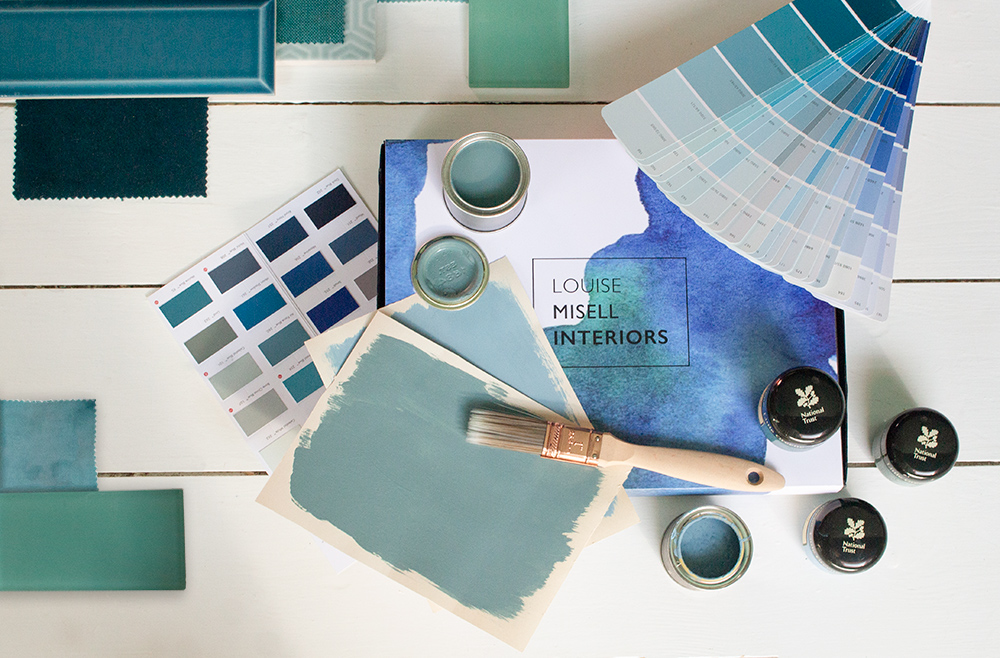 So I spent a lot of time carefully choosing the colour schemes for these boxes based on colours I know my clients love. I chose eight main colours, three coordinating colours and a toning off white to go with each main colour. These five colours make up a scheme which is guaranteed to work together, and by using my knowledge of undertones and colour theory to create harmony, I've taken away the worry that this shade of blue won't sit nicely next to that shade of green.
When I design any room scheme, I always think about and ask my clients how they would like their rooms to feel, and I realised that Designer in a Box should be no different. From the eight colour schemes, I created both light and dark versions of each one for you to choose from. If you prefer your rooms to be gorgeously rich with cosy colours which hug you, then the dark colour scheme is for you. If you like your rooms to feel fresh and bright, then the cheerful lighter schemes are made for you.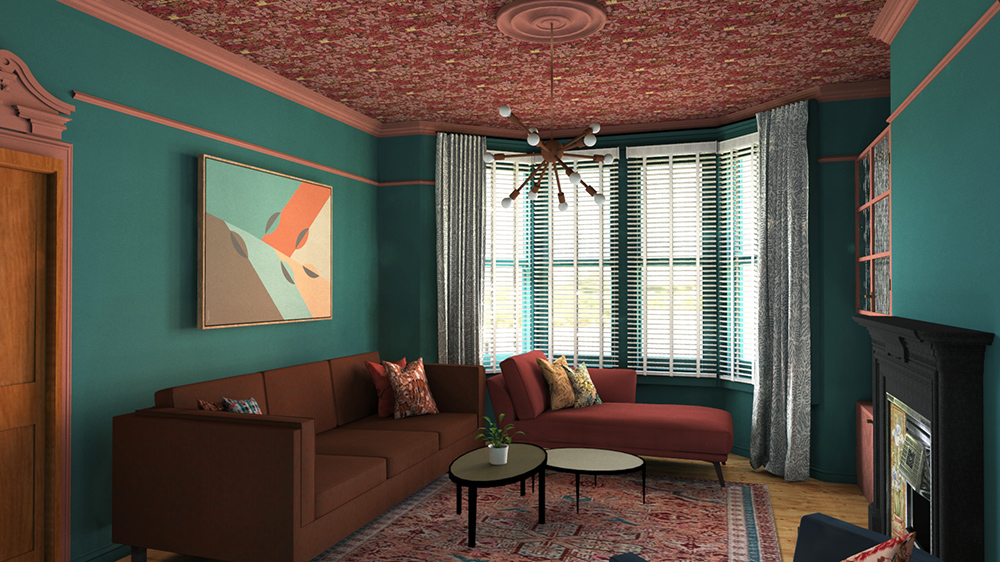 A colourful, dark and gorgeous room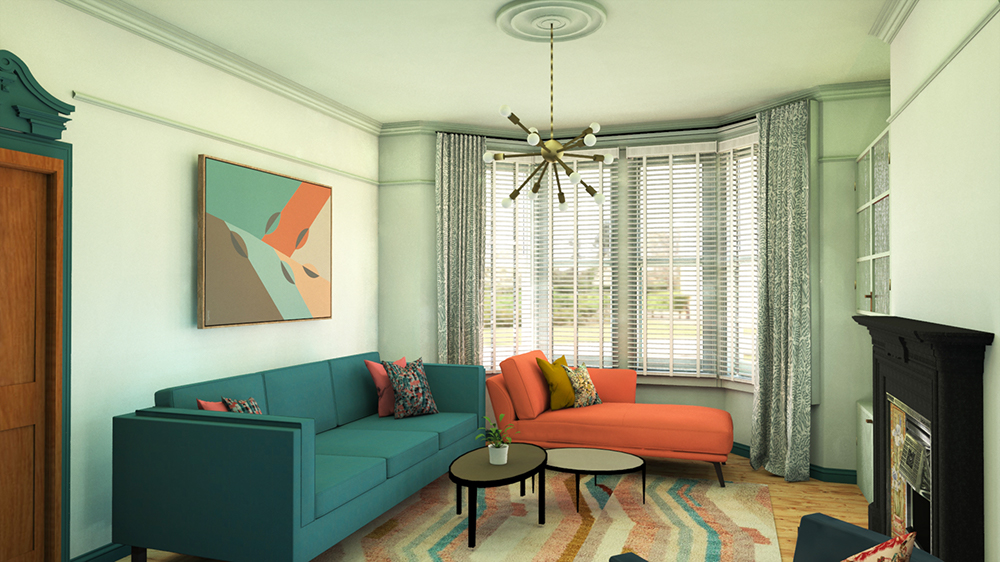 A light, fresh and colourful room
I have chosen colours which resonate with me, and if you like my design style they will be perfect for you too. But, even though my style is there in the colour choices, I wanted Designer in a Box to be more than just a colour palette, I wanted it to be able to help you use the colours in your room. The main problem clients have is deciding where and how to use the colours in a scheme, so I created an example room design for all sixteen boxes. I explain where I've used each paint colour, and I also include a sketch of the room so that you can see how all the colours work together and the overall effect they could create.
The explanations I give you mean that you can open the box and start putting your room together with confidence straight away. The example room scheme is just one way to use the colours in your box, but there are many other options for using these five colours together. I've added a sheet with guidance and suggestions on alternative ways to decorate your room, and how to use the colours as a basis for choosing other items, such as wallpapers, fabrics and sofas. You could buy one box and use it as plan for decorating your whole house, or because I've carefully chosen the colour schemes to work together, you could buy a box for each room, knowing that the overall look will be harmonious.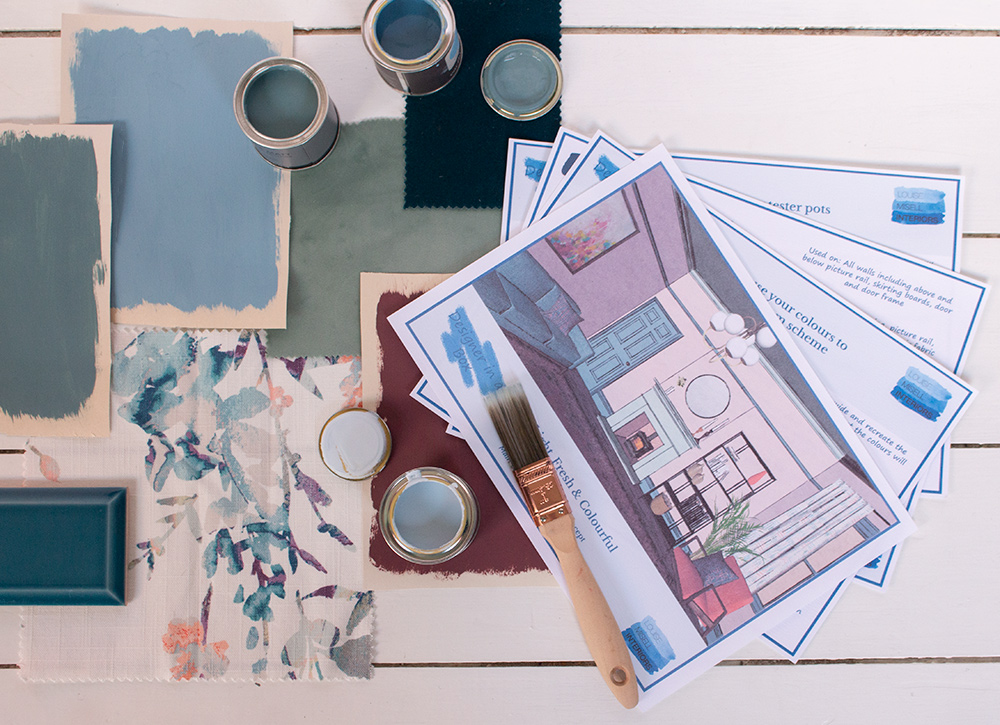 I could have made these colour schemes available as a download on my website, but I wanted to make life as easy for you as possible. I decided to make up a box which includes tester pots of each colour, and some lining paper with a paint brush so you can try out the colours immediately. For all the paint colours, I've used a brand that I trust and recommend to all of my clients, because it covers well and offers gorgeous colours with consistent results on the wall. There is also plenty of paint in each tester pot so you can try the colours out in other rooms too.
Okay, you might be thinking this sounds like a great idea, but how do you know which Designer in a Box scheme is right for you? There are two ways to decide. If you know that you'd like your main colour to be say, teal, and that you like darker colour schemes, then you would choose the Dark Teal box. Or, if you would like help deciding which box will contain a colour scheme you'll love, then I've made a handy quiz which asks the right questions to get you to your perfect result.
These schemes are designed to be adaptable to each individual, so that you can have fun decorating and make your home truly unique to you, and I really hope you enjoy using them.
If you'd like to take the quiz, you can do it here. If you'd like to buy a box, simply follow this link.
The words 'Designer in a Box' and the Designer in a Box logo are registered trademarks, numbers UK00003621242 and UK00003618327 respectively.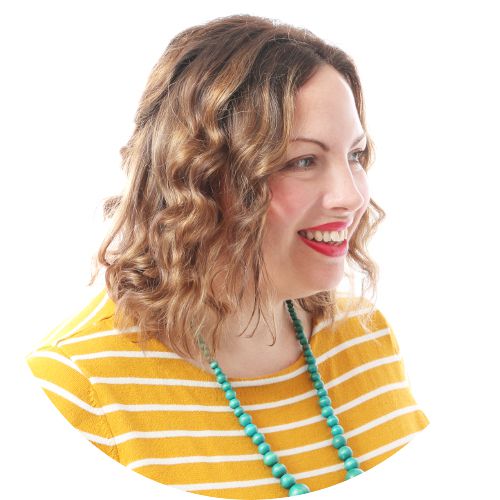 Welcome to the design blog, where you'll see posts about anything from the projects we are working on, to the latest fabric and wallpaper collections, and all things interiors related. We love colour, pattern, architecture and old buildings, and we love to share our finds with you.
Happy reading!